So you've got your business online, and you've invested some serious time and effort building a blog. After all, the benefits of regular blog content are indisputable:
But if, like many, your blog just isn't adding value to your business, then you're not alone. In a recent survey by the Content Marketing Institute, 93% of UK content marketers use blogging as an integral part of their content marketing strategy, whereas only 74% reported blogging to be critical to their content marketing success.
The reason for this gap could be simply that businesses do not know what success looks like when it comes to their content marketing. Blogs are often run in the mistaken belief that content in itself is enough.
But if all this rings true, then fear not: we've put together some simple steps to help you create the kind of content that'll show off your business and help to get new customers in no time.
Before you start: Define your blog objectives
The biggest reason blogs become ineffective is simply because their goals aren't defined to begin with. After all, how are you supposed to achieve blogging success if you don't know what that even looks like? You don't need grand plans for your content, you might merely want it to boost your site's keyword density and rank better in Google; but whatever your goals, it's worth defining them at the outset.
For example, do you want your blog to:
Resonate with your audience, and encourage customer loyalty?
Provide regular content both to spread your brand and rank in search?
Bring in leads?
Support your SEO effort?
TRY THIS: Make a list of your primary blog objective, followed by 2 or 3 secondary objectives. Keep these objectives in mind throughout your content creation.
Now you have an idea of your objectives you can start to identify areas where your blog isn't working and make appropriate changes.
Problem 1: your blog doesn't resonate with your audience
The internet, as we all know, is bursting at the seams with content. There is a LOT of untargeted drivel out there, but a blog done well is a powerful tool to reach a specific audience and earn their loyalty. 
Solution: Define your audience
Before even starting to create content, get to know your target audience. After all, if you don't have a clear idea of your reader then how can you expect to write material they'll want to read?
Marketers use the term "buyer personas" to describe their specific audience. Good marketers spend time understanding these personas, identifying their online needs and "pain points" (obstacles that get in the way of them fulfilling their online needs), and from there, research a list of their search enquiries.
Only by knowing your personas can you start to create content that speaks directly to them and answers their needs.
TRY THIS: Use Hubspot's persona templates to workshop your target audience and come up with a list of their online search queries. Use these queries to form the basis of your blog topics.
Solution: Make content relevant, useful, and unique
Once you've got to know your audience, as well as your blog objectives, it's now time to create great content that will resonate, add value, and provide something that marks you out among your competitors.
Not only will targeted content help your blog to rank in Google for the kinds of questions your target audience are typing into search, but it'll also keep your audience coming back for more (and subscribing to your blog, which we will discuss later).
Part of your persona work should include getting under the skin of your target customer, and defining their online needs that your business can fulfil.
For example, if you have an online beauty business, then one of your buyer personas might be a middle-aged, busy working mum, on a middle income. Her online enquiries might be something along the lines of "simple but effective skincare", or "achieve younger looking skin on a budget". You can then use these enquiries to form the basis of your blog content.
With your audience search queries forming the basis of your blog topics, you can start ensuring that your content answers their need, and provides them with valuable take-aways. With a bit of hard work and thought, your content could be not only useful for your readers, but worth sharing (brand-awareness bonus points!).
Solution: Make content easy to read
A must when writing online. You could have written the most well-researched, authoritative and useful blog content, but if it's badly formatted then it risks putting readers off.
The best blogs are laid out with bold subheadings, short paragraphs and sentences, and lots of white space. Take a look at the BBC News website. Notice that no paragraph is longer than three lines long, images break up text, and there's plenty of empty space.
Subheadings, lists, and bullet points also help to break up lengthy content, as do images, graphs and tables. Beware, of over-using jargon, too.  Whilst you need to be authoritative, you must be careful not to alienate your readers. One way to find this balance is to use your usual industry language and then link to a "jargon-buster" page on your website.   
Problem 2: You're not posting regularly enough
Posting regularly is important for a couple of reasons:
SEO – Demonstrating to search engines that your site is active with fresh, up-to-date content will help when it comes to ranking in search listings.
Securing brand loyalty –  Providing regular targeted content will keep your audience engaged and help secure their loyalty. Your blog can be a useful way to keep your customers "tuned in" to your brand.
If you've ever found yourself on a website that looks great overall, but you navigate to the company blog and find the last post was in 2015, then you might start to ask questions about whether the company is still in business, and if so, how on trend it is.
Solution: Draw up an editorial calendar
A calendar helps you and your team plan in advance so that you can set aside time, and divvy up tasks to produce content for your blog. Your calendar can help you map out your blogging frequency, content themes, named authors and proposed publish dates. It also gives you a chance to plan your content mix so that, for example, one week you might publish something fun and image-based, and the next week something more data-driven.
TRY THIS: Use an online spreadsheet such as Google Sheets to create your editorial calendar. On the X axis could be details about your posts; while on the y axis, details on the writer, deadline, and publish dates. Share this spreadsheet with your colleagues and encourage as much collaboration as possible.

Problem 3: Your blog isn't converting leads
Your blog objectives might be simply to improve search rankings and to spread awareness of your brand, but your blog is a valuable tool to convert leads too. Lead conversion could be as simple as adding a "call-to-action" at the end of your blog to entice readers to your product pages, or you can use your blog to capture your reader's email address to use as a broader marketing campaign.
If lead conversion is something you want your blog to aspire to, then some simple tactics can help turn your blog from static content to a valuable tool by which to garner customers.
Solution: Include calls to action in your blog posts
Calls-to-action (or CTAs) are a useful way in which to encourage your readers to move on from the blog post in a valuable way, for example:
Sharing the post on social media
Following you on social media
Clicking through to your product pages
Subscribing to your blog
Signing up to your newsletter
Downloading a whitepaper/podcast/brochure
Filling in an application form
Beware of overcrowding your post with too many call-to-actions and pop-ups.  Depending on the length of the blog post – and thus the scrolling involved –  a simple CTA at the end, along with some social share buttons should suffice.
TRY THIS: Make a start by ensuring your blog has social share buttons installed, so that every blog you publish automatically includes this call-to-action. Then decide on other CTAs and work with your web designer/developer to mock up some CTA buttons and develop the relevant user journey.
Solution: Build up your mailing list
Using your blog to grow your mailing list is a sensible way to turn your blog from being static and ineffective, to a valuable "lead magnet" to support your business goals. Whilst the capturing of data may seem like a cynical way of running your blog, there is nothing wrong with offering your readers an incentive in exchange for an email address, if you're upfront about it.
Recent stats suggest that buyers are willing to share their data: 76% or buyers a willing to register for and share information about themselves in exchange for whitepapers, 63% for ebooks and 79% for webinars.
Why is a mailing list important? Simply put, email is the cheapest and easiest way of achieving consistent traffic to your blog (and thereby the rest of your site). If they've subscribed to your blog then they're already engaged with your brand and so are inherently more open to your marketing efforts. If they then receive regular updates from you it'll not only help to cement their loyalty but also give you an opportunity to promote your product or service and convert them into customers.
By setting up "opt in" CTAs, you can incentivise your readers by offering them something in return for their email address. For example, "sign up to our blog, and receive a free Vouchercode".

Platforms like WordPress will help you to set up autoresponders that will help you to automate this process, so you don't have to spend man-hours fishing for email addresses and individually responding to your mailing list.  
Problem 4: Your blog isn't being found online
Your blog is at its most effective when it's supporting an ongoing search engine optimisation (SEO) strategy. However, if your blog isn't optimised then it will simply slip under the radar, and risk never being found.  
As we've discussed, regular great content helps demonstrate to search engines that you're a vital online presence, but if it's rich with your keywords and phrases then you'll be found in search by your potential customers.
Solution: Optimise your blog for (SEO)
First thing to do is know which keywords and phrases you want your blog to be found for in Google. For more read our introductory guide to keyword research. Once you have a list of these, then make sure that your blog titles, subheadings and content include these words and phrases.
You can also write your own title tags (the name of the page that appears in search listings) and meta descriptions (the description that appears in search listings), to include your keywords, and help to entice your audience to read your post.

Pay attention to your images too. By simply naming your image file to something that relates to your domain and keywords, as well as including a tag for your image, your images are more easily found in search.
TRY THIS: List your keywords before starting each blog post, and ensure your title, subheadings, blog content, and images all relate to those keywords.
Solution: Promote your blog
Now you've optimised your blog using simple SEO techniques, the final hurdle is to actively spread your blog content around the web. After all, when it comes to blogging, it's not a case of "build it and they will come".
The most straightforward way of doing this is through social media, although you can also pay for advertising with AdWords or paid social media. Or you might want to try some email marketing by building up your own contacts and directly reaching out with your blog content.
Don't forget to foster a patient approach to social media by following similar brands and industry influencers and growing your following gradually. Avoid using social media as a way of broadcasting your brand. By sharing similar brands' content, and entering into the broader conversation around your niche, you are encouraging your peers to share your content too.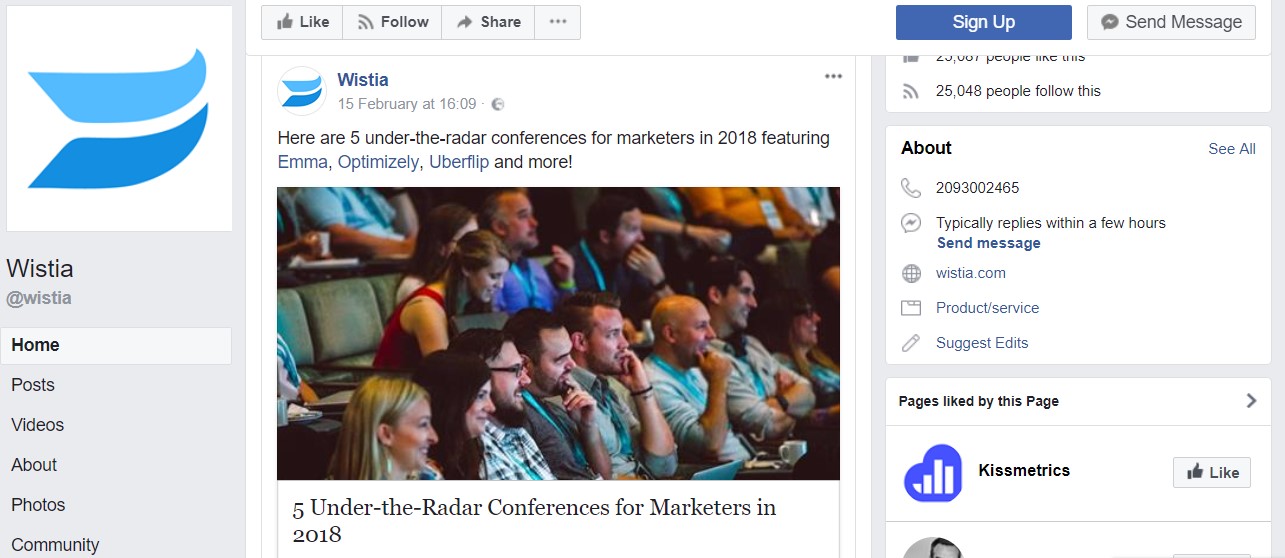 TRY THIS: Determine the most suitable social media platforms for your business and start building up your following. Make sure you post each blog article at least once on each of your social platforms. 
Solution: Develop your brand
Many businesses fail to embrace the opportunity in a blog to promote their brand around the web. Blog components including your written style, the design of your blog,  your font and  your carefully selected images, act as your online "shop front". If done correctly, it allows your customers a chance to get to know who you are, your business values, and what goes on behind the scenes.
TRY THIS: Make a list of your business brand values and ensure that these are consistently communicated via your blog. Ensure that your branding, including: logos, written style, fonts and colour scheme are consistent among all your online and offline material.
Measure, tweak, repeat
The beauty of online marketing is that nothing you do is really set in stone. Everything can be tweaked if it's simply not bringing the right results for your business. The difficulty comes, however, in identifying whether or not your blog is delivering in the first place.
Make sure your website is linked with Google Analytics, and set up automatic weekly or monthly reporting on the insights you most want to see from your blog. For example, you might want to see how many people are visiting your blog, or how many people are subscribing to it. Or you may want to measure how many people are moving from your blog onto your product pages.  
TRY THIS: Plan in some time each month to check in on your blog's performance against the objectives you've set. If something's not doing well, then try something new… and keep tweaking until you start seeing results!
Final thoughts
Blogging, when done well, can be a valuable marketing tool for your business. It can help you build up your mailing list, demonstrate your expertise to your following, spread your brand values widely and simply earn you extra brownie points in search rankings.
If done badly you can come off as irrelevant, or become buried amongst the vast heap of other content out there.
Follow these few points, however, and you'll begin to produce content that not only grabs attention, but engages your audience, and converts them from idle readers to loyal customers.