Facebook is a proven way of building brand exposure, audience engagement, driving website traffic, and even increasing revenue. With its global monthly active user base of 2.32 billion, it's brimming with potential for business of all kinds.
But where Facebook becomes extra useful, is in its Analytics. After all, it's only by knowing how your marketing activity is doing, that you can really tweak and perfect your campaigns.
I'll show you around Facebook Analytics, how to set them up, and how you can use the data to inform your ongoing marketing efforts.
Facebook Analytics vs Facebook Insights: What's the difference?
Facebook Analytics
Facebook Analytics are found within your Facebook Business Manager account and, essentially, show you the micro level data of your website and Facebook page, and how they interact.
A Facebook Pixel is placed in your website's code and picks up data from your website to send to your Analytics. The Pixel syncs activity on your website with your Facebook touchpoints, like your page, your ads, and so on. It's worth noting here that you'll need to familiarise yourself with the law and GDPR requirements of notifying and getting consent from your website visitors to collect and use their data.
When you set up your Facebook Pixel on your website (check out the steps within this Facebook Retargeting guide), you can enable "events" that track your audience's interaction with your site.
These "events" include things like purchase events (someone completing your online checkout), a lead event (e.g. someone filling out a sign-up form) and many more.
It's then via Facebook Analytics that businesses can track the journey of their audience through these different events, making sense of the customer journey.
Facebook Analytics allow you to build graphs from your micro-level data to demonstrate what's happening to your audience as they interact with you on various touchpoints.
For example, you might want to track how many people made a purchase as a result of seeing one of your Facebook posts. You'll be able to monitor how many people the post reached; how many of these then clicked through to your site; then how many made a purchase.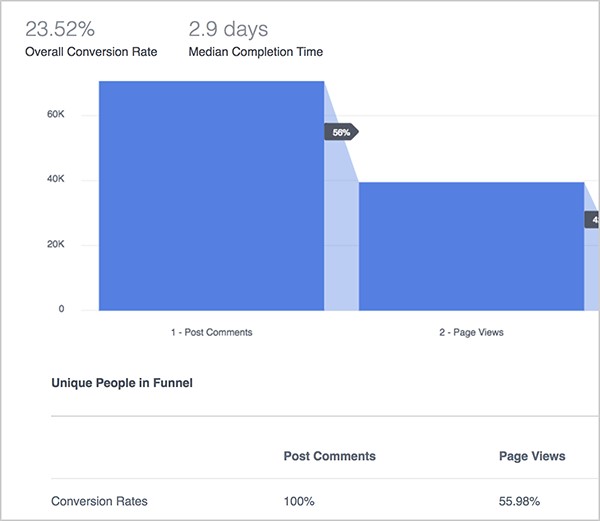 How is this any different to Google Analytics? Facebook Analytics doesn't gather as much detail as Google. For example, unlike Google Analytics, Facebook won't let you drill down into the detail of what's happening on each page. You can only track broad journeys across the "events" you've set up.
That said, Facebook Analytics does give you more detailed information on these events. So, if you wanted to drill down you can tell, for example, the demographic breakdown of who's completing an event.
Because there are pros and cons of each, Google Analytics and Facebook Analytics work best when used in tandem.
Facebook Insights
Facebook Insights, on the other hand, monitors your Facebook Business page alone. It's found within your business page, rather than on Business Manager.
Here you can monitor page views, page likes, actions on page, post reach, and many other metrics.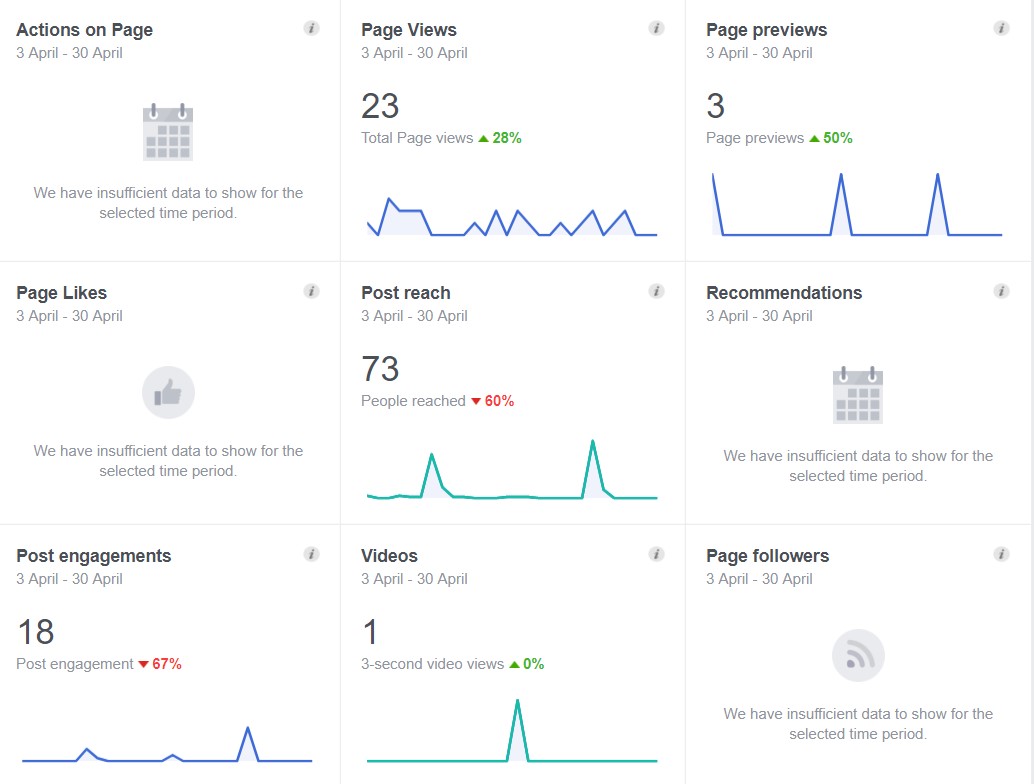 Getting started with Facebook Analytics
Setting up Facebook Analytics step-by-step
To get to your Analytics, go to Facebook Business Manager, navigate to the Business Manager drop-down in the top left, and choose Analytics.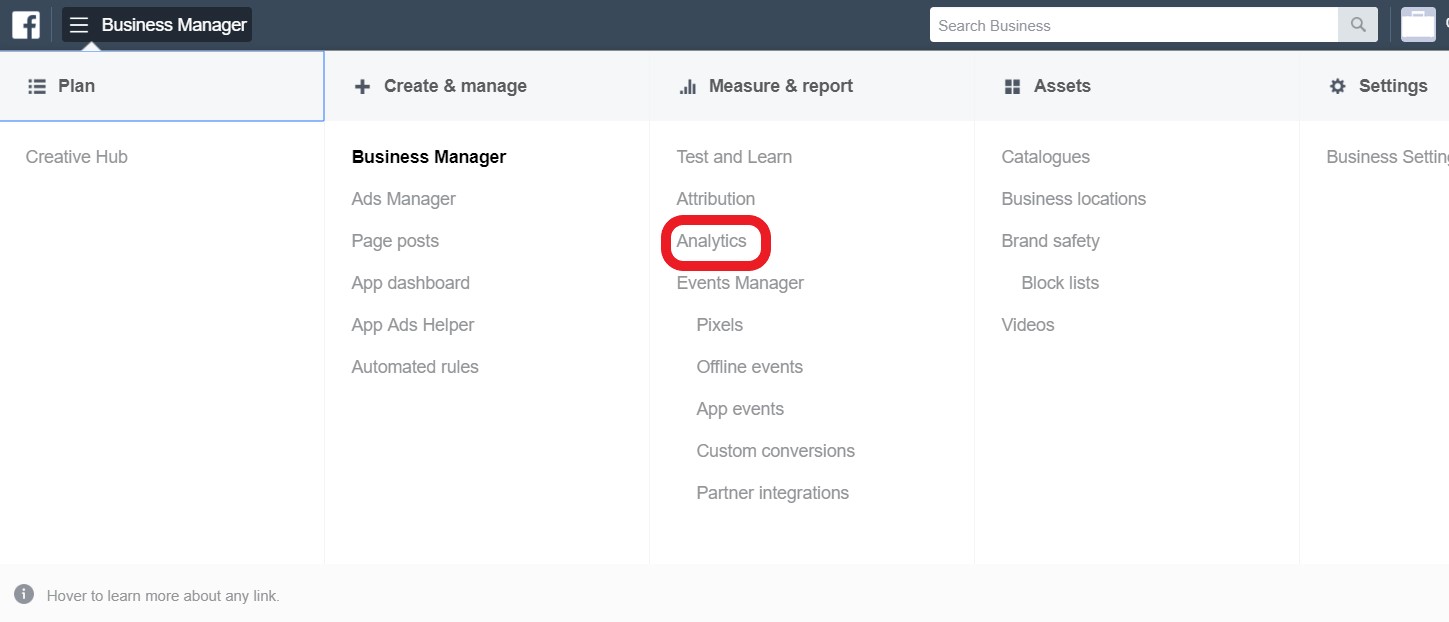 From here you'll be able to access your dashboard to see all of your data.
However, in order to start seeing data, you'll have to take a step back and set up your Facebook pixel and Event Source Groups.
Setting up and running your Facebook pixel
As I've discussed, a Pixel is the piece of code you implant into your website, that collects data on your visitors.
Setting up a Pixel is relatively straightforward, but you will need to follow a process. Rather than take you through the process here, take a look at this previous article which will guide you through it.
Create omni-channel analytics by grouping your sources
When you create a source group, the data across your pixels, ads, and pages will be toggled so that you can benefit from omnichannel audience tracking.
To set up a source group:
Navigate to Analytics in the top left drop down.
Now choose the pixels and pages you want to group together and click Create Group.
Cohorts
Cohorts are set up to measure your marketing over time. Google Analytics – and other reporting tools – also do cohort analysis. However, it's particularly useful in Facebook because of all the different properties within the platform that aren't tracked by Google.
For example, Google Analytics isn't able to pick up the micro-level data about how your customers landed on your Facebook page or got in touch with you via your Messenger bot.
To set up cohorts, navigate to Analytics and choose the Cohorts tab.

Click Create Cohort. 
Journeys
Journeys is there to help you access data across different channels. So, if someone goes to your Facebook page and then clicks through to your website, this will be tracked in your 'Journeys' data.
Shops
If you run an e-commerce website, then you'll be wise to use Facebook to directly sell your products too.
Facebook lets you add a "shop now" button to your cover image, with the link driving users towards your online shop. A pixel will then capture this data and feed it back to your Analytics.
Using your Facebook Analytics dashboard
When you go to your Facebook Analytics dashboard, you're automatically taken to the overview screen.
Here you'll be able to see the broader insights such as New Users, Unique Users and Growth Metrics.
You can also drill down a little deeper. Here are just three insights (not by any means an exhaustive list) you might find useful for your business:
1. Funnels
Funnels is found in the left-hand side of your dashboard.
Within "Funnels" you'll be able to build visual paths in your sales cycle to analyse how the various parts interrelate. For example, you can begin to piece together a Facebook page view, click to website, add to cart and purchase within a certain timeframe.
To build your funnel, click Create Funnel and then select all the funnel steps you want to include. Make sure you select them in sequential order. At each funnel step you're given drop down menu options to choose from, such as messages sent, page views, conversations, add to cart and more.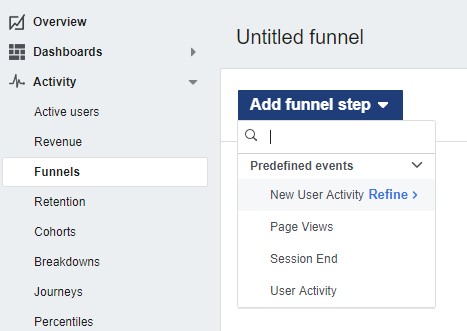 Your funnel data can help you to determine how best to set up your campaigns in the future. For example, if you're running an ad campaign, you might want to start trying to improve the number of people who then view your page and increase the percentage of those who then go on to make a purchase.
You might then want to improve the CTA on your ad or create more compelling content so that more people click through to the website.
Or, if you can see that lots of people are dropping out at the checkout stage of your funnel, then it might compel you to improve your checkout, add links to help and support, or set up an abandon cart automated mail.
In funnels, you're also able to see the number of unique people in your funnel, how many events per person, the conversion rate and the value of the conversion. You're also shown the completion time of each step as a percentage of users. So, for example, you can see how quickly your top percentage of users took a particular action.
2. Revenue
To analyse your revenue, you'll have to have put a monetary value to your conversions when you set up your events in the Facebook Pixel.
To look at your revenue data, go to the Revenue tab on the left-hand side, and select your date range.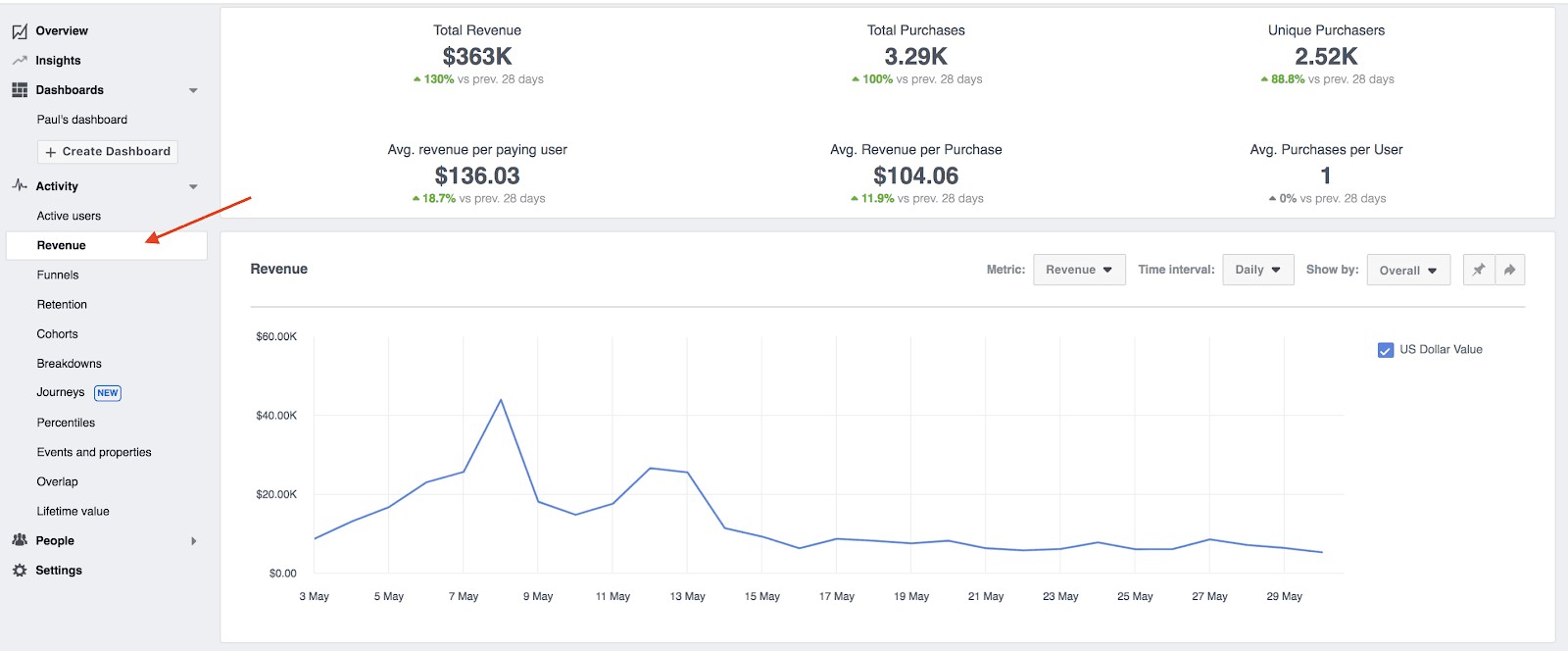 Here you can look at both the numbers of purchases, as well as the age and gender breakdown. This could be invaluable data to tweak your campaigns.
For example, if your data is showing that the majority of your revenue is coming from women aged 18-24 then you might want to focus your ad campaigns and content to cater to that demographic.
3. Customer lifetime value
Customer lifetime value (CLV) is an estimate of how much revenue you should expect to receive from your customers over the course of their "lifetime" – or the duration of their relationship with you. In an age where the cost of acquiring new customers far outstrips that of retaining existing ones, CLV helps marketers focus in on nurturing loyalty rather than forever chasing new leads.
Your customer lifetime value is a notoriously difficult metric to nail down. But Facebook Analytics helps you with this.
To set it up, select Lifetime Value from the left-hand side, and then decide whether to include All Users which is anyone who's interacted with you or Paying Users which are only those who've made a purchase.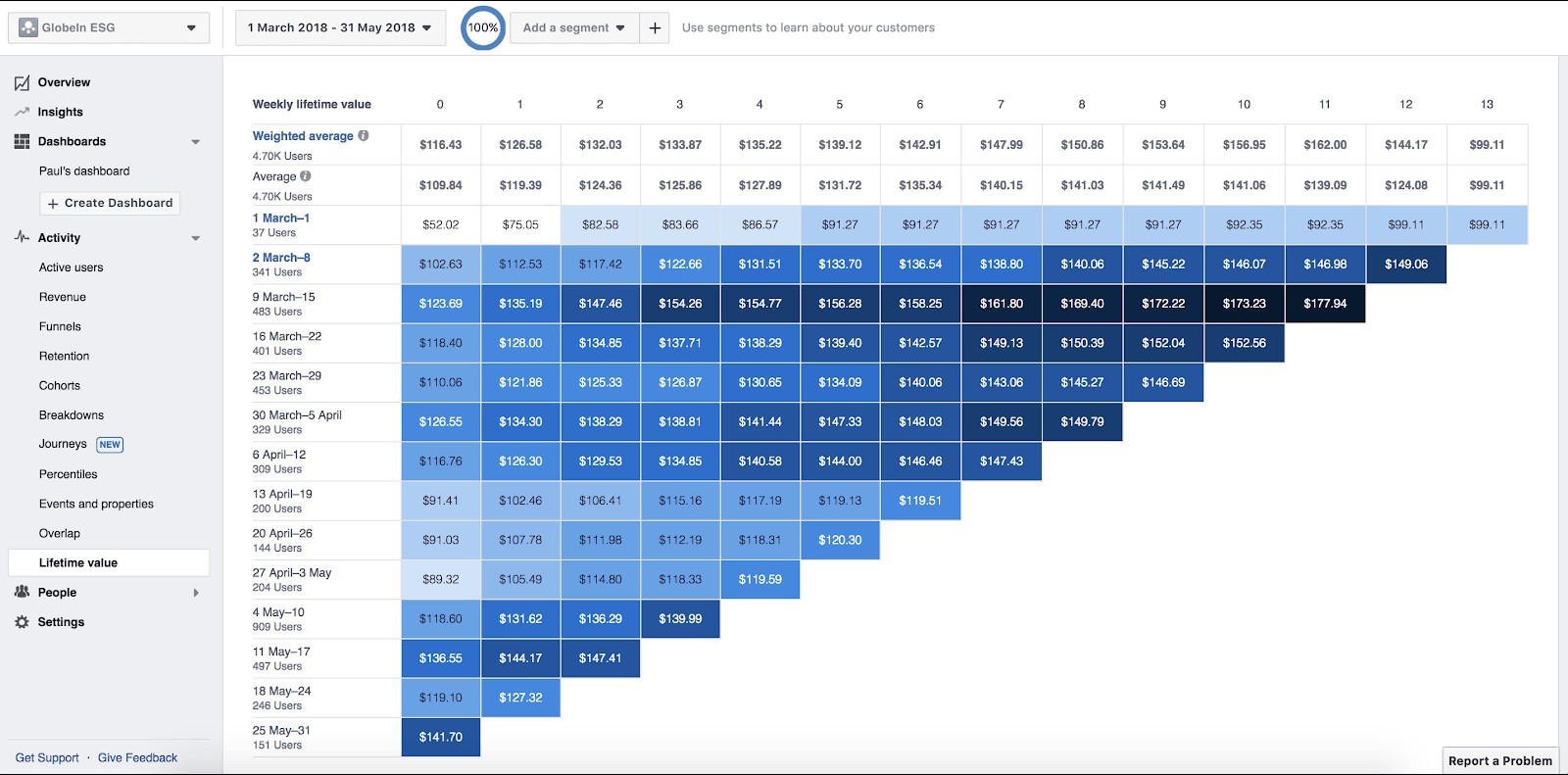 Unlike traditional reports where you look at the value of each conversion, you can now monitor the value of a customer over the duration of months or even years.
In summary
Facebook Analytics is only about a year old, so if you start using it now, you'll already be ahead of most SMEs.
Although it doesn't match Google Analytics in its breadth of insight – neither does it pretend to – it does fill in some of the gaps that Google doesn't have the ability to reach.
What I like about it is its ability to create a holistic picture of your customers' interactions with your brand across several different touchpoints – your ads, your Facebook page, your website, and other apps. It can help you develop a good understanding of the omni-channel journey your customers are taking, and even give you a good idea of their value over time.
But the true value of Facebook Analytics is in how you choose to use the data. When used well, the journey, cohort and funnel analysis can help you to tweak your campaigns to reach the right people, fix silos and tailor content appropriately, making sure you're making the most of all your marketing activity.