For brands wanting to raise their awareness, they can't go far wrong with Facebook Live.
Clocking up more than 100 million hours of daily watch time, it offers the biggest and most engaged audience of any video platform, including YouTube. In fact, the Facebook user-base – at 2.27 billion per month and counting –  are 3 times more engaged, and comment 10 times more, than any other social video site.
We'll explore the ways you can use Facebook Live within your social media strategy to start getting your brand noticed and pull in audiences you may never have otherwise found.
Take some baseline metrics
Before getting started with Facebook Live, take some baseline measurements from which to prove the success of your campaign. Although brand awareness is tricky to prove, you can get a fair idea of how your campaign impacts on your brand by taking a few simple measurements:
Social listening:
Social listening tools such as Brandwatch are a great way of seeing how your brand is being mentioned and engaged in across the web and social media.
When you've signed up to Brandwatch, take a look at:
Your mentions – the number of times your brand is being discussed online. You can also track the volume of mentions that don't mention you directly (eg @dotuk) or that don't occur on your official brand channels.
Your reach – the number of people who will potentially see your brand mentions. It accounts for all the followers of those who mention you and gives you an idea of how widely your brand could be noticed.
Web traffic:
In Google Analytics, set your time frame to the last 2 or 3 months to get a decent data time range.
Now, take a look at your acquisition tab. Your direct traffic shows you how many people have visited your site by typing in your URL – a sure indicator that they know your brand. Your new user data will also show you how many people have come to your site for the first time.

You might also want to look at traffic acquired from your social media, and Facebook in particular.
Search volume data
Tools like Google Ads Keyword Planner and Google Trends will also show you the volume of traffic from your brand name. You can then check in with this as you carry out your campaign to see if volumes increase.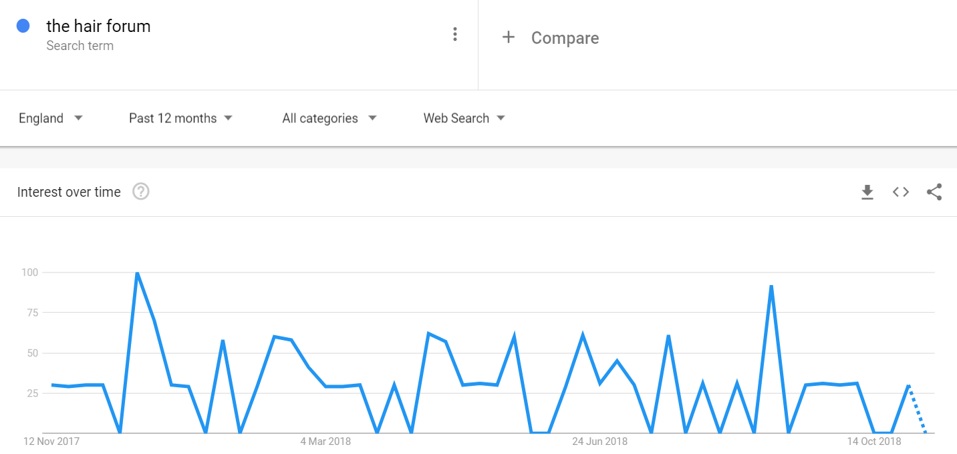 Get the right equipment
You don't have to get all the bells and whistles to produce a decent live video, but you do need to get the basics right. It's worth investing in a tripod to eliminate the danger of "shaky cam". That said, you don't even need a dedicated video camera, as most smartphones record in a high enough resolution to pass on Facebook Live.
You'll also need to make sure you get the lighting right and ensure background noise is kept to a minimum. If there are two or more of you in the video, you may want to consider external microphones. And, fundamentally, make sure your internet connection stands up to the demands of a live streaming session. Relying on 4G might be risky.
To be sure you're set to go live, test your video beforehand by setting it to go live to "only me". This will give you a chance to iron out any issues before it's too late.
Choose the right content
The great thing about Facebook Live is that it has a lot of flexibility, so you can get creative with your content. Here are just some ideas to help get you started:
Live Q&As
These are a good place to start because they allow you to answer your customers' potential questions in a relatively simple way. The usual format is an interviewer fielding questions to key figure in a back-and-forth exchange.
Be careful to choose the right interviewee. Think about whom your audience wants to hear from most. For example, if you run a fashion boutique, your fans might want to hear from your dedicated buyer or your fashion stylist. 
You can do a bit of research first by looking through customers' past queries and feedback and incorporating them into your Q&A. This way you know you'll be chiming with what your audience wants to know.
For a more elaborate Q&A, you can even take questions live from your audience. This can be quite a juggle and may require some practice, so it might be best to hold off on this until you become more experienced with Facebook Live.
Exclusive interviews
To go one step further from your Q&A format, you could enlist a brand influencer or even a VIP to interview. The better-known the person, the more likely you'll be to bring in their fans as your audience and grow your brand awareness.
Product demonstrations
A more down-to-earth and helpful way to use Facebook Live is to stream you demonstrating how to use one of your products. Especially if you have a new product on the market, it's a great way of showing your customers how it works in a 3-dimensional way, without them having to get to your store.
How-to videos
Similar to product demonstrations, how-tos are a great way to show your industry knowledge and share that with your audience.
Benefit Cosmetics use Facebook Live regularly in this way. Their live stream of "We Wax Wednesdays" demonstrated how to wax eyebrows, with parts 1 and 2 receiving over 13,000 combined views.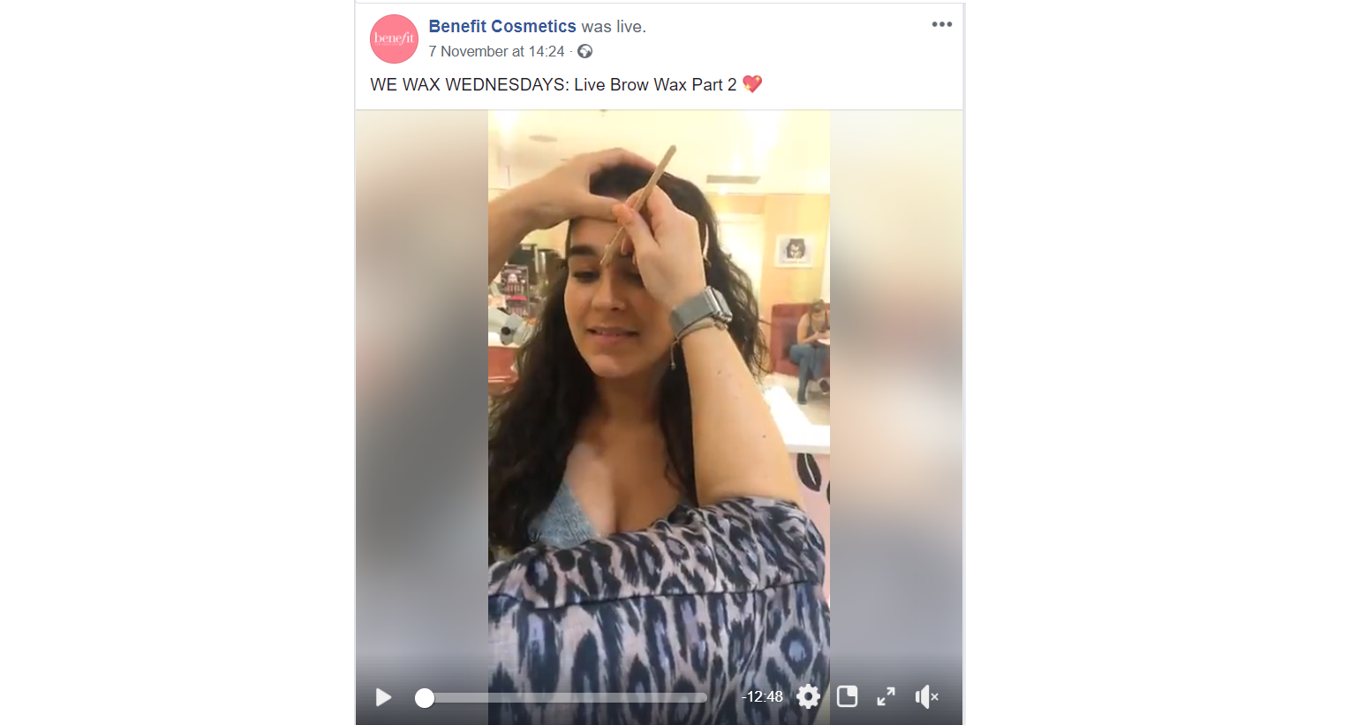 Make an announcement
When you need to make an important statement, how better than to do it in live and in person.
From your latest product release to a new store opening, announcements go down well on Facebook Live. By trailing it in advance – "tune in for an exclusive announcement" – will build the anticipation, get people talking and, hopefully, tuning in.
A behind-the-scenes at your company
Brands are increasingly using social media to portray an accessible and approachable presence. And people love taking a sneak peek at how things happen behind the scenes. Combine the two and a video exploring what happens "backstage" is a winner across social media.
It lets your audience in on the secret and helps to show that you're real people making things happen. If you can, encourage viewers to type in questions and respond to them live on camera.
Broadcast an event
If you have an event on the horizon then use Facebook Live to broaden your audience. It takes very little extra work – after all, the content is already there – just a strategically-placed camera to capture the action.
Tough Mudder regularly uses Facebook Live to broadcast parts of their course events. They use one camera, no frills, to capture the action as it's happening. The video below reached 23,000 views, 21 shares, and 92 comments. Some good awareness-raising in just one video: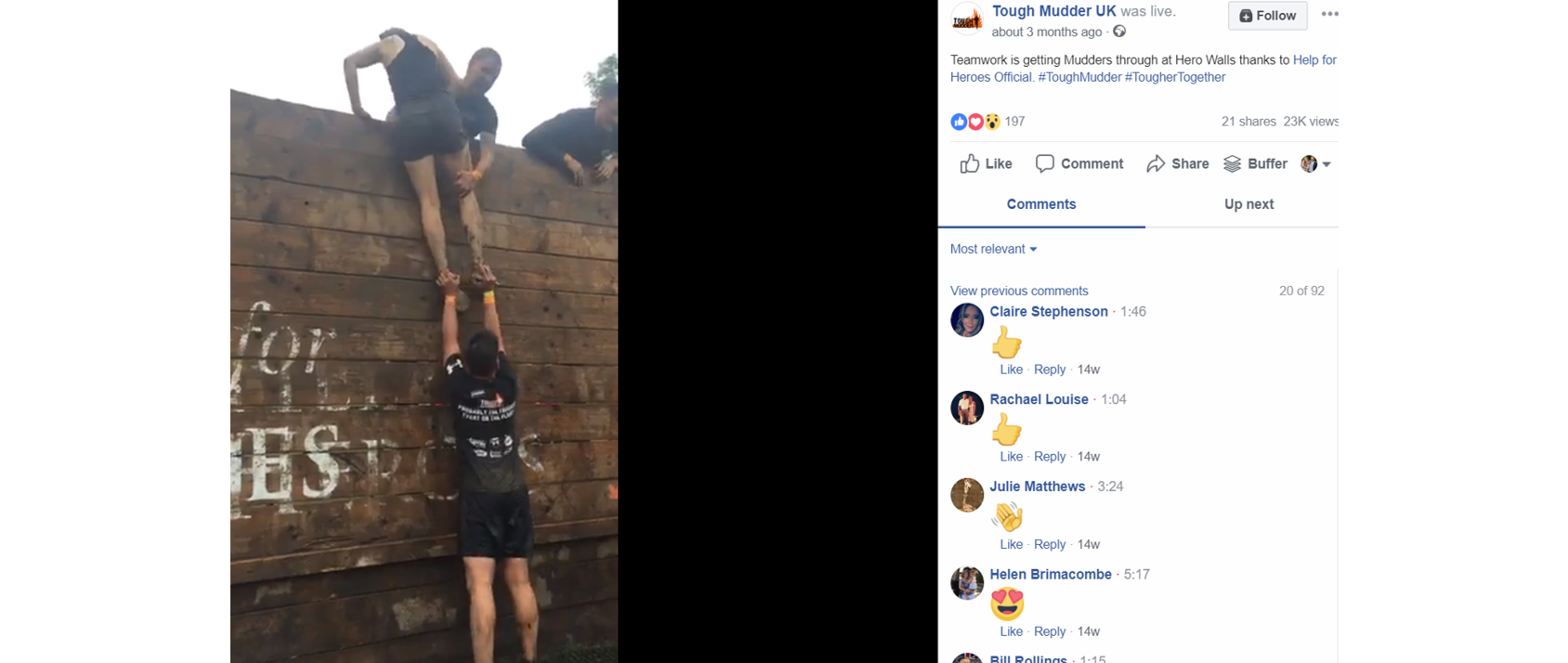 Run a contest
Contests are a sure-fire way of getting your audience excited about your brand. Simply by hosting a simple contest, you can promise to announce the winner via Facebook Live which, in itself, builds anticipation.
But if you set your contest in such a way that entries need to tag a friend in order to qualify, then you're already set to grow your audience.
If you're lucky, not only will the contest entries be tuning in to know the winner, but their friends will be checking in too.
Pay attention to video length
Facebook live viewers are prepared to watch videos that are up to 3 times longer than other formats such as YouTube. And with Facebook allowing you to broadcast for up to 4 hours, there's no reason why you can't stream for a long period of time, as long as the quality of your content can last the duration.
It's all in the timing
If you're going to all the effort of putting on a live video, the least you can do is ensure that your audience will be there to see it.
In the same way, we check the optimal time to send out an email campaign, tools like Sprout Social let you look at the times of day most people engage with you on Facebook.
Tag experts, influencers and brands
To increase the chances of new followers finding your live stream, tag industry leaders in the comments section. With luck, your influencers will promote your live stream and gain you more following. You might even want to do this in advance as you trail your live campaign.
Also, you can take a look at the trending hashtags in your niche and be sure to include those.
Keep giving context
With Facebook Live, you don't have the luxury of a start-to-finish audience. People drop in (and out) throughout the streaming and so introducing yourself at the beginning, and signing off at the end, doesn't cut it. 
Think of it a bit like a radio programme, where people tune in and out throughout the day depending on what they're doing. Radio presenters constantly need to name-check themselves for those who've recently tuned in.
Find ways of doing the same, but without distracting the audience away from your content. 
Perhaps at minute intervals – or at the end of a particular section – sum up what you've covered and welcome new viewers.
Think about the before and after
Whilst Facebook Live is, by definition, based in the present, there's still work to be done both before and after you've wrapped up.
The most obvious thing to do is to promote your Facebook Live stream well in advance. You can even cross-promote it on your other social media channels like Twitter, LinkedIn, and Instagram. Drumming up an audience in advance will increase your chances of pulling in a worthwhile reception.
And once you've finished your video, make sure you keep the footage to use later on. You can chop the video into snippets which you can host on your site, and share across your social media.  And of course, your existing Facebook Live stream will stay on your feed until you remove it, so keep resharing this across your networks.
Create a description that will draw people in
When setting up your live stream you're asked to write a title and a description. Make this as engaging as possible to lure in your audience and give them a reason to tune in. And why not tag your location to pick up new viewers who might be searching for live streams in your area?
Measure success
Once you've finished your first handful of live streams, look back at the original metrics you took at the start. You might see a marked increase in traffic to your site, or you might have noticed a pique in followers on your social media. Track all these changes, making a note of which video content worked best.
In summary
There's no denying the value of Facebook Live as a social media marketing tool. Facebook has a vast user base that is engaging in live streaming more than on any other video platform. It's also easy to use, without requiring vast investments in professional videography kit.
But more than this, its potential for marketers to raise their brand awareness is huge. From cross-promotion to tagging influencers, to engaging with the audience in real-time, it gives brands the opportunity to expand their reach in a more immediate way than ever before.
For marketers looking to start adopting Facebook Live, it's all down to the content. Creating compelling, useful and shareable live videos will get it seen by more viewers, and see it shared more widely. Not only will marketers notice a growing audience, but that audience will become much more engaged in their brand moving forward. A win-win for social marketing.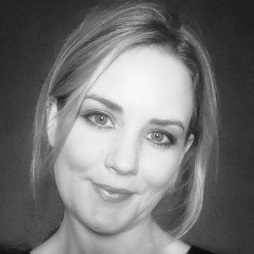 Charlotte Jenkins is an Oxford-based content marketer. She has several years' experience in content writing, editing and digital marketing, helping clients communicate their businesses online.
Read full profile