Reporting for small businesses can be a challenge. It's essential to keep an eye on metrics to see how campaigns are performing, how effectively your website converts traffic, and how your SEO efforts are working.
However, reporting can be time consuming. Pulling in data from different sources and making it look appealing and easy to understand isn't always easy.
This is where Google Data Studio can help. Essentially, it pulls in data from a range of (Google and some third party) sources enabling you to easily visualise data and to juxtapose different metrics.
It can be easier to create reports than in Google Analytics and, once set up, recurring reports are similar to generate. For smaller businesses, the time saved can be very attractive.
In this post, I'll look at how Google Data Studio works, its benefits for SMEs, key features, and a guide to getting started on creating custom reports.
What is Google Data Studio?
Data Studio is part of the Google Marketing Platform that allows marketers to create visual reports and dashboards from their own data.
For businesses using multiple Google platforms, such as Analytics and search and display ads, it allows them to combine this data into one report.
The aim is to create dashboards and reports that are easier to use, easy to customise and more visually appealing. This latter point can be important if you need to present regular reports to management or clients.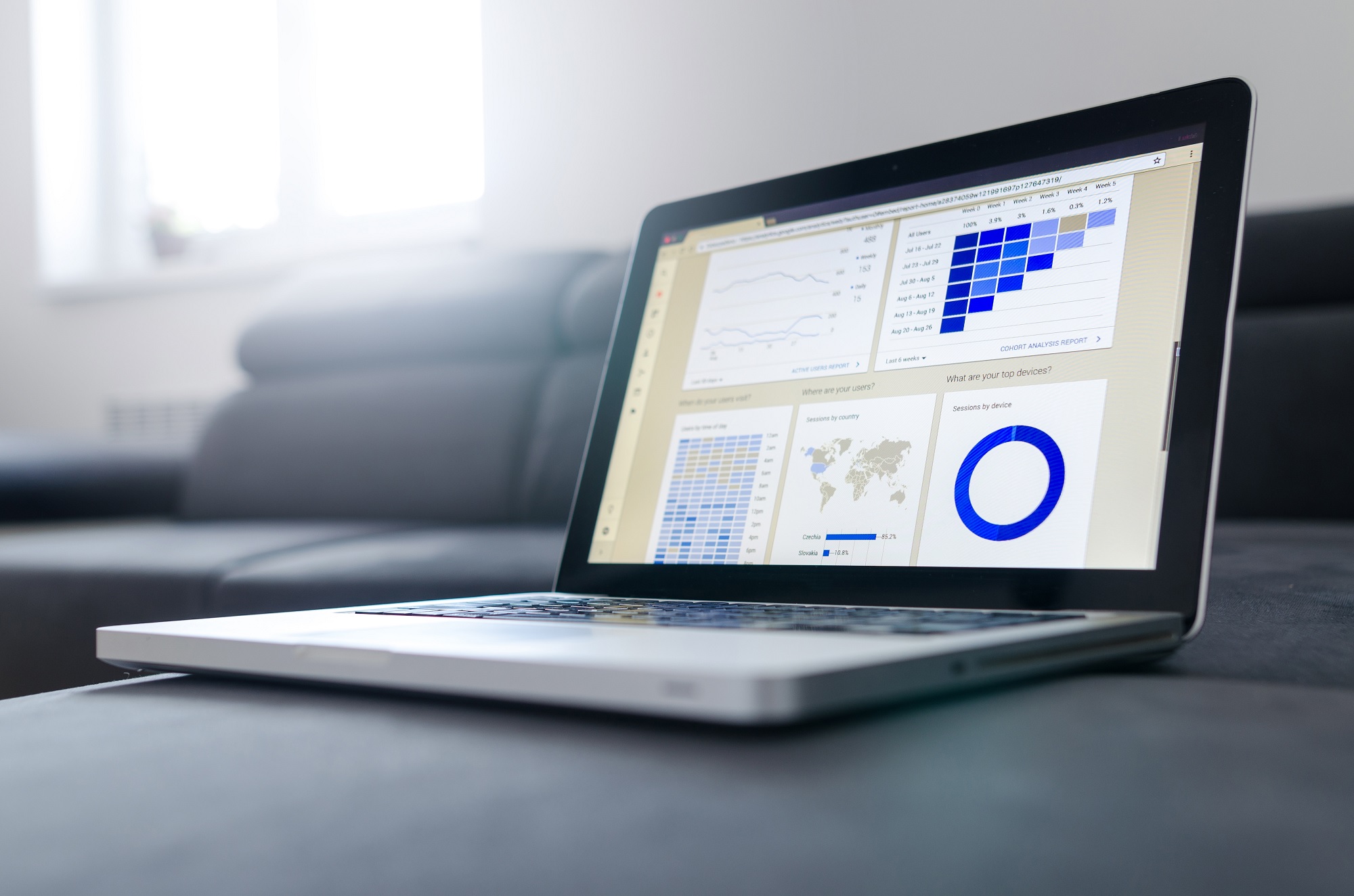 The benefits of Google Data Studio for SMEs
Here are some of the key benefits of using Google Data Studio for small businesses:
Free reporting. There are plenty of paid dashboards and reporting tools who will take your money in return for displaying data. There are paid options, but there's a lot you can do with Data Studio without paying for premium versions.
Saving time and resources. For smaller teams, gathering data and reporting can be time consuming. Yes, there's an investment of time in learning to use GDS and setting up reports, but once you've put the initial effort in, it'll keep producing reports.
No manual data entry. Data Studio allows you to import data from a range of sources at the click of a button, saving lots of spreadsheet work.
Basic dashboards are quick and easy to create. You can view top line metrics and view key data and trends without too much effort. After this, you can make the effort to dig deeper into the data, or to improve the visuals.
Easy sharing. Links can be quickly shared with colleagues and clients, as you would with Google Docs. Alternatively, you can produce PDFs to share data.
How to get started with Google Data Studio
To begin with, you'll need to login to Data Studio using your existing Google account. If you already use Gmail or Google Analytics for example, you'll have an account already.
At this stage, there are some terms and conditions to accept and, depending on how you use the data and thanks to GDPR, you may need to name a data controller before being able to continue.
Once you've passed this step, the screen you see will be familiar if you've been using Google Drive.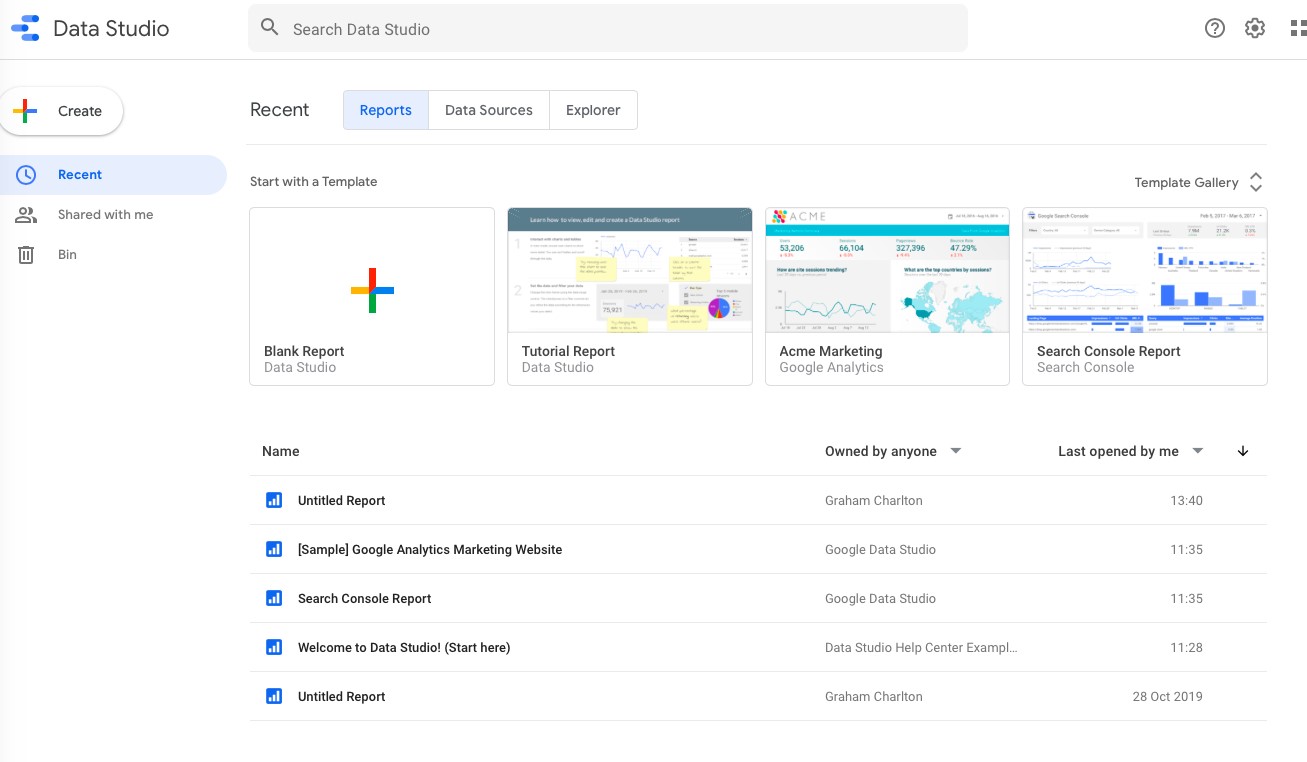 From this screen, you can organise your reports and data sources. For example, by clicking 'Create' you can add a report or new data source.
The available data sources include Google Analytics, Ads, Display and more, while you can upload files and spreadsheets. Further down, you'll see partner sources.
These are created by Data Studio partners and allow you to connect to third party data sources, such as Bing Ads or Facebook data.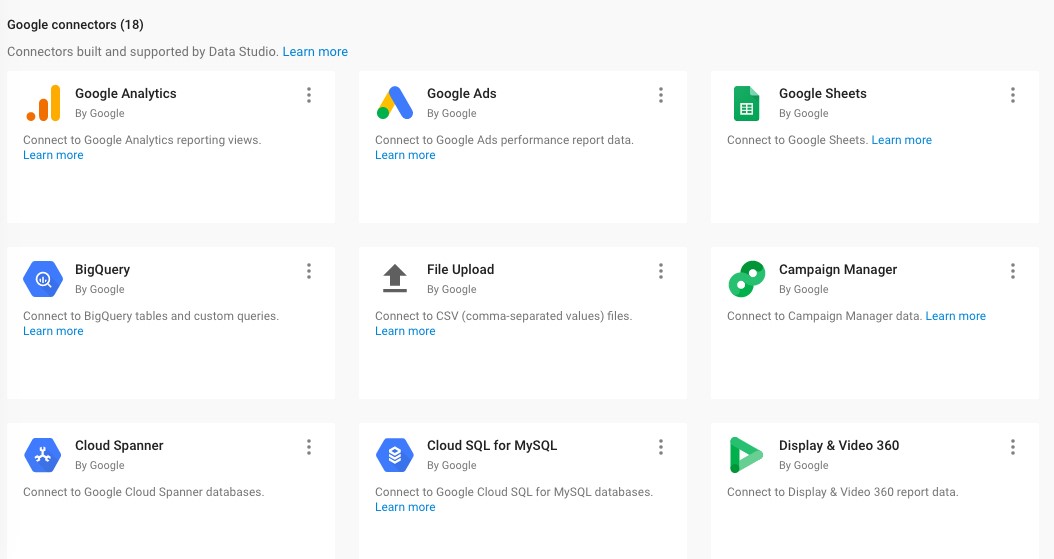 To begin a new report, click the + button on the screen (you may also find the tutorial and sample reports helpful). You'll then see a screen like this:
If you already have Analytics and other data sources connected to the Google Account you're using, then these will show at the right of the screen.
Google has also added some useful sample data sources to help you experiment with Data Studio and get a feel for how it works. This is a useful starting point to try creating some reports and dashboards.
For example, using [Sample] Google Analytics Data I can create a simple table which looks something like this: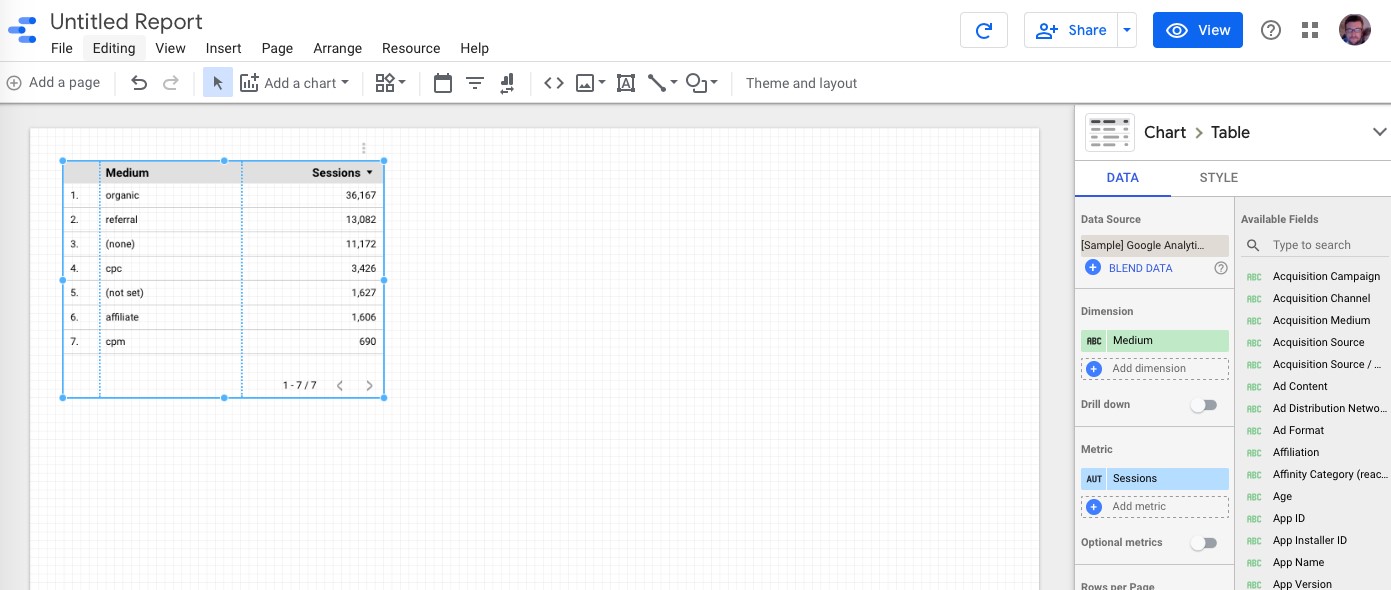 The data sources are split into dimensions and metrics. Dimensions refer to user attributes, including traffic source, age, browser or device used, location and gender.
Metrics are used to measure the characteristics of a dimension to gain more insight. So, for source, you may use metrics like bounce rate, number of sessions, time on page and conversion rates.
Using the options on the right, you can change the data you add to the chart. In this case the table shows the dimension 'medium' (how traffic arrived at your site) and the metric is the number of sessions for each.
You can play around here, choosing different dimensions, and several metrics. For example, you could show acquisition channels as the dimension and conversions as the metric to see which channels are most effective.
You can also change presentation styles on the right by selecting tables, charts, pie charts, line graphs and more.

For example, you could add a time series from the options on the right to show data trends over time. Which would make the chart above look something like this: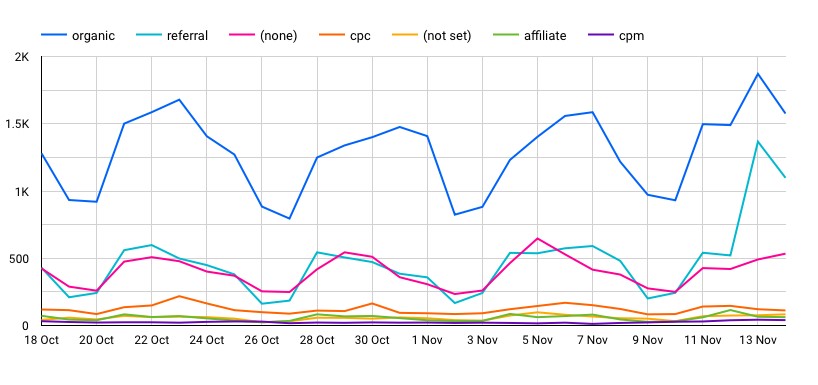 After working out how to create charts like this, you can then add more complexity if you wish. For example, you can compare one date range against another, or add filters so that users can view data by various elements.
For example, adding a filter allows people viewing the report to see sessions only by certain mediums – organic, referral etc.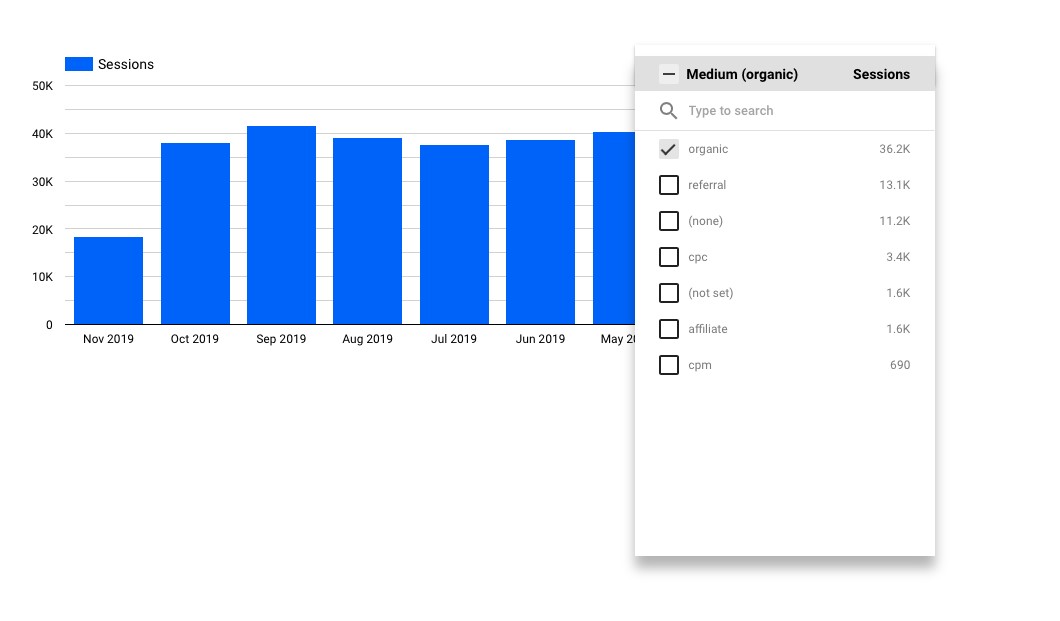 If you already have a feel for Google Analytics reporting, and creating custom reports there, you may find this easy to pick up. It's a great idea to use Google's sample data sources, as the sheer amount of data available gives you a better idea of what works with Data Studio.
Creating a Google Data Studio custom report is all about choosing the various metrics you want to show and blending them together into a dashboard.
For example, I've gathered together sessions data, top landing pages, conversions by traffic source, and some geographic data to show where website traffic comes from.
Once you've created a report, press the View button at the top right of the page to see the results of your efforts. You can see if any interactive elements are working properly and view the report as people you share it with will see it.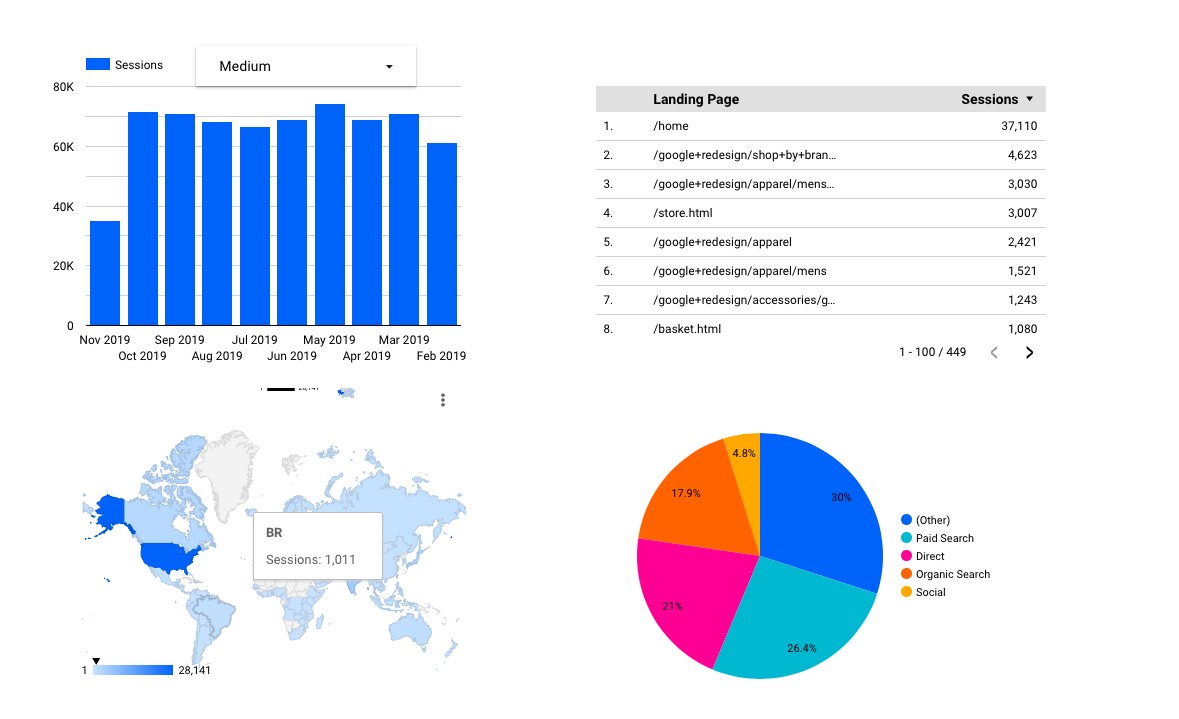 This is the basics of creating reports, but once you know this much, you can create some useful dashboards and show top level metrics in a way that's easier to view and share than for some of the original data sources.
Metrics and chart types to use in Google Data Studio custom reports
The metrics you choose to present will very much depend on business goals, and the range of data sources you have access to.
Viewed in isolation, reports and dashboards can just seem like a random collection of numbers, which can be confusing or overwhelming for the people viewing it. It could even look like this: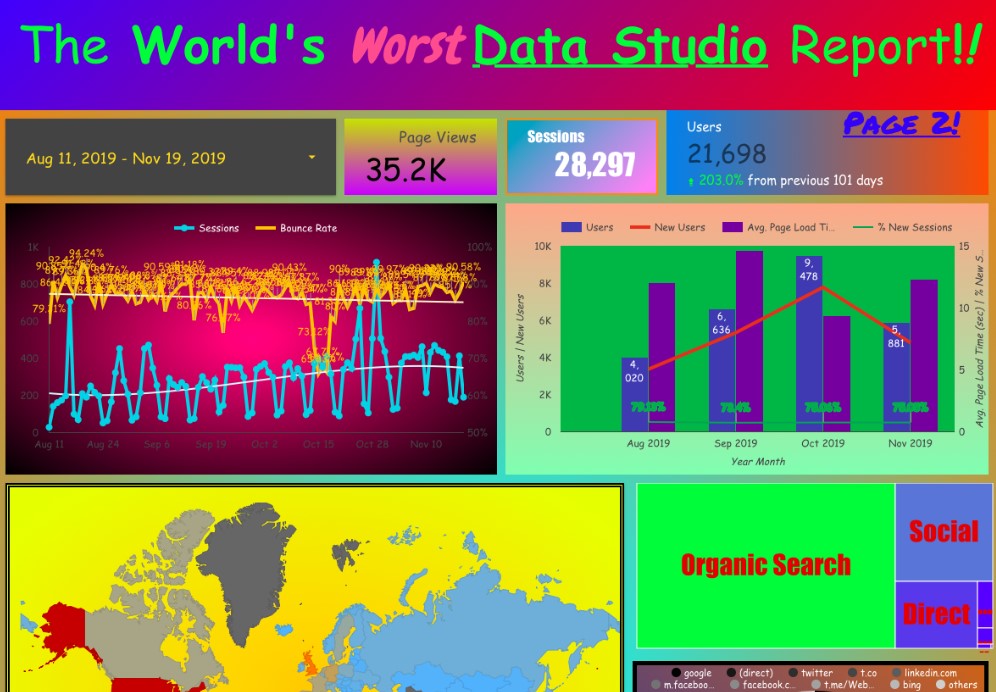 The data you present needs to tell a story, so you need to think about the audience viewing it, and the information that's important to them.
This may be the KPIs you're measured on by management and clients, or key business goals (improving paid search performance, increasing landing page conversion etc.) that you're keen to keep an eye on for your own strategies and monitoring purposes.
Then it's about presenting the data clearly and explaining what it shows and why this data is important.
It's also important to think about which chart types and methods of presentation to use to make your data easy to understand,
Here are some general guidelines:
Tables can be used to show values of your dimension. For example, the channels that drive most traffic and sales.
Bar charts are useful to show how individual values compare to one another. For example, landing page performance by channel.
Time series charts are used to show how values change over a set amount of time, such as patterns of sales or traffic over the course of a year.
Pie charts can be used to show the composition of data adding up to 100%. For example, you could show the proportion of website traffic from each source.
Geo maps are great visuals to show data such as sales or traffic by location.
It's good to include key metrics from Google Analytics, as Google Data Studio can help you to present these in a way that's easier to understand and share.
These metrics include:
Visitor numbers. Tracking metrics like users and sessions gives you a quick snapshot of the popularity of your site, and how well your various efforts are performing in terms of attracting visits.
Popular pages. Viewing page data helps you see which products and content are most popular with users. You can add metrics like bounce rates and conversion rates to see how well content pages engage users, or how effective they are at converting.
Site speed. You can monitor page speed across the site and identify any pages which are under-performing. Showing page performance by browser, country and device can help you to track trends and identify possible issues.
Top channels.

Knowing where your traffic is coming from is important for understanding how effective your marketing is. Data Studio can be used to create a snapshot of top channels, alongside key metrics such as traffic numbers or conversion rates. 

In summary
Google Data Studio can take a little time to master, and how well you use it may depend on how familiar you are with analytics data, and presentation of data.
This article gives a brief guide to get started with Data Studio, but there is plenty more that can be achieved using this platform, such as bringing in data from a greater range of sources.
The beauty of Data Studio is that, with beginner level skills, you can still produce useful reports that are easy to understand. The clarity of presentation more than matches existing analytics accounts, and the ease of creating recurring reports can be a valuable time-saver for small businesses.