Images can be more effective and efficient at conveying information to users than text, and this is certainly true for e-commerce sites.
Images can capture a shopper's attention, make the product they are viewing more compelling, and answer key questions users may have. The effective use of images can make a big difference when customers are thinking about a purchase.
As customers can't see items closely (and touch them) as they would when shopping in stores, product images help to fill the gap, and give users a better idea of how products look and work. They provide information to shoppers which can help them to make more informed purchases, which in turn can reduce returns rates.
In this article, we'll look at how product images can be used in different ways on e-commerce sites, looking at smart uses of imagery and examples from online retailers.
Quality images matter
High-quality images help users to see items in their best light, and also reflect well on the retailer using them, giving the site a more professional look in general.
It could be argued that quality matters even more for certain product types, and certainly you'd expect excellent imagery to be used for expensive luxury products like jewellery. After all, if a site is asking you to pay thousands for a watch, then you'd expect the images to reflect the quality of the product.
However, good quality images should matter for most sites, as they allow people to see product details and things like the texture of clothing. It all helps them to make a decision.
It can also be about just selling the product by making it look as appealing as possible. For example, many sites selling chocolate selections will just place an image of the box, but Hotel Chocolat shows the box and contents in high-quality detail.
It matches the brand values, informs the customer just what the box contains, and also makes the chocolates look very appetising.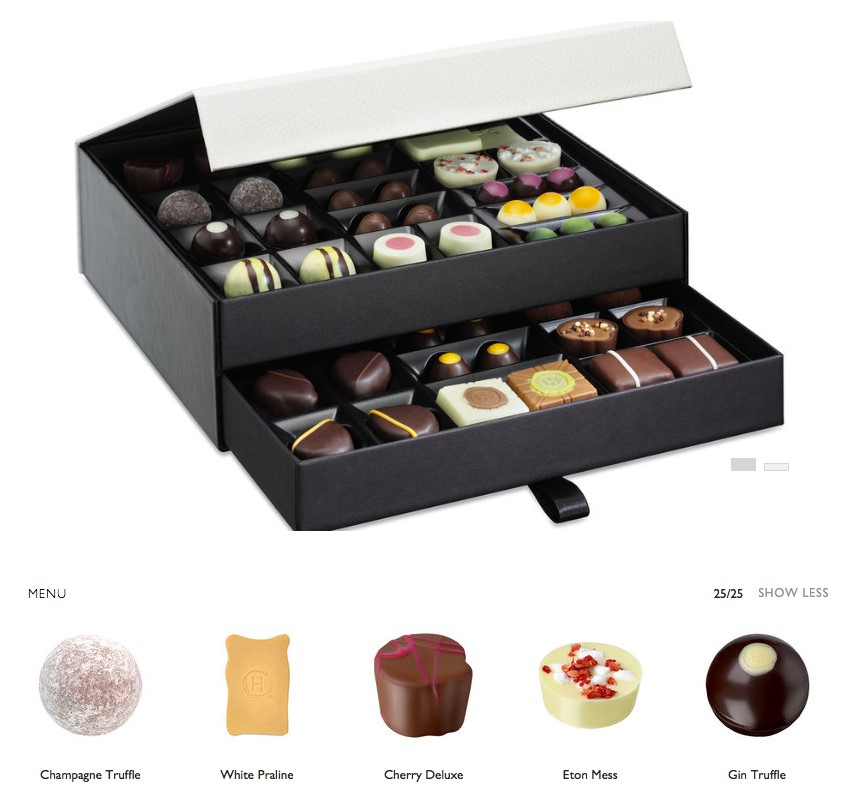 Provide large, zoomable images
Detail matters in product images, and so people need to be able to zoom in to get a closer look.
This might be about looking at the texture of material on clothing and furniture for example. Zoomable images help people to pick out the details that matter.
Here, Mulberry provides a range of high-resolution images with a zoom option for its handbags. Each view can be zoomed in at great detail without losing the quality of the image.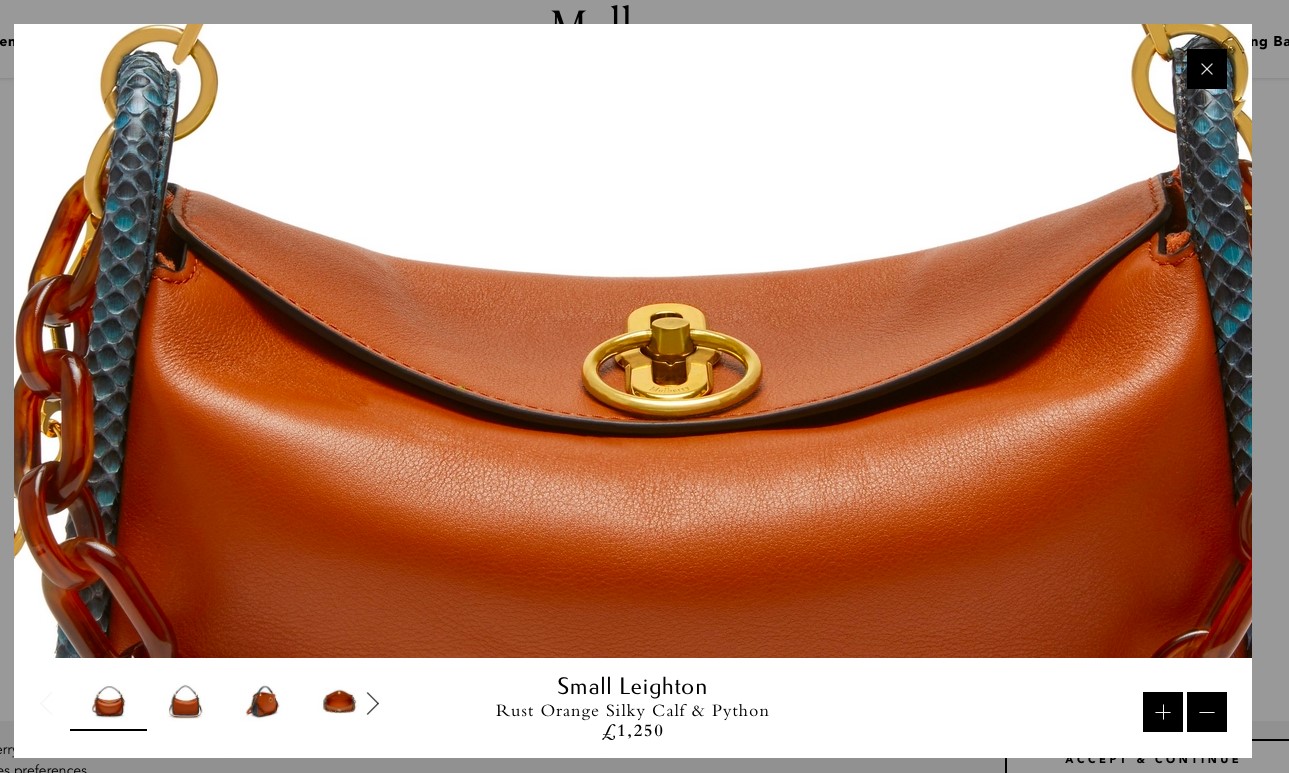 This level of detail allows shoppers to get a better idea of products before they buy. In the case of luxury products like this handbag, quality images also reinforce the brand image.
Provide multiple images from different angles
Online retail has evolved a lot over the past decade, and expectations are now much higher around product imagery.
A single static image is no longer enough in most cases. Instead, most products should be displayed using a range of images so that customers can view them from every angle to get plenty of information which helps them make a decision.
Shoes are a good example of this. In this example from Zappos, shoppers can view trainers from seven different angles to get a good idea of the tread and the overall look of the shoe.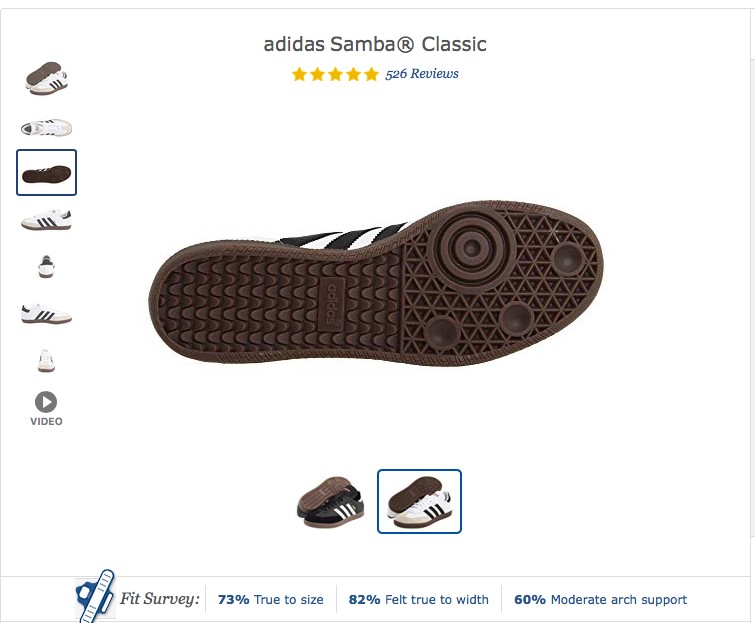 For some items, such as books and DVDs, multiple images may seem less important. However, it can still pay off to use more images.
For books, it can allow people to read the recommendations on the book cover or the blurb describing the book. Or, as in this cookbook on Amazon, the images can help to sell the product by showing some of the great imagery within.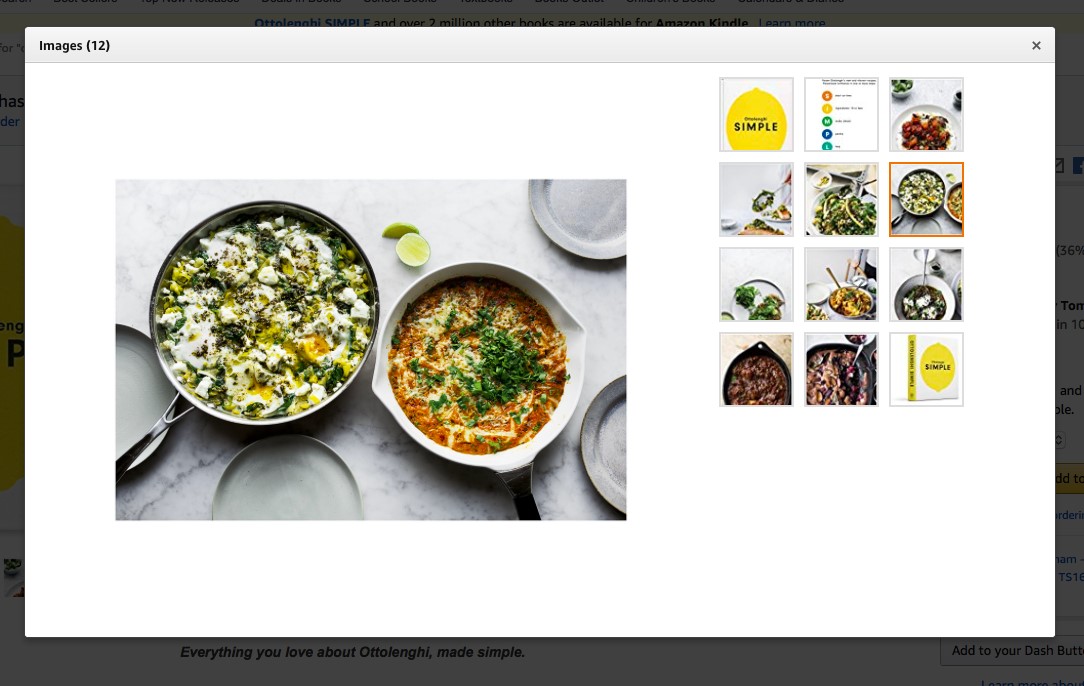 A lot of technical information can be conveyed more effectively using imagery. When buying electrical products like laptops or TVs, the number and type of inputs matter to shoppers.
Do TVs have enough HDMI ports? How many USB ports does a laptop have? Images like this from AO.com help to convey this kind of information to shoppers.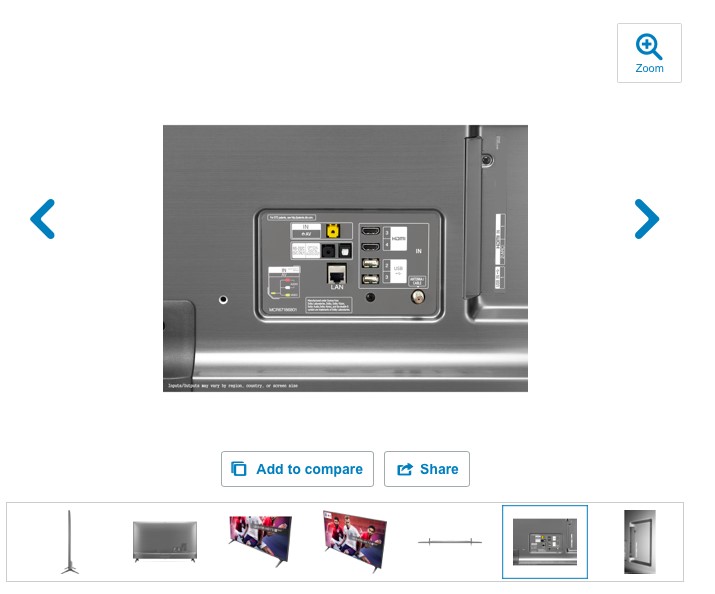 Don't neglect images on mobile
With mobile attracting more traffic than desktop in many sectors, it's important to think about how images display on mobile screens. Of course, with a smaller amount of space, it's more of a challenge but retailers can still provide useful images.
ASOS, which sells more on mobile than desktop, shows multiple high-quality images which users can zoom into. It uses the full screen to maximise space, and there is also the option of a 360-degree view.
This level of detail and choice means that shoppers don't need to head to the desktop version of a site to get a better idea of products.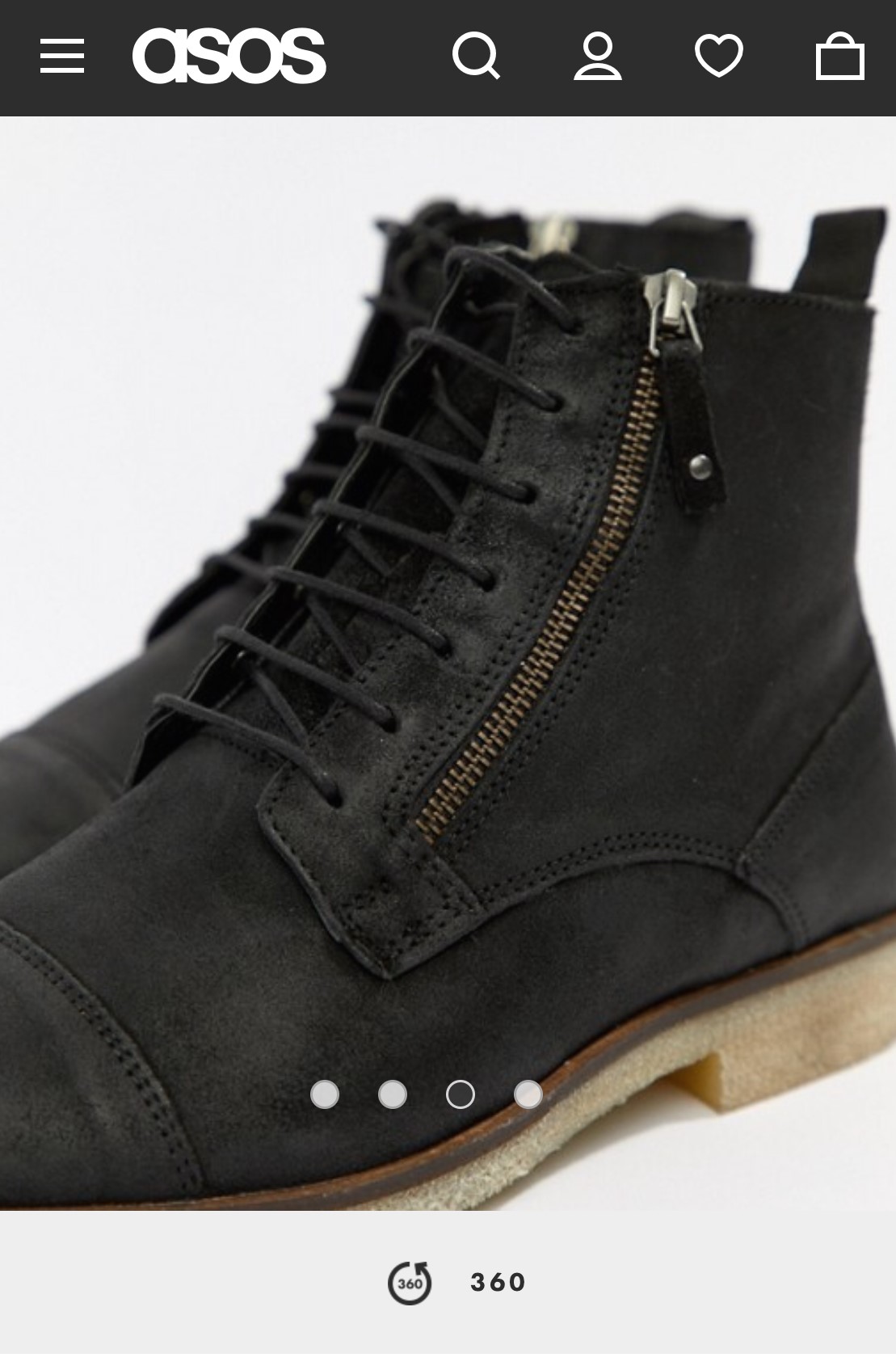 Add contextual information around images
Information around images can help shoppers to interpret them more effectively. Sometimes the images don't explain everything, and this is where a little copy can help.
This is a good example from ASOS – the text underneath explains the model's height and the jean size they are wearing so customers can use that information to help decide on the right size for them.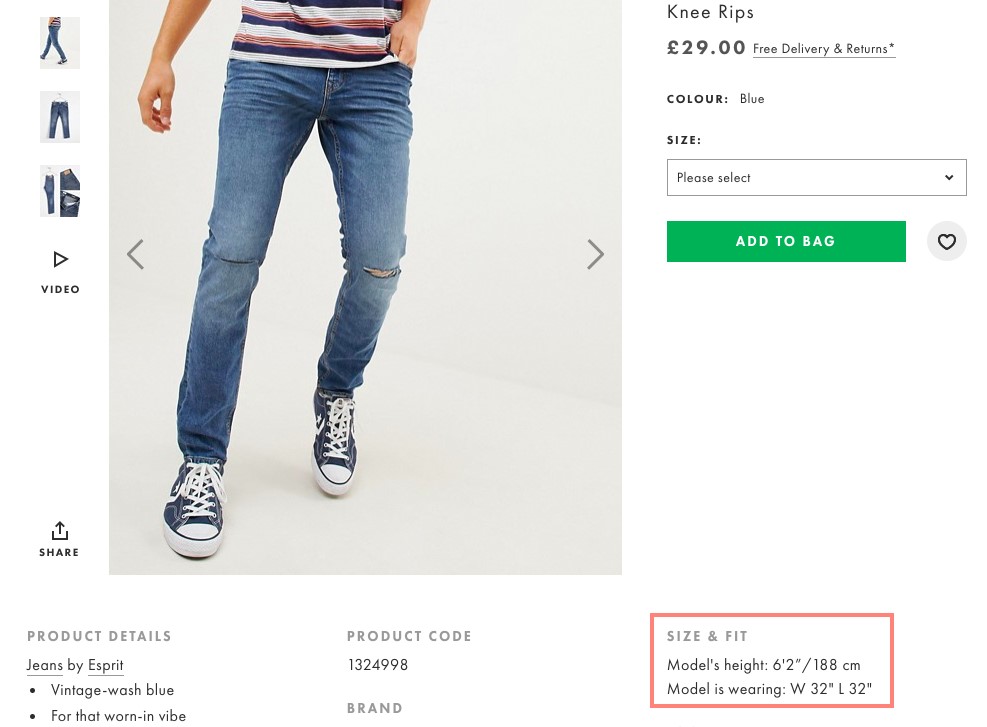 The dimensions on this sofa from Loaf are another example. Many furniture sites just list the dimensions, but this image helps people interpret the text and understand the dimensions of the sofa more easily.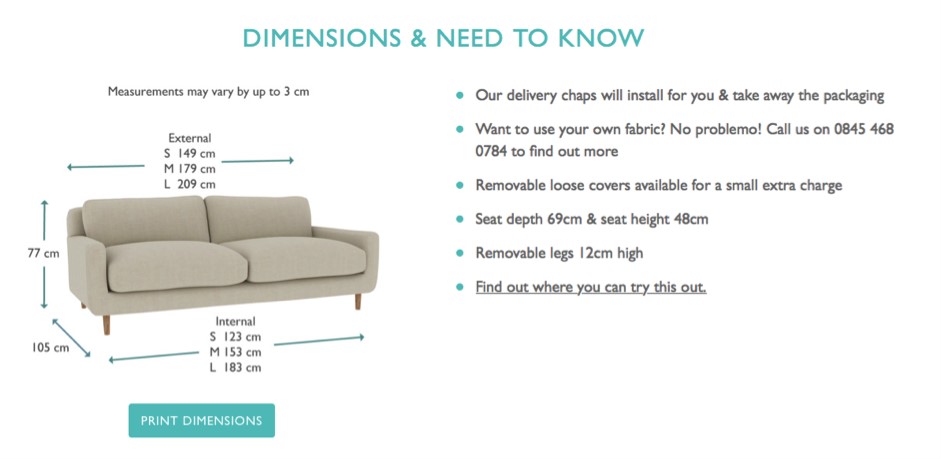 Show each variant of products
If you stock products with are available in different colours, or with other variations, then images should show each version to shoppers.
For example, this watch from Nixon has 12 different colour variations, and users can easily toggle between them. For each colour option, four different product views are shown.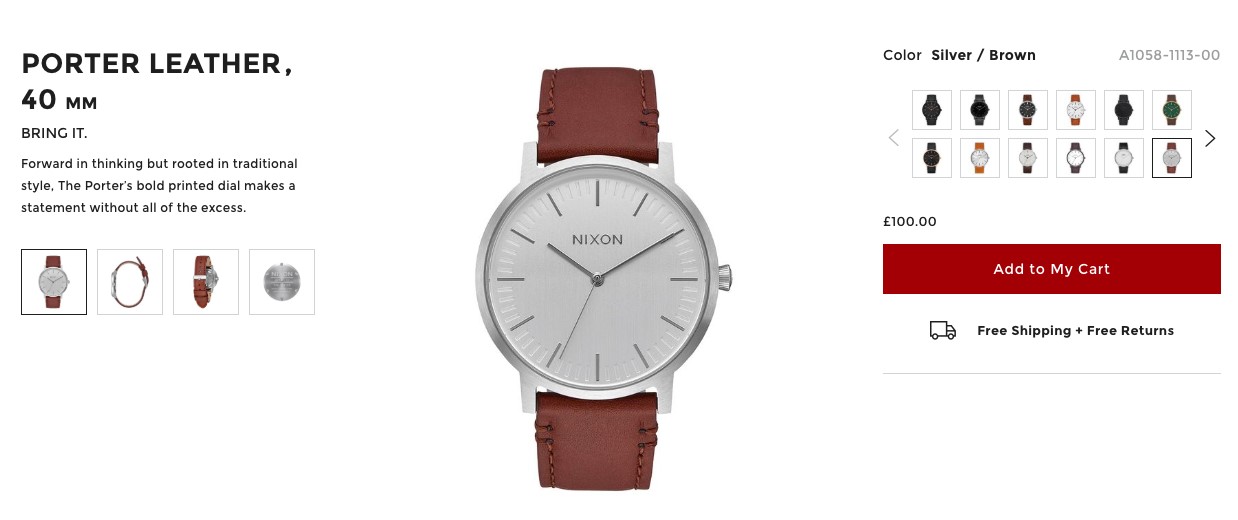 Use of GIFs and moving images
A little movement in imagery can help to catch the shopper's eye and convey the product more effectively.
This doesn't necessarily have to be video (though this can, of course, be effective). Scrolling animation as used by Simply Chocolate is great for sites selling fewer products, while 360-degree product views can help users to see products in action.
Show products in context
Showing products in their correct context can help to demonstrate how the item can be used, and can also help to give an idea of scale.
This is an 'interesting' example from Firebox, but it does illustrate the point. Showing the image in content next to the model shows the sheer scale of the Monster Mushion, and just how ridiculous it is.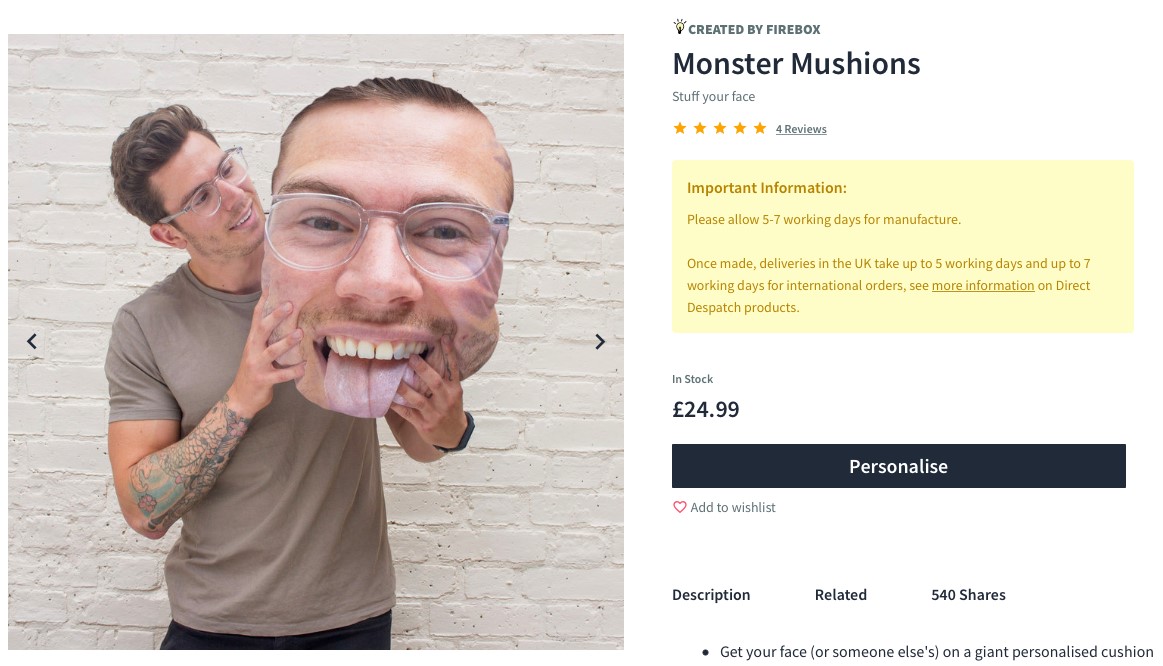 Other uses of context help to show how useful products can be. For example, if shoppers are going to invest in a backpack or a bag like this, they need to know how much will fit in, whether it will carry a laptop and a few notebooks for example.
This image from Ugmonk provides this information quickly, and can be much more effective than just listing the dimensions and capacity of the bag.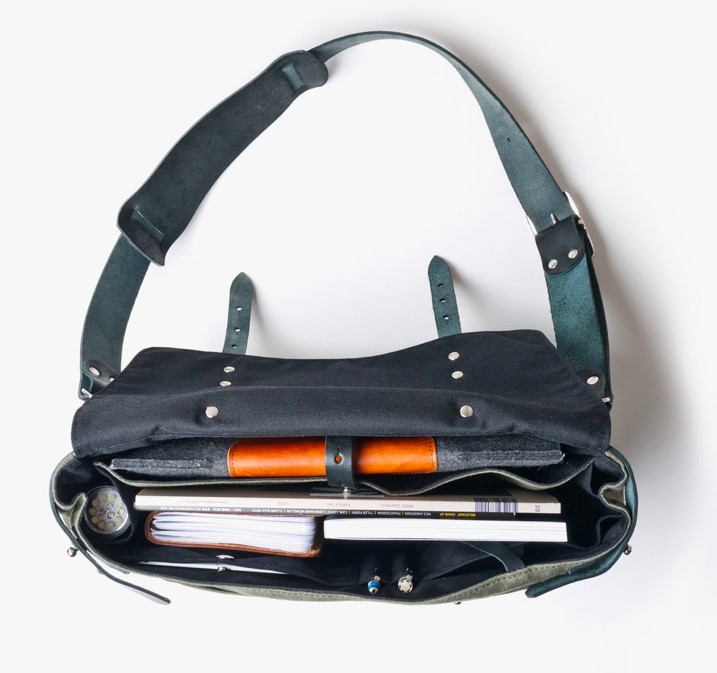 Not all images need to be high quality 
Providing quality images is the general rule for online retailers, but there are some contexts where more amateur photography can help, and even add authenticity.
For example, Topshop invites users to upload images showing them wearing the clothes they've bought from the retailer. These are shown in a separate gallery on the site, as well as being displayed on product pages, under the main product images.
It gives other shoppers outfit ideas, and also acts as a useful piece of social proof, as these photos tell shoppers that other people have bought clothes from Topshop and have been happy with them.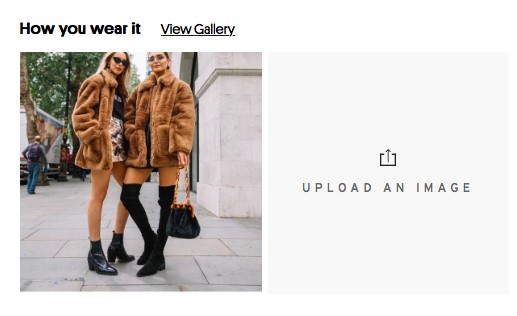 Optimise images for page speed
Site loading speed matters. Google stats say 40% of users will leave a web page that takes longer than three seconds to load, and images can be one element which slows pages down.
Choosing the right image size and file type can make a big difference to page loading times without affecting image quality.
Images and accessibility
Choose the file names and alt tags carefully. Alt tags are the pieces of text connected to an image. They're what shoppers will see when they hover the cursor over an image, and will be picked up by visually impaired users of screen readers.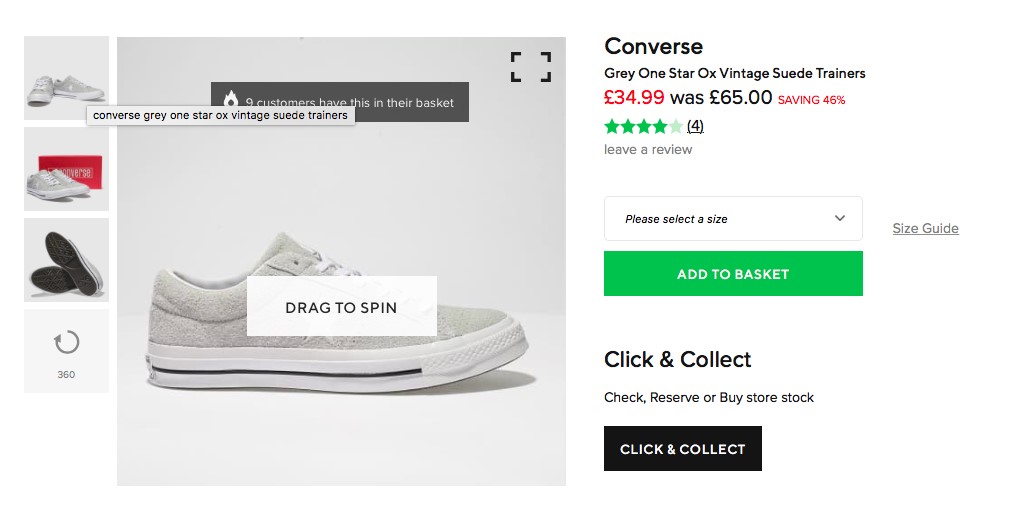 Alt tags are also important for SEO, as search engines will pick up keywords in alt tags and index them.
Using images on category pages
When searching and browsing sites, images shown on homepages, search results pages and product category pages are often the first impression they'll get of a product. They may even decide whether to click through to view products based on what they see here.
Retailers have a choice between showing larger images but fewer products so customers can see them more clearly, or returning a greater number of results with smaller images. There's no right or wrong answer here, and it's something that testing can find the answer to.
Providing different views as people move their cursor over products can be effective. For example, Nike shows its shoes in different colour options as people mouseover. It's a useful way to see the choices on offer.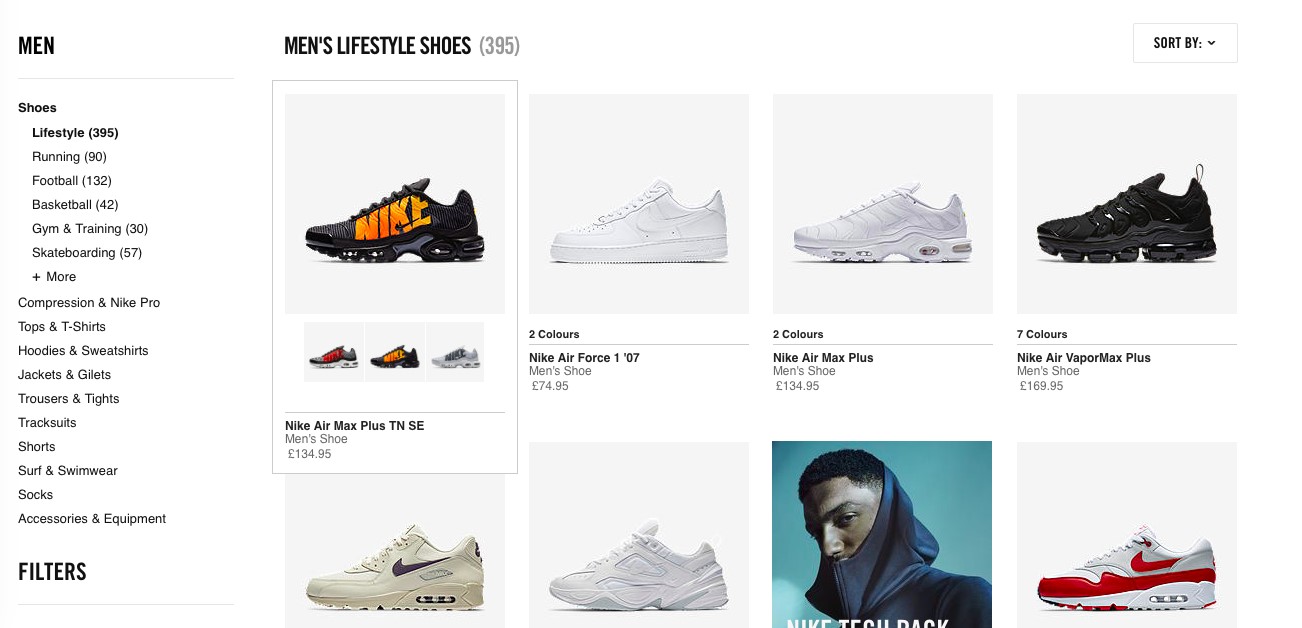 Using images in site search
By adding images to site search results, it can ensure that customers find what they want and speed up the process of selection.
Images also catch the eye more than text results, so if there are certain products you want to promote, then this is a good way to do it.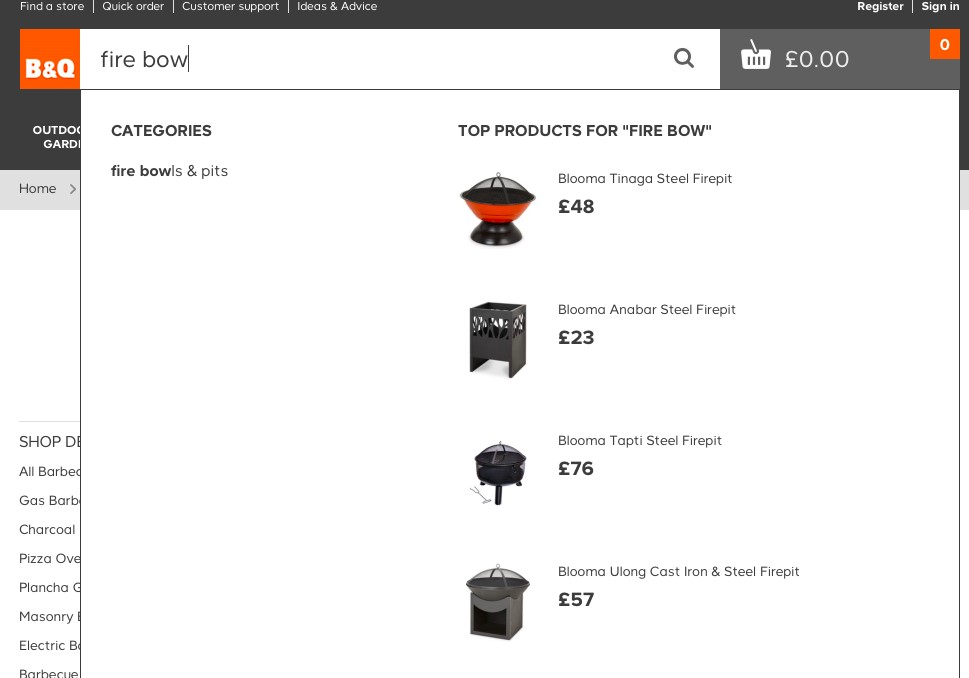 In summary
It's important to think about how you use product images, and whether they are providing your visitors with the right information about your products and showcasing them in the best way you can.
Think about how shoppers decide on a purchase, and how better use of images can help you to convert more shoppers, and to reduce returns rates by ensuring that customers buy with a good understanding of the product.