When someone signs up to your blog or newsletter do you send a welcome email? If your answer is no then you might be missing a trick.
Not only are they a prime opportunity to make a good first impression on behalf of your brand, by they're proven to be highly effective. Compared to standard newsletters, welcome emails receive:
5x higher open rate (86% higher than standard newsletters).
4x higher click through rate.
320% higher revenue per email.
94% conversion rate (compared to 0.10% for standard newsletters).
(Stats compiled by invesp)
However, despite the evidence showing that 74% of people expect to receive a welcome email, only 58% of brands send them.
If you're one of those brands then read on. I'll show you what it takes to send the perfect welcome email. I'll identify the tools you'll need, and what you should include to get your email read, so you can start seeing those higher impressions right away.
Part One: Your toolkit
The right software will let you set up your email in advance so that it automatically sends out to someone who subscribes to your newsletter. There are plenty of tools to choose from, but here's some quick tips on how to set up welcome emails on the popular platform, Mailchimp. 
Mailchimp:
Probably the most popular email tool globally, perhaps because it's completely free of charge. It's also incredibly user-friendly.
Mailchimp will help you both to set up the sign up form and embed it on your website or create it as a pop-up (or both), and then set up the welcome email that's fired to new subscribers.
Step 1: Set up your sign-up form:
First head to this page to start setting up your sign up form, and select "Create a form". You'll then be asked to choose which contact list you'd like your new subscribers to be saved to (to set up your contact lists, head to this page):

You then need to fill in the details to complete your form. And make sure you tick the box on the right-hand side that says Send a final welcome: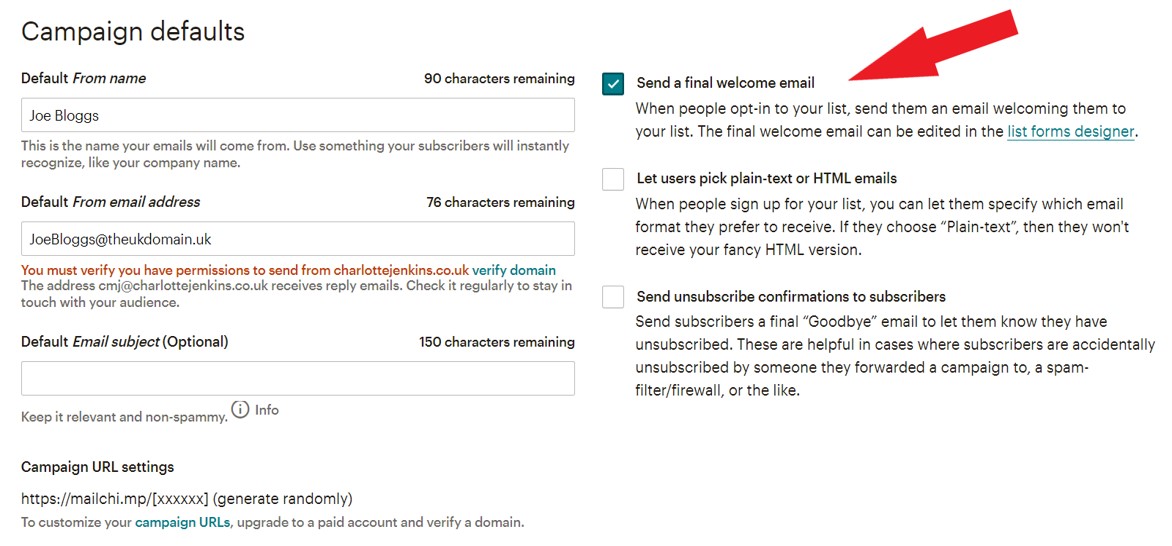 Further down the page, you can also choose to be alerted when you get a new subscriber:
When you're done, click Create in the top right corner.
Step 2: Set up your welcome email.
You're now taken through to this page, where you click on Email.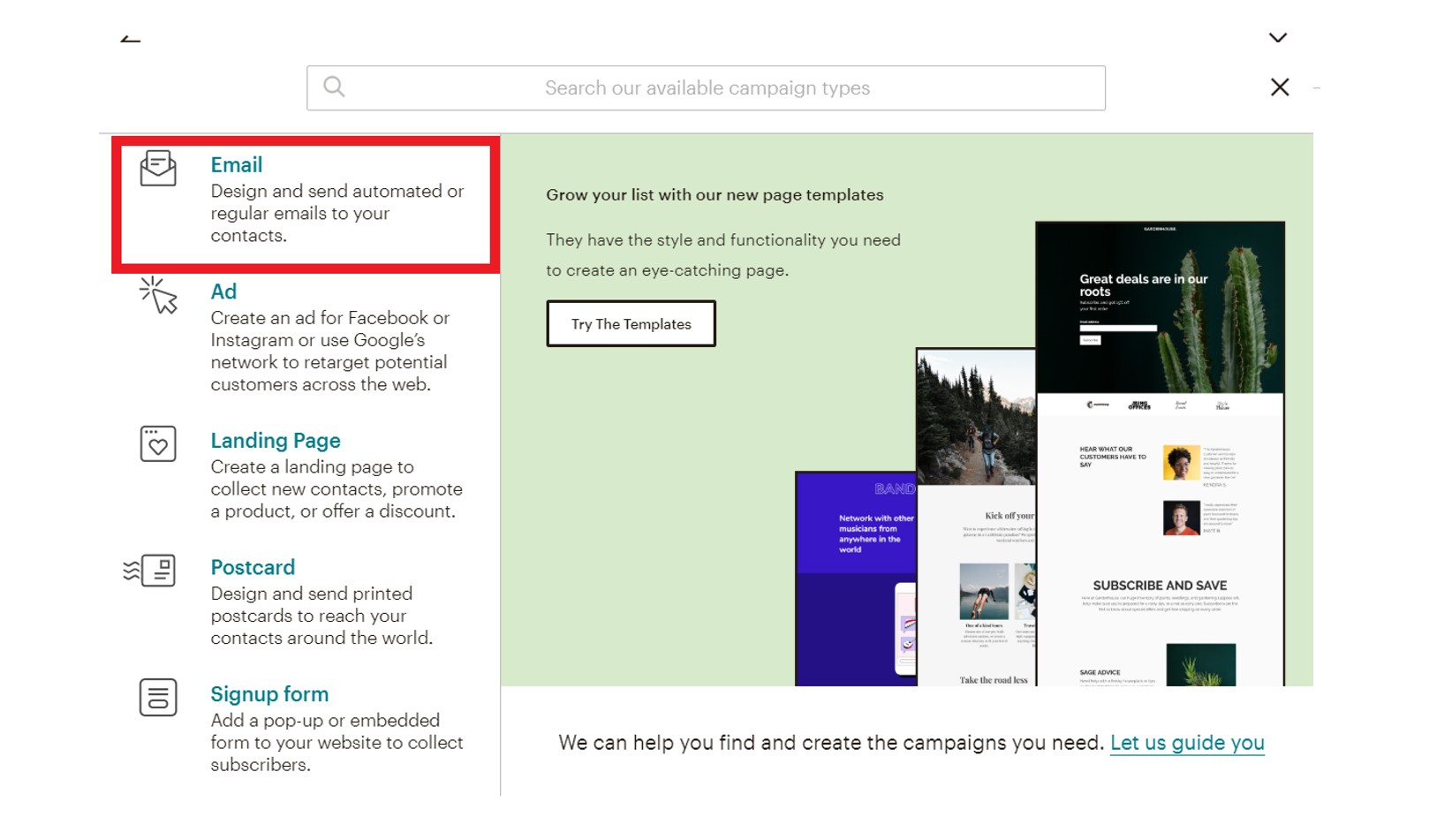 Now click on Welcome new subscribers which will take you through to a page to help you set up and write the actual welcome email: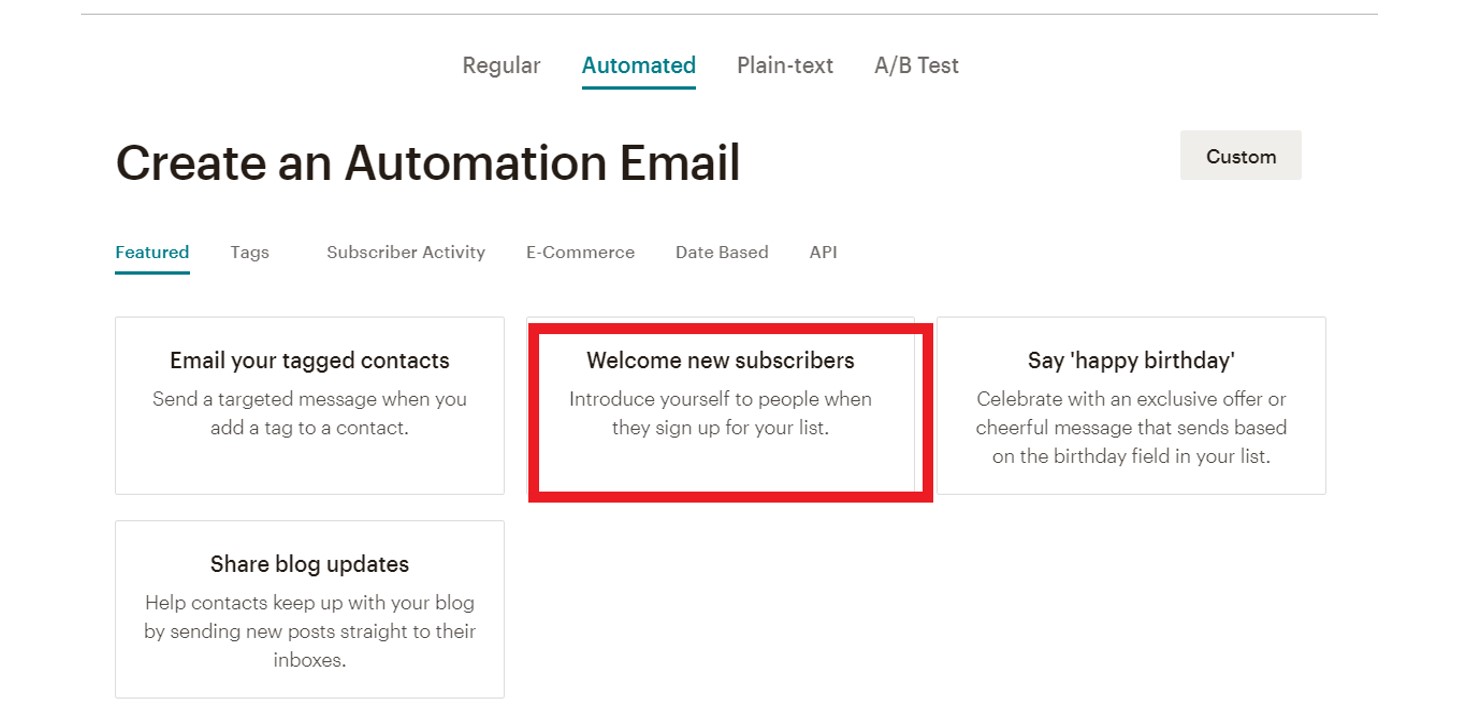 Other email marketing tools include:
Part two: Writing your welcome email
Subject line
Even though most people are expecting your email to turn up in their inbox, you still need to get your subject right to improve the chances they'll open it.
Personalised subject lines achieve 50% higher opens and 58% higher click-throughs.
Because your subscriber is expecting your email, you don't need to worry too much about using urgency in your subject line. What matters is that it's clear and engaging. Using the word "Welcome" helps to mark it out in a crowded inbox:

Personalise your email
People expect to receive personalised attention from brands. Receiving a personalised email increases click-through rate by 14% and conversions by 10%.
Your email software will let you set up automatic automations using merge tags, which pull the relevant details from your contact lists.
For example, if you wanted to address each new subscriber by their first name, Mailchimp's shortcut is *|FNAME|*. When you write your welcome email, you start it with something like, "Hi *|FNAME|*",  and Mailchimp will automatically pull the first name from your contact list.
You can also use your welcome email to ask for preferences to help you personalise emails in future correspondence: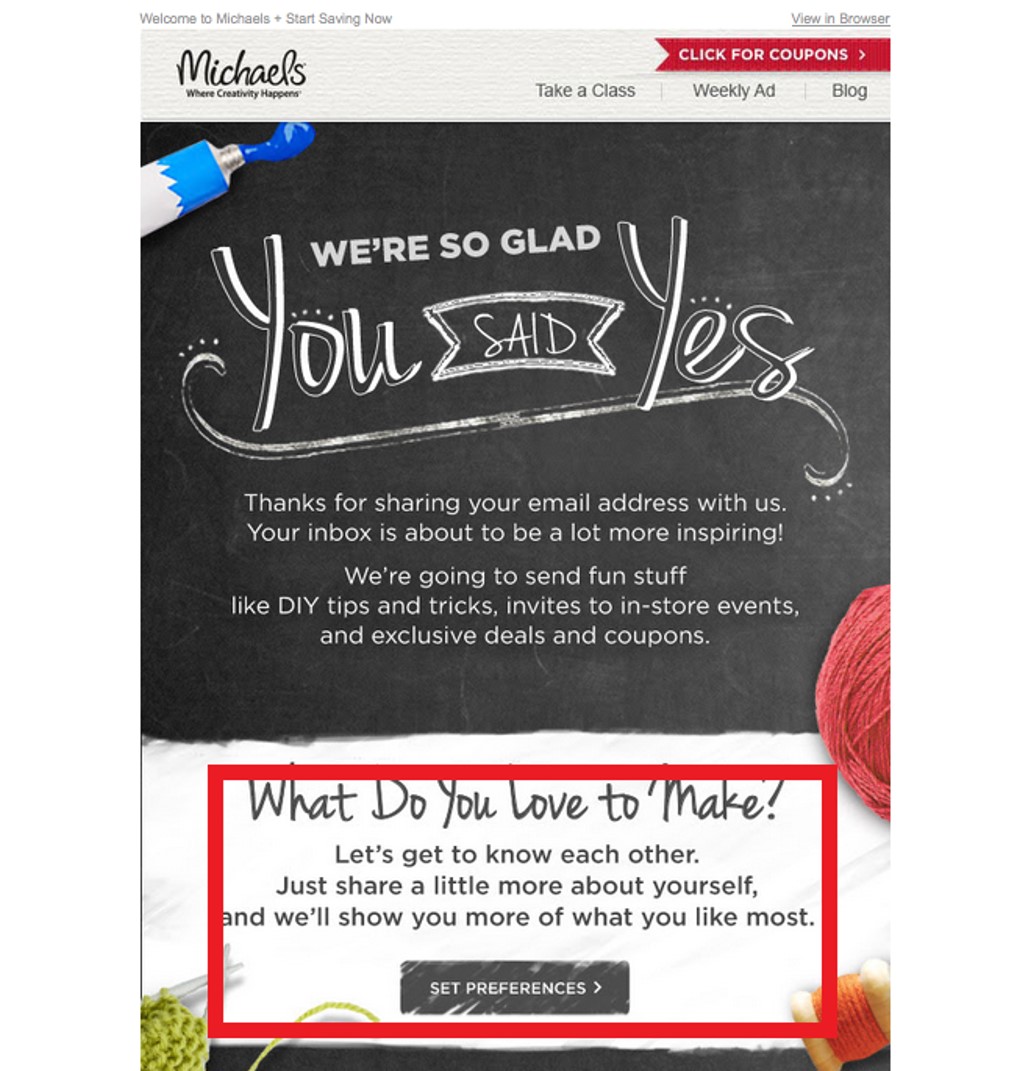 Structure
The usual anatomy of your email is as follows:
Your header (logo)
Welcome text
Image
Call-to-action
Footer information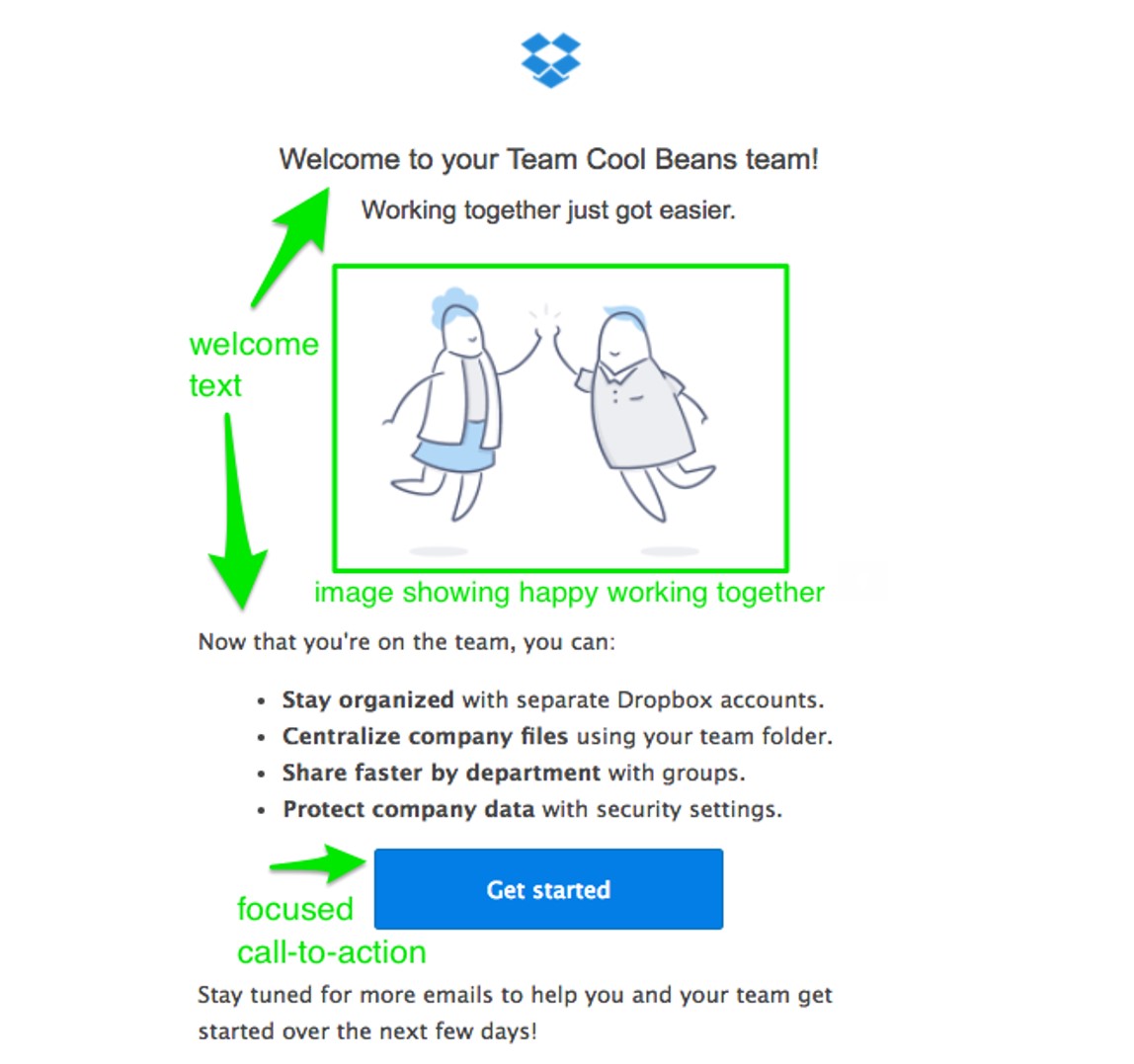 Following this structure will ensure that the format is familiar to your new subscribers. It'll also increase the likelihood that they click through to your website or your offer (which we'll come to shortly).
Welcome text
Your welcome text needs to cover some important items which you need to get across to your new subscriber quickly. According to the Neilson Group, email recipients only allocate 51 seconds to read each email, and so tend to scan the content. You must make your words count.
Your email text will be the first impression your subscribers get from your brand (other than what they've seen on your website) so make sure you use the kind of language and tone that reflects who you are as a company.
Thank them
The word "thanks" is one of the most effective words you can use. It sows the early seeds of building brand loyalty because it recognises that by signing up, your customer is doing you a bit of a favour.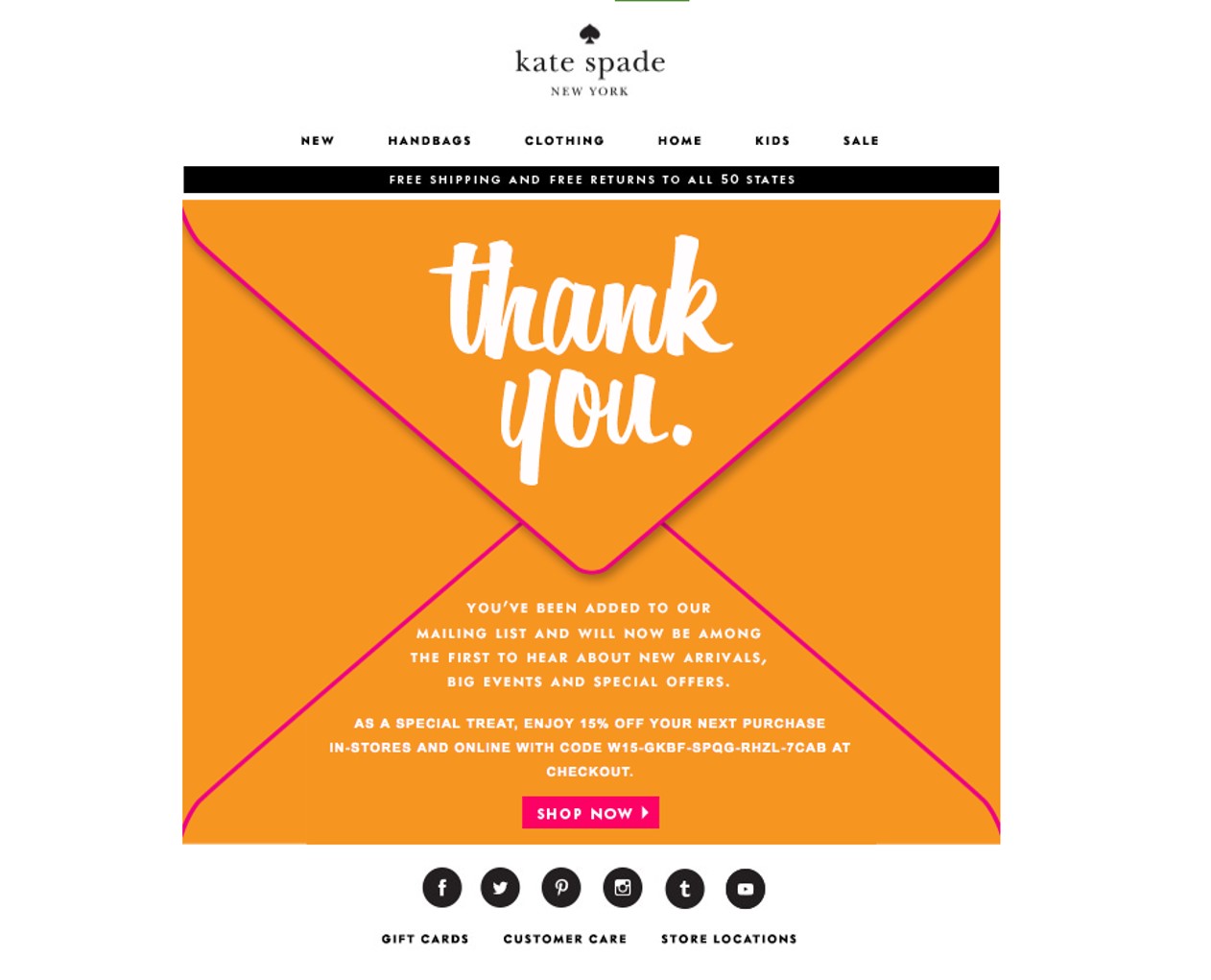 Introduce yourself
This is an exercise in summing up your brand in just a sentence or two. Try and get across your core mission, rather than just use empty promises about how great your products are.
Or, if it's too tricky to sum yourself up in a few words, then why not tell a quirky story and direct them to more information about you on your website?
Check out this example from Huckleberry. Their self-introduction is succinct and fun, and portrays a sense of community: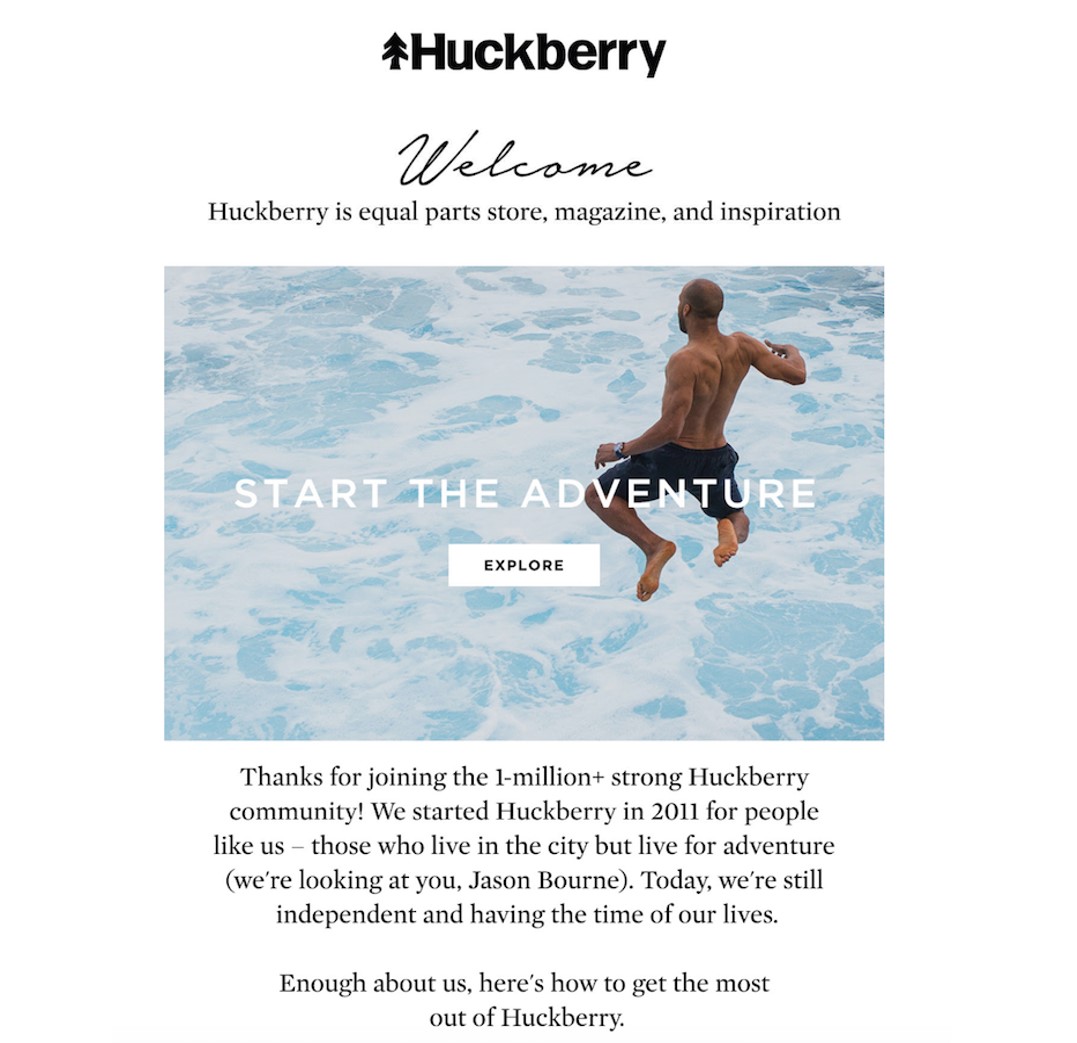 Set expectations
Use your welcome email to explain to new subscribers what they should expect to be receiving from you in their inbox, and if possible, how regularly. Being upfront about this from the start will help to build trust, and increase the chances of them engaging with an email that they're expecting.
For example, if you're just intending to send out a monthly email newsletter with news and updates about the business, then say so. But if you're also wanting to send them offers and promotions then be transparent about this.
This welcome email from the BBC explains exactly what subscribers should expect from them: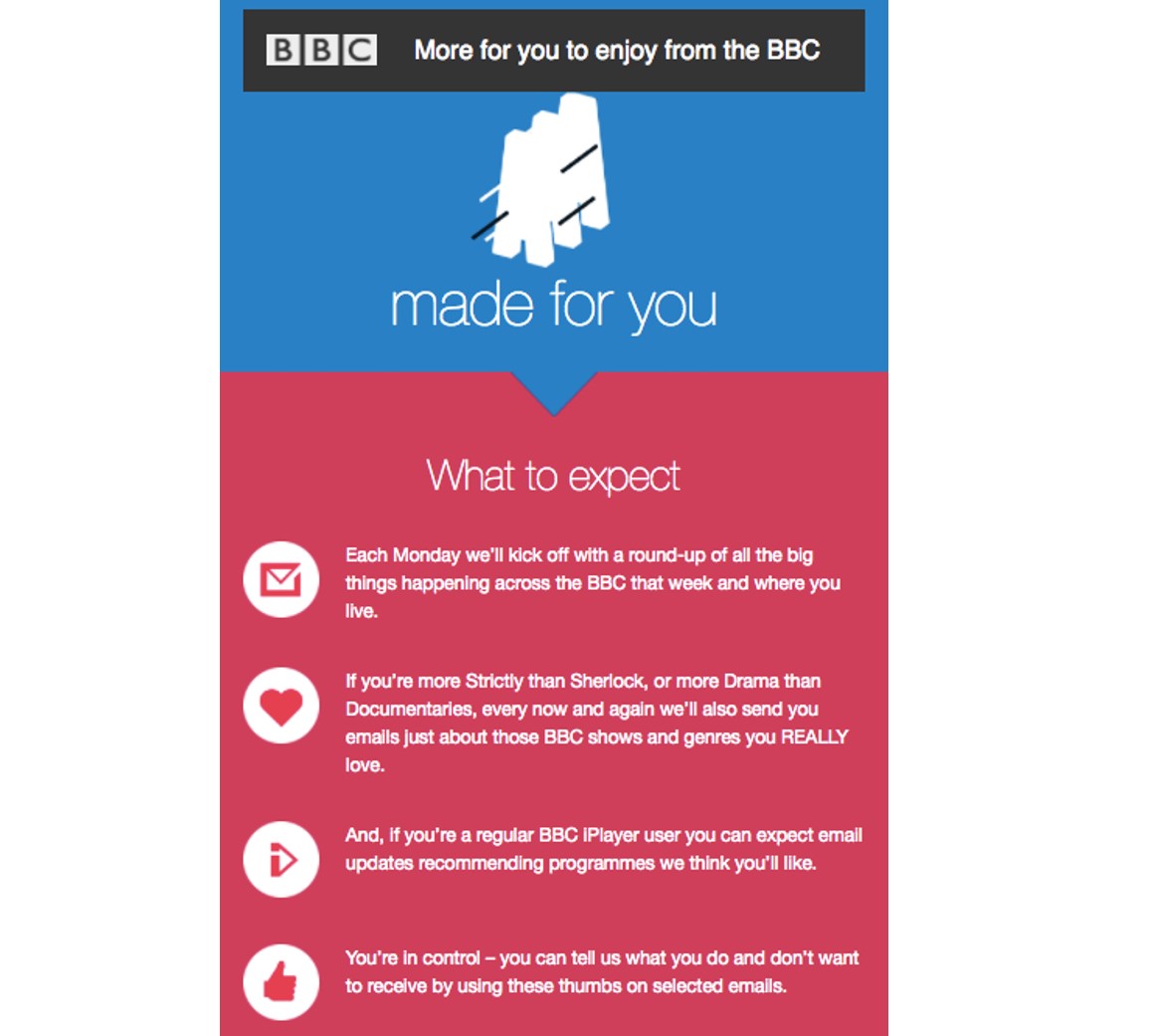 Your visuals
Including visuals in your welcome email helps you to show off who you are as a brand. And images appeal to customers too, with 65% of email recipients preferring email content with visuals, according to HubSpot.
Having said that, using images isn't mandatory and, if done badly, could damage your brand.
Even so, using quality and appropriate images can help to improve memory, aid learning, and trigger emotion – all things you want your welcome email to encompass.
I like this email from Allbirds, which uses images in the header section to reinforce the nature of the product, and then follows this with playful imagery of the materials used in their shoes: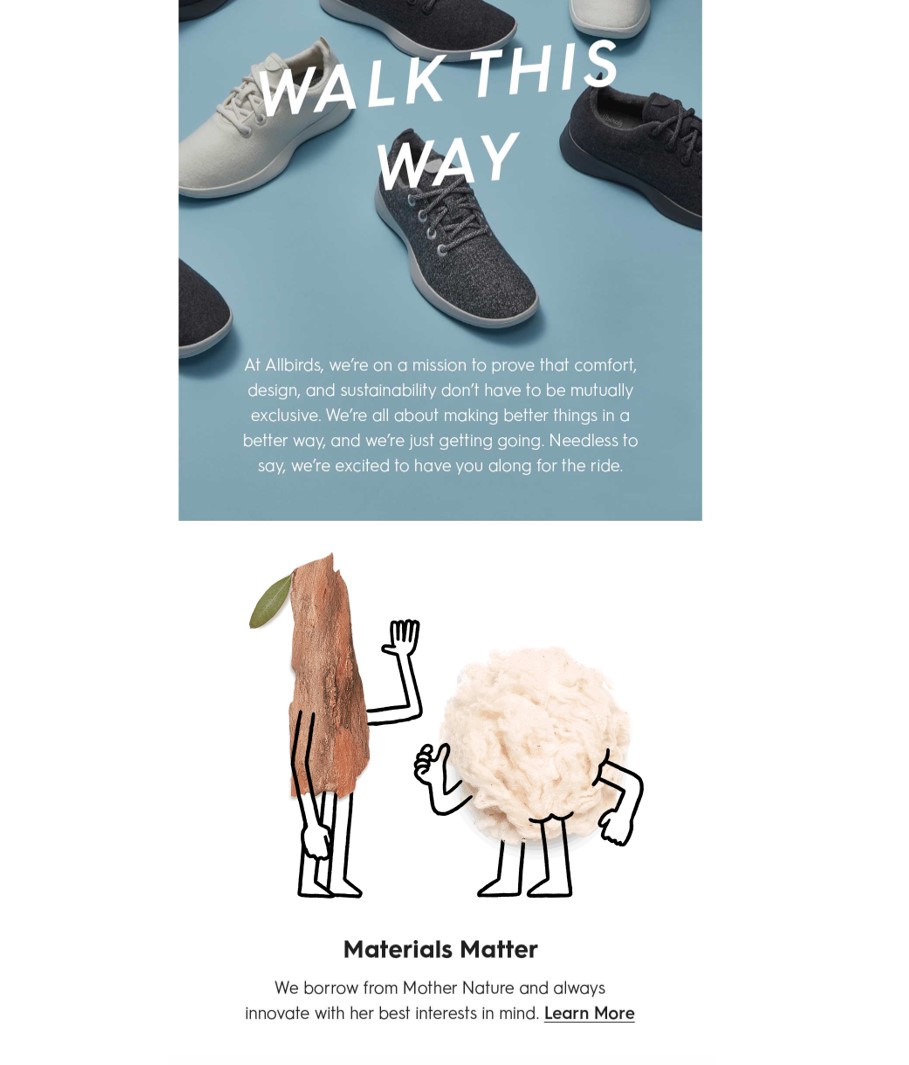 And while we're discussing visuals, let's touch on your colour palette. An interesting fact is that blue is the most popular colour for email. Blue traditionally symbolises trust, integrity, and efficiency– all attributes you want to portray in your brand.
Call-to-action
A CTA is an essential part of your welcome email. When someone first subscribes, they are already engaged with – and curious about – your brand. Your welcome email is your chance to strike while the iron's hot and encourage them to make an action.
Choosing the right CTA depends on what it is you want your new subscribers to do first. Do you want them to check out your products? Or do you want them to read more about you and the service you offer?
Whatever it is, it needs to maximise on where your customer is on their journey. They're at their most curious at this stage, so don't miss the chance to capture that.
My advice is to provide just one single CTA. Too many conflicting CTAs will confuse the subscriber, and dilute your conversion rate. If your email requires scrolling  – although I advise against writing too long an email – then the same CTA at the top, and then at the bottom, is fine.
Also, buttons are proven to be more effective than hyperlinked text by around 28%. Take a look at the two emails below. Which links would you click on, the text in the left email or the strong, simple button in the right-hand email?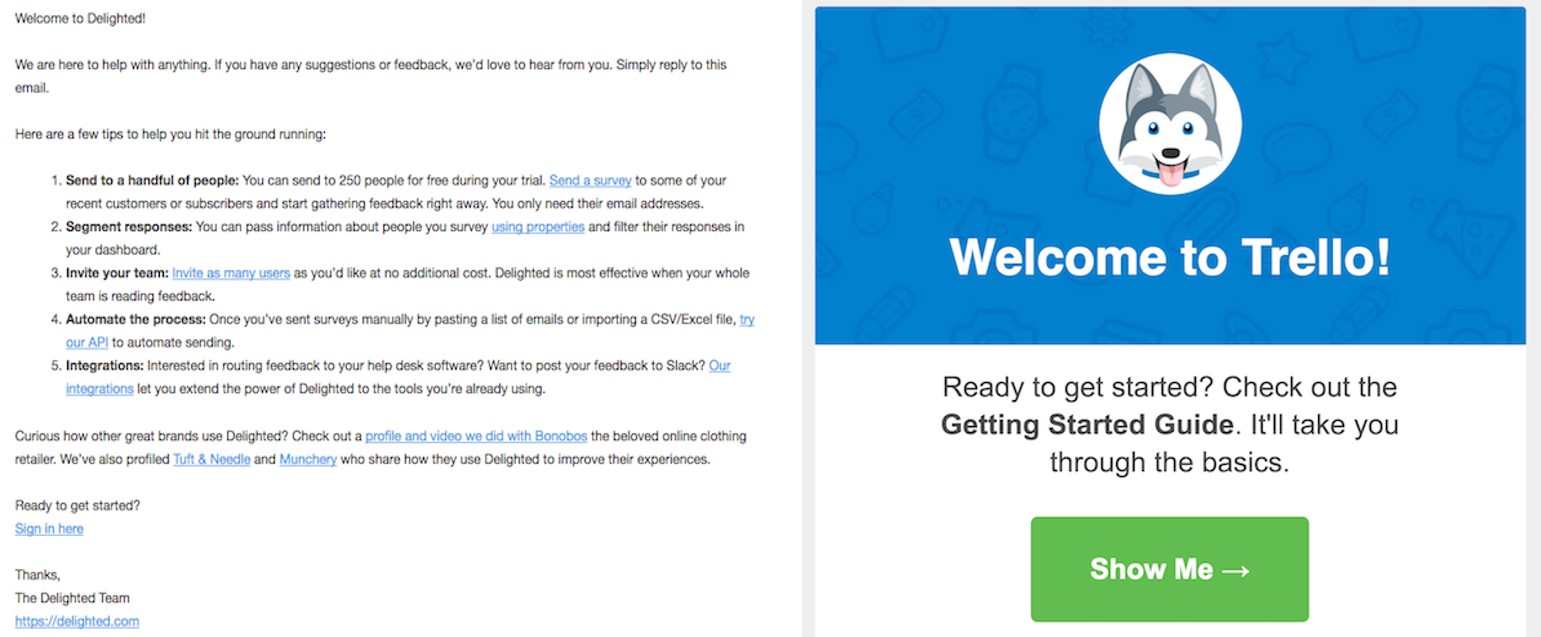 Footer details
The details you put in your welcome email footer are important too.
Providing an email unsubscribe or opt-out is a legal requirement since the GDPR rules came in. While you're providing this, you can also ask them to "whitelist" you, which means add you to their contact list so you don't wind up in their promotions – or, worse – junk folders.
You can also be helpful and provide a contact email or phone number for those who want to get in touch with you directly for any reason.  And encourage your subscribers to follow your social media profiles by providing clear visual links to them.
Pay attention to length
According to research carried out by Customer.io, the optimum length of a welcome email was 51-150 words: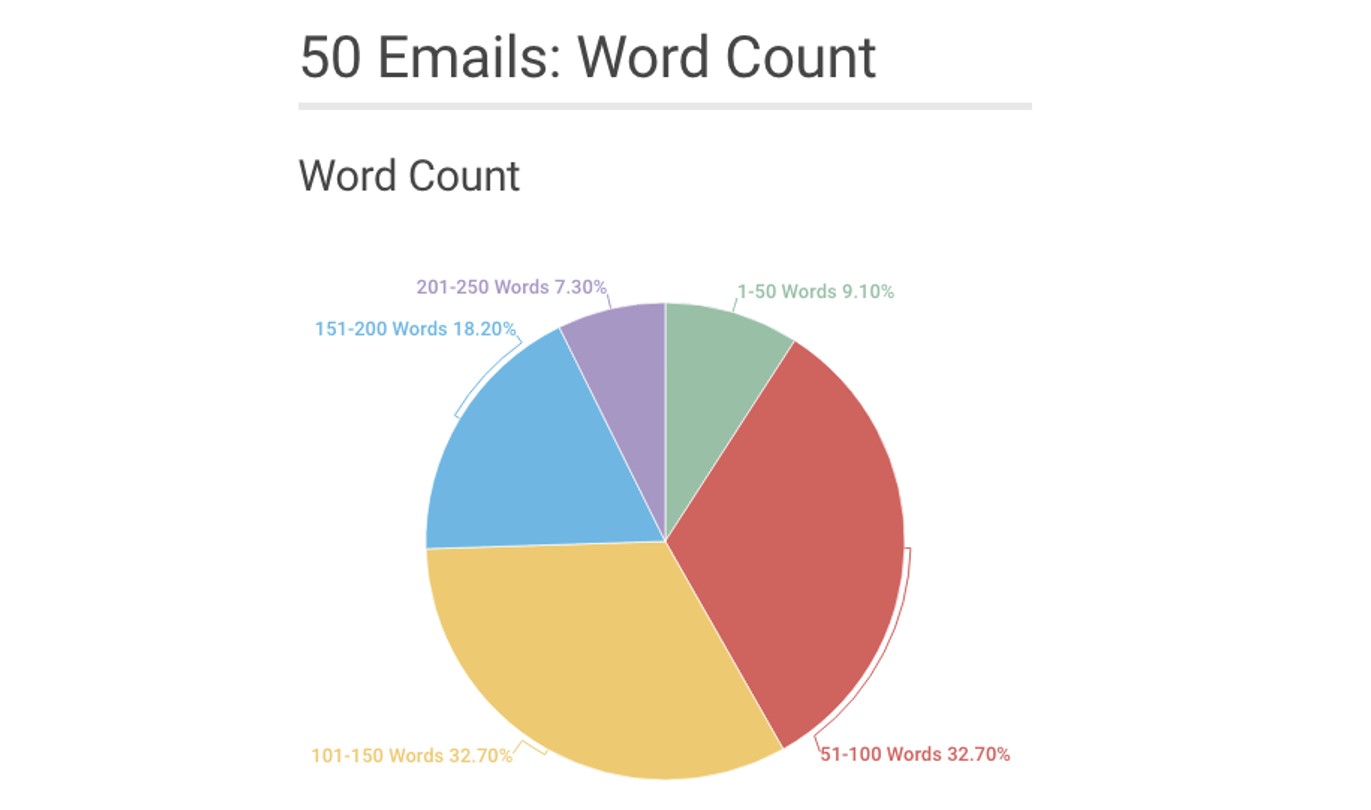 However, the length of your welcome email depends entirely on your business. It's easier to be succinct if you're a retailer than it is if you're, say, a digital growth company which needs far more explaining.
The key is to be as succinct as possible. You don't need to tell your new subscribers everything about you. They can find out more about you on your website, or as they hear more from you in future emails. And anyway, a teaser will help to pique their curiosity.
In summary
Sending out welcome emails to new subscribers is proven to improve click-through and increase revenue. Using tools to personalise and automate your emails will save you time, and help increase engagement.
But your welcome email is more than just numbers. It's your first step towards connecting with your customers and building long-lasting relationships.
With this in mind, your welcome email should reflect who you are as a brand, what you intend to deliver, and how you'll do it. Don't miss the opportunity to dazzle your new subscribers. After all, they've demonstrated their interest; now's your chance to show them why.