There's absolutely no denying that email marketing is big business. In 2019, a staggering 293 billion emails were sent every day and this is expected to increase to more than 347 billion by 2023.
While emailing may be an incredibly easy way to reach out to hundreds, even thousands of potential customers, badly timed or poorly written communications are quite simply going to end up in the trash.
Introducing segmentation
It's crucial that you know your audience and establish what they want to receive from you. If all your emails are generic, they're likely to appeal to a small percentage of your database while others will feel indifferent or even become frustrated by them. This could lead to your emails being left unread, getting deleted or even worse, your unsubscribes will skyrocket.
In order to avoid this, I highly recommend breaking your database down into different groups so you can target each with separate communications. This is known as segmentation and can be done by interests, demographics or product or service preferences. Say for example certain customers always buy a particular product, they're likely to be interested in hearing when there's a sale or you've received new stock.
Naturally, you also want to ensure that all your efforts aren't wasted and you're not greeted with low open and conversion rates or even total failure.
The good news is that there are many email marketing services available which can help you create, segment, send and monitor the success of your campaigns. In this piece I'll be discussing the following topics:
The customers you should be reaching out to
How to target your messages to your audience
Email marketing software
Establishing audience types
I'll start by identifying the different audience types your small business can target and how you can entice them into opening your emails.
Audience type: cold leads
What are cold leads? 
A cold lead is someone who has never bought from you or used your products or services before. They may not have even heard of your company so it can be a tricky and time-consuming process converting them into a paying customer.
New business development is however important for any business and emailing can seem like a less confrontational and intrusive way of reaching out to new contacts.
Please do bear in mind the new laws surrounding GDPR when contacting cold leads. If someone has never bought from or worked with you before, it's unlikely that they've willingly provided you with the consent you need to contact them. There are rules about sending out unsolicited emails and although it's a bit more complicated than it used to be, you can still contact cold leads via email.
Here are five simple steps to sending GDPR compliant cold emails. For further information, you can find out everything you need to know about GDPR email marketing in this guide to GDPR compliance for small businesses.
How to write subject lines to reignite cold leads:
When trying to engage people who may have never even heard of you, it's more important than ever to get your subject line right. A lot of people leave this to the end but one of the secrets to creating successful email campaigns is to perfect your subject line before anything else.
Your subject line will determine whether your email gets opened or moved straight into the trash folder. Heed this advice for all of your campaigns because as well as ensuring you create attention-grabbing headlines, deciding on your subject line early also helps to create a focus for your email.
Don't be disheartened if perfecting your subject lines requires some trial and error. Humour may be appropriate for one industry but not another and slang and emojis may be appreciated among the younger generation but probably won't go down too well with older audiences for example.
Best practices for writing subject lines:
Keep it short – you have a split second to capture people's attention
Don't be salesy – write like you're sending an email to someone you actually know
Personalise your emails – emails are 26% more likely to be opened if they have a customised email subject line
Keep it relevant – don't trick people into opening your email by claiming it's about something it isn't
Try asking questions, this may pique people's interest
Make your prospects feel that by opening your email, they will be gaining something. This may be a discount on your products or services or helpful advice
Use the Before-After-Bridge (BAB) technique (more about this below)
Before: Here's your world now
After: This is what the world would be like if you solved this problem
Bridge: Here's how to get there
According to behavioral psychologists, humans are motivated to take action by two things: pleasure and pain. The BAB formula uses this universal trigger which not only grabs the reader's attention, it also compels them to respond.
Start your email by identifying a problem that's relevant to your prospect and then describe how the world would be different if that problem didn't exist. Now that your prospect has a desire for what you're offering, close by highlighting how your product or service can help your reader to get there.
How to ensure your communications appeal to cold leads:
Find a reason to connect – maybe you have a mutual acquaintance, you're in a similar industry or you can offer something you think might benefit them
Keep it short, concise and to the point – remember, this person doesn't know you so they have no reason to give you their time
Does your email offer value – has your reader gained anything from reading your email?
Ask yourself if you would open, read and respond to your email
Give a clear call-to-action – ask if they're happy for you to give them a quick call
Audience type: win-backs
What are win-backs?
A win-back is a dormant customer who purchases from you again as a result of a targeted sales and marketing campaign. A great example of how a company might do this is with the email I recently received below. Having been a year since I last shopped at Feel Unique, they're offering a special 20% discount in an attempt to encourage me to shop with them again.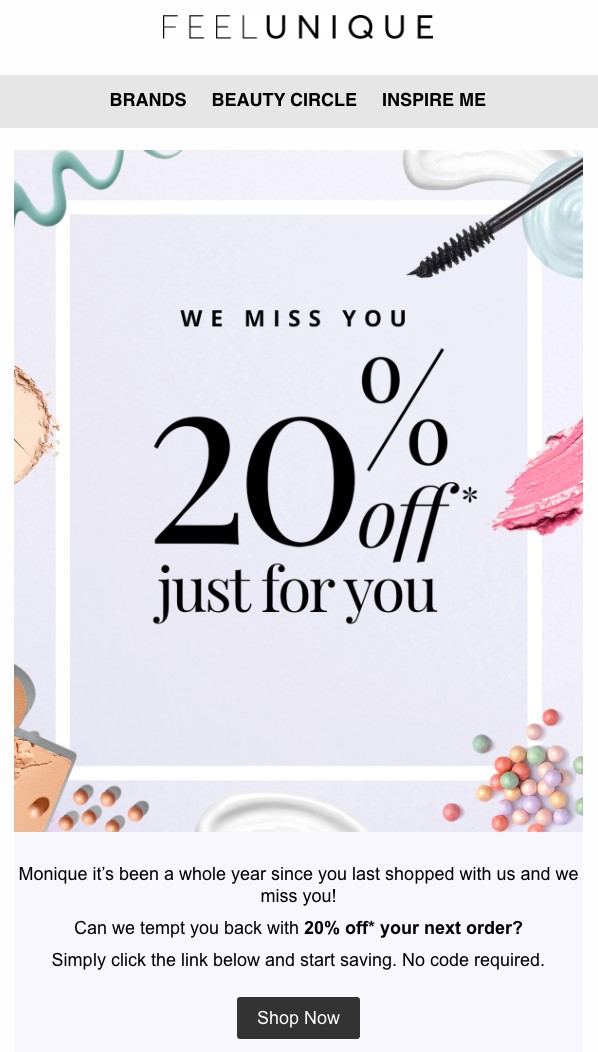 Given the cost of acquiring a new customer, repeat business is what keeps many small companies going. Despite this, many put very little effort into reactivating lapsed customers. By failing to do this, you could be missing out on huge opportunities however. Statistics show that repeat customers have an incredible 60-70% chance of converting. What's more, someone who has purchased from you twice, is nine times more likely to convert compared to a first-time shopper.
This is why win-back emails are absolutely crucial. It's important that you don't ignore this audience – they know you, they've already purchased from you and chances are they trust you, making them a much easier sell.
How to write subject lines to secure win-backs: 
Personalised subject lines are always going to be superior, regardless of who you're targeting. Something else you may notice with win-back emails is that they often use emotive language in their subject lines such as 'we miss you' or 'is it something we said?'
This can be very effective when it comes to winning back customers because they already have a relationship with you. When sending out win-back emails, try testing some of the following subject lines:
[First Name], we want you back
We miss you [First Name]
Where have you been [First Name]?
Did you forget about your [Company Name] account?
Best practices for writing emails to win-backs: 
A simple 'please come back' email might work for a small percentage of relapsed customers but the reality is that with so many other businesses competing for their attention, you're going to have to give them a bit more encouragement.
When writing emails to potential win-backs, bear the following best practices in mind:
Remind people why they became a customer in the first place
Show them the benefits of your products or services. Be sure to include any new updates they may have missed
Make them feel recognised and appreciated
Keep your brand fresh in your customers' mind
Keep it simple – inactive customers are unlikely to read a lot of copy
Include a low-friction call-to-action – make it easy for people to come back to you with a call-to-action which politely asks rather than demands
Offer an incentive for coming back. This could be a bonus gift, discount, free shipping, extra reward points or a free consultation
Create urgency so people act now
Time your emails well. If you're an accountancy firm for example, people are more likely to come back to you from November – January as tax returns are due on January 31
How to ensure your 'win-back' communications are engaging:
Use your data to time your emails
If you have this data available to you, pinpoint the exact moments customers tend to become inactive.
If for example, people tend to buy from you in the run-up to Christmas and then sales drop off in the New Year, send out emails in January. Offer discounts, free gifts if they spend a certain amount, free delivery or have a sale – anything to encourage people to buy from you at a time they typically wouldn't think to do so.
Give people a reason to come back
Give people an incentive to come back. Money off and freebies typically work very well but be sure to add a deadline to your offer to create a sense of urgency. Urgency makes potential buyers think differently about the decision they need to make. It helps suspend their natural behaviour, such as procrastination and motivates them to act on impulse.
The example below from Pinkberry does a fantastic job of incorporating all of the points mentioned above.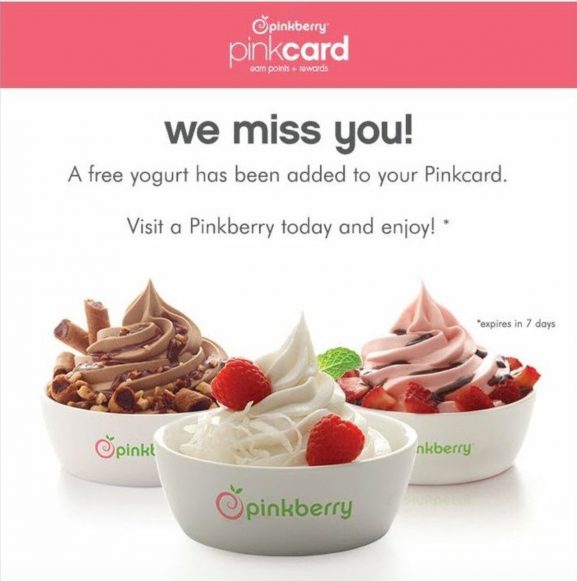 Show them what they're missing
Has a celebrity been spotted in one of your dresses? Is your anti-ageing moisturiser flying off the shelves? Do you have limited stock left of your best-selling product? If you're a serviced-based business, how much money have you saved your customers over the last six months? What great things do your existing customers have to say about you?
Sending out an email reminding people what they're missing out on is another great way to intrigue them into coming back to you.  
Audience type: existing customers
Who are existing customers?
This one doesn't need much of an introduction as existing customers are simply those who are currently buying your products or using your services.
While I certainly don't recommend bombarding your customers with unnecessary emails, keeping in touch with them can be a great way to encourage loyalty and drive sales.
Even if people know and love your brand, it can still be difficult to get them to open your emails because we all get sent so many every single day. This is why it's important, as always, to take the time to think about your subject lines.
How to write subject lines to engage existing customers: 
Some top tips which will help you to create subject lines that will get your emails opened include:
Create a sense of urgency. For example, 'There's only 24 hours of our sale left'
Pique their curiosity with subject lines such as 'This deal is too good to miss' or 'Find out how we can save your business money'
Include your offer in the subject line. For example 'Free delivery on all orders placed today'
Use personalisation
Keep it short and sweet
Use a familiar sender name so they recognise you and you don't go through to their junk folder
Your subject line should tell people exactly what they can expect from your email
Make your customers feel special. For example 'Here's 10% off just for you James'
Best practices for writing emails to existing customers:
In order to ensure your emails are opened, appreciated and encourage your readers to take action, try the following best practice tips:
Target emails according to customer preferences. As we discussed earlier, if you know certain customers love a particular product or service, email them about it
A/B test every part of your email from subject lines to call-to-actions so you know what works with different groups
Think about your email formats – do your existing customers like to read your emails in plain text or HTML format? Tailor your email template to suit their preferences
Devise a content calendar. Try to plan out at least six months in advance which emails you're going to send out and when. This stops duplication, emailing unnecessarily and forgetting to send out important messages
Remember that quality beats quantity. If you don't have anything interesting or relevant to say, don't email customers just for the sake of it
Choose meaningful metrics to track and measure. This can include open rates, click-throughs and purchases. Many email marketing software platforms enable you to check your analytics quickly and easily
Videos are becoming increasingly popular and it's therefore a good idea to include them in your emails. Find out how to create the perfect video for your email marketing campaign here
Reward your VIPs (those who always open your emails or have been a loyal customer for a long time) with special promotions such as the one below. If you make your customers feel valued and appreciated, they're more likely to stay loyal to your brand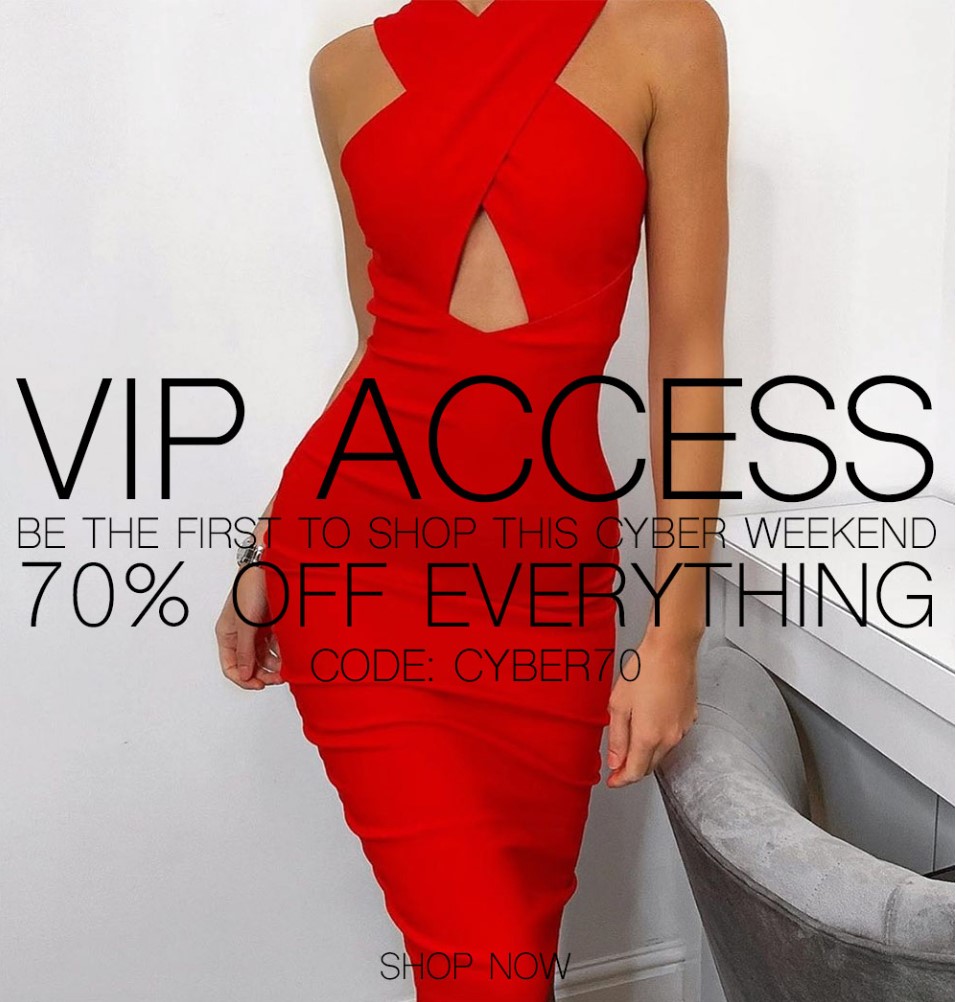 How to ensure your communications appeal to existing customers: 
There are a number of emails you can send to existing customers which will help to keep you at the forefront of their minds.
The welcome email
Whether someone has just subscribed to your newsletter or made a purchase, show your appreciation with a quick welcome email. Use this time to reinforce what they're going to gain out of receiving your communications or using your services. Don't forget to offer some sort of a promotion – this is a popular and easy way to encourage new customers to take action.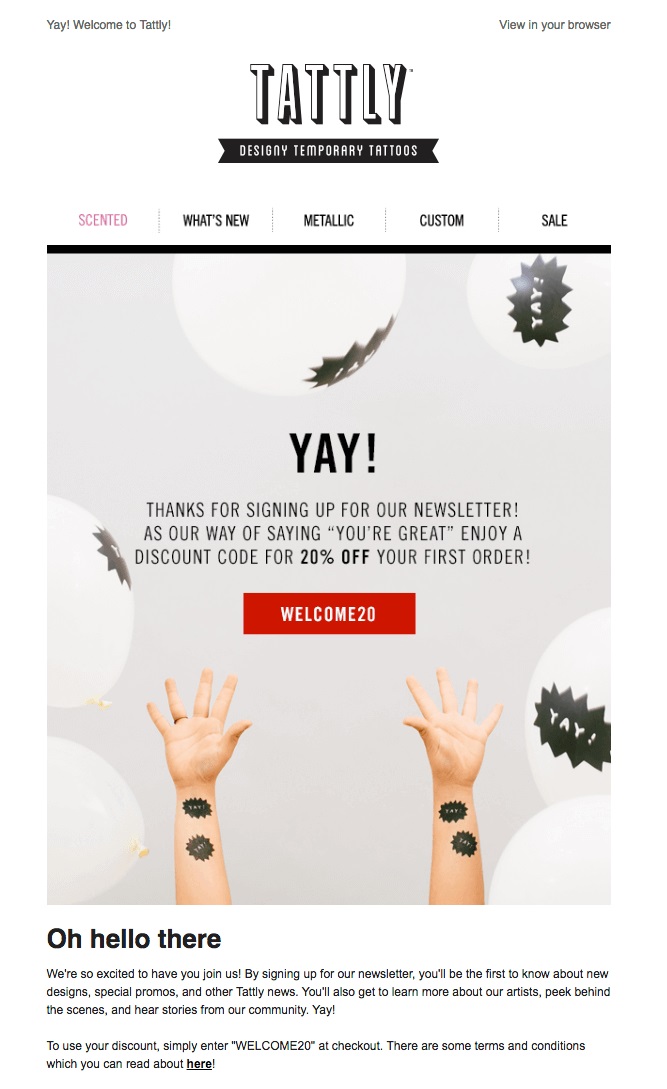 Promotional emails
This is a great way to announce new products, services, webinars, company news and any promotions you're running. Remember to only describe and promote one offer at a time however and always have a clear call-to-action.
Try not to run these promotions too often either. Aside from annoying people with all your emails, if everyone knows you have offers on all the time, they're less inclined to act because they know another one will follow.
Newsletters
Newsletters are a fantastic way of staying in touch with existing customers. By providing content that's valuable to your readers, this helps to create trust and even if they don't require your product or service right now, regular communication ensures they will remember you when they do. If you're new to this type of email, here are some tips for producing great newsletters.
Birthday emails
One of the best ways to retain customers and help them feel special is to make your relationship personal. Studies show that opening rates for anniversary campaigns are in fact nearly three times as high as standard bulk emails.
If you know when it's someone's birthday for example, take this opportunity to wish them a happy birthday and include an exclusive discount code just for them. People will appreciate that you have remembered their birthday and taken the time to wish them a great day which means they're more likely to make use of the discount code.
It's also a good idea to keep your leads warm between campaigns. Find out why this is important and how you can do this here. To find out more about running successful campaigns, you can also have a read of 'five common email marketing mistakes and how to avoid them.'
Email marketing software
Most businesses new to emailing worry that it's going to be a huge, if not impossible task to create templates, send out bulk emails, split databases and track their metrics. The good news is that there are many fantastic email marketing services which do all of this for you.
Below I'll share some popular email marketing software platforms and their benefits.
1. Mailchimp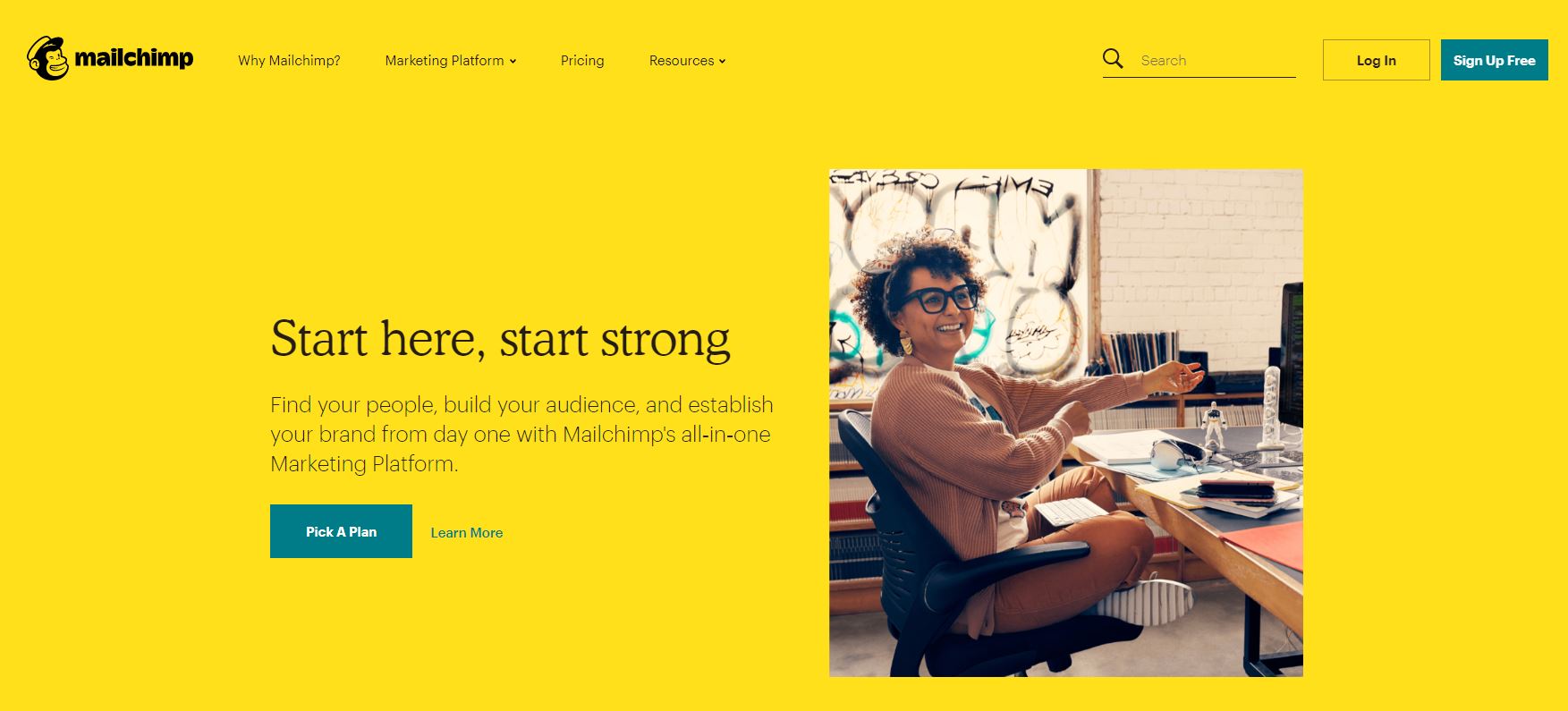 One of the better known platforms, Mailchimp is popular because it's user-friendly even for complete beginners and the free package is normally more than enough for small businesses.
Key features include:
Templates which have already been designed (there are several to choose from)
The ability to import your own template
A/B testing
Personalisation
Analytics
Responsive to desktop, mobiles and web apps
300+ app integrations
GDPR email marketing compliance – the tools available make GDPR compliance simple and fast
Built-in security protects your account and customers' data
Award-winning support is available
Different pricing options. It's free to send up to 2,000 emails per month but you can upgrade to different packages including Essentials, Standard and Premium
Key benefit:
With the ability to promote your business across email, social media, landing pages and more all from one single platform, it's easy to see why Mailchimp was voted one of the best software companies of 2019.
2. Campaign Monitor
You can create and send beautiful branded emails with this industry-leading email marketing software.
Key features include:
Hundreds of professionally designed templates to choose from
Drag-and-drop allows you to put your emails together quickly and easily
Customise emails to fit your brand
Personalisation and segmentation
Use sign-up forms to encourage people to subscribe to your list
Analytics
Connects with hundreds of other apps
Ongoing support
Three different pricing options starting from just £9 per month
Key benefit:
Campaign Monitor is great for e-commerce websites. You can recover revenue and drive sales with abandoned cart messages, product reviews and much more. You can also try it for free before committing to a paid plan.
3. GetResponse
With a list of impressive features, GetResponse is an easy-to-use and relatively cheap email marketing platform.
Key features:
Landing page builder
A/B testing
Webinar builder
Autoresponders (such as cart abandonment emails)
Integrates with a number of other apps including Salesforce, Google Docs, PayPal, Amazon Payments and more
Different payment plans starting from just under £10 a month with a free 30-day trial available
Key benefit:
One of the best things about GetResponse is its marketing automation tool which allows you to create workflows using drag and drop. This feature also enables you to build your email campaigns, segment contacts and send targeted content to specific groups.
4. Constant Contact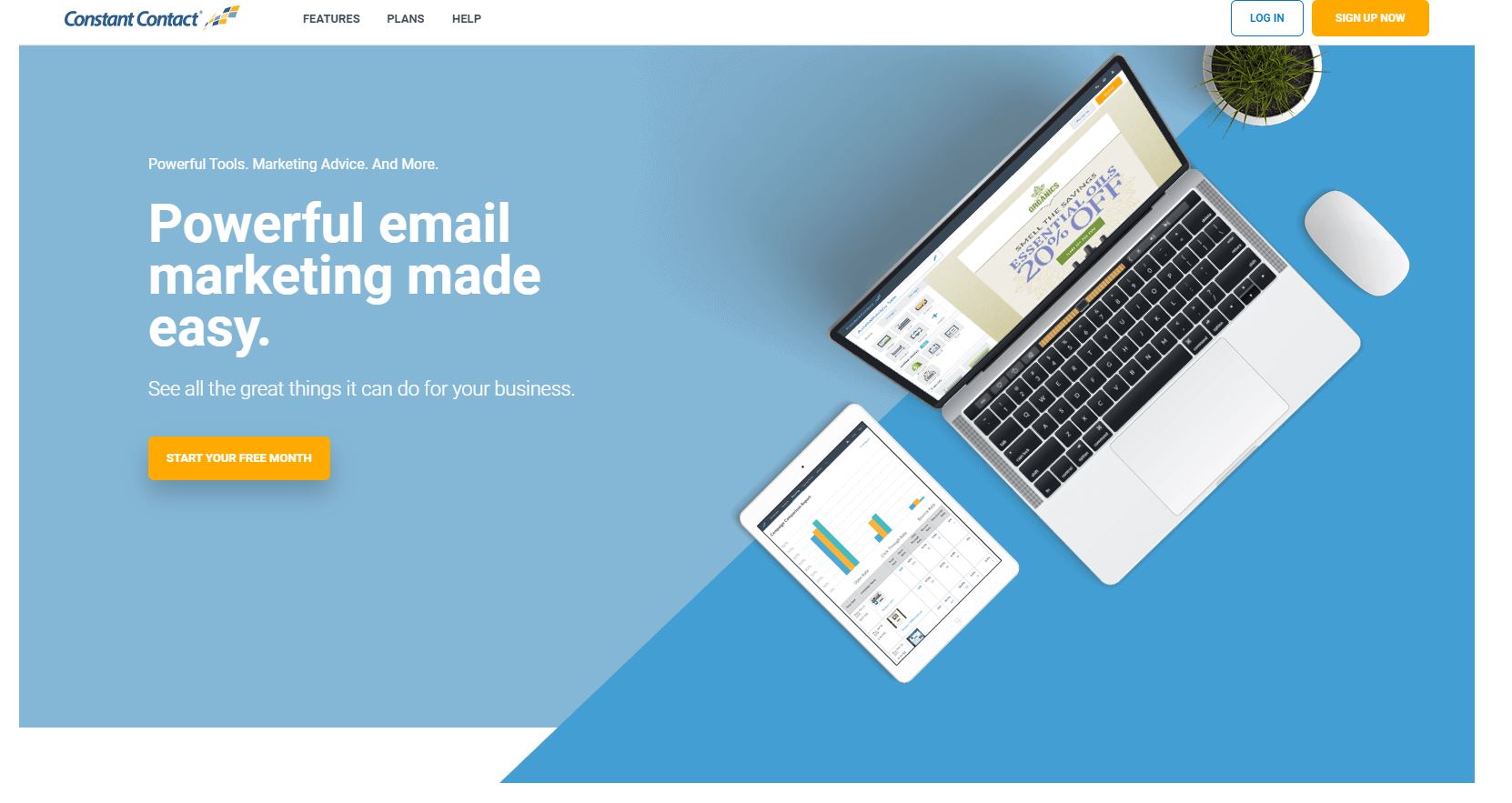 Constant Contact is ideal for small businesses with little experience of creating and sending out campaigns.
Key features:
It's easy to manage contacts, templates and marketing calendars
Automation options including resending emails to non-openers
Real-time monitoring
Reporting functionality
Good graphics library
Social sharing tools
Integrates with other apps
Surveys and polls
Different packages available with a one-month free trial
Good customer support
Key benefit:
The drag-and-drop editor makes it very easy to create, customise and send professional emails. Automatically optimised to desktop and mobile devices, you don't have to worry about complicated coding issues. 
5. Active Campaign
One of the many great email marketing services available is Active Campaign. Crucially, it has all the tools you need to make meaningful connections and grow your business.
Key features:
Personalised, responsive and attractive emails
Personalised emails based on customer actions
Automated follow-ups
The ability to keep track of your leads so you can manage your pipelines, update deals and ensure you always follow up at the perfect moment
Segmentation
Four different pricing options which includes free migration
Key benefit:
Active Campaign's messaging feature allows site messaging, SMS and engagement tracking. This allows you to answer questions, recommend products, offer promotions and ask for feedback at a time when your customers are most engaged.
6. Sendinblue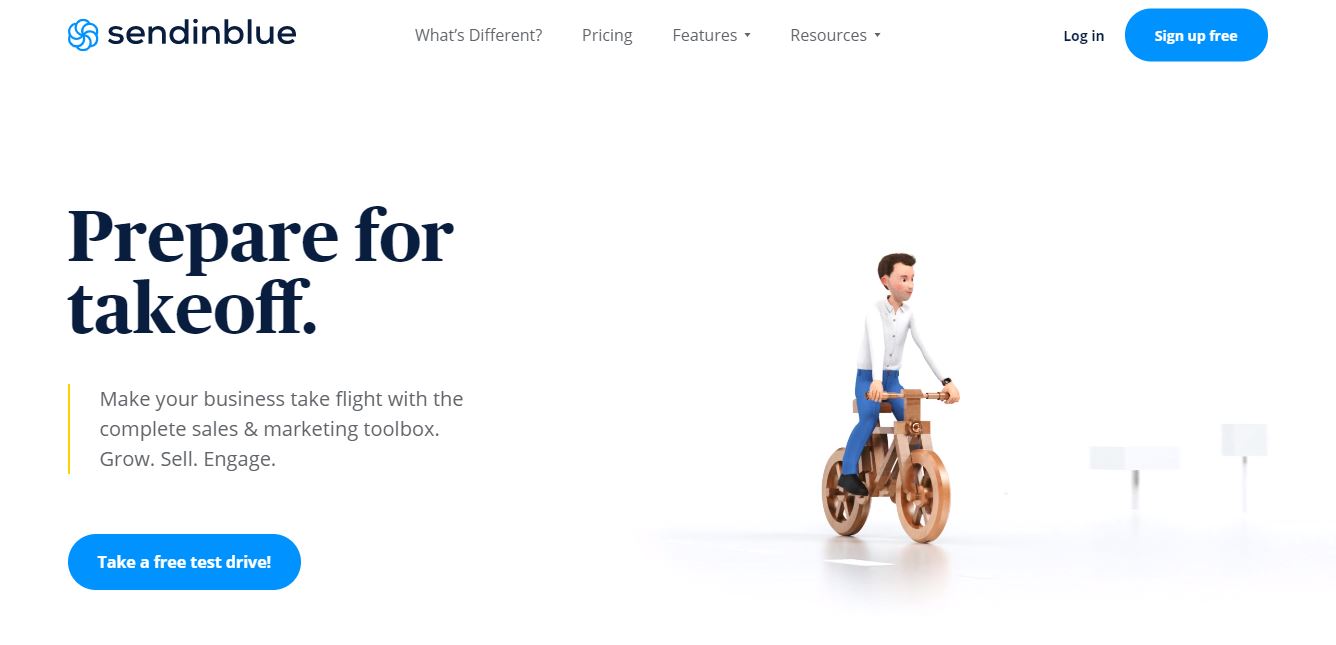 Sendinblue provides all the tools you need for email and SMS marketing as well as creating landing pages, ads and more.
Key features:
A user-friendly platform which works well for beginners and pros
Automation tools
Different ways of communicating including emails, SMS and real-time chat boxes for your website
On-brand designs
Different setup options including API, SMTP, Relay, eCommerce plugin or marketing automation
Facebook ads
Analytics
Personalisation and segmentation
Different pricing options including a free plan which allows you to send up to 300 emails a day
Key benefit:
Sendinblue boasts a number of features which will really help you to drive those all-important conversions. These include sign-up forms so you can grow your email contact database, the ability to provide a more targeted visitor experience by building custom landing pages and targeted display ads which will help drive traffic to your site.
7. ConvertKit
This email marketing software platform focuses on helping users to build workflows and sequence them in a way which will help to improve engagement.
Key features:
You can build opt-in forms to go on your website
Choose from existing templates, create or import your own
Create custom landing pages
Automation tools
Group subscribers with tags and segments
Integrates with other apps
Analytics
Four different pricing options and you can choose whether to pay monthly or annually
Key benefit:
One of the greatest things about ConvertKit is its broadcast feature. This allows you to send time-sensitive messages to relevant subscribers. This is particularly useful for announcements, product launches or if you've just uploaded a new blog to your website.
8. HubSpot
HubSpot provides marketing, sales and service software which can grow with your business. Get started with the free tools and you can upgrade as your business grows.
Key features:
A HubSpot CRM which allows you to organise, track and build better relationships with your leads and customers
Marketing software which can help you to grow traffic, convert more visitors and run campaigns at scale
Automation
Gain deeper insights into your prospects
Automate time-consuming or boring tasks
Analytics
Access free tools
Upgrade to one of three pricing packages depending on the needs of your business
Key benefit:
HubSpot is much more than just email marketing software. It's also a great sales tool and is ideal for businesses who are really looking to drive more business in. Users can benefit from ad management, content partitioning, blog and content creation tools, SEO and content strategies, social media, A/B testing, video hosting and so much more.
By now you should hopefully know everything there is to know about creating successful campaigns and deciding which email marketing software to use. You may find these great blogs useful: 'How to improve click-through-rates on your email campaigns,' 'How to welcome your new email subscribers' and 'Win back your customers with a killer cart abandonment email.'