93% of online experiences begin with a search engine so it's fair to say that companies very much rely on the likes of Google to get their brand noticed.
One of the biggest challenges that we face, however, is writing content that appeals to both a human audience and search engines. Striking a balance between the two can be very difficult which is why a lot of people make the mistake of tailoring their words to one or the other, not both.
If your content ranks well and generates a lot of traffic but never converts, you're probably guilty of putting SEO above people. Or perhaps your blog or website gets very few visitors but when someone does stumble across it, they spend a decent amount of time reading it and they often go on to contact you or make a purchase as a result. If this is the case, your copy sounds great but because you're not optimising it, it's only getting seen by a very small audience.
So what are you to do? How do you keep both your audience and Google happy? The tips below will help you to create engaging content that offers real value to your audience while also appealing to search engines so you attract the organic traffic you need.
Find topics that are trending
Writing about topics that are currently trending is a great way to appeal to both your audience and search engines. Do be mindful of your subject, however, and don't talk about something that's irrelevant to your business just because everyone else is.
If you're a bridal shop for example, you can make the most of huge events like the Royal Wedding. If you sell computer software, this has nothing to do with weddings and it would therefore be inappropriate for you to talk about it.   
Topic Research is a great way to find material that's current and relevant to your business. It collects, organises and sorts popular search queries and Google suggestions and also provides examples of the headlines your search engine rivals have used.
Simply enter a topic you would like to create content around and it will give you an almost endless supply of information and ideas to use. By using suggested headlines, questions and related topics, you can create powerful content you know is going to resonate with your audience.
Say for example you sell window shutters and you're looking for things to blog about. One of the many features in Topic Research is questions. These are the queries that people are typing into search engines about your product, industry or subject. This is such a valuable insight to have because armed with this information, you can then create blogs which give people the very answers they're looking for.
By answering people's questions, you're not only offering a valuable service, you're also more likely to engage your audience and become known as an expert in your field – something which is crucial when it comes to converting visitors into customers.
Using the example below, there are a number of blogs you could create including:
How to choose the right wood for your shutters
How shutters can add value to your home
How to choose the right window shutters
How to clean plantation shutters
Are shutters right for your home?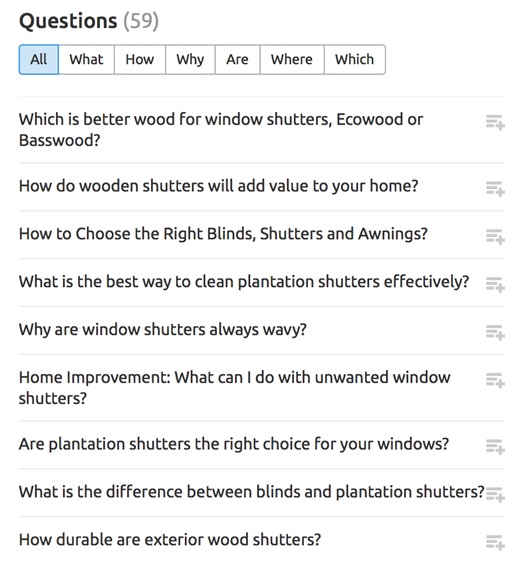 Write great title tags
Optimising your content for search engines is very important because the higher you rank, the more clicks, shares, likes, engagements and conversions you will get. If nobody can find your website, even the best-written copy is pointless so remember that SEO is just as important for your blogs as it is for the rest of the content on your site.
A great way to get any page of your site to rank highly is to spend some time writing your title tags. A title tag is the blue headline you see for a website when you type something into Google. It's beneficial to search engines because it tells them exactly what your page is about so they know when to display your site. Your title tag will also be the difference between a potential visitor clicking on your site or not because this is your one and only opportunity to inform people what they can expect to find if they click on your link.
People will click on your headline if it's interesting and serves a purpose so make sure that you can tell people what you're all about in just one or two sentences.
Google will be looking for keywords for clues that your content answers a searcher's query. If you google 'how to build muscle quickly' below is a list of the top search results and it's not hard to see why. Thanks to the right keywords being used in the title and description tags, Google knows to direct people to the following sites because it answers their question quickly and accurately.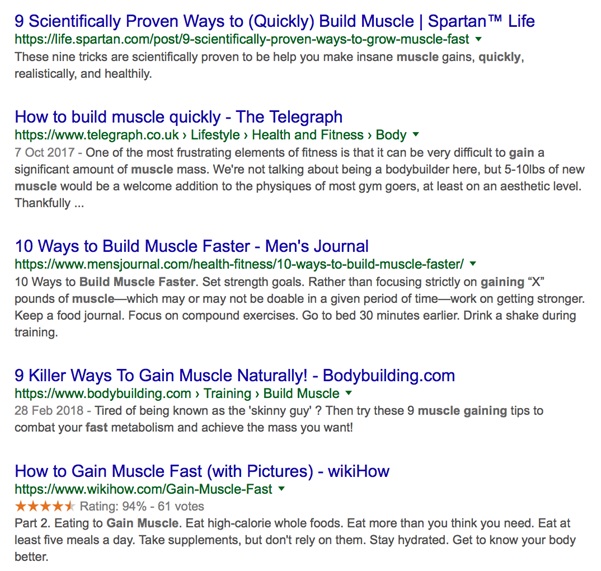 Some top tips for writing title tags that will get people to click on your website:
Include the name of your brand if it's likely to encourage people to click on the link. In the example above, anyone who is seriously into their fitness will probably have heard of the Spartan races so by putting the brand name in the title tag, people are more likely to click on it.
In order to write great title tags, you will need to find the best keywords to put in them. To find out more about how to conduct successful keyword research, have a read of 'Is your keyword strategy affecting your search engine rankings?' 
Once you've successfully identified your keywords, you need to strategically place them in your title tag naturally. Fortunately, just like humans, bots tend to read left to right so inserting your keywords at the start of your title tag will enable search engines to crawl these words faster. The quicker Google understands that content of your page, the higher your chances are of being shown for your keywords.
You do have a limited amount of space for your title tag so choose your words wisely. You typically have up to 60 characters including spaces so it can be tricky but anything above simply won't show up.
Moz.com provides lots of helpful information about title tags as well as a tool which allows you to see exactly how your title will appear in Google's search results.
Use long-form content
Unfortunately, Google doesn't appear to have a definitive answer for what constitutes long-form content. Typically however, this is copy which is at least 1,000 words. While the media would have us believe that we can no longer focus on anything for more than a couple of seconds (one report even claims that we have a shorter attention span than goldfish), writing masses of text may seem like a terrible idea.
When it comes to the content on your website, it generally is wise to keep things short and sweet because people want to be able to find what they're looking for quickly. When you're blogging however, providing that your content is engaging, you can get away with a lot more text than you think.
Numerous studies do in fact show that the length of your blog posts plays a significant role in your search engine rankings so although writing 2,000-word blogs is time consuming, the results really do pay dividends. Long-form content has also been proven to get more shares on social media, provide more links to your website and increase your site authority – all of which are fantastic for your rankings.
As this image from CoSchedule shows, there is a direct correlation between longer content and more shares on social media. The more shares you're getting on your social media pages, the more likely people are to click on the link and because sites likes Facebook and Twitter have high authority, this is great for improving your own site authority and thus, your rankings.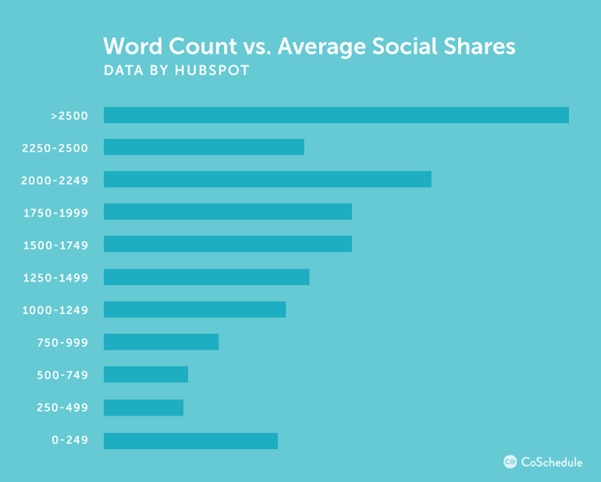 How to write long-form content
The first and most important thing to remember when producing long-form content is not to write just for the sake of getting your word count up. Everything you say should be meaningful and actively work to elaborate and reinforce your main point.
Below are some tips for creating long-form content:
Identify the goal of your content – who is it for, why are you writing it, what are your success benchmarks and how will you measure them?
Choose a topic that will deliver value to your audience. You can identify this by looking at the keywords your customers are using to find you (Google Analytics can tell you this). Also look back at content that has performed well for you in the past and also don't forget to look at what your competitors are talking about.
Maybe you're blogging because you want to be known as an expert in your field, you need links for your social media pages, you want to update your website with fresh content or perhaps you just enjoy writing. Whatever the reason, chances are that you would love your copy to lead to conversions. To do this, make your page aesthetically pleasing. 2,000 words is a lot to read so break it up with headings, paragraphs, bullet points and images. Don't forget to include links to other relevant content on your site, call-to-action buttons, email opt-ins and social sharing buttons. The easier you make it for people to do what you want them to do, the more likely they are to do it.
Now you've written a great blog, don't forget to share it. The most popular ways tend to be via email and social media. If you don't have a large following, Facebook and LinkedIn ads are a great way to get your posts seen so people click on your link and follow your account.
Taking the time to produce quality content will set your website apart from the masses because it will deliver the right message to your customers and convert them into paying customers. Crucially, it also ensures that search engines recognise your pages so that potential customers can find them in the first place. So while it might be time-consuming to add new blogs on a regular basis, if you follow the tips above, you should see a good return on investment.
If you're struggling for time, find out how to bring digital marketing into your daily routine and for more great content ideas, here are 10 ways to instantly improve your copy.