Most people will launch an e-commerce store to get their products on the market, and to make money for themselves, their team and families.
Profit is, of course, the main aim for most retailers, but some sites also find ways to incorporate good causes into their business, or to help charities through various promotions.
This may be through campaigns, partnerships with charities and good causes, or sometimes it's incorporated into the business model from the very start, with TOMs being a prime example of this.
Commitment to good causes is often referred to as corporate social responsibility (CSR), though this term implies the kind of initiatives carried out by massive companies. For example, Starbucks aims to source 99% of its ingredients from ethical sources and work towards environmentally friendly packaging.
This is no bad thing, if companies are realising that customers expect them to respect the environment and give something back from the profits they make. However, there is some cynicism around the CSR efforts of some companies, using CSR as a sticking plaster, or 'greenwashing'.
Whether you call it CSR or something else, it needs to be genuine, and giving back to society and good causes is something which can be practiced by retailers of all sizes.
In this post, I'll explore some of the ways giving back can benefit businesses and look at some real-life examples.
Let's start with some of the potential benefits. There are several ways that CSR initiatives can have positive effects for both retailers and employees:
1. Employee satisfaction and retention
People feel happier working in the knowledge that their efforts are helping to do some good. It can have positive benefits for employee happiness, effectiveness at work, and the ability to attract staff in the first place.
According to the 2016 Cone Communications Millennial Employee Engagement Study, companies' attitudes to social and environmental issues are key factors in their decision to take employment in the first place, and their subsequent loyalty:
64% look into a company's social and environmental commitments when deciding where to work.
64% won't work for a company which doesn't have strong corporate social responsibility (CSR) values.
83% would be more loyal to a company which contributes positively to social and environmental issues.
88% say their job is more fulfilling when they have opportunities to make a positive impact on social and environmental issues.
2. Brand reputation
Aligning your brand with good causes can help you to build a reputation as a responsible, socially conscious retailer. It's something which will become more important, with younger generations typically more conscious about the environment and other issues.
For example, there are plenty of stats which show millennials have a preference for shopping with socially conscious brands.
It's a positive thing in terms of general trust and reputation. The image of a retailer, large or small, doing the right thing in terms of social and environmental issues, can make customers more likely to trust they'll do the right thing by them.
3. Sales
People like to shop with companies that give back and are often prepared to spend more if they feel they can do some good along with their purchase.
According to Nielsen stats, 66% of global consumers are willing to pay extra for products or services from sustainable brands. 
How to choose causes to promote
For retailers looking to give to good causes, there are plenty of options to help incorporate this functionality into their website, marketing campaigns, or broader strategy.
First, it's important to think about the choice of charity or cause to support, and how it will work alongside your business:
Which causes are important to you and your customers?
Think about the causes your customers already support, as this can help you understand their conversions. Supporting a cause that matches their interests and passions can instantly improve loyalty, as they'll want to purchase from brands that care about the same as them.
Think about the causes which fit with your brand
Depending on your brand and the products you sell, the causes to support may be obvious. If you're selling coffee, then it makes sense to source your products ethically, and to support causes related to the places you source ingredients from.
It doesn't have to fit as neatly as that, but it helps if your brand and the charity's values fit together well.
What do your employees care about?
Finding a cause that everyone in the company can get behind makes a difference. This helps to ensure that commitment is whole-hearted, genuine, and should be more successful.
For this reason, it's worth consulting with employees to help them choose a cause to get behind.
Ways your e-commerce store can give back
Here are some ways retailers can help good causes:
1. Enable charitable donations in the checkout process
One quick and easy way to begin is to add the option to customers as they check out.
It's an online equivalent of adding charity boxes to supermarket checkouts and makes it easy for customers to donate a little as they buy.
Here, Domino's uses Pennies, a fintech form which integrates into various retail checkouts (offline and online) to gather donations.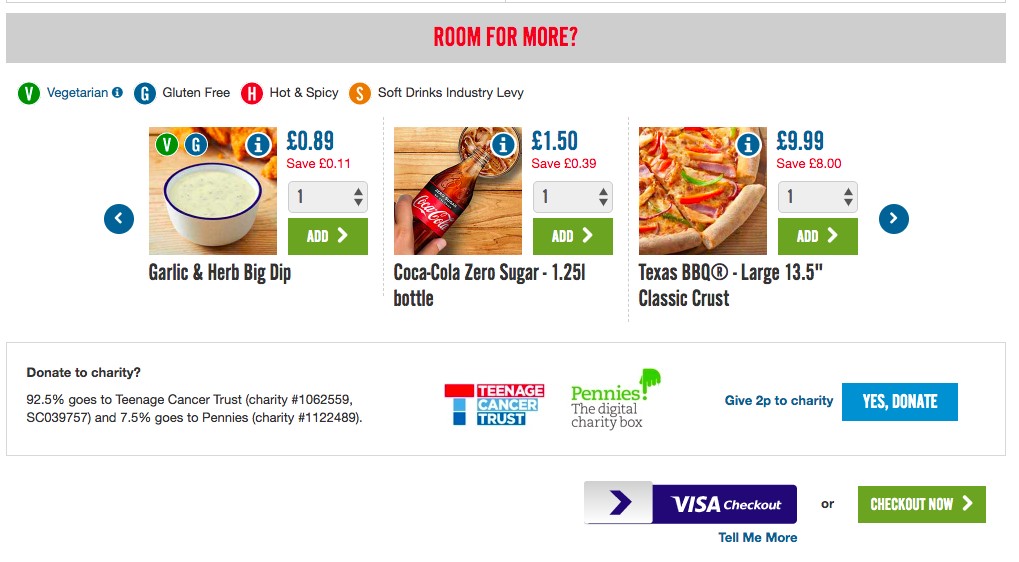 2. Donate a percentage of profits
Lots of companies are now donating a percentage of their profits to charitable causes. This may be a percentage of each sale made, or a percentage of total profits.
Here are some examples:
Ivory Ella. 10% of all the company's sales of its clothing and accessories go to savetheelephants.org.
Patagonia. The outdoor clothing retailer has donated 1% of its profits to causes which help the planet since 1985. The retailer has also donated its entire Black Friday sales to charity in the past.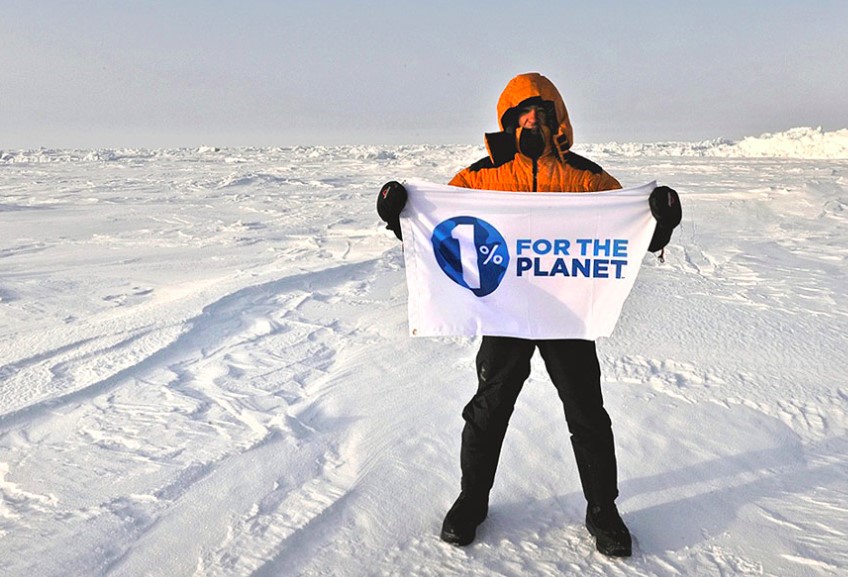 Everlane's model is built around fair pay and conditions for workers. The company is transparent about pricing, in particular the costs of manufacturing its products, and how much the price of most products is the markup added by retailers. Everlane donates this markup (all of its profits essentially) and ensures that conditions and wages are fair and reasonable in its factories around the world.
3. Sell charity products
Retailers don't necessarily have to donate a percentage of product sales or profits to charity. Instead, a more manageable way to give back may be to sell some charity products to your customers.
For example, supermarkets like Sainsbury's sell red noses and other charity merchandise to support events like Comic Relief and Children in Need.
4. Product donations 
One way to bring charitable donations to life and make it clear to customers exactly what their purchase is going towards is to donate products to good causes.
In the same way that charities will allow people to buy goats or other such items instead of cash donations, product donations can appear more tangible to shoppers.
Here are some examples:
TOMS: This is perhaps the most famous example. TOMS donates one pair of shoes to charities in more than 70 countries for each pair bought by customers. It has donated more than 35 million pairs of shoes and has helped to restore sight in over 250,000 people.
Divvy Up: The retailer donates a pair of socks to homeless shelters and charities for every pair bought by customers.
Warby Parker: With Warby Parker's 'Buy a pair, give a pair' program, one pair of glasses is donated to people in need around the world for each pair purchased.
5. Donate discounted stock
This is an obvious way to help charities while clearing room for new stock. It's popular with customers too – according to a survey of 4,001 UK adults, 74% believe excess stock should be donated to charity, with 51% saying they would take their business elsewhere if a retailer didn't do this.
Retailers could donate profits from the excess stock they sell to good causes, while services such as Gone for Good can take donations from retailers and donate the proceeds to charity. Other options include eBay for Charity, which offers a platform to sell items for good causes, without the usual selling fees.
Other ways to give back
Charitable platforms like giveasyoulive allow retailers to help charities while attracting traffic from customers.
Instead of paying affiliates for traffic sent to their sites, giveasyoulive takes these commissions from retailers and donates them to charity.
Shoppers can use the platform to buy products from retailers on the site, knowing that a percentage of their spend will go to a good cause.
Talk about the good causes you support
One key point is to make sure that visitors to your site know about the causes you support. Knowing that the money they spend is going to a worthwhile cause can drive sales, while people also want to be able to see where their money goes.
In summary
When implemented well, and coming from a genuine desire to promote good causes and raise money for charity, using your e-commerce store to 'give back' can benefit everyone. Companies can attract more sales, charities and other causes get some valuable help, and staff are happier.
There are some great examples to follow here – the key is to find a model and a cause which fits with your brand and products and be transparent with shoppers about how it works and what it achieves.