Email marketing remains the most cost-effective of all marketing tactics. It's been estimated that it delivers an ROI of 4400% or £44 for every £1 spent.
But email marketing is only effective if your audience makes some kind of action as a result of it. This means that your click through rate (CTR) – the proportion of recipients who click through from an email to your website – is a crucial metric to track.
Without knowing how many people are clicking on your links, it's impossible for you to measure the success of your email campaigns, or know how to improve.
With an average CTR of 3.51% in the UK, every click counts when it comes to your email marketing. I'll take you through the ways in which you can improve yours and start getting value for money from your email campaigns.
What's a good CTR and how do you measure it?
Click through rate is calculated by:
Unique link clicks/Number of emails delivered x 100
Thankfully, you'll probably never need to work this out manually. Most email marketing tools will give you your click through rate against each campaign you send.
In Mailchimp, for example, you'll be able to find your CTR in your report section.
Here, you'll be able to see a graph of all your campaigns and their open and click through rates. You'll then be able to look at each campaign in more detail by clicking on the relevant campaign in your list: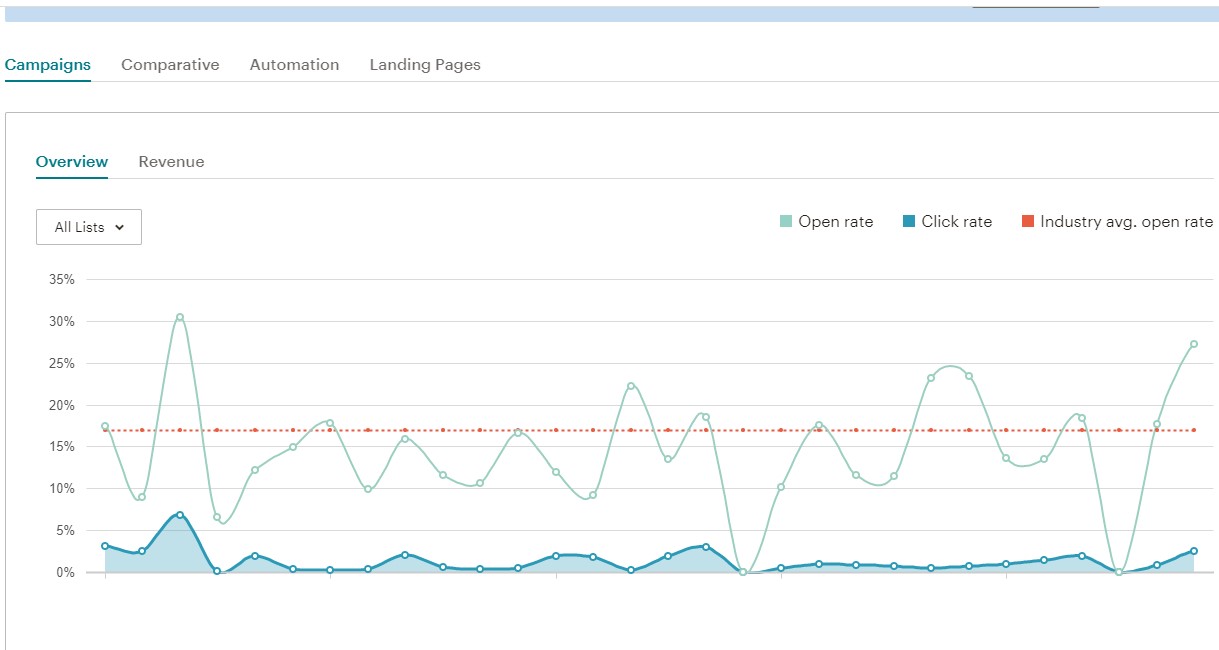 Once you've clicked into the campaign you want to track, you're taken to your campaign's summary report page. Here, you'll be able to check in on your campaign in more detail: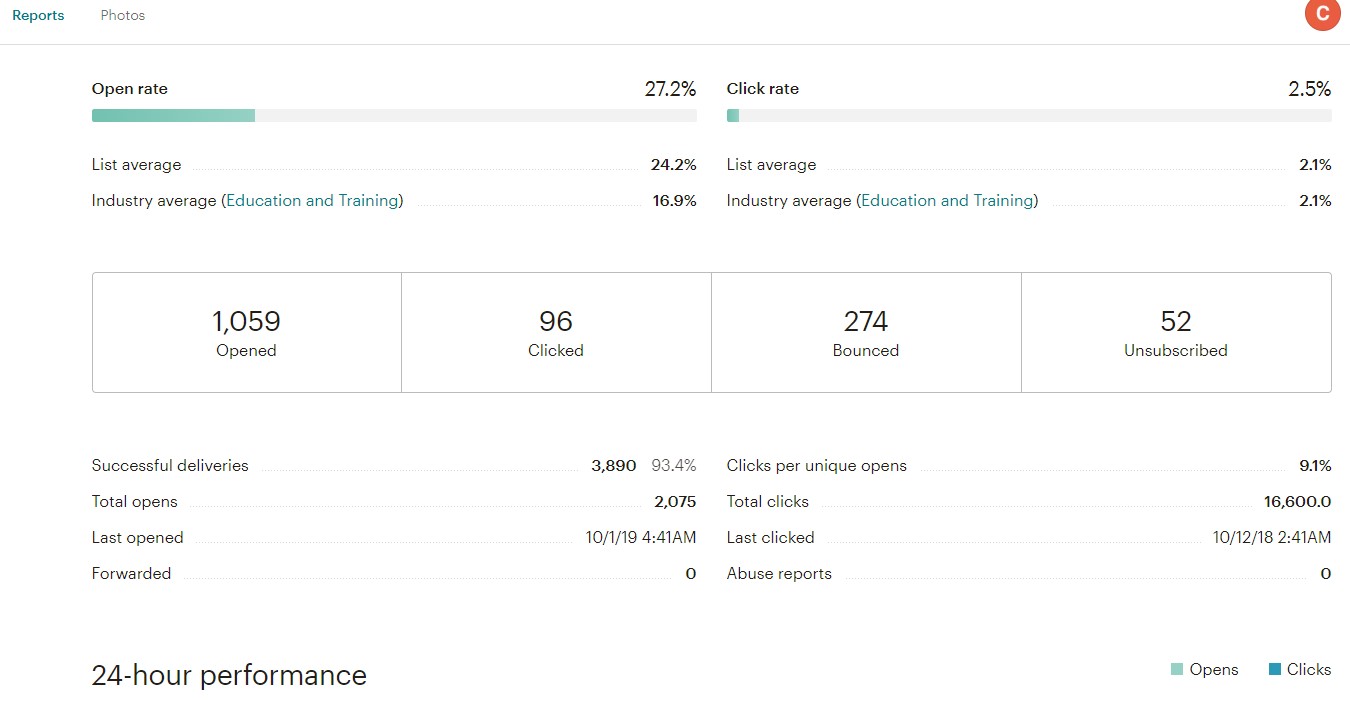 Once you've worked out your campaigns' CTRs, it's worth defining your CTR goals.
Given the national average CTR is 3.51%, CTR varies depending on your industry. The following rates, taken from Pure360, are good CTRs for the given sectors.
| | |
| --- | --- |
| Industry | Click through rate |
| Health and beauty | 4.56% |
| Retail | 3.47% |
| Technology | 3.91% |
| Travel | 3.22% |
It's down to you how high you want your CTR to be, but the key is to be realistic. Anything above or around the national average is a very good start.
Tips for success
Now you know how to track your email CTRs – and have outlined your CTR goal – then you can begin making changes to your email processes to give yourself the best chance of seeing improvements:
1. Have only one objective in your email
Emails should only ever contain one objective if you're serious about using them to get people to click through.
One of the main reasons for a low CTR – and low converting copy more broadly – is that it contains too many calls-to-action.
Competing objectives and CTAs (known as "choice overload") will only distract and confuse a busy email recipient, making them less likely to make an action.
Once you've decided on the purpose of each email campaign, then everything within that campaign – from your target segment to the subject line, to content copy, image, and CTA – should be tailored to that specific objective.
For example, you might want to send an email campaign to encourage your audience to check out your new dress line. Firstly, you need to target your campaign to the right people – in this case existing customers who've bought a similar product might be your best bet. You'll then need to get your subject line right (e.g. "New dresses in contemporary prints and fresh colours").

From there, your copy and accompanying visuals must support your objective. Finally, your CTA must leave no confusion about where the recipient will go if they click on it. In this case, they're taken straight to the new line of dresses: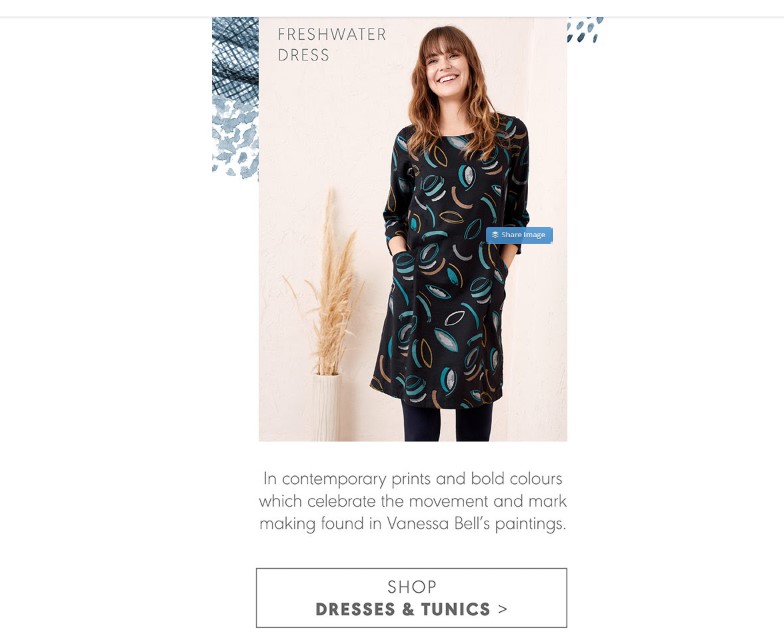 2. Get the formatting right
In a similar way, the way you format your emails can make a huge difference to whether or not people will click on your CTA. The average adult attention-span, according to Microsoft, is only eight seconds, which means emails need to grab attention quickly, whilst being easy on the eye.
Some marketers talk about the "inverted pyramid" as a way of ensuring good formatting. The logic goes that the structure of your email should pull people down towards a call-to-action at the bottom:
A succinct heading
Supporting copy to sell the benefit of a click through
A clear and compelling CTA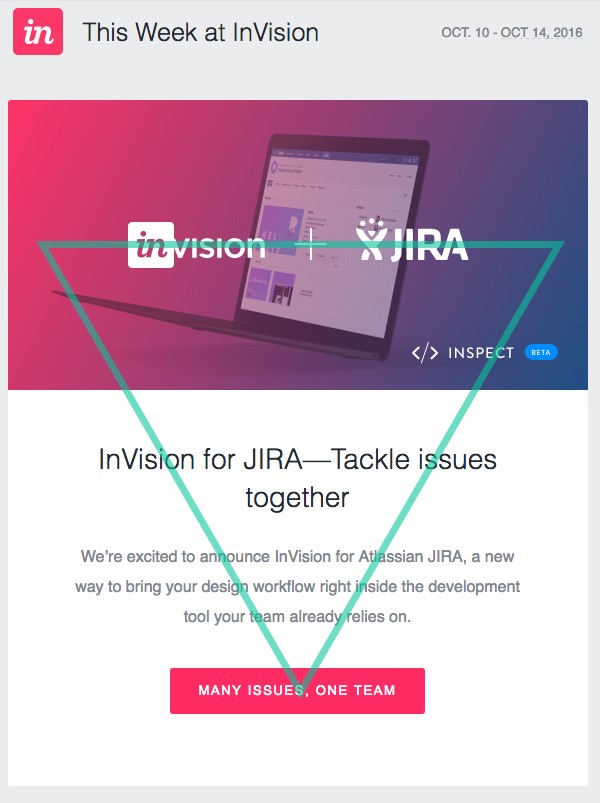 Getting your CTA right is also crucial, as this is the very thing that the recipient needs to click on to get to make their desired action. Your CTA must be:
Compelling, both in design (font, colour, size, style) and copy (the tone and language you use).
Strategically and prominently placed – ideally at the end of your email, although if your email is lengthy then consider two identical CTAs, one nearer the top and one at the bottom.
3. Get your content right
As we've discussed, the purpose of your content is to support the objective of your email campaign. Your objective is tied up with the CTA you're expecting your recipients to click on.
As such, your copy isn't there just for filler. It needs to quickly and succinctly convince recipients that they need to click on that link.
Urgency and scarcity are two tactics marketers have long used to achieve this.
In a world where multitasking, and almost constant window-shopping, prevails, often the sales process can be protracted. Urgency tactics can help speed things up. One option is to include a countdown clock so recipients have a time-limit in which to make use of a promotion. 
And scarcity is another tactic that helps to hurry recipients to the CTA button. Believing that a product is in limited supply has the effect of exclusivising it, therefore eliciting a sense of urgency.
Real-time advertising within emails can demonstrate how many items are left in stock so that recipients can pounce while it's still available.
But more importantly, your email must convey transparency and trust if your recipients are to be moved to click through to your site.
Including social proof such as product reviews, testimonials, or star ratings within your email can help to convince recipients that you're a trusted business. Your sender score can also add to this, so you don't end up in their spam or junk folders.
Also, although it's now a legal requirement, a clear "unsubscribe" button will demonstrate to your audience that you're not there to spam them.
4. Make sure it's mobile-optimised
According to Campaign Monitor, one out of three clicks in an email occurs on a mobile device. If emails aren't optimised properly for mobile then this could significantly damage your CTR.
Most email marketing tools are optimised for mobile and will let you preview your email in desktop and mobile modes before you send.
Mailchimp, for example, allows you to see how your mail will appear on a mobile screen so that you can make tweaks so that it looks good no matter what device it's received and read on.  
5. Segment your recipients
Another key reason why email campaigns fail is because they're irrelevant to the recipient. Often emails are sent out en masse to an entire address book, so either the content is too broad to be meaningful to anyone, or it's irrelevant to vast sections of the audience who are lumped in with those for whom the email is really meant. 
This is easily avoided, with email marketing tools allowing you to carefully segment your contact lists.
In Mailchimp, this process is straightforward. Just enter your "lists" section and Mailchimp will show you how to build simple and not-so-simple segments.
Then, when you come to build a new email campaign, you'll be able to choose which segment to target with that campaign.
6. Personalise
It's estimated that a personalised email will improve CTRs by an average of 14% (and conversions by 10%). 
The level to which you personalise your message depends on how ambitious you are, but every bit helps.
Your email marketing tool will enable you to set up basic personalisations using merge tags. These tabs pull in the right information to each recipient so that every email received feels personal.
Further personalisation can include integrating your email software with your online store so that it collects the relevant data on your audience and triggers the right emails at the right time to the right audience.
Mailchimp also has options for personalised send times, time zones and even predictive demographics so that content can be tailored appropriately to meet the expectations of your target audience.
7. Automate
According to the Epsilon Email Institute, automated email messages average a 152% higher CTR than "business as usual" marketing messages. A stat that's hard to ignore if your goal is to boost click-through.
Automating your email workflows can save you a great deal of time, but also allows you to target the right content to the right people… at the right time.
Triggered emails based on a customer's online behaviour can help to boost revenue. Cart abandon emails can help recover 5% of annual income if done correctly. Automations can also be set up to resend emails to recipients who didn't open the first email, which can help to increase the chances of an eventual click through. 
Tools like Mailchimp are becoming increasingly sophisticated in the automations they offer, and in turn, more user-friendly.
For more on setting up automated workflows in Mailchimp, click here.
8. Test, test, test!
The key to all your email marketing, and particularly if you're trying to increase CTR, is to keep monitoring and testing.
Email, like any other form of marketing, is a matter of trial and error, and so there's little harm to be done by testing and tweaking:
Subject lines
"From" name/address
Copy length
Send times
CTA design, wording and placement
Design and layout
In summary
CTR is an important metric to track. It shows you what proportion of your audience is deeming your email worthy enough to act upon.
The tools and tactics I've looked at are just some of the many ways in which you can improve your CTR. The trick is, as ever, to keep your customer in mind throughout the process. Make sure your content is relevant, helpful and user-friendly, giving them a valid reason to find out more.
If you keep this in mind then the rest will follow naturally. Before you know it, you'll see a leap in your click-throughs, and the lead generation benefits that those click-throughs bring.