One of the most common, and popular, questions from site owners is 'how do I get more of my target audience to see my site?'. In this beginner's guide, I'm going to show you some of the most popular and most effective ways to boost traffic and get more targeted visitors to your small business or startup website.
Written by: Charlie Williams, SEO specialist.
Traffic is the lifeblood of any website.
Whatever your business goals of being online, getting visitors to your site is key to success. Just as with any form of business, from a shop to a plumber or solicitor, we need to reach more customers to grow.
But knowing how to increase website traffic can be scary. Digital marketing can look daunting, full of jargon and your niche might well have some big-name competitors to worry about. You've built your new digital storefront, but how do you get new visitors to try you out?
Don't worry – while the results can take time, the good news is there are many different tactics you can try out as a small business or startup to market your website.
And many of them can be done with a modest or even a non-existent budget if you're willing to put in the time.
The difficulty can be knowing which tactics will suit your audience, your website and your budget. That's why I've created this guide. I've put together an introduction to twenty-one (yes, really!) of my favourite traffic-boosting methods so you can find options to get your teeth into.
Unlike the get-traffic-rich schemes you've doubtless seen, these tactics require you to put in the effort and are by no means guaranteed. They are however some of the best building blocks for a proven, sustainable strategy to get your name out there.
Whether you are a seasoned marketer, running a business and looking to get more traffic to your site, or the proud owner of a brand new site looking to make a splash, there's always something new to try. Ready to start earning more visitors?
Quality over quantity
A quick note before we begin. Not all traffic is created equal.
Thousands of new visitors don't help you unless they take an action you want, such as buying from your online shop or signing up for your newsletter. Seasoned digital marketers will tell you that 10 targeted visitors are more valuable than 100 visits from those who have no interest in what you have to offer.
That sounds obvious, right?
When you are seeking new traffic though, it's easy to lose sight of your goal for that traffic. Unless you are running a publication where the aim is for more eyeballs reading your articles, what you want when you say "I want more traffic" is actually "I want my site to generate more conversions".
When deciding what tactics to try out, you're going to be governed by your budget, your resources, your expertise and your target market.
A study by GrowthBadger found that different online traffic sources had varying impacts depending on the industry of the site.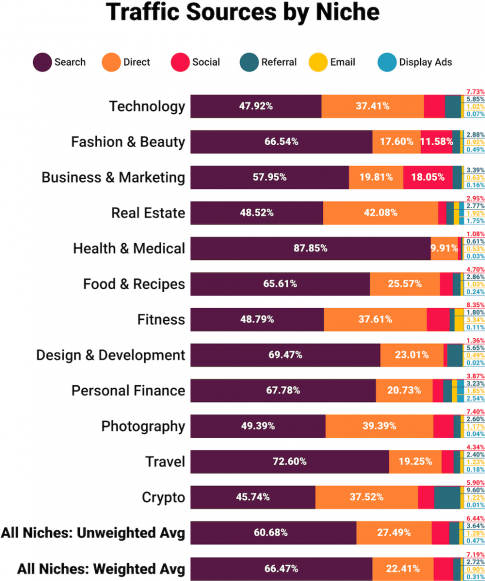 And Wolfgang Digital looked at the top traffic sources for e-commerce sites and found that some channels such as organic search still have an outsized impact on overall traffic (with the caveat that when we look at the overall contribution of each channel some, such as social media, will have a bigger impact than these numbers might suggest):

It's easy to see that depending on the field your business works in, some tactics or channels simply might not be as effective for you.
So, your first task when deciding how to market your site more effectively is to answer several questions:
Who is my target audience and where will they most likely look for products or services like mine? Is this a tactic that will get me in front of my intended audience?
Are there ways I can help my target audience even before they need to buy something from me?
And are there traffic sources that are more popular for my subject matter? Which channels are most effective in my niche?
Got an idea of where your audience hangs out online and which sources might be better for your market?
Great! Then let's take a look at some different ways you can start to attract more (targeted!) visitors. You can also watch my video interview with the UK Domain below, where I talk more about why high-quality website traffic is so important and how smaller businesses can compete effectively online.
Increasing website traffic: A video chat
You can learn more about techniques and tactics to boost high-quality website traffic in this video chat with the UK Domain, where we discuss competing against big brands online, how to make the most of limited resources and more.https://www.youtube.com/embed/oPP0DIeV2qc?rel=0
Utilising content
1. Get blogging
It's been around for years as a way to boost traffic, but blogging is arguably as important as ever as an option to reach your potential audience. It can help you rank in search, build up a mailing list, demonstrate your expertise and help build brand awareness.
How does it work?
If you want to get noticed among your competition, a blog can be an incredibly powerful tool. While many businesses get stuck writing about themselves, unless you are a famous brand where people are interested in your latest product, most blogs drive traffic by becoming a home for useful content for your audience.
In other words, your blog earns traffic by building an inventory of helpful content on a subject you can offer expert advice on or insight into. It gives you a meaningful online presence that builds brand awareness, is brilliant for SEO and gives you material for other marketing channels such as email and social media.
According to HubSpot, the average company that blogs generates 55% more website visitors, and 57% have acquired a customer through their blog – an impressive return. While 80% of B2C marketers use a blog, it also helps in B2B markets, with 89% of B2B marketers using blog posts as a tactic in 2019.
Tips to get started:
Keen? Great! However, jumping into a blog with no plan is a recipe for poor performance. Take the time to put in a bit of thought before you begin and you'll be creating relevant, useful and unique content your audience loves. A typical outline might look like:
Start by identifying your audience and defining your blog's goals. Not just your goal (to provide regular content to build brand awareness, rank in search and power other marketing channels) but your audience's goals – what will your blog help them achieve?
Decide on a set of topics you're going cover, most likely areas closely related to your service or product
Next, decide on how often you will post. While posting more frequently has benefits, it's always about quality over quantity
Now you know who you are targeting and what you're going to talk to them about, conduct market research through keyword research to find the topics your audience searches for. This will give you a great starting point of areas to cover

Not sure where to start? Try answering questions commonly asked in your industry. You can find these by using a tool like Answer The Public where you enter a topic and find the common questions people type into search engines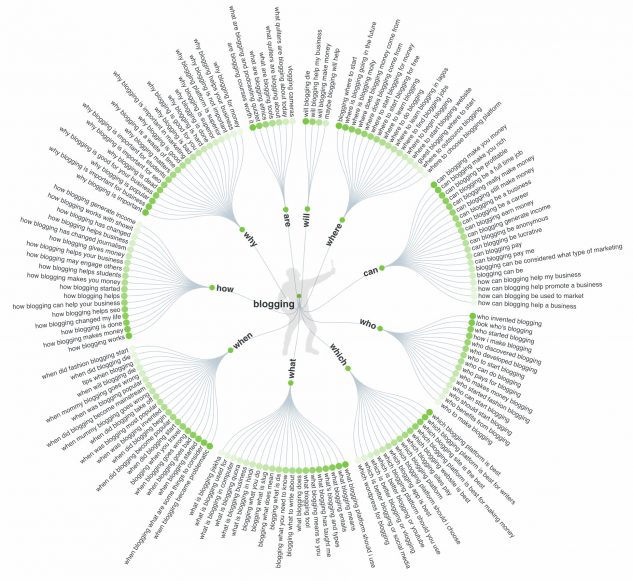 Further reading:
2. Content marketing
You've no doubt heard that "content is king". Well, despite it being a cliche (and first said by Bill Gates in 1996), it doesn't stop top-quality content from being a hugely effective way to reach your audience.
How does it work?
Content marketing is all about having helpful content that appears when your audience needs it. It creates useful resources your audience will love, builds a relationship with them and your business and eventually drives conversions.
The key is that content marketing is educational or helpful in some way, and rarely directly about the products you sell. For example, Moz sells SEO software but gives away a group of smaller tools for free to earn the trust of its potential audience.
For some, content marketing is synonymous with blogging, but content can take many forms:
Blog posts
Videos, either on your site or on platforms like YouTube
Podcasts
Infographics & other visual content
E-books or whitepapers where you create a larger piece of content, often for download
Slide decks & Slideshare presentations – bonus points if these are from webinars you host or speak on
Quizzes & tools
Courses
Social media posts (yes, social media can be called a form of content marketing!)
If you strategically build something online to help your potential customers solve a problem, with the aim of building a relationship so you can sell to them later having proved your worth, that's content marketing.
Tips to get started:
https://www.youtube.com/embed/eMh0tuRVbV8?rel=0
Further reading:
3. Create eye-catching infographics
If it's true that a picture can tell a thousand words, it explains the enduring popularity of infographics – they are a fantastic way to share information or a story in an easily understood format.
How do they work?
Infographics are visual pieces of content – in static, interactive or animated formats – that relay information in an easily understood design.
They're often enjoyed as they can take complicated topics and simplify the important takeaways or visualise complex pieces of data. Others take a series of instructions and make them easier to follow than a long-winded written document.
Their visual nature makes the best or timely ones ripe for sharing on social media and on forums. The best will also be reproduced in publications such as newspapers if they tell an interesting story, especially when combined with some new research.
Today, many infographics are interactive, making them much more interesting for the reader. Marketers also use animated infographics, capitalising on our comfort with video content and platforms.
What's great about infographics is that they become a content asset for your business that can earn brand awareness and links as well as direct traffic. As a relatively simple asset to create – though the research can take some effort – infographics are a content marketing tactic accessible by a business of any size willing to put in the time.https://www.youtube.com/embed/puoQJksP3gM?rel=0
Tips to get started:
Siege Media suggest asking three questions about your topic idea before you start creating one:
Does your audience actually want an infographic?
Does this topic belong on your site?
Are you providing something that's really, really useful?
If you answer yes to all three, fantastic – an infographic could be a great way for you to create something your audience will love. If you are not so sure, don't give up. It might be that there's another visual format your content could fit.
A couple of other top tips include:
Don't limit yourself to a static image infographic – it's surprisingly easy to create video or animated infographics that make it easy for viewers to understand your data
It used to be you needed the help of a graphic designer to create an infographic, but there's now a range of do-it-yourself tools with free options that can create great looking designs, such as PicktoChart, Canva and Google Charts
Further reading:

Using expertise
4. Become an expert & teach your audience
How does it work?
Teaching others how to accomplish something is one of the more popular forms of content marketing. Created by businesses of all sizes, learning resources are an incredibly effective way of earning traffic.
By earning the trust of your audience by giving away most of your knowledge for free, they'll regularly visit you for more, share your content or sign up for your newsletter. They'll also potentially sign up for one of your paid products or services when they need what you offer.
If a potential customer has a choice of suppliers, which will they trust, the one that has helped them regularly in the past or someone new?
Teaching your audience some of your knowledge for free might seem intimidating if you don't think of yourself as a teacher. It might seem crazy – won't customers not need you if you tell them what to do? Many have found that giving a lot of knowledge away for free is actually fine, as your audience won't be able, or want, to do everything themselves.
Tips to get started:
Once you know you want to be seen as an expert and give away some of your knowledge to help your audience, you need to decide on the best format.
A strong model is HubSpot's topic clusters where you create a series of articles covering different aspects of a topic (the 'cluster') and a long-form article that broadly covers all aspects in some detail, linking to the individual posts for those wanting more on that aspect (the 'pillar page'). This can work well for SEO and also helps visitors navigate through your helpful content when they discover one of your articles.https://www.youtube.com/embed/xOGxyw9DSa8?rel=0
Other options include:
To create large reading resources on a subject, such as an e-book (or whitepaper if the subject is more about some research you've done) and make it available for download
Some sites make the e-book available in exchange for an email address, giving them a list of contacts they know are interested in their subject matter
Something simpler might be to create a series of blog posts, how-to videos or social media posts that teach your audience some of your expertise
Another great option that doesn't require any programming knowledge is creating an email course. This is a series of automated emails a user receives over a period of time when they sign up on your site. Each email contains a mini-lesson
Further reading:
5. Invite experts onto your site
As the saying goes – if you can't beat them, invite them onto your site so you get the benefit of their audience.
How does it work?
Every digital marketer wants useful, entertaining content for their site, and readers want access to the best knowledge in the field.
If you want to appeal to your target audience through positioning your site as a hub of knowledge, tapping into the reputation (and in-built audience) of an expert can be a great shortcut. It brings a new dimension to your site and gives the audience a different reason to visit you.
Guest content can position your site as the home of valuable information. Working with experts also makes it clear you associate with the best, helping position you as an authority in your own right.
Inviting expert guests onto your site gives you several ways to earn more traffic:
It gives you great material for promotion by other channels such as email, social media and PR
You should get some in-depth content that works well for long-tail SEO
The expert will likely share the content with their followers, opening your site up to an expanded audience
Plus there's the chance you'll learn something new from working with them! It's a win-win – they get more exposure and credit as an expert, you get access to content you couldn't create yourself and the benefit of their audience and credibility.
Tips to get started:
"But who would want to appear on my site?" you might ask. In most fields, you'd be surprised how many people are willing to talk if you are willing to ask them. Appearing on your site has mutual benefits, positioning them further as an expert and your site as home to helpful, interesting content.
How should you get their advice on your site? This is where you start to use some of those content platforms you've been generating:
Running a blog? Invite industry experts to write a guest post for your site
Or ask them to take part in an interview which you could type up or even record and publish as a video. This could be done over the phone or at a live event or conference you're both attending. If you can't do a live interview, could you agree to do one over email instead?
If you're running a podcast series, you have the perfect platform to run interviews. And if you're working in an industry with an audience keen to learn, running webinars where your guest actively teaches them is a great way to earn traffic and enhance your reputation
To find experts to ask, you should tap into the knowledge inside your business. Who is respected in your industry? Who do the people in your office follow on social media to keep up with the latest news and insights? Which newsletters do they subscribe to? Who have you seen speak at industry events?
Similarly, if you are a local business, are there other local experts you would benefit from being associated with?
If you are still short on potential experts, you can jump onto a search engine – try a search like "[industry name] expert list" and quickly find articles filled with those you might want to ask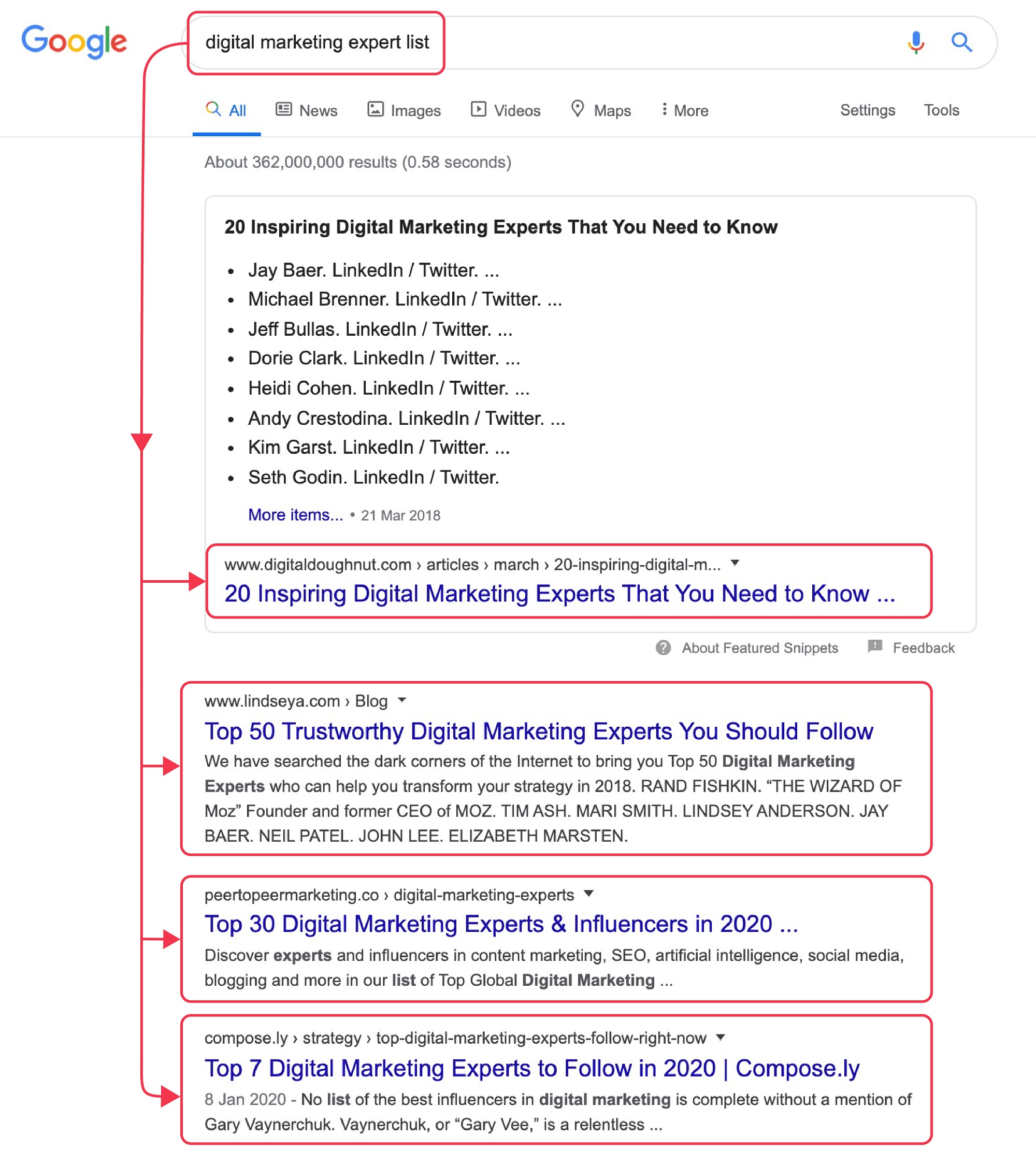 On-page SEO
6. Use SEO to drive organic search traffic
How does it work?
Search is the dominant way many of us find websites – one study found that 53% of all trackable web traffic comes via organic search.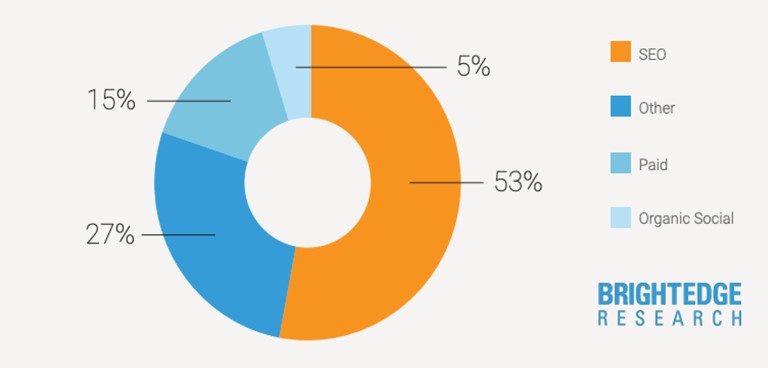 So it's no surprise that when it comes to driving traffic, many online marketers immediately turn to SEO (Search Engine Optimisation). It is one of the most debated, nuanced and involved tactics we have, but it is also the one with the most potential. With over 5.8 billion searches made every day, SEO might be getting harder but the demand is greater than ever.
On-page SEO is about optimising your website's structure and content to make it as relevant, accessible and useful as possible. It helps signpost your site as a great resource for both humans and search engines.
While this involves making the best possible content, it's also about making the page easy for search engines to find and understand. By using different signals to show what the page is about, making it fast and having a supporting structure in place.
Have no doubt – you can make a huge difference to your organic traffic through on-page SEO techniques.
Some tasks are done once, such as setting up your structure. Others are done more frequently, such as continually improving page load speed or carrying out some keyword research each time you write on a new subject.
In Mangools' helpful guide, they identified 12 important on-page SEO factors: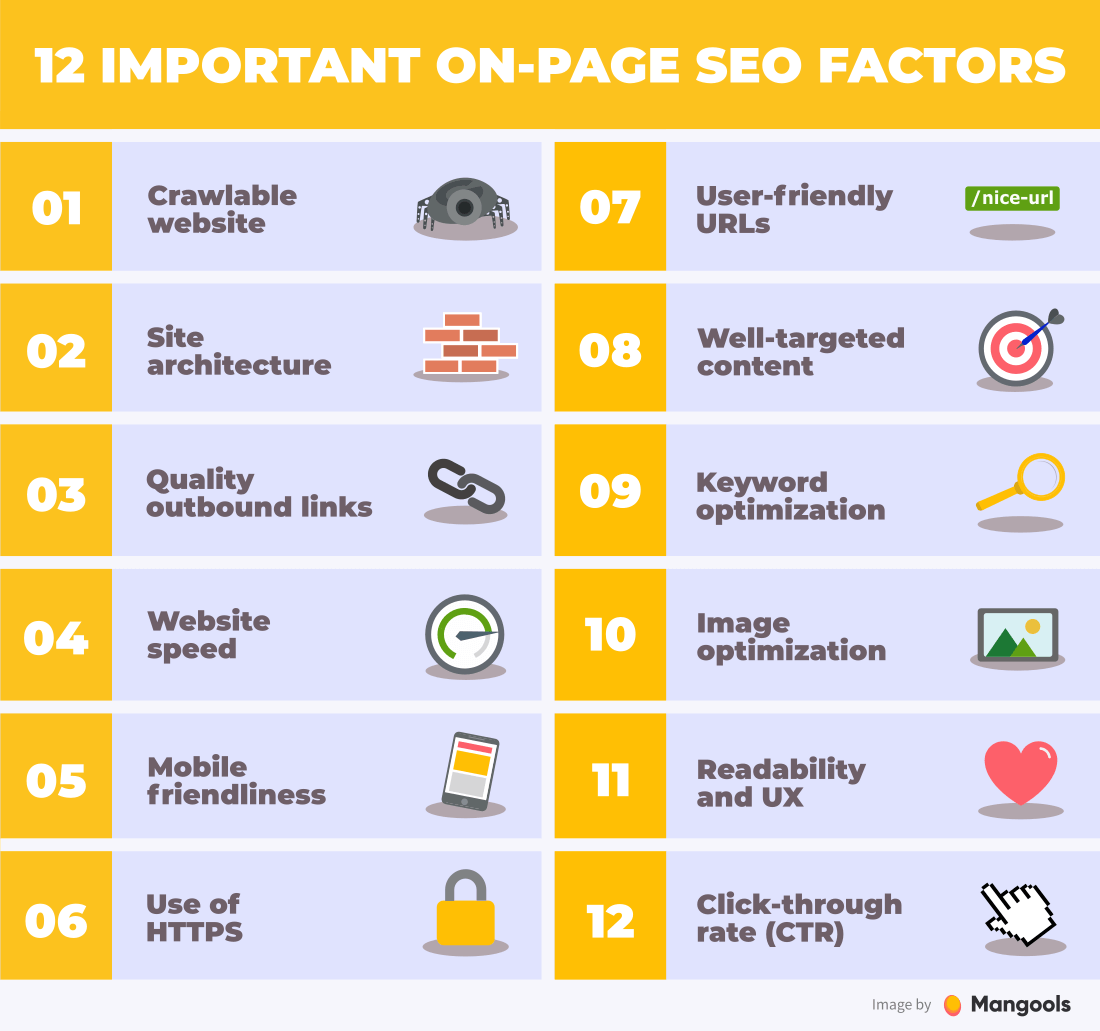 As you can see, there are lots of great ways you can make an impact by optimising your site.https://www.youtube.com/embed/QVjI7zjvsjM?rel=0
Tips to get started:
As a deeply involved subject, you might want to browse this guide that can take you through the main considerations for improving your organic traffic, including on-page SEO. Here are some starting points if you'd like to explore SEO for a small business or startup:
Get some data: SEO relies heavily on data and there are a lot of tools that can start to fill in the blanks for you:
Google Search Console offers a brilliant range of tools with insight into how Google interacts with your site, problems they see and what searches they've shown you for. Even better – it's free! You can find some of the most useful reports for small businesses in this guide.
Many SEO tools can run a check of your site, monitor rankings and help with keyword topic research and competitor analysis Some of the best for small businesses are Moz, Sistrix, Ahrefs & SEMrush
Slightly more advanced, you can use a crawling tool such as Screaming Frog's SEO Spider or Sitebulb. These tools mimic how a search engine bot (or spider) gets around your website. They download a page, find any links on it, follow them to discover new pages and so on. This is known as crawling and these tools help you see what a search engine comes across when they visit – or crawl – your site
Learn what your customers search for: A fundamental part of SEO is making sure your site is optimised for what your customers type in when they look for a product, service or what helpful content you have to offer. This is known as keyword research.
Start by aiming small – while it will be almost impossible for a small business to rank for the most popular keywords, aiming for terms that are more specific to your business or customers means you'll have a better chance of showing near the top of the search results
These are known as long-tail keywords and usually (though not always) have more words in the search query. They help focus on your niche, and will have less people writing about them than more commonly searched for queries
Consider structured data: Without getting too technical, you have the option to 'mark-up' parts of your pages with special code known as structured data. This adds extra detail about the context of your page, helping search engines get a better understanding of what they are seeing, as well as letting them add extra detail to their search results with that information.
Helping search engines understand your content is key, and those extra details in the search results can help make your listing stand out!

Make the most of your blog: If you face a lot of competition in the search results for your product or service, you can use your blog or expert content to earn traffic for searches related to your main topic:
Should I worry about Bing? Google has a dominant position in search, and optimising for Google will usually stand you in good stead for ranking in alternatives such as Bing and DuckDuckGo. It is worth considering Bing however, especially if their demographic matches yours. Bing also has its own Webmaster Tools toolkit which can provide excellent insight.
Further reading:
Email marketing
7. Engage and earn traffic through email
The humble email has been with us for decades, but it can still be one of the most effective tools in your kit for engaging your audience and earning traffic.
How does it work?
We're all familiar with email, and that is part of its strength as a tactic. If you can convince someone to sign up for your newsletter and then deliver on your promises of what they'll get from you, you have direct access to them. In fact, thanks to smartphones, you have access to them wherever they are (according to Google, 75% of Gmail users access their emails on their phone).https://www.youtube.com/embed/AZviUbqoVDk?rel=0
According to HubSpot, 99% of consumers check their email every day. Even better, over 59% of B2C marketers say it is one of their most effective channels. Best of all, over 60% of consumers have made a purchase as a result of a marketing email. Email is a highly effective channel for getting subscribers regularly back on your site.
As a channel that provides a great ROI and still has a lot of consumer trust, the question perhaps isn't if you should be doing email marketing but how. As a channel you own, the ability to create brilliant, helpful emails your customers love is in your hands.
Tips to get started:
When kicking off an email marketing campaign, you have two key questions:
How will you convince current visitors to sign up for your newsletter – How will you build your list? (Hint: You need a clear incentive and to make the process as easy as possible)
What content will you offer in that newsletter that represents great value? (Hint: It's not talking about yourself – what do your customers want from you?)
Other hints and tips include:
Further reading:

Competitions and contests
8. Run a competition
The best things in life are free – and giving away something can give your traffic an immediate boost.
How does it work?
There's nothing revolutionary here, but it is one of the most accessible ways SMEs can start pushing their traffic.
Everyone wants to be a winner, and running a competition where you give something of value (and it needs to be of real value – either in monetary terms or something the audience will appreciate) is a time-tested way to generate short-term interest in your site or social profile.
You run a competition on your site, through email signups or your social media account (Facebook and Instagram are especially popular for this) where your audience enter a competition in exchange for either following you, tagging someone, signing up for a newsletter or leaving a comment (user-generated-content, or UGC).
The potential benefits include:
Increased traffic to your site
A spike in social media engagement and followers
Increased brand awareness
Links from other sites to your competition
New targeted leads
The opportunity to reward loyal customers

Tips to get started:
BloggerJet shared a 16-point action plan on running an online contest and it offers a great framework to build around
The key is having a compelling experience that gives your audience a reason to come back once the competition is over – how will you capture their attention & show you have content they are interested in?
You need to set a clear goal for your competition, and base its structure around it
For example, if you are running a local competition for those in your area, the simple brand exposure can be enough of a result. Similarly, if the goal is to get more followers on social media and increase brand exposure, then likes and shares are what you are aiming for
If you want to get repeat visitors to your site or profile, then you have to show those new followers or email subscribers that you have plenty of value to share with them
If you're asking entrants to follow your social profile, make sure your next post (when they are likely to see you in their feed again) is on something relevant. If the entrant has to sign up to your newsletter, make sure the next email that goes out highlights a related subject to show you're a source of interesting information
Make sure you follow any competition rules on your platform of choice – for example, Facebook has some contest rules
And don't forget – creating a competition is only half the work, the other half is promoting it well
Further reading:
Site accessibility and speed
9. Make your site accessible – and fast
If your visitors don't like to use your site, you're not going to earn increased traffic numbers.
How does it work?
Today more people in the UK browse the internet and engage on social media on their phone than on a desktop or laptop computer.
And it was back in 2015 that Google announced more searches were done on phones than on computers.
In fact, Google doesn't just reward pages that are good mobile experiences, but have been moving towards a mobile-first index, where they use the mobile version on your website to base all their rankings on whether the searcher is using a desktop computer, a tablet or a phone.
You also know that your audience doesn't like to be kept waiting.
Fast user experience is good user experience according to many studies, and the BBC revealed that they lose 10% of users for every extra second a page takes to load.
Google loves speed, announcing it would be a (minor) ranking factor way back in 2010. Today, with us having a mobile-first index, it is your mobile site speed that counts.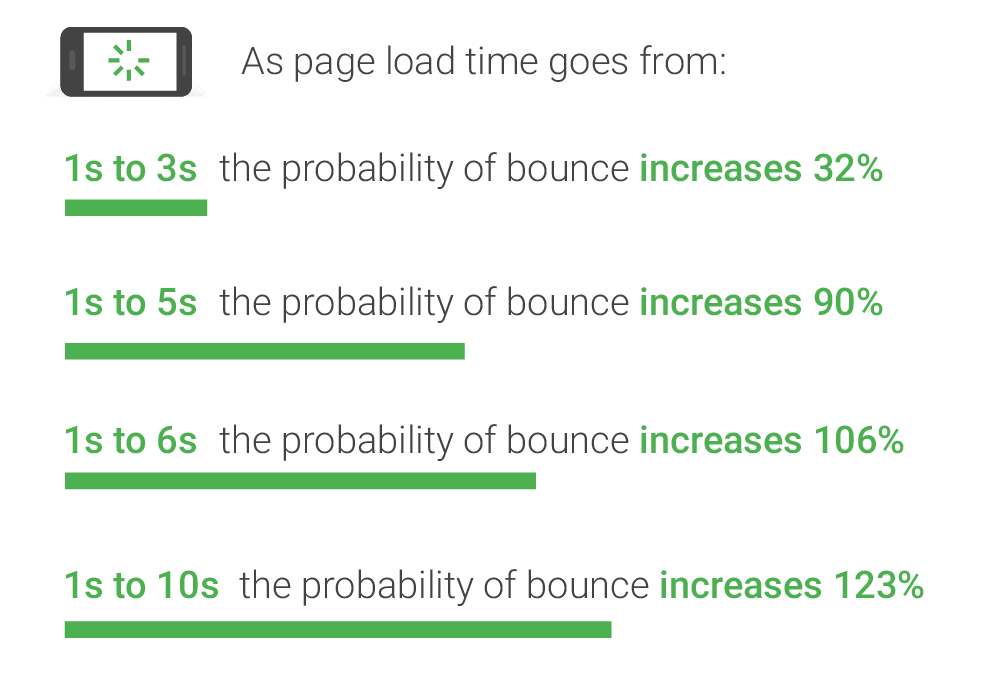 Some of Google's compelling stats on how site load speed affects performance
So to reach your audience, you need to have a great experience on their preferred way to reach your site. That means two key things:
Having a site that is a joy for mobile visitors to use
Making sure your site is blazingly fast to load
Tips to get started:
https://www.youtube.com/embed/7HKYsJJrySY?rel=0
Further reading:

Off-site traffic-boosting ideas
Once your site is starting to take shape, you can also look to external ways to boost your traffic. These off-site marketing techniques are often focussed on getting word out about your business or using popular third-party platforms and sites as a springboard to great exposure, brand recognition and traffic.
Local SEO and advertising
10. Local SEO
How does it work?
Whether you are a single location business or have multiple branches, a local SEO campaign will help you get in front of the potential audience searching in your neighbourhood for what you offer.
In fact, 86% of consumers use search engines to find a local business.
Local search engine optimisation is a strand of SEO that focuses on local intent searches (i.e.: the search is done to find local information) and getting sites to appear in the maps you see in many local results. This might be a search such as plumber near me or sushi restaurant in Oxford.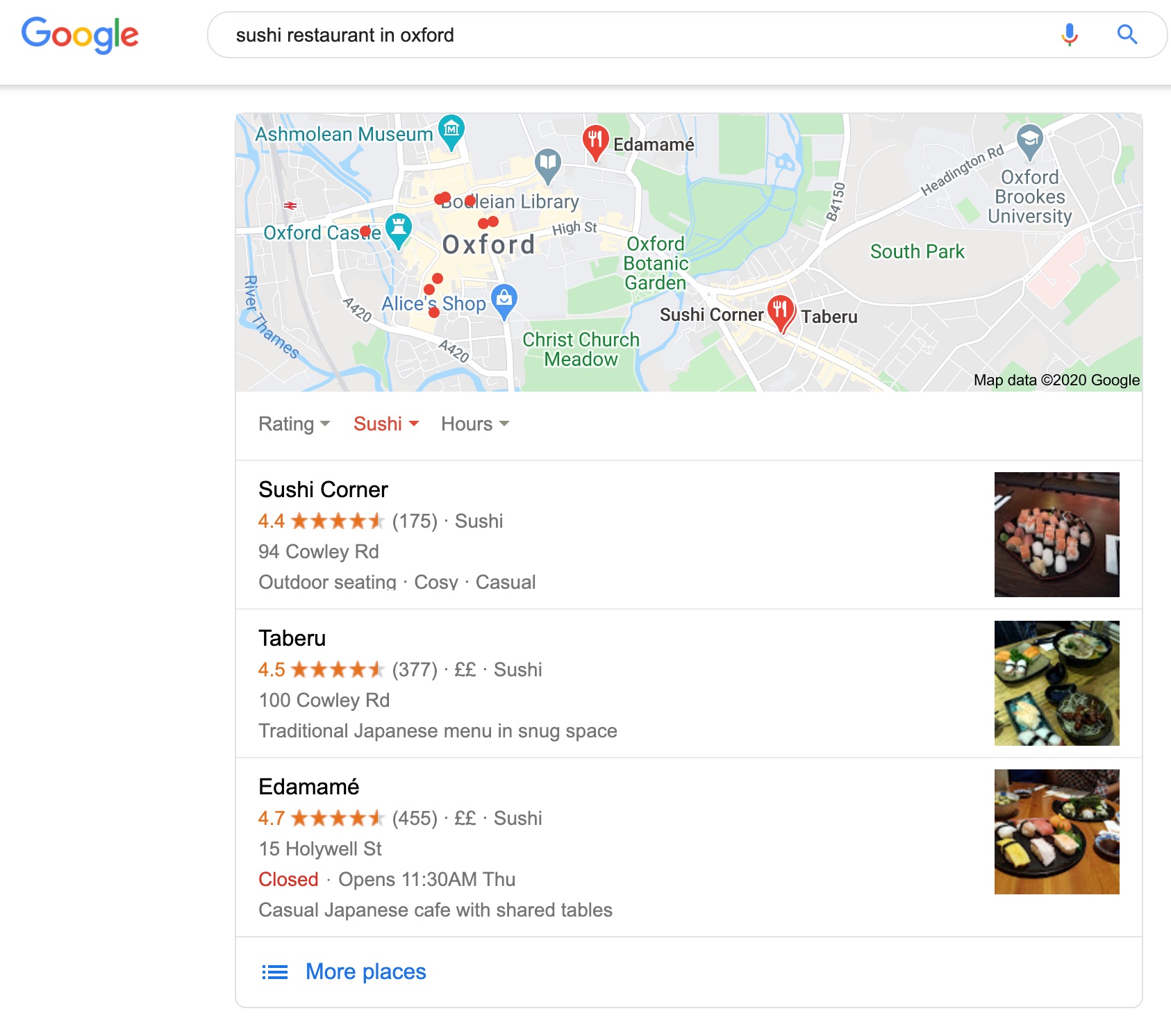 Local SEO is how SMEs can compete in search. Without the large resources needed to rank for the most popular generic search queries, small businesses can still compete for the less popular but often more-targeted local searches.
It also rewards strong local connections and great customer service (through reviews), so it can be perfect for SMEs. Creating a simple plan of action and putting in a little time each week can make a huge difference.
Tips to get started:
Despite the benefits of local SEO, many businesses simply don't bother with it. They regard earning more footfall and online traffic as low priority, or think it will be too technical.
Fortunately, you're here as you want more traffic and know that it's worth your time.
Google's local results are built on three main factors:
Relevance – Does this listing have details that match the user's intent? Does its products and services match what the searcher wants?
Distance – How far away is the business from the searcher's location or from the location mentioned in the search?
Prominence – How well known is the site?
Your first steps to getting these in place are to claim your spot in Google My Business (which powers the listings in Google Maps), get your name, address and phone number consistent online, build citations (mentions of your site on other websites) through appearing in useful directories and encourage customers to leave reviews on platforms like Google, Feefo and Facebook.https://www.youtube.com/embed/UdCZMWkYDJQ?rel=0
Further reading:
11. Local advertising
How does it work?
Even in the global world of digital marketing, there's room for advertising locally.
If you are a small business serving the local community or have multiple regional locations, appealing to those who you serve directly makes a great deal of sense even if you sell nationally through your website.
A local advertising campaign puts you in front of the audience who can support you, and in fact, for some businesses being local is a key USP. Food retailers and manufacturers, leisure facilities and service industries such as carpenters, estate agents and solicitors all benefit from a more local presence.
Associating yourself with local events, advertising where your local audience gathers and being seen as part of the local community is a great low-budget way for local SMEs to drive traffic to their site with tertiary benefits. Being known locally may lead to word-of-mouth recommendations, mentions in local online resources and even the possibility of getting higher-quality candidates for job openings.
Tips to get started:
To be effective, local advertising has to put you where your local audience hangs out, online or offline. You need to plan your advertising by identifying your target local market, and the opportunities you have to reach them.
For example, if you were to sponsor a local football team, you might get your name in front of the crowd. But even if you don't, sponsorship gives you a chance to meet other local businesses which could be brilliant for someone looking for more B2B clients. If you want to reach local mums and dads, would sponsoring local school events give you the opportunity?
Don't forget, you are still working online so you can take advantage of the ability to record any increases in traffic to see what is effective:
As with all these traffic-earning tactics, make sure you use your analytics software (such as Google Analytics) to see if there is a boost to traffic. With local advertising, you might want to create bespoke pages for events you sponsor so you can put exactly the right content in front of your audience and see how many people acted on your advert
Finally, make the most of your local business as an asset:
If the public visits your premises, make sure you advertise your website where they can see it! If you have active social channels, push them on a notice board. Use your receipts to tell folks to sign up for your newsletter for discounts and news. A bit of guerilla marketing can go a long way
Further reading:

Guest blogging and thought leadership
12. Guest blogging
How does it work?
Guest posting is the tactic of writing articles for other people's blogs.
When done well, guest blogging gets your thoughts and brand on a website that is seen as an expert in its field, often much more popular than your own site. This opens you up to a new audience, enhances your reputation and can lead to direct new traffic.
You could argue that if your blog isn't getting much traffic you might be better off by guest posting than adding articles to your own blog (in the short term).
If your blog is only generating a few visits per month, it makes sense that putting your content on big popular websites in your industry could have a bigger effect (while you build up your catalogue and reputation).
The potential benefits of writing a guest post for a relevant, authoritative site include:
More referral traffic (visitors to your site that come via a link on other websites) through appearing in front of your target audience on sites they already visit
More links from other websites (which correlate with search engine rankings as Google and Bing take them as a sign of quality)
Increased brand awareness
The potential to be promoted by the hosting site's social media
Content you can promote in your other channels like social media or email
Tips to get started:
The secret of effective guest posting is to find the right targets to reach out to, and then have an effective pitch to show how an article from you would be beneficial to their audience.
Finding blogs that will accept guest posts is the biggest challenge:
You might know of some through your own reading that accept guest posts
Many SEO practitioners use Google search operators to help them find targets. This manual process uses phrase searches to find sites in your subject area that have current guest posts or pages for submitting ideas. For example, a search for [fitness "write for us"] brings up pages related to fitness that have a 'write for us' page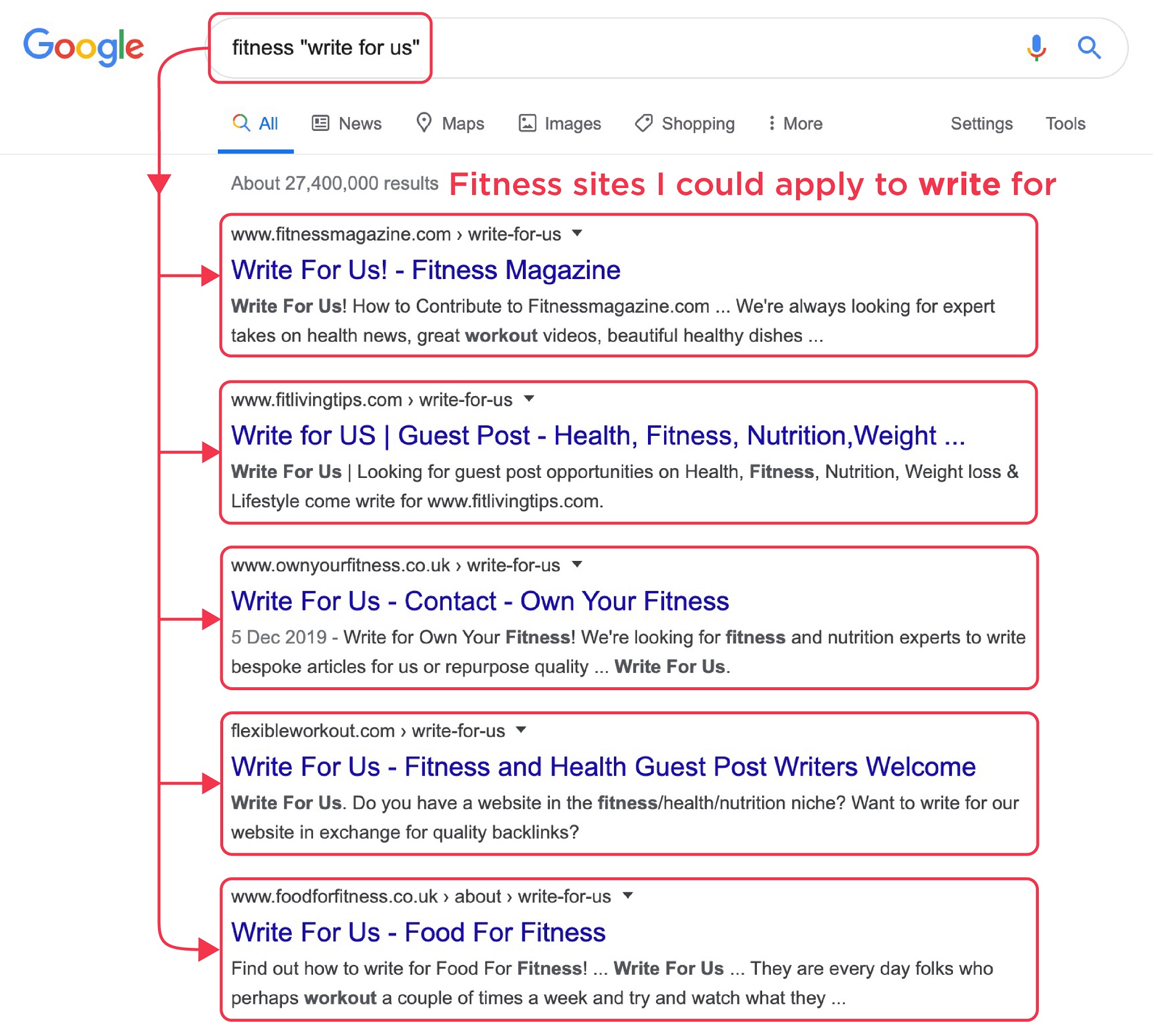 Alternatively, you can use a paid tool such as Buzzsumo or Ahrefs' Content Explorer to find the most successful content on a subject, and then see which sites are writing about relevant topics (although not every site that accepts guest content has a page dedicated to it)
Once you've found some targets, your pitch is crucial – you want to show that you want to help their audience (not just get the free promotion!) and that you have an original idea that you've put some effort into.
Once you have had some posts accepted, you can add these to your pitch as examples of your work. Until then, use examples from your own blog or thought leadership articles on external sites.
Remember, for this to work you need to invest in the quality of your content. If you want to appear in the market-leading sites, you need content that's worthy of their reputation.

Further reading:
13. Thought leadership
How does it work?
In most businesses, there is usually an abundance of industry expert knowledge as well as plenty of thought on the latest developments.
Positioning yourself as a thought leader in your industry means taking that knowledge or that passion and putting it where your audience can enjoy, react to and share it.
In this case, while you might publish your expertise on your blog, you might also look to external sources where your target audience can find it or may even be searching for the answers you have to offer.
Publishing on a well-established platform gives you access to a much bigger audience – unless your blog is doing very well, writing on somewhere like LinkedIn can put you in front of a lot more potential eyeballs.
These thought leadership pieces can establish you as an expert in your field, leading to potential traffic from:
Readers who click through to your site from the article
Those who decide to follow you based on the expertise shared
Those who come to you in the future when looking for what you offer based on their experience with your content (classic content marketing strategy!)
In a study by LinkedIn, 55% of respondents said they'd use thought leadership as a way to vet suppliers they might hire.
So when reviewing ideas for content pieces, don't throw away those without a specific audience intent or that don't have much search volume – consider if they would make strong thought-leadership or opinion pieces instead.
Tips to get started:
Where should you put this content?
You have a number of different options, based on what works in your niche and the resources you have available, but the two biggest options are LinkedIn Articles and Medium. You can write thought-leadership or opinion pieces that might not fit in with the 'helping our audience' ethos of your blog on one of these instead.
As the business social platform, LinkedIn is 277% more effective for lead generation than Facebook and Twitter.
LinkedIn Articles can be up to 125,000 characters in length and appear in your main profile, highlighting important brand content. They can form the big-hitting focal points of your strategy for the platform. You can also consider re-posting the best of your blog here as a way to push your insights to a new audience.
You can also consider other mediums – creating and running a podcast is a lot of work and something that you might not be able to take on (yet). But as a fast-growing medium, there are potentially a lot of podcasts in your niche looking for guests.
Could you – or someone in your business – fill that gap?
Further reading:
Video marketing
14. Produce some videos
How does it work?
Video is one of the most popular and fastest-growing mediums on the internet. A survey by HubSpot found that 85% of businesses use it as a marketing tool, and 92% of those list it as an important part of their overall strategy.
More importantly, 88% of video marketers said it gave them a positive ROI and 59% of respondents who didn't use video said they were planning on starting. Perhaps it's not surprising considering the average consumer will spend 100 minutes a day watching video in 2021.
This all adds up to a lot more businesses making noise using video. If you're not using video as a part of your digital marketing strategy, you're behind the competition.
Even for SMEs, video is a practical and impactful way to reach your audience.
The great things about video is that not only is it massively popular among many target markets, but it's also an incredibly powerful medium for helping your customers.
Studies have shown that information retention is much higher for visual material than it is for text. And think about clothing websites which have a quick video showing someone wearing that new jacket you want to get – that context makes it much easier to make a decision.
When you're trying to learn how to do something at home, such as some DIY, what's a better way to learn than a video?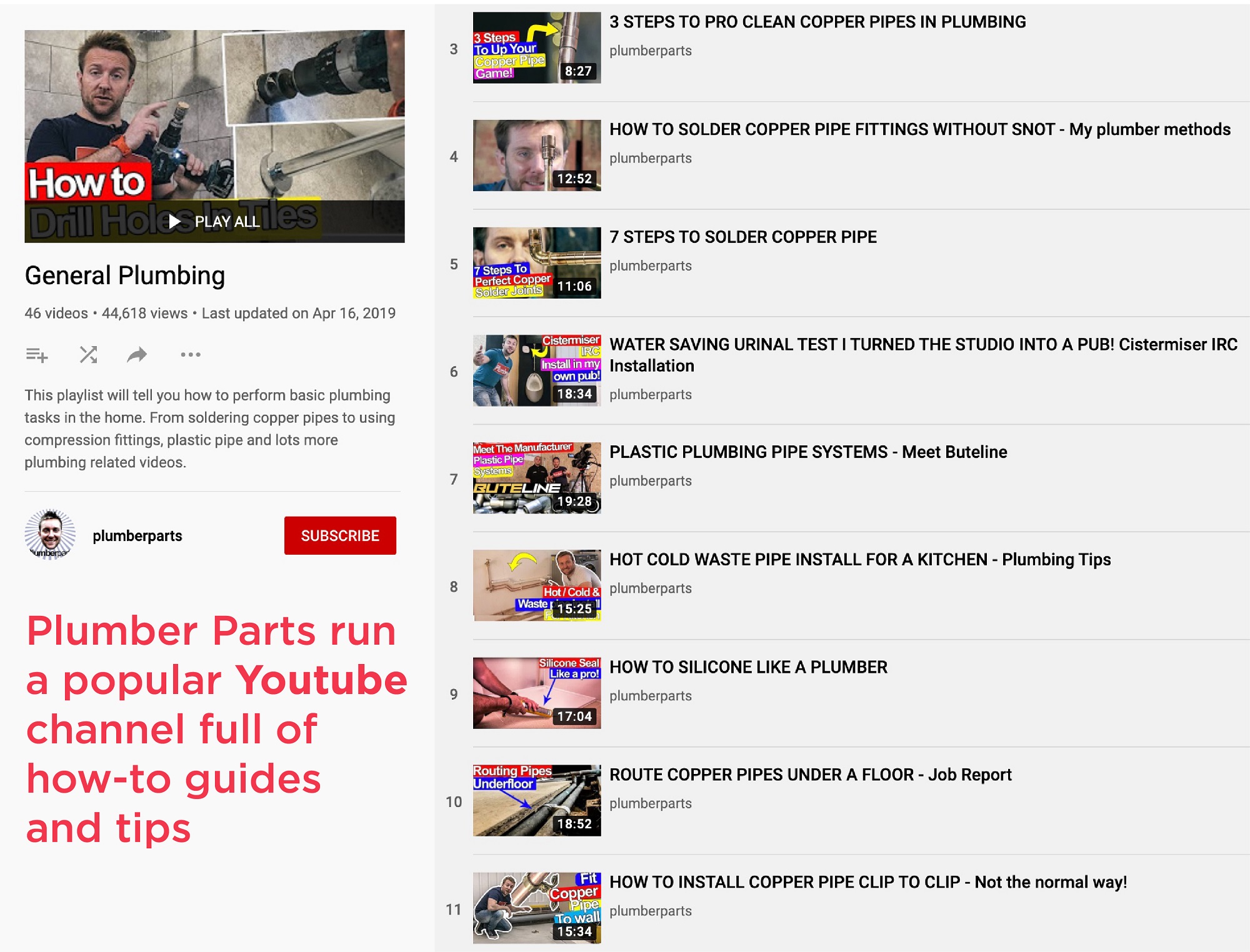 This means video works well for driving traffic as there are huge platforms for being found on, your target market might love video, Google highlights video content in search results and there are lots of inventive ways it can help your audience.
Tips to get started:
The great news is that the improved return on video marketing is down to:
A better understanding of what works in different situations
A lower cost entry-barrier thanks to cheaper camera equipment and the fact many high-end phones can be used to create something of real quality.
Your challenge is to build an inventive strategy that makes video a key component of your marketing content and to find the right platform for that strategy to flourish.
Will you use video to show off products, to answer common questions, to build how-to content and tutorials, broadcast events you are running, make a video version of your podcast or record client testimonials?
By finding the content topics that a) video is a great format for and b) are of interest to your audience, you know the types of video content that will draw visitors to your site
You can then promote this content via SEO, social media, emails and even through optimising your videos on platforms like YouTube to earn more traffic and views
There are tools such as Invideo that make creating and sharing videos much easier
Should you use YouTube, Vimeo, Instagram Stories or Facebook Watch? Can you upload longer videos to YouTube then create shortened snippets for Facebook Watch or IGTV? Will your videos live on your site only, or do you want to make them public on a platform like YouTube?
https://www.youtube.com/embed/oR3DQRDoTVI?rel=0
Further reading:
Contributing to communities
15. Get involved and contribute to communities
How does it work?
Getting involved in digital communities based around your niche is something any small business can do and is a truly free and genuine way to get in front of your target audience.
Taking part, whether by being in a group, answering questions or even, yes, meeting folks at an offline event helps you get your name and brand known within that community. The more brand recognition you have, the more that community might search for you, or even recommend you when someone asks about a service or product you offer.
It is a long-term strategy, but one that will help with traffic.

Tips to get started:
The first step is to find where your niche's communities are and then join them. Some of the potential options to check include:
LinkedIn
As well as finding groups to join (which you can do by simply typing your topic of interest into the search bar), make sure you engage with those you've connected with on LinkedIn. Take the time to read others' posts, leave comments and share the best. When looking at the best groups to join, make sure you pick those that have the closest match to your knowledge or audience, as well as the most popular!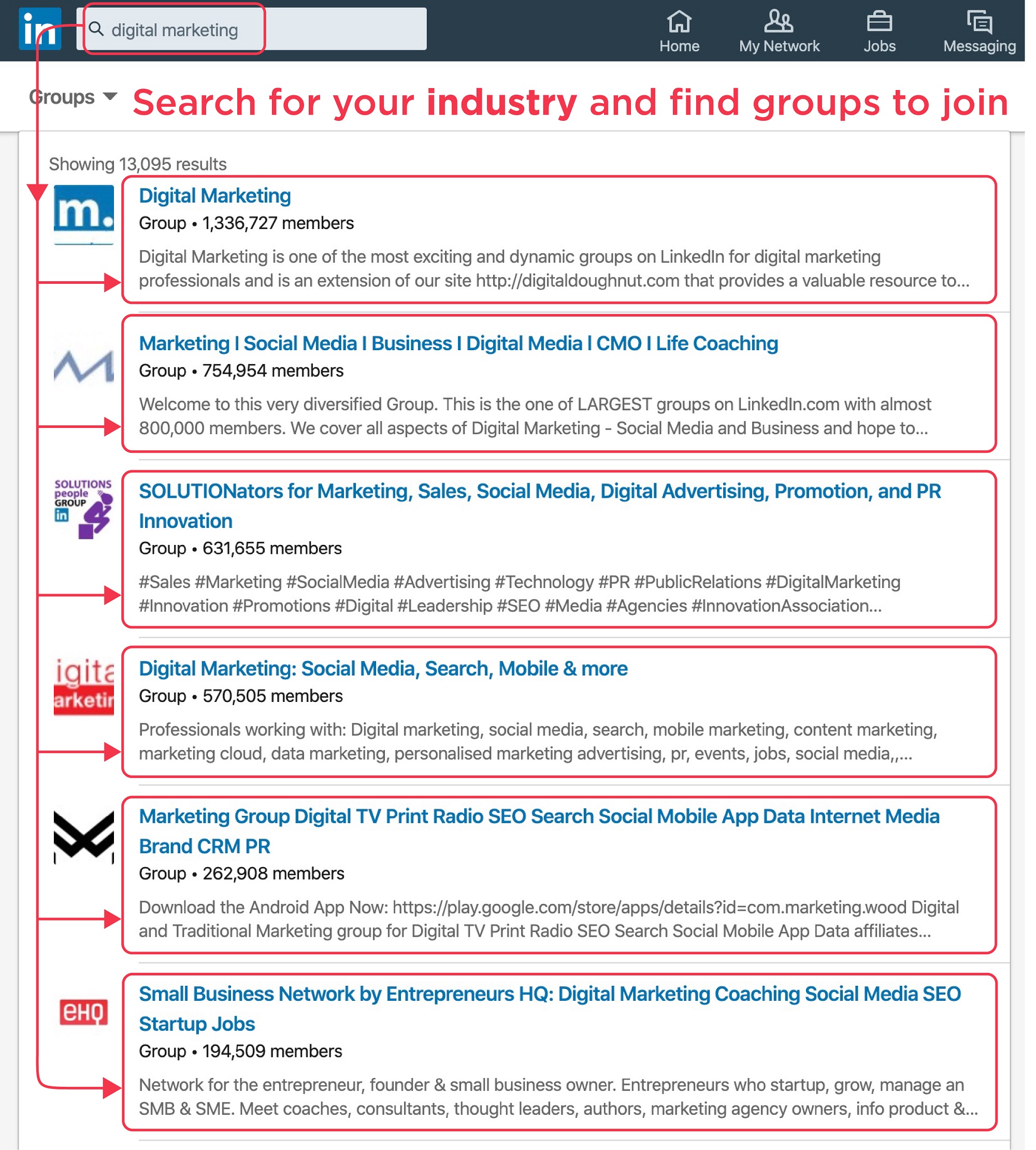 Facebook
Of course, there's a Facebook group for everything, so while some might be closed, there's going to be a choice of groups to join for any niche you want to engage with, whether based around an industry, a hobby or a location.
Q&A sites, such as Quora
A quick search on Quora reveals a lot of questions being asked in your area of expertise. By answering them you can establish yourself as an authority, raise brand awareness and potentially generate some website traffic.
Organise them by the latest (or sign-up for email notifications when new questions in your topic area are asked) and start earning a reputation as a helpful contributor. As a huge bonus, you'll also start to see common questions asked by your potential customers which you can then use as the basis for great content on your site
Forums, such as Reddit
Just as with Facebook and LinkedIn, there's a Reddit community, called a subreddit, for any industry or topic (or a few!). The key rule to remember is to be helpful – you're not here to sell your products, and anyone who is there just to sell is soon found out.
As with Quora pages, you can put Reddit into an SEO tool to find the subreddits with the most visibility or estimated traffic to gauge which might be the most helpful to join.
Real-life events
Are there local meetups you can attend or even sponsor? Industry conferences you can get to and meet new folks at?
The next step is to be proactive – get stuck in and start taking part in conversations, answering questions, sharing content you've found helpful and helping others.
You can even start to foster a sense of community yourself by having comments on your blog or by running an online group or an event for the community. There's a lot of kudos to be gained from running something that gives back to the community you want to sell to.
Further reading:

Social media and PPC marketing
16. Optimise your social media presence
How does it work?
Social media is an incredibly powerful tool – it has a huge following, can target your desired audience and at an organic level is free.
Perhaps best of all, it is an open channel, where anyone can set up and start sharing in the hope their audience loves it. For many SMEs as well as big brands, social media is a fantastic opportunity to engage with an audience.
By following you, your audience is showing an interest in what you have to say, and as long as you keep providing something of value, you stand a chance of retaining their loyalty.
Research by Sprout Social has found that we are 57.5% more likely to buy from a brand we follow on social media – that's an increase very few small businesses can afford to ignore.
Are you a B2C business selling something visual or that evokes emotion? An Instagram account showing off your beautiful offering is just the ticket (more than 72% of Instagram users have bought something they've seen there). Working in a B2B sector and want to network? LinkedIn is your friend. Need to keep up to date on the latest news and offer quick commentary? Twitter could work for you.
It's important to remember that it's not just the big names that could work – others like Pinterest can generate a lot of traffic in the right markets. 90% of 'Pinners' – those 335 million who use Pinterest every month – say that Pinterest helps them decide what to purchase.
Tips to get started:
This social media guide will take you through the process of creating a social strategy. Without a robust strategy in place, it's easy to get off track, forget the reasons you are on social media or even neglect your accounts.
Your first step is to pick the right channels to focus on. The aim is to choose those where your target market likes to take part. In this guide to increasing your social media following, it explains that knowing your audience well is the secret to picking the best channels for your business. The questions you need to ask to get started are:
Who is your typical customer?
What are their interests? And how would they like to find out more about you?
When are they most likely to be online?
Why does your audience use social media?
What type of content do they enjoy on social media?
What type of posting strategy you'll need depends on your goals. I'm discussing using social media as a way to drive traffic to your site, which means you need your social content to show compelling reasons to visit the site as well. You need to give folks a reason to click:
This might mean adding a natural CTA to tell your followers you've got more to offer that you can't fit onto a social post (such as more information that helps them somehow or a wider range of a product in question) and (occasionally) showing an offer that can only be redeemed on the website itself
Brian Dean recommends adding a bulleted list of features when sharing content on social media to get more engagement and clicks
It's of course vital to think about the right type of content to post. This will depend greatly on the type of business you are, your target demographic and the platforms you are using. Buffer put together a fantastic guide to the formats that work well on each platform and Sprout have compiled a big list of content ideas from repurposing videos and highlighting customer stories to ask-me-anythings (AMAs) and running social-exclusive offers.
You can also do well by posting at the optimum times. CoShedule did a study of the best times on each of the major networks and you can use this to be more efficient with your social resource.
And don't forget to add social sharing buttons for the networks your target audience uses on your blog posts and guides. Just remember – don't be spammy or sales-focussed. Readers can easily skip your content, and once they do it's hard to get them back, especially as social media algorithms favour those someone regularly interacts with.https://www.youtube.com/embed/PLmk-xsvC2s?rel=0
Further reading:
17. Paid search marketing (PPC) & social media advertising
How does it work?
Sometimes the most obvious answers are the best.
Need an immediate boost to your traffic? Paid search (also known as search marketing) and social media advertising are superb ways of getting new visitors to your site.
No matter what you need more traffic for, from selling a product or a service, generating leads, getting more readers or pushing a brand, there are paid platforms that can work for you. These usually work via a pay-per-click process, which puts you in charge of exactly how much you will spend.
And they are instant, so you can turn on or off paid advertising as you need to – it really is a stream of traffic you can draw from as you need.
Paid search advertising works faster than something like SEO which takes time to become effective, it increases brand awareness and offers excellent measurements so you can analyse what's working and do more of that and less of what doesn't resonate.
And while you are paying for traffic (and some industries are very competitive), it is perfectly possible to make a great ROI on any of these platforms if you run your campaigns well.
Tips to get started:
Getting started with paid adverts is a big topic and can seem a little intimidating, but I've picked some of the most practical and successful options for you to consider:
Further reading:
Digital PR and influencers
18. Media Relations & digital PR
How does it work?
Another traditional marketing tactic that's adapted to the online space is earning media coverage through PR which is an amazing way to drive brand awareness and traffic to your site.
Great PR can drive traffic directly to your site from an online article where you are covered featuring a link (the holy grail of every box ticked for digital PR). Or it can send traffic indirectly through the reader searching for your brand or product once they have seen the press coverage.
Many sites work on creating some 'digital PR', where you use content to earn coverage from big-name publishers. With this you can be in a great place for earning quality links that will increase brand awareness and referral traffic as well as backlinks for SEO.
Smaller sites might use PR-style tactics to earn coverage from local or niche-specific sites, such as getting your store opening covered on the local newspaper site, your restaurant reviewed by food writers or your latest study detailed by an industry-specific publication.
However, any PR or media relations work can be extremely beneficial for your brand. Getting mentioned in the right place can validate a product and drive demand and therefore website traffic, even without considering links.
Tips to get started:
Your aim is to get in front of your target market in a publication they trust. Such exposure will potentially earn some referral or indirect traffic.
You'll need to work the prime target publications to aim for – which do your target customers read?
Once you know where you are trying to appear, you can search for your target topic and that publication to find what, and who, they've covered before

To do this, you can use a 'site: search' in Google. For example, you can search in Google for site:theukdomain.uk "content marketing" to find articles on this topic

Even if you are a small business without a PR team or expertise, you can make use of PR
19. Influencer marketing
How does it work?
Influencer marketing works by finding an influential individual in your niche and having them highlight or talk about your product or brand. You piggy-back off their popularity to bring your product to a new, larger audience through someone who has lots of authority – or influence – with them.
Influencer marketing can take overt forms such as reviews, testimonials or shout outs. Sometimes it is more subtle, such as someone wearing an item of clothing or being seen using a product. Popular social and content platforms such as Instagram, TikTok and YouTube are where it's most commonly found.
In the UK, influencers are required to say when they've been incentivised to talk about something this way.

It's perhaps easiest to think of influencer marketing as a new hybrid of traditional PR work and celebrity endorsement. While celebrities or social media personalities are what most people think of when you say 'influencer', anyone who holds sway with an audience can be one.
That means if there are leaders with credibility or a large audience in your industry or niche, they could be an influencer in your market. Anyone who has credibility with your audience and a platform to speak from can have an influence in your market. You don't have to find a reality TV star to try out influencer marketing!
Tips to get started:
Who would make a great influencer in your market? Getting the influencer right is obviously one of the most critical decisions to make. It needs to be someone who resonates with your audience, has channels they regularly communicate to that audience through and would be a credible person to use your product or service
Remember, you'll be connected with this spokesperson for a while, so make sure it is someone you trust
Take a look at the competition – are they using influencers in their social campaigns?
You next need to decide how they would talk about your product – will they say they use it themselves, talk about who it helps, show it in action? To have maximum impact, it should make sense that they would talk about your offering. You'll need to create a brief and have a collaboration structure in mind
And finally, to get started you need to reach out to the influencer, perhaps directly, through social media or even through an agent if you are aiming big!
If you want to work with a blogger (which can be a great way to dip your toes into influencer marketing), you can find some great guides on how to do blogger outreach
Further reading:

Review and research
20. Research the competition
How does it work?
If you want to know what's working in your market, you can take a look at the competition.
Wouldn't it be great to have access to your competitor's sites? To see what's working for them?
Well, thanks to some online tools, you can get a really good idea.
If you use a tool like SimilarWeb, you can find an estimate of the traffic for your competition:

More helpfully, we can see a breakdown of where their traffic comes from, and an estimate of what's contributing to each of those channels, such as SEO keywords and social media platforms. There's even a list of similar sites to check out.

By looking at a competing site and their online activity, you can get a flavour of the tactics and channels they are investing in.
Tips to get started:
Want to know what's working for the competition? Two great places to start looking are what's working for them in search and what content is resonating with your audience:
To uncover what's working in search for your competition, use an SEO analysis tool such as Sistrix, Ahrefs or Moz. These let you put in any website and see which keywords they rank for, which URLs are driving the most traffic, how many backlinks each page has earned and a lot, lot more. These are paid tools, but they all have trials so you can try before you buy
Use this information to uncover the topics that they get traffic for, but also those that your audience has a lot of interest in, plus any gaps in their content strategy – what are they not covering that you can help customers with?
Don't forget the paid side of search – what search terms are so important to them they are happy to pay for traffic on?
Which social media channels do they have accounts for? More importantly, which do they pay attention to and which get the most engagement from your potential customers?
See what their 'most popular' blog posts are – some sites even list them! An even better method is to use a tool that shows the most popular articles on a site. Buzzsumo lets you put in a website or topic and see the most popular articles by the number of social shares they've received. Measuring social shares can be difficult, but seeing the relative strength of different articles will help you spot topics that resonate with your audience and which sites have the best blogging or content marketing strategy
Further reading:
21. Review your best traffic sources
How does it work?
This final tactic is one to employ once you've tried out a few techniques. Use your analytics packages to see what's worked for you and prioritise spending more time on what works.
Taking on any of these marketing tactics without dedicating time to analysing what's worked is at best short-sighted, and at worst a waste of time, money and effort.
If you don't measure the impact of your channels and sources, you don't really know what's driving traffic to your site.
And even if a channel is doing well, knowing which ads, posts, articles or links are doing well and which are falling flat is vital for improvement.
Once you know what's working well, you can double down on it, and drop what's not!
Tips to get started:
For most small businesses, Google Analytics is the primary analytics tool at your disposal. There's an intimidating amount of information available in the software, but there are a few key metrics that you can start with to get a good handle on what's working to build your confidence:
Visitors
Traffic sources (this is where you'll see the relative success of your different campaigns)
Bounce rate (make sure you understand that lower doesn't always mean better!)
Visitor devices
Popular pages (which pages do users want to see the most?)
Your most common landing pages and exit pages (i.e.: what's popular, which pages drive the most traffic, and which are the most common for users to leave from)
One of the key starting points is to add goals within Google Analytics – that way you can measure not just traffic but how many conversions each channel and tactic is leading to. Make sure you also take a look at your visitor analytics – what demographics are you popular with (and does it match your target personas), where are they based and what devices do they use to access your site?
You also want to add tracking codes to your different campaigns to make it easy to see which newsletter, tweet or banner drove the most traffic.
If you are running a paid campaign, you'll also get excellent analytics data from the platform – make sure you know where your money is going!
And most social platforms also have good analytics data to help you find the content that's sparked interest.https://www.youtube.com/embed/T4u6gdRNR-Q?rel=0
Further reading:
Conclusion
Getting traffic to your site without a plan can be a struggle, but – hopefully – you've seen it doesn't have to be. With some thought and a little hard work, there are plenty of options for any site to try, no matter what type of business you have or the audience you want to reach.
Success comes down to picking tactics that you can execute well (mediocre doesn't stand a chance today), that put you in front of your audience where they hang out online and that let you engage with customers when they want you rather than just selling 'at' them.
Throughout this guide I've shared some of my favourite resources on each tactic, so pick one or two that match your audience, budget and resources, get learning and take the first steps to more customers!

Charlie Williams. SEO Specialist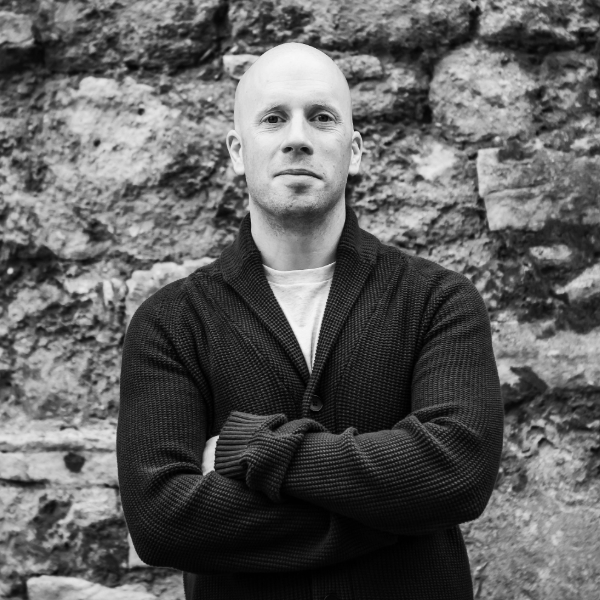 A search veteran who's worked just about every kind of role over more than a decade in the industry, Charlie runs Chopped Digital, an SEO and content strategy consultancy dedicated to helping create better sites and smarter SEOs.
Passionate about helping sites take control of their SEO, he helps run local digital marketing events in Oxford including the Unboxed conference.
A regular industry speaker, Charlie loves to share ideas on his specialities of technical SEO, content strategy, creative user experiences & keyword research.