Since its launch in 2010, Instagram has gone on to become one of the most popular social media sites of all time.
With a staggering 95 million posts shared every single day on Instagram, it's no wonder small businesses want a piece of the action. Though getting started on the social platform can be pretty overwhelming.
Rather than spending days or even weeks trawling the internet trying to figure out what's what, we've put everything you need to know about Instagram marketing for small businesses in one easy-to-understand guide.
What is Instagram and is it right for my business?
Instagram is a photo and video-sharing social networking site. Every time you send out a post, it will appear on your followers' news feed where they can like, comment on or share your content. Likewise, you can do the same with the users you choose to follow.
The greater your engagement, the more your brand is out there so naturally, it's a fantastic way for businesses to reach out to potential and existing customers. Is Instagram right for your small business however?
The answer to this question is yes if:
You have the ability to create visual content (photos and videos)
You want to reach out to a new or larger audience
You want to improve engagement rates
You want people to remember your brand
You want to involve your customers
You want to drive sales (over a third of Instagram users have used the site to purchase a product online)
You're interested in using the site for paid advertising
Once you know your business is right for Instagram, the next best step is to create a marketing strategy for the platform.
How to create an Instagram marketing strategy
Before you even set up an account, it's wise to create an Instagram marketing strategy. This allows you to address your goals and plan how you're going to achieve them.
The main points to consider when putting together your strategy include:
1. Why do you want to be on Instagram in the first place?
Are you looking to build a community? Increase brand awareness? Generate leads? Let customers see the behind-the-scenes of your business? These goals will determine everything from the type of content you produce to how often you post.
2. What personality are you going to take on?
Do you need to keep it professional or can you get away with being a bit more jovial? Do you want to be seen as humorous or knowledgeable? Are your posts going to be informative or showcase particular products?
When posting on social media, it's a good idea to find your personality and stay consistent with it. This helps you to establish your brand and build a connection with your followers.
3. Create a content schedule
If you want your Instagram marketing to be a success, it's a good idea to put together a schedule. By planning what you're going to post over the next week, month or quarter, it helps you stay consistent.
When creating a content calendar, include the date, the caption to go with your post, the image or video you'll be using and hashtags. It's also useful to add a separate column for engagement where you can make a note of how many likes and comments your posts receive. This information is incredibly useful when it comes to identifying the type of content which typically goes down well with your audience.
A template similar to this can be a good place to start:
Publishing date
Caption
Visuals
Hashtags
Engagement
JANUARY
9th @ 12pm
Check out our new products for the New Year!
Product shot
#NewYear #productlaunch
10 likes, 2 comments
12th @ 3pm
Our team is excited to see our new products arrive in the office!
Behind-the-scene shot
#newcollection #productlaunch
You can find tips and templates for creating your social media calendar on Hootsuite.
4. How are you going to measure success?
It's great when you get someone contacting or buying from you as a direct result of an Instagram post. This doesn't always happen however and it doesn't necessarily mean that your social media efforts are being wasted. There are a number of other ways you can measure social media success:
You're gaining followers
The number of likes and/or comments on your posts is going up
People are engaging with you more. They may be tagging you in posts or messaging you for more information
Your profile visits and interactions are increasing (you can track this from your business account)
Instagram is driving traffic to your website (you can check this in analytics)

Setting up an Instagram business profile
Setting yourself up with a business account gives you access to some great tools and features. Analytics on your posts and stories will help to measure the success of your Instagram marketing and additional buttons such as 'contact' will ensure potential customers can get in touch easily.
If you're new to Instagram and don't have an account at all, this handy blog provides a step-by-step guide to creating a business account. Some things to bear in mind when creating your profile include:
Use a recognisable username (ideally the name of your business) so that people can find you. If your name is already taken, keep your business name as the first part of your username so you'll still come up in search results. Even if you already have a username, you can change it by going to 'edit profile'
Keep your profile public. You want anyone and everyone to be able to see your posts. If your account is set to private, only people who follow you will be able to see your content, making it incredibly difficult to get your brand seen by new audiences
If you've already set up your profile, it's very easy to switch over to a business account. Simply click on the menu tab in the top right hand corner and then 'settings' at the bottom of the menu. Head to 'account' and then at the bottom you will see 'switch to professional account.'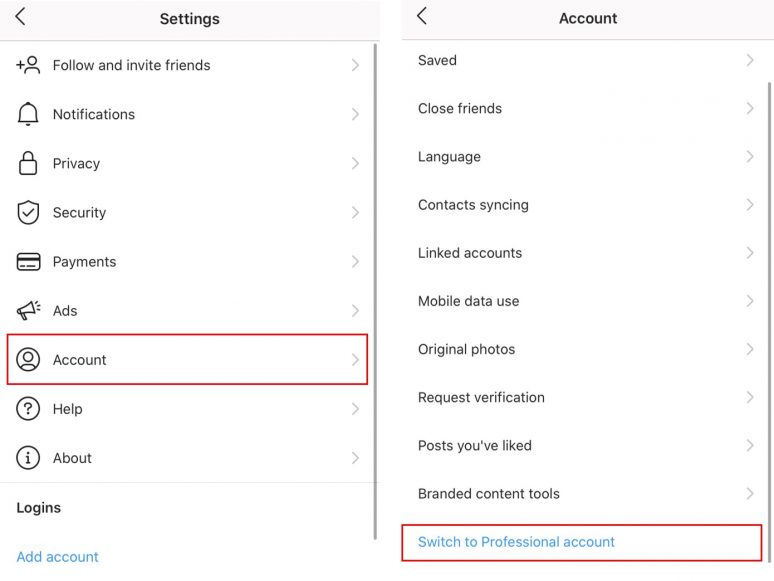 Once you're all set up with a professional account, it's time to perfect your profile.
You can find a helpful overview on how to create a winning Instagram profile, posting, going live and more in our video, before reading on for more details and tips on each: https://www.youtube.com/embed/-d7NvWtlpjQ?rel=0
Creating a winning Instagram profile
One of the first goals in your Instagram marketing strategy is likely to be attracting more followers. While posting great content consistently is key to this, the initial step is to create a profile that's going to capture people's attention and make them hit that follow button.
What exactly makes a great Instagram profile?
Choosing the perfect profile photo
Keep your profile photo relevant and recognisable so people know it's you. If you're a sole trader, perhaps a photo of yourself is more appropriate. If you have a logo, use this for your image because people will instantly know they've found the right account if they're familiar with your branding.
The minimum profile picture size for Instagram is 110×110 pixels and it will automatically crop your photo into a circle. Also try to stay below 200×200 as a maximum so your photo doesn't blur or stretch.
You ideally want to use a square photo with your logo in the centre so that the corners of the image can be cut off without a problem. The photo below is a good example of the type of image that doesn't work so well as a profile photo. Only the part of the image inside the circle will be shown and the rest will be cut off.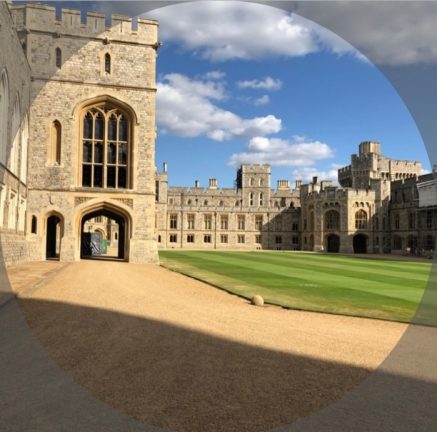 Putting your logo on a blank background works much better because you can move the circle around and pinch-to-zoom until the circle is exactly where you want it.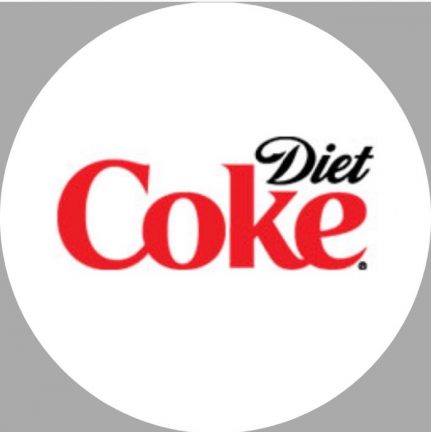 Writing a compelling Bio
Your bio (the description at the top of your profile), is one of the first things people see when they come to your page.
You have a maximum of 150 characters and this is your opportunity to let visitors know what you're about as well as give them a reason to follow you. Include who you are and what you do and don't be afraid to add a hint of personality.
Oppo is an example of a really good bio. It's very clear they sell reduced calorie ice cream and cheesecake.
They've created a hashtag for customers to use which will help to create a buzz about the brand and every time someone searches that hashtag, Oppo products will feature. They also include a link to their website which means that people can buy products or find out more information very easily.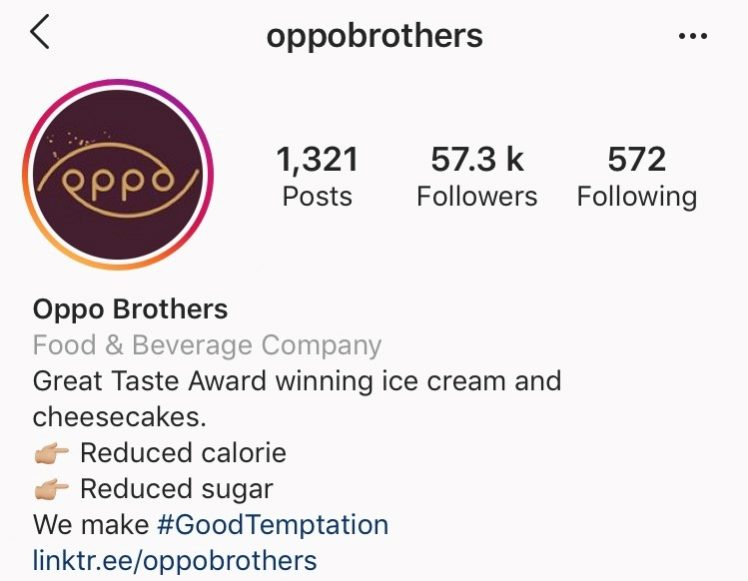 Adding your URL
For businesses, it's very frustrating that Instagram doesn't let you post clickable links on your posts. This means that currently your bio is the only place you can add a direct link to your website.
You can change the URL in your bio as often as you like which means you can promote certain landing pages, blogs or products depending on what you're trying to push at the time.
A great tip is to mention on your post that there's a link to the product, service or blog you're referring to in the bio so followers know where to find it.

Selecting a call to action
By adding a call to action on your profile, you're providing potential customers with the opportunity to find out more about your business and how they might work with you.
Your business account allows you to add a button under your bio and it's highly recommended you make the most of this feature.
Go to edit profile
Scroll down to 'public business information' and click on 'contact options'
Select 'add an action button' and choose which one you want to add to your profile. There are many to choose from including email, Bookatable and Eventbrite. If you head to Côte's profile for example, followers can easily contact them or book a table just by clicking a button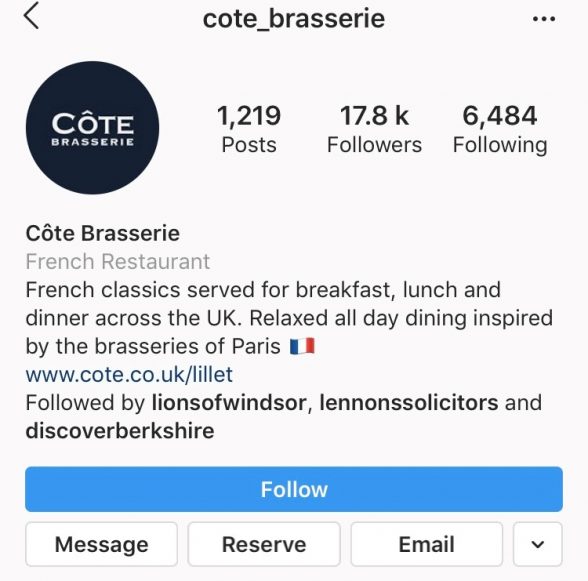 Instagram algorithms
If you're not already familiar with Instagram, you'll soon become acquainted with its dreaded algorithms. All the social media platforms have them and they're simply a way of organising a users' feed based on what the site thinks they want to see.
Frustratingly for businesses, this means that posts on Instagram aren't shown in time order. They are instead based on relevancy and this will be determined by how people interact with you.
If for example, someone regularly likes or comments on your posts, Instagram knows they're interested in your content and will therefore push it to the top of their news feed. If certain followers never like your content however, this means there's a possibility they may never see it.
To confuse matters even more, social media platforms are constantly changing how their algorithms work. In their very own words, this is how Instagram's current algorithm works:
The order of photos and videos in your feed will be based on the likelihood you'll be interested in the content, your relationship with the person posting and the timeliness of the post.
To help your business' posts get seen follow these top tips:
Post consistently – not only does this increase your likelihood of getting engagement, it's a signal to the algorithm that you're a quality account.
If you frequently comment on someone's posts or are tagged in photos with them, this signals to Instagram that you fall into the 'friends and family' category which means you're more likely to see each other's content.
Post at a time when your followers are more likely to be online (we go into more detail about this below)
Encourage people to spend longer looking at your posts because Instagram will use this to gauge how interested they are. Some great ways to keep eyes on you for longer include writing engaging content, posting videos and asking questions so people take the time to respond. You can find out how to write great Instagram captions here
You can also head to our blog to find out more about engagement rates, why they're so important and how to boost them.
Now you know what to post on Instagram, it's time to start creating your content and getting it out there!
Posting on Instagram
The good news is that posting on Instagram is very easy. Knowing what to post and when to do so can take a bit longer to get your head around however.
Let's start with the basics – how to post a photo or video on Instagram.
The first thing to note is the device you're posting from. You can't upload to Instagram on a desktop via the website itself. The only way to do this is by using third party tools which is explained in more detail here. You can also use a platform such as Later which also allows you to schedule and analyse your posts.
To post from your mobile, simply go to your profile page and click on the + button at the bottom. Click on the photo you want to use and then click next.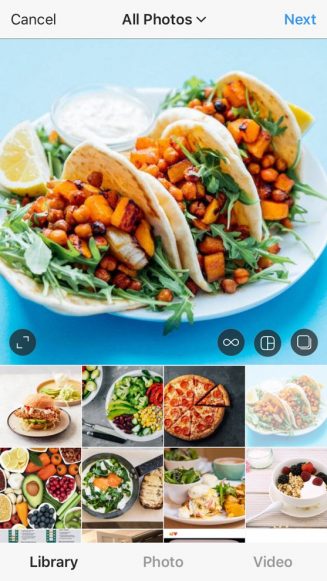 You will then be given the option to add a filter to your photo. Either choose your preferred filter and click next or if you don't want a filter, just hit next.
It's worth taking a strategic approach to filters, perhaps shortlisting a few that you feel reflect your brand image and personality. This will ensure your entire profile will look professional and consistent rather than an unorganised mismatch of colours and effects.
On the following page, you will be able to write your caption (you can copy and paste this from a separate document if you have a social media schedule). You can also tag people if you're mentioning another company or individual as well as add a location.
Adding your location is a great way to ensure that people know where you're based as well as allowing others in the local area to find you. Once you're finished, simply click share and your post will upload.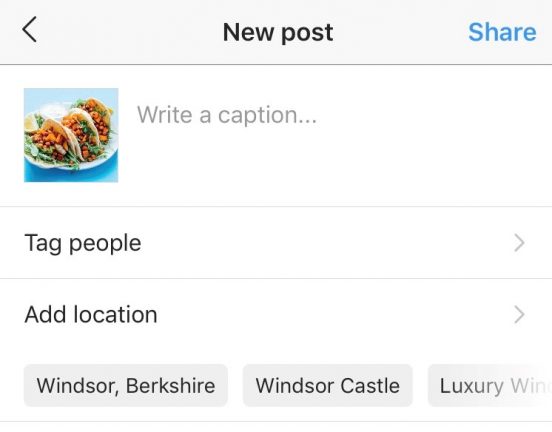 As well as posting to your news feed, you can also upload stories. We go into more detail about what these are and why they're great for business in our "Instagram Stories and going live" section. For now however, we'll cover how to post a story.
Simply head to your profile and click on the blue + which you'll see on your profile photo. At the bottom left of the screen you will be able to access your photos from your camera roll and you simply click on the image you would like to use.
You can also take a picture live or utilise some of Instagram's effects, such as Boomerang and Superzoom.
From here, you'll be presented with a number of options as the image below shows. The X lets you cancel the post. The downward arrow allows you to save the image to your camera roll. The smiley face is where you can find filters and the chain is where you can tag people you're doing a paid partnership with if it's an advert.
The smiley face in the box allows you to tag your location, mention other accounts, add hashtags, polls, questions or images. The squiggly line and Aa options let you add text to your story if you would like to go into more detail. You can also add video stories and these work exactly the same as photo stories.
If you would like to add more than one story in a 24-hour period, head to your news feed and click on the blue + on your profile photo.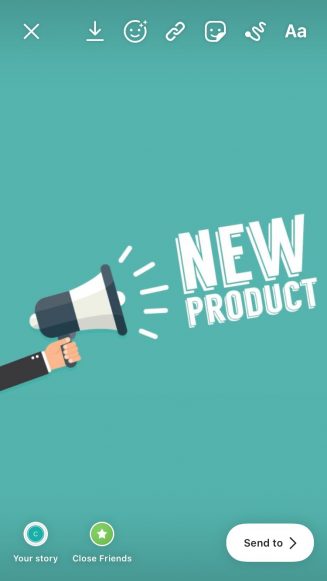 Once you're ready to add to your story, simply click the "send to" button in the bottom right and choose from the sharing options. For maximum exposure we'd recommend sharing on your story rather than just to close friends or selected contacts.
Within this section you can also choose whether you'd like to share to your Facebook story too.
How often you should post on Instagram and what to post
How often you post on Instagram is likely to come down to two factors:
How much time you can dedicate to social media (not just posting but replying to comments and liking and commenting on other people's posts)
How much good quality content you can generate
The most important thing to remember when it comes to Instagram marketing, is to be consistent. People are more likely to remember you if you're popping up in their news feed regularly, you increase your chances of getting engagement and most importantly, if you're not consistent, Instagram won't show your posts as often.
If you can only commit to four posts a month, you're better off posting one a week rather than everything in one week and then nothing for the rest of the month.
It's worth bearing in mind that the more often you post, the more likes you'll receive and the more likely you are to beat the algorithm.
Regular posting also increases engagement and grows your followers faster so it's well worth taking the time to come up with enough content.
Remember quality over quantity however – avoid the temptation to post random, irrelevant photos just to get something out there.

Producing engaging posts for Instagram
When you're posting regularly, it can be difficult to come up with content. Below we've put together some simple yet great ideas along with examples of companies who are successfully executing them.
Coffee Central introduces their team in a fun and friendly way. Not only do followers love to see the faces behind a name, it also helps create familiarity for when people do come in to see you.
The clever thing about this post is that they also manage to get one of their products in there which is a great marketing tactic.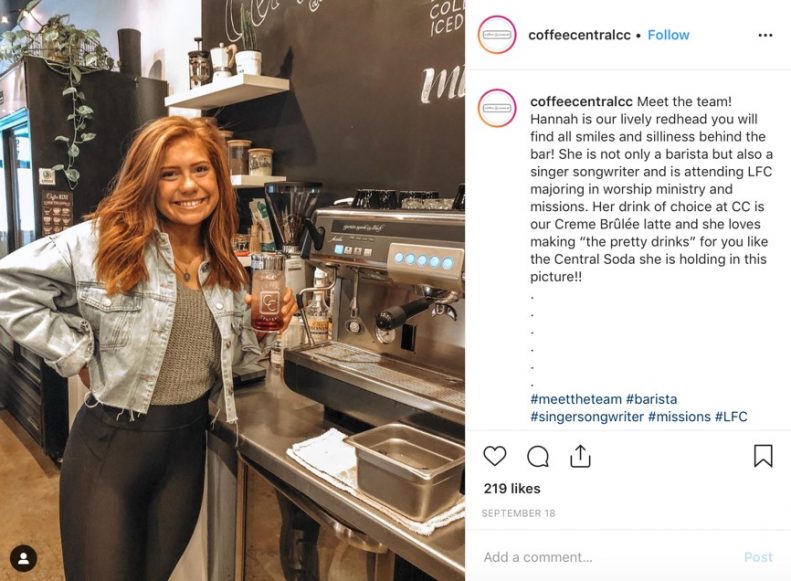 What you get up to in a day, meetings, days out or events you're attending. Turner Studio shares a team day out and also tags the event hosts which can help increase exposure (two of the tagged people commented on this post).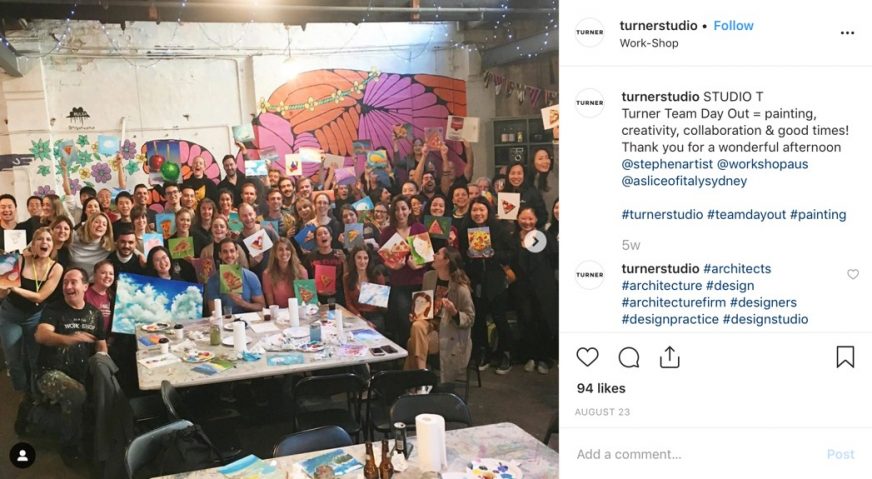 Reposts from fans or followers
Photos of customers coming to see you or using your products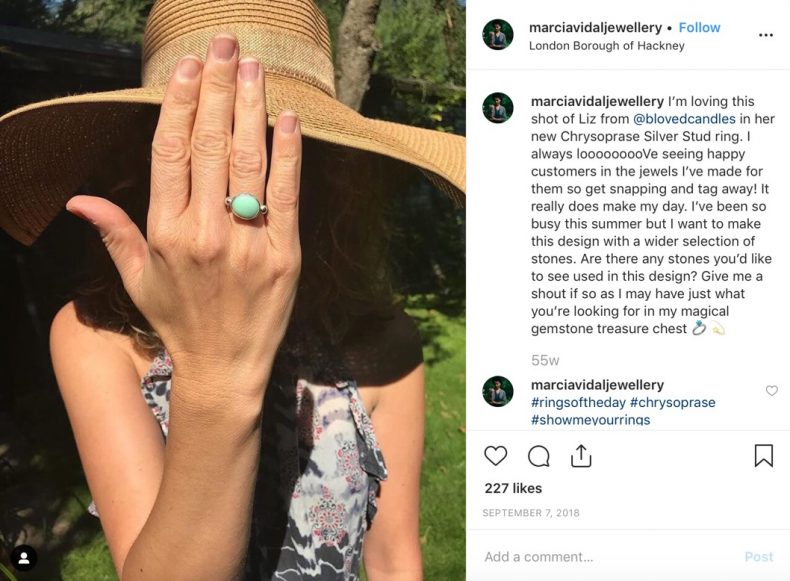 Exciting news – a new member of staff, moving offices or a mention in the local paper
Your products in action
More information about your services
How you can help your customers
Helpful, free resources such as downloads or blogs
Giveaways and promotions. This also provides you with a great opportunity to encourage people to follow you, like your post, tag friends or comment on the photo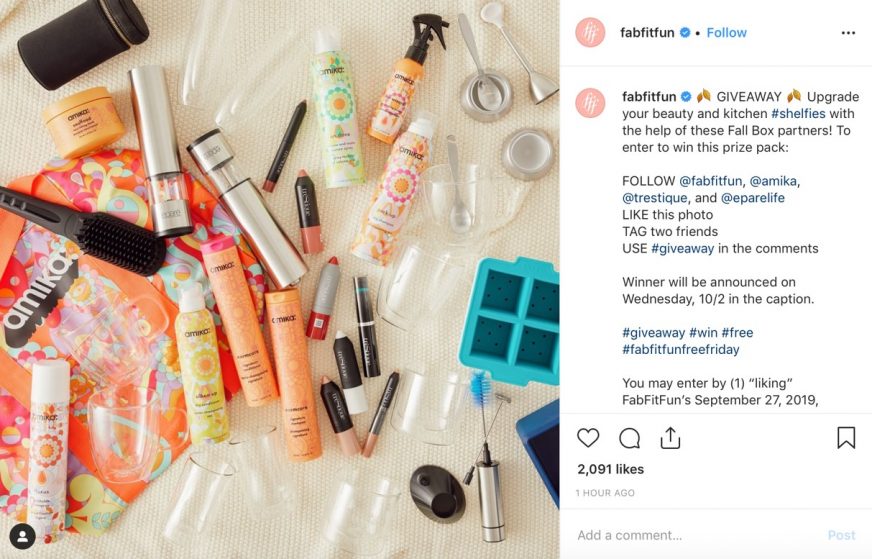 Customer reviews
Case studies
Tips and tricks. This is a great way to jump in on weekly trending hashtags such as #toptipstuesday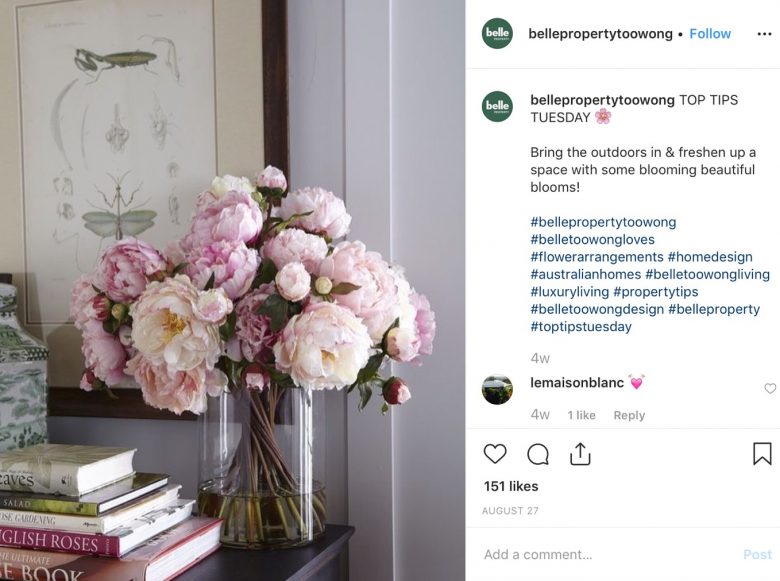 Don't forget to note down the success of your posts as part of your Instagram marketing strategy. Once you've been posting for a while and have enough data, this will enable you to determine the type of content people really like seeing from you and what doesn't tend to go down so well.
Posting at the optimum time to improve post engagement:
Posting at the right time is incredibly important for likes. After all, if your followers aren't online, how can they like your content?
The social media management software provider, Sprout Social analysed data from their customers in order to determine the best times to post on Instagram for engagement. The table below highlights their findings and is a great guide to start with.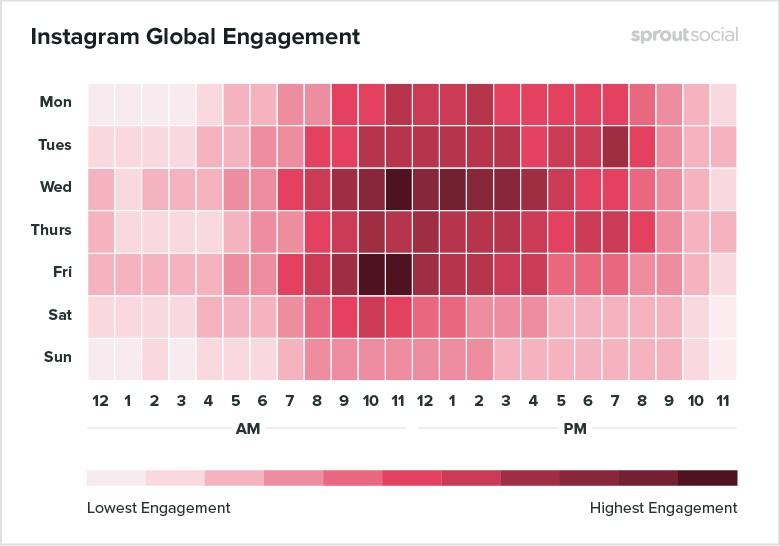 This can of course vary depending on industry and the behaviours of your followers. Another great way to gauge the best times to post is to look at your insights which you can access on your business account.
Simply click where it says how many profile visits you've had in the last seven days and then click on the audience tab. If you scroll to the bottom, it will tell you the times your followers are most active for each day of the week.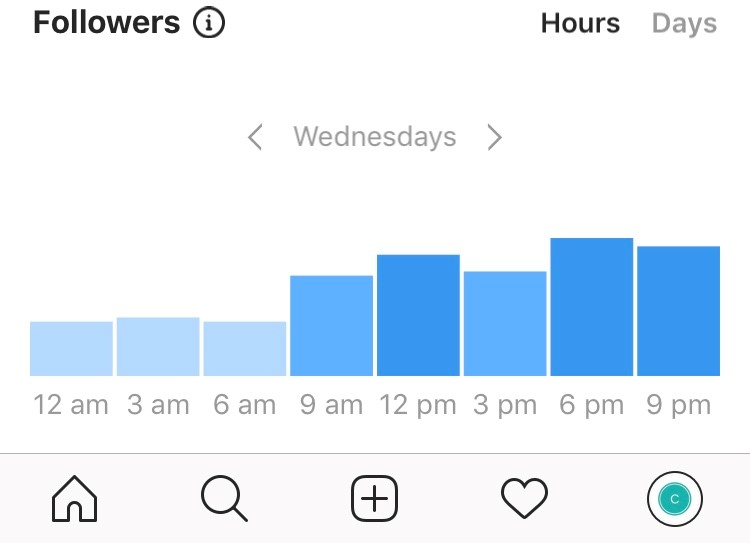 In your content schedule, make a note of the time you sent out each post because this is another great way to determine the good and bad times to post.

Instagram stories and going live
As well as posting photos and videos to your news feed, there are some other great ways to interact with your audience on Instagram.
Going live
Instagram Live is a feature on stories which allows you to engage with your followers in real time. People can watch your live stream as well as engage with you by leaving comments or asking questions. You can save a replay of your live recording to your stories and it will stay there for 24 hours so anyone who couldn't catch you at the time, can watch it later.
Some ideas for your lives include:
Product demos or tutorials
Launch announcements
Q&A sessions
Instagram influencer marketing. Your influencer can speak about how they're working with your brand or answer any questions. (We go into more detail about this below)
Why go live?
This feature can boost your Instagram marketing in a number of ways including:
It provides another avenue to speak directly to your followers. This builds trust, establishes a relationship and drives engagement, leads and sales
It's a cost-effective way to produce content and you don't have to worry about editing videos or trying to capture the perfect shot
Increases visibility – followers will be notified when you start a live video
You can use Instagram Analytics to track engagement and viewer metrics
Top tips for going live:
Decide on your subject before you go live so you have something to talk about
Ask followers to submit questions beforehand so you have time to prepare
Encourage people to comment by asking questions
Find a quiet place – you don't want to have to deal with poor sound quality or viewers being distracted by what's going on in the background
Let your followers know when you'll be going live so they know to tune in
Have a set time and day you go live so your followers know when to expect it
Save your live recording so people can watch it again or catch up if they missed it
Make a note of the subject you covered and how many viewers, likes and comments you received. This will help you to decide on future topics
Find out everything you need to know about Instagram Live in our small business guide here.
Instagram stories
Stories are photos and videos you can post which disappear after 24 hours. Rather than displaying on your news feed, followers can view your stories by clicking on the pink circle around your profile photo. This can be accessed either via your profile or at the top of their news feed.
Each story has a 15-second time limit but you can split a video that's longer than 15 seconds into different segments and add each segment to your story so they play one after the other.
Stories are a great way to show your audience what you get up to in the day and remind them of certain products and services. Once you have 10,000 followers, you will gain access to a 'swipe up' feature which takes viewers straight to your website or wherever else you want to direct them.
Since their launch, stories have become hugely popular on Instagram. They're now used by an impressive 500 million users every single day and a third of the most viewed stories are from business accounts. One in four millennials and Gen Z users also say that they actively look for stories of the products and services they want to buy.
Stories can boost your Instagram marketing in so many ways including:
They allow you to show off your personality so followers can build a connection with you
People can reply to your stories which boosts engagement
By adding hashtags to your stories, you can extend your reach
You don't have to worry about editing photos or videos – they don't have to be as 'perfect' as a post which is going to stay on your news feed
You can see who views your stories which gives you an idea of which followers are really interested in your brand
You can reach out to new audiences – over 200 million people view Instagram stories every single day
They're a great filler for the days you don't post to your news feed
You don't have to worry about the best time to post because they're visible for 24 hours
Some top tips for your stories:
Add hashtags so people can find them
Tag your location so others in the local area can find you
Add interactive comments – use the poll and 'ask me a question' features
Keep your stories relevant to your brand
Instagram influencer marketing is powerful. If you have an influencer associated with your brand, mention them in your stories and ask them to create content you can post on your own stories. They could even takeover your stories for a day.
Share other people's content on your stories. Chances are they'll appreciate it and return the favour at some point
If you're talking about a company or individual, tag them in your story so they can see it. They may even share it on their stories too

Finding hashtags to broaden your post's reach
Hashtags are an incredibly important part of your Instagram marketing. They're widely used on social media sites so that posts can be indexed and discovered by everyone.
Without them, your posts are only visible to those who follow you. When you use hashtags however, you open your content out to anyone searching for that phrase.
If you're a personal trainer for example, you can extend your reach, attract followers and get more likes on your posts by using popular fitness hashtags such as #fitness #fitnessmotivation and #workoutmotivation.
Instagram allows you to use up to 30 hashtags a post and it's generally advised that you use as many as you can. Always ensure they're relevant however. Don't fall into the temptation of using popular hashtags if they have nothing to do with your business because it's not going to help you attract the right audience.
It's also a good idea to come up with your own hashtag. You can use this whenever you post something and encourage your followers to use it if they're posting about you as well. This helps you to find out what fans are saying about you and it also means people can find you if they search your brand.
If you look at fitness influencer, Shona Vertue for example, she has created the hashtag #vertuecrew. She puts this in her bio so followers know to use it and as well as including it in her own content, anyone who follows her programme uses it when posting about it.
When you search #vertuecrew, you will see all the content which has been posted using that hashtag. You can also follow your hashtag which means that any content using it will show up in your news feed.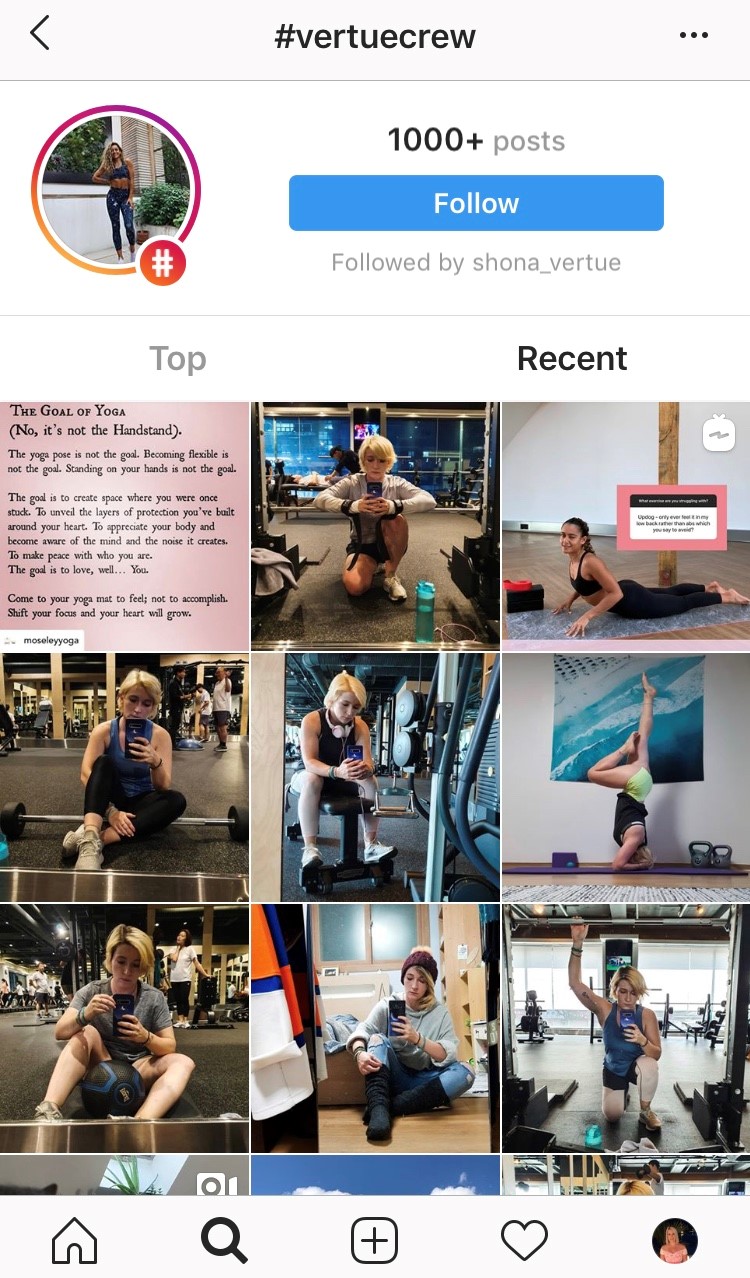 Deciding which hashtags to use
It's a good idea to come up with a list of hashtags to use for your posts. These can of course vary depending on what you're posting about but it's likely you'll have some you can use all the time.
Simply type phrases into the search bar, click tags and this will give you a list of the most popular hashtags relevant to what you're searching for. If you're a restaurant posting a vegetarian dish for example, typing in vegetarian and scrolling down will give you lots of ideas.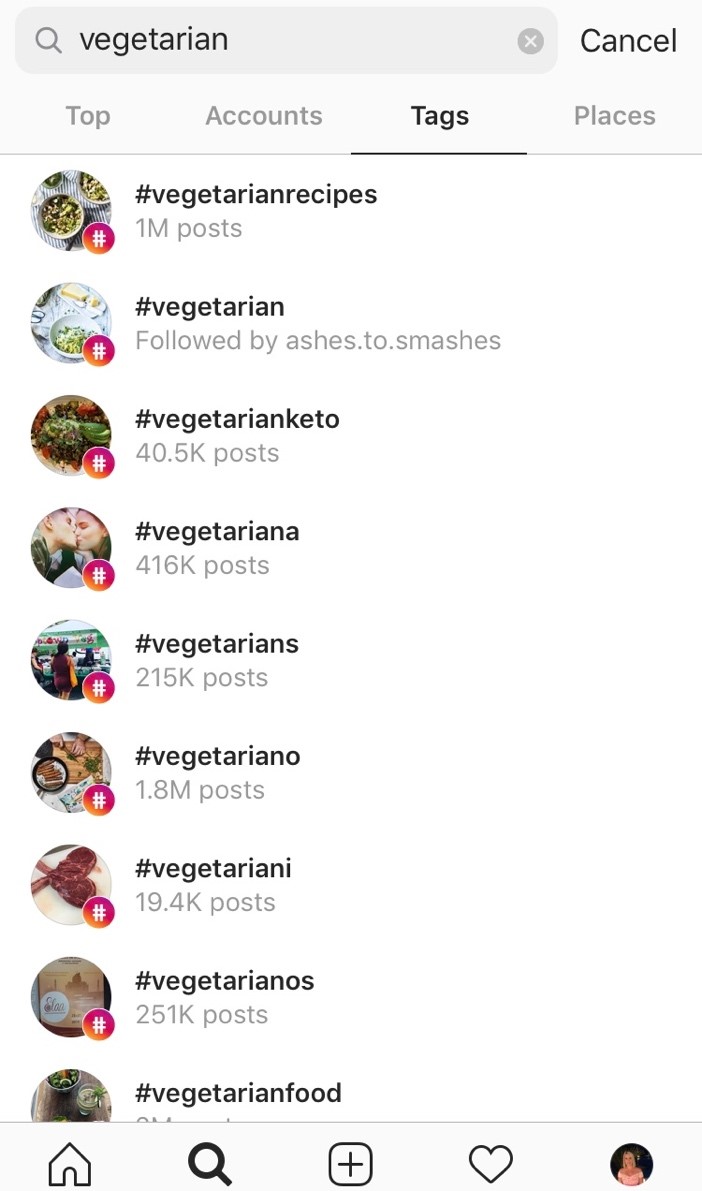 There are also some popular weekly hashtags which are also great for generating content ideas. Some examples include:
Monday
#MondayMotivation #MotivationMonday #MeowMonday #MusicMonday
Tuesday
#TastingTuesday #TechTuesday #TransformationTuesday #TopTipsTuesday #TravelTuesday
Wednesday
#WednesdayWisdom #HumpDay #WorkoutWednesday #WellnessWednesday
Thursday
#ThankfulThursday #ThirstyThursday #ThrowbackThursday #TBT #ThursdayThoughts
Friday
#FollowFriday #FoodieFriday #TGIF #FridayFact #Friyay
Saturday
#Caturday #SaturdayStyle #SelfieSaturday #ShoutoutSaturday
Sunday
#StartupSunday #SundaySweat #SundayReads #SundayFunday
For some more Instagram marketing tips, head over to our blog 'Why hashtags play a key part in your social media success and how to use them effectively.'

Instagram influencer marketing
Influencers are Instagram users who have established credibility, a large following and a loyal fan base.
They can be anyone from pop stars, socialites, actors and actresses, reality TV stars and athletes to industry experts, travellers, beauty gurus, adventure photographers, food bloggers, life hackers and fitness and fashion influencers.
They're an attractive prospect to brands because as their name suggests, they hold a huge amount of influence over their large following.
Interestingly, 65% of the top performing posts on Instagram feature products. This suggests that people really don't mind being advertised to on social media, especially by their favourite influencer.
So how exactly does it work? Brands normally pay an influencer to mention their product (they have to state it's an ad in their post). It may be a review, recommendation or simply a shout-out to the company.
The example below is a post from fitness influencer, Alice Liveing who has 635,000 followers on Instagram alone. With many of her followers interested in healthy eating, a collaboration with Flahavan's Oats is fitting.
This partnership is incredibly beneficial to Flahavan's because their account has less than 3,000 followers and their posts tend to get fewer than 30 likes. Alice's post will have reached tens of thousands of people however and it attracted nearly 2,500 likes.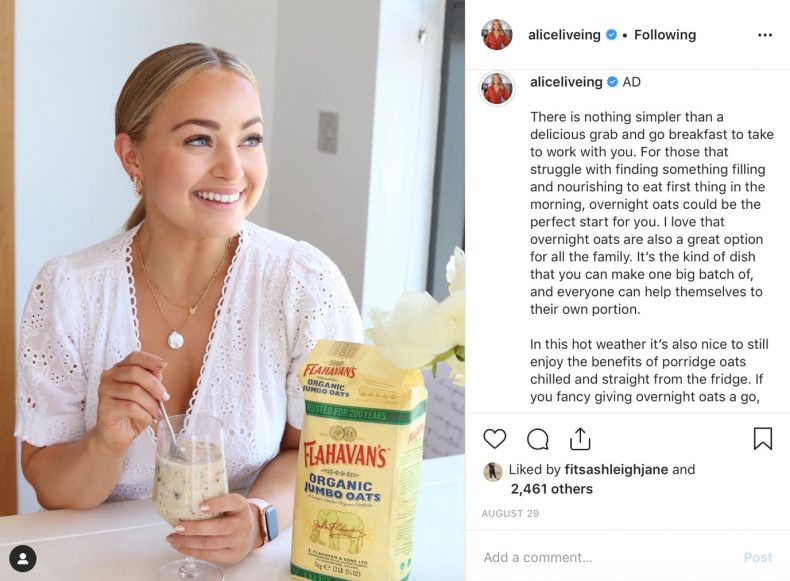 Right now you're probably asking yourself if Instagram influencer marketing is right for your small business. You're probably also feeling a little daunted because surely influencers only want to work with well-known brands?
The good news is that you get influencers in every single industry and you don't have to choose someone who has over half a million followers.
Anyone who is well respected in their field, is relevant to your industry and engages well with their followers is likely to be a great option. If you're still undecided, have a read of 'Should your business or brand be considering influencer marketing?'
Choosing the right influencer for your brand
It's going to take a bit of time researching potential influencers and bear in mind that some don't like doing adverts so may decline the offer. Some top Instagram influencer marketing tips include:
Consider their niche and the topics they normally cover. This is essential in order to maintain authenticity and create content that doesn't deviate from their usual content.
Consider the reach of your ideal influencer based on your goal. If you're simply trying to get as many eyes on your product as possible, someone with a large following is ideal.
If you're looking for credibility, someone more professional with fewer followers but a lot of influence may be more appropriate. For example, interior designer, Natalie Myers may not be a household name but she still has over 30,000 followers who all comment very positively on her posts and ask questions about the products she uses.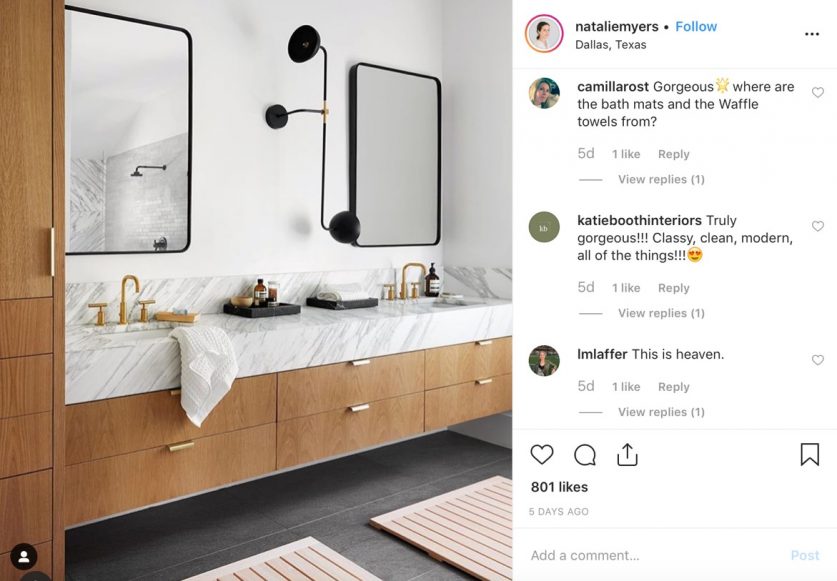 Consider the different levels of promotion and what will suit your budget. If you have a lot of money to spend, you could ask an influencer to do an advert like Alice did. If you have a small budget, ask if they'll do a shout-out on their stories in return for some free products.
Do your research. Shortlist some potential influencers and keep an eye on their Instagram activity over a week or so. Get to know what type of stories they post, the language they use and how they interact with their followers on a daily basis.
It's very easy to buy Instagram followers so don't get caught out by this. The last thing you want is to pay someone to promote your product or service and hardly anyone sees it. Here are some great ways to tell if someone's followers are real.
Approaching potential influencers
The video below gives some great advice on identifying and approaching potential influencers.
Advertising on Instagram to get your brand seen by more people
When utilised properly, Instagram really is a fantastic marketing tool for any business. It allows you to engage with customers in a more personal manner, reach out to audiences all over the world, build relationships with followers and get your brand seen by people who wouldn't otherwise know about you.
The only downside is that it will take time to get a decent following and before people really start engaging with you. If you want to speed up the process however, advertising on the platform is a great way to do this.

Another reason it's worth including advertising as part of your Instagram marketing is because it can be incredibly effective. You can target your ads to reach the exact audience you want by:
Location
Interests
Demographics
Behaviours
Custom audiences (if you already know their email address or phone number, you can ensure that certain people see your ads)
Lookalike audiences (find new people who are similar to your existing customers)
The different ways of advertising on Instagram
Stories – more than 500 million Instagram stories are viewed every single day. Your advert will show up as a story while users are watching other people's stories (similar to an ad break on TV)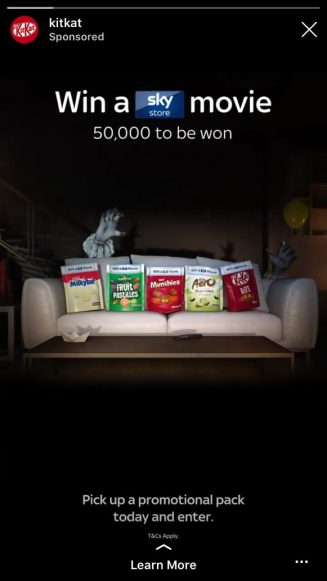 Sponsored posts – these will show up in people's news feeds and can be a standard photo, video or carousel (several photos or videos on the same post which users can swipe to see)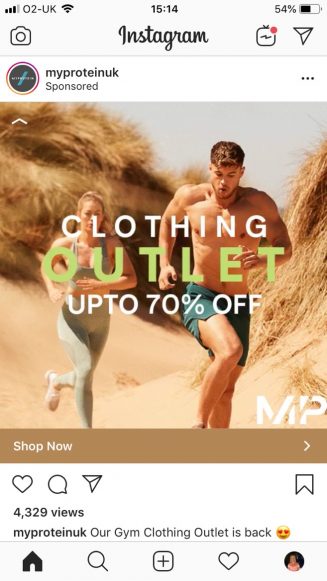 Ads in Explore – these adverts will show up when people are looking through their Explore feed. Often people looking through these posts are looking to expand their interests beyond the accounts they already follow so it can be very effective
Affiliate marketing – when it comes to affiliate marketing, Instagram is a great platform because of the number of influencers it has. As a company, you would sign someone up to promote your products or services to their followers. For every sale or sign-up you get as a result, you pay them an agreed fee. You can find out more about affiliate marketing on Instagram
You can find out everything you need to know about creating the different types of adverts on Instagram in the video below.
Monitoring your performance to improve success
Monitoring your performance is the only way you're going to know if your Instagram marketing is a success. This really is an important part of your social media strategy because without it, you can't possibly understand what's working, what isn't and whether or not you're getting a good ROI.
What exactly should you be monitoring however and how do you do this?
Follower growth rate
The number of followers you have isn't the be-all and end-all. It's far more important to have fewer really good quality followers who engage with you than tens of thousands who never like or comment on your posts. It's still a good idea to keep an eye on your followers however because if you're losing them, it's a sign that people aren't resonating with your content or brand. Equally, if your followers have suddenly shot up, perhaps it was the result of some ads you placed or a recent post went down really well.
Engagement
This is possibly the most important metric. It is after all the reason you're investing in Instagram marketing in the first place. Not only does the number of likes and comments you're receiving give you a good indication of the type of content people like to see from you, it also helps boost you up the algorithm. Find out what a good engagement rate is and how to calculate yours.
Click-through rate
Unfortunately, Instagram doesn't give you much opportunity to post links to your website. You can of course put links at the end of your posts but they're not clickable so you have to rely on people copying, leaving Instagram and pasting the link into their browser. You can post a link to your website, newsletter, blog posts or special offers in your bio however and it's important you use a trackable URL. This means that when you look at your website analytics, you'll be able to identify how many visitors have come from Instagram.
Interactions
If you head to 'insights' on your business account and click on 'activity,' you will be able to see how many people have interacted with your posts or profile in the last seven days.
Stories
When you click on your own story, you will be able to see how many people have viewed it. If you look at your insights, you can also see a full list of analytics including impressions, shares, replies and profile visits. You can also find how much engagement your posts and paid promotions have had in insights. To find out everything you need to know about Instagram story analytics, head over to later.com.
Ad performance
You're paying for these ads so you want to make sure they're driving sales. Performance metrics for this is available on Ads Manager. Here you can look at the metrics for individual campaigns as well as schedule and save reports.
Further reading
By now you should be armed with all the information you need for Instagram marketing success. For more advice on getting started, why not read these helpful posts:
And don't forget to download our interactive PDF checklist to help you get started with Instagram marketing.