Instagram has long been known as the platform for sharing image-based content, but all that is about to change – at least to an extent. Instagram has just announced a new 'Type Mode' that means you'll now be able to share text-only content in your Stories. Let's take a closer look and find out some of the ways you could use this new feature to help your Instagram marketing.
What is Type Mode?
Available on iPhone and Android, Type Mode is a new feature for Instagram Stories that lets you share your thoughts without having to share a photo or video. The main photo-sharing part of Instagram still works the same as it's always done.
Until now, Instagram Stories has only enabled you to share photos or videos you've taken in the last 24 hours (though screenshots are a way of getting around this limitation). Now, you'll be able to type text-only posts with no requirement for images or video clips, and they'll disappear after 24 hours just like regular stories.
As Instagram says in its post announcing the launch, "Now, you can turn your most random thoughts into something colorful and expressive." To do so, you'll have a choice of fonts thanks for four modes, known as Modern, Neon, Typewriter and Strong, which give different looks to your posts in a similar way to the filters that have helped make Instagram so successful.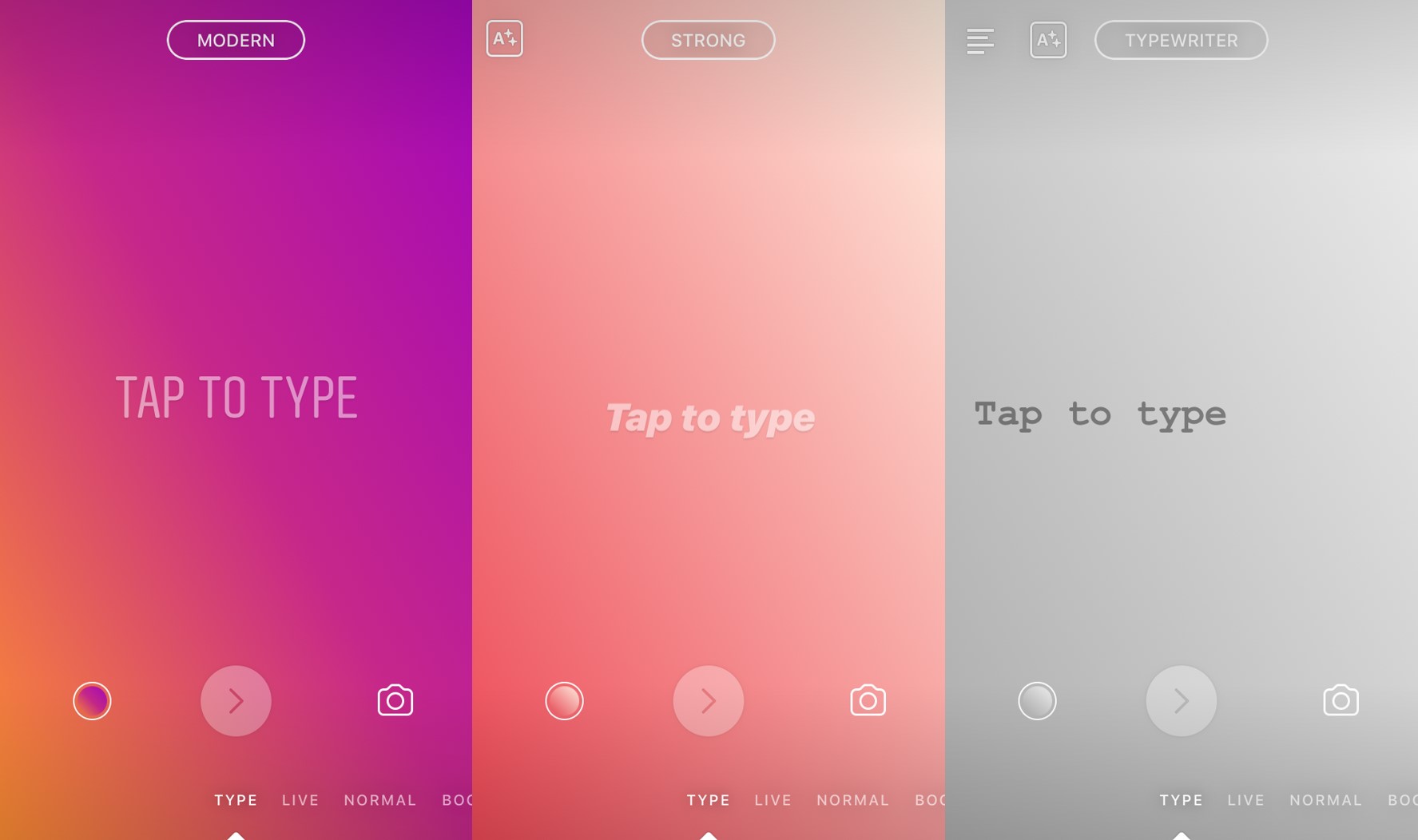 How does it work?
It's easy to use the new feature. In the same place where you normally add a story, you'll see that "Type" has appeared alongside the "Normal" function on your camera. Select this and you'll see a "Tap to Type" box where you'll be able to type your post. You can choose what background colour you want to use; just tap the coloured circle on the left above the keyboard. At the top of the screen you'll see that "Modern" is selected by default, but you can tap this to change it to one of the other modes for different fonts.
Click the arrow key to go to more editing options. For example, you can tap the text if you want to change its colour, and highlight certain words if you want them to be a different colour from the rest. You can also make further changes to the text by adding emojis, stickers and gifs, or changing the orientation, size and position of the text, just as you would in a normal Story.
What could I use it for?
So how does this new feature help you market your business? Type Mode theoretically gives you the ability to use Instagram Stories in a similar way to a text-only tweet or Facebook post. However, bearing in mind that users flick quickly through Stories and need to press and hold individual slides to pause them long enough to read longer text, it's better to keep your Type Mode posts short and sweet if you can.
Here are a few ideas for how you could use Type Mode to get more from Instagram Stories for your small business.
Thoughts – use Type Mode to share your thoughts and ideas to spark engagement with your followers, whether it's giving a quick opinion on an industry development or just a typically British comment about the weather.
Market research – you could use Type Mode to ask your followers questions such as "what did you think of our new smoothie?" or "what would you like to see us create next?". Don't forget, you can also add polls to your Stories if you want people to choose from set answers.
Company news – has your business reached a new milestone, or launched a new product or service? Tell your followers about it!
Games – engage with your followers by using Type Mode for fun games related to your business – guess the song lyrics would work well if you're a covers band, for example.
How To guides – if you want to share advice on how to use a product, or how to do something related to your business, you could share a 'how to' guide with one step per slide.
This is by no means a comprehensive list, of course; the only limit is your imagination.
Is Instagram for me?
The new Type Mode doesn't fundamentally change whether or not your business is Instagram-friendly, but with Instagram's impressive usage stats, it's worth thinking about whether your business could benefit from being on this platform if it's not something you've considered before. We looked at the pros and cons here, so why not have a read and see whether you can see the marketing potential for your business?