YouTube is in the top two most visited sites in the world behind Google, boasting around 1 billion unique users every month. And 5 million YouTube videos are viewed on average every single day.
That's why so many businesses are seeing YouTube's inherent advertising potential.
And Google is acknowledging the power of YouTube ads too, having announced in January 2017 that it was changing Google Ads (formerly AdWords) to let advertisers reach more viewers on YouTube, especially on mobile devices (which account for 50% of YouTube views).
Creating ads and running them on YouTube is an effective way of expanding your reach, engagement, brand awareness, but also to drive traffic towards your website and, ultimately, increase your bottom line.
This introduction will show you how YouTube Ads work, and how you can get started right away.
Types of YouTube Ads
YouTube ads are integrated into your Google Ads account. So, when you create your video ad you then upload it to your Google account. YouTube has three types of Ads: TrueView, Preroll and Bumpers:
TrueView ads
These are the standard – and most common – format of ads on YouTube. They can be both skippable and non-skippable and can also be customised to display different content depending on the viewer. The skippable ads must last between 12 seconds and 6 minutes, but the non-skippable ads must last between 15 to 20 seconds.
They are only paid for by the advertiser when people watch at least 30 seconds of the ad or if they interact with it by clicking a CTA on the screen.
There are also two types of TrueView ads:
Video discovery ads
These used to be known as "in-display ads". They appear on the homepage of YouTube, both on the sidebar as related videos and in the search results and are not limited by length. They're also not particularly targeted, and so won't necessarily correlate with what the viewer is searching for.
Instream ads
These are placed before a YouTube video starts.
If the video is longer than 20 seconds then the ad can be skipped. This poses a challenge to advertisers to create an engaging first impression, so that the viewer doesn't skip after the 20 second period has lapsed.
Preroll ads
These are non-skippable, and can be placed before, during, or after the YouTube video.
They are short, being restricted to 15-20 seconds in length. But, perhaps misleadingly, they can also appear mid-roll in videos that are longer than 10 minutes long.
Non-skippable ads can be frustrating for viewers. That said, 20 seconds isn't long, and can be packed with some beneficial content by marketers. It's down to brands to come up with concise, engaging content that will win viewers over in less than half a minute.
Bumpers
These are the shortest ads which last only around 6 seconds, displaying before a video plays. They're also non-skippable which, given their short length, isn't too intrusive.
And whilst they're only short, they are quite useful for reusing content to spread a campaign across YouTube without offending the viewer with the extra non-skippable time.
Setting up a YouTube ad campaign
Step 1: Sync your Google Ads account to your YouTube account
First, log in to your Google Ads account and click on Tools at the top and select Linked Accounts.
Now follow the instructions to link your YouTube account.
If you're going to use a video for your ad campaign, then you first need to upload the video to YouTube.
Step 2: Choose your campaign objective
Now within your Ads account, go to your dashboard. Within the Campaigns tab click the + button and select New Campaign.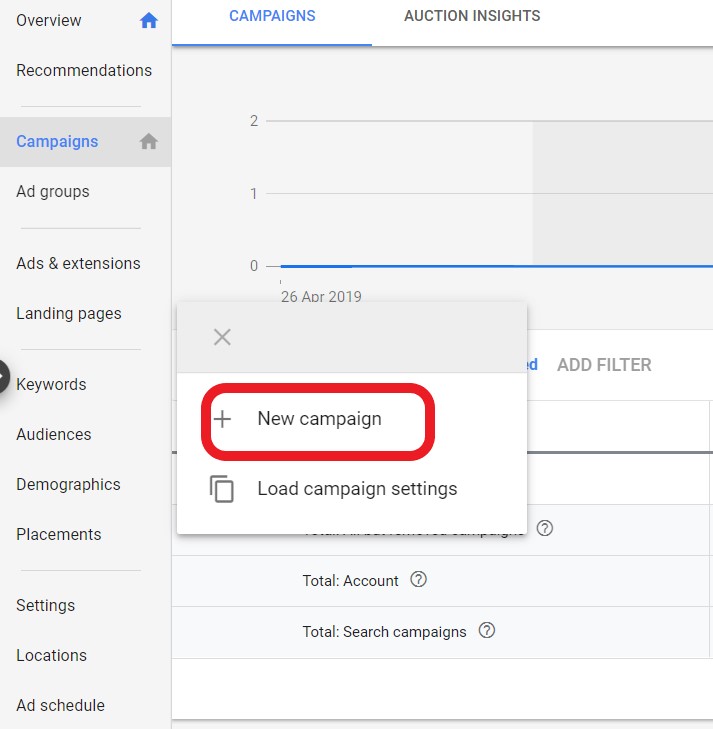 You now need to determine your ad objective:
Sales, leads and website traffic – these are good for driving traffic and encouraging conversions.
Product and brand consideration gives you the chance to increase your brand awareness and get your ad in front of bigger audiences and influencers.
Brand awareness and reach are there to generate interest and allows for more ad type options.
Now you have to choose your ad type, by selecting either a Search, Display, Shopping or Video ad. Here you'll need to select "video".

When you choose Video, you'll then need to set up your conversion metrics.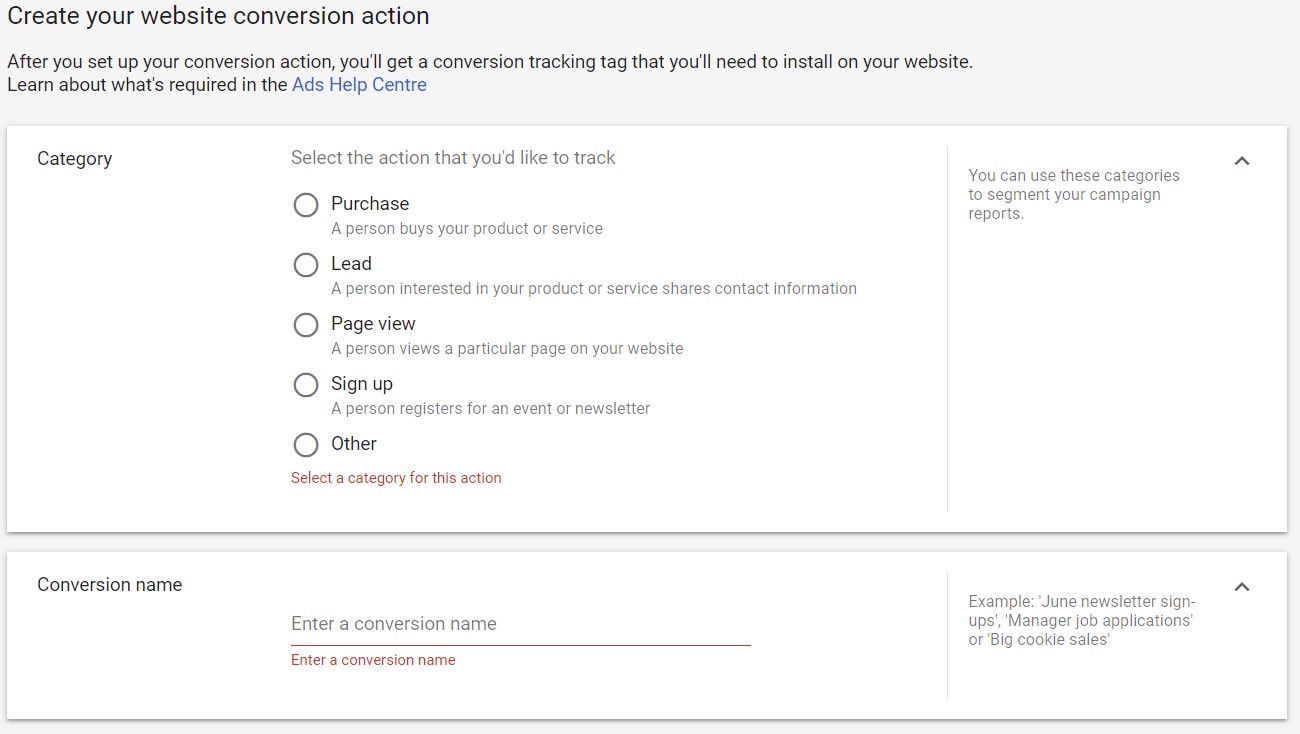 You now need to add your conversion tag to your website. I recommend using the Google Tag Manager option.
Step 3: Choose your ad format
Here's where you choose between the TrueView, Preroll and Bumper ads we've already discussed.
Obviously, you'll be forced into a particular choice by virtue of the length of your video ad. Although you might want to do this the other way around and work out the kind of ad you want to run and create your video to fit.
Step 4: Set a budget, schedule and bidding strategy
First, add a name for your campaign. Then you need to set your campaign budget.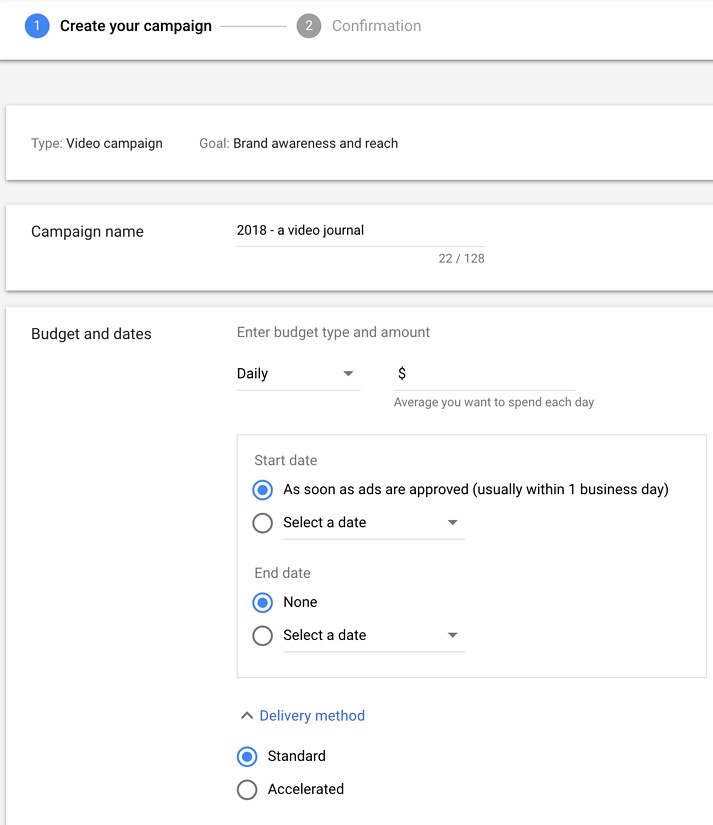 The amount you budget for will have an impact on the success of your ad, so it's important you get it right. YouTube Ads are cheaper than a lot of online advertising platforms. To help you get it right, you can choose from two strategies:
Maximum CPM (cost per thousand impressions) is specific to TrueView ads and tells YouTube the maximum amount you want to spend on each ad view. For discovery ads, the amount you set can determine the position of your ad compared to others. For these ads, you set the maximum amount you're willing to pay each time someone clicks on your ad.
Target CPM is the average you want to pay for your conversions. Because it's an average, sometimes you'll pay more for a conversion, sometimes you'll pay less.
With some campaigns, you're also given extra options like maximum conversion. But, a bit like automatic bidding, you have less control over costs and so may end up paying more for conversions.
Step 5: Choose your ad location
You're given three options as to where your ad will be shown.
Networks
You can choose the network you want your ad to run on:
YouTube search results – available for discovery ads.
YouTube videos – usually give you the best deal.
Video partners on the Display Network – this is if you want to run your ads on partner sites.
Inventory type
This determines what kinds of videos your ad will appear on, and so controls who sees your ad. For example, choosing a Limited Inventory will make sure your ad will only be run on videos which are suitable for children.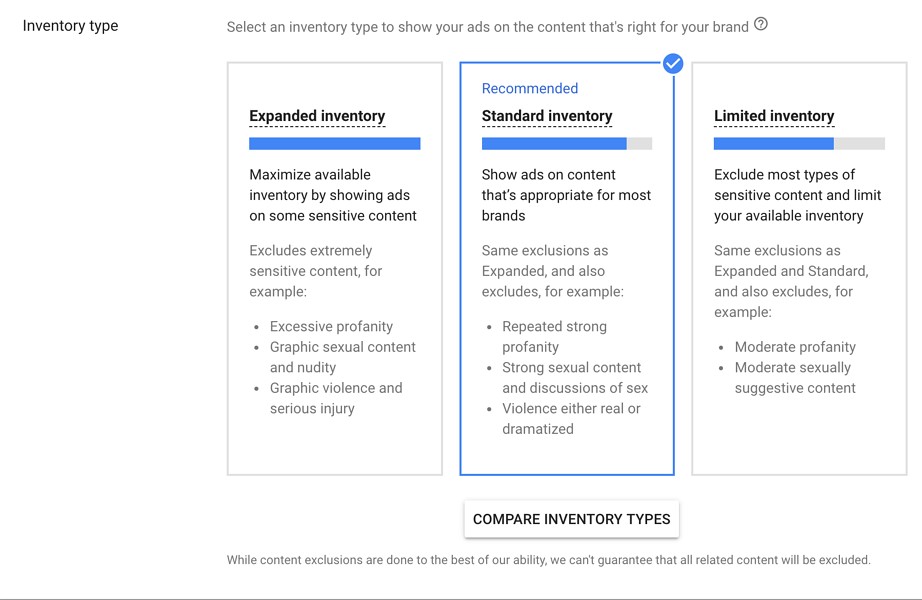 Excluded content
This lets you manually control which videos you do not want your ad to appear on. 
Now choose your Device, Frequency Capping and Ad Schedule. If you choose to cap the number of times a person sees your ad, you are able to limit the chances of over-exposing your brand.
Step 6: Choose your audience
By setting your ad demographics, you can begin to hone in on the audience you want to see your ad.
You can choose from various age brackets, gender, parental status, as well as their shopping habits.
Step 7: Building your creative
Now you've completed your set up, you can start to build the ad itself.
To do this, go to Create your video ad, and choose the video you want to upload to your YouTube ad campaign. You then need to customise how it looks.
You're also given the option of providing a call-to-action within your ad, as well as creating a campaign banner which will appear on desktops and laptops only.
Now's your chance to test how your ad will look on both desktop and mobile, so that you can make last minute changes before you publish.
When you're happy, click Save and continue and your ad is ready!
Step 8: Getting your ad viewed
Google Ads lets you help get your ad seen by adding keywords. These will be the keywords that appear in the YouTube videos where your ads will be showing (nothing to do with Google keywords and SEO).
To choose relevant keywords, type in your URL and competitor URLs into the Get Keyword Ideas box. You'll then be given a list of keyword ideas so that your ad will be inserted into the videos that are most relevant.
Step 9: Monitoring your ad
I always advise keeping a close eye on any marketing campaign, and YouTube advertising is no different.
Generally, it's best to let your ad run for a week or two before checking in on your analytics, so that you have enough data to monitor how it's doing.
Within your video campaign's overview in Google Ads, you'll be given the broad impressions such as Ad impressions and Views. But if you've set up conversions then you'll be able to check these, as well as the revenue they're generating.
Further down the page, you'll also be able to drill down into your demographics to see which groups are engaging most with your ad.
In summary
YouTube advertising is increasingly becoming a go-to place for businesses wanting to increase their brand exposure and drive traffic (and conversions) to their website.
But it's particularly useful for SMEs because it's both low-cost and can also be targeted to reach niche audiences based on their viewing and shopping habits.
Setting up YouTube ads can be a fiddly process if you don't have some guidance. But by following these steps hopefully you'll have your own campaign up and running in no time.
And, as with all marketing and advertising, the key is to keep monitoring your campaigns. Don't expect to get it right first time around. Instead, keep using your data to tweak them in the future.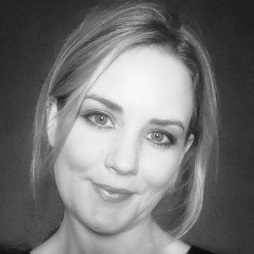 Charlotte Jenkins is an Oxford-based content marketer. She has several years' experience in content writing, editing and digital marketing, helping clients communicate their businesses online.
Read full profile