It's almost inevitable that your business will need to invest in marketing at some point, whether for increased growth or to ensure sustainability. The choices you make on which marketing strategies to spend money on will be dependent on your objectives and overall strategy.
In an age when digital dominance offers the potential to reach vast international markets, it's no surprise that businesses continue to make digital their primary focus. It's estimated that $118 bn (£90 bn) will be spent on digital marketing by 2021.
However, with so many online marketing channels to choose from, including Pay-per-click (PPC), re-targeting campaigns, email marketing, social media, and search engine optimisation (SEO), it can be hard to decide where to start and what's going to provide the biggest return on investment.
I can help with that; SEO is your most valuable channel and essential for any business with an online presence.
Do you have an understanding of these areas? Don't worry if not! I'll cover them in today's post.
The sheer potential of SEO
Making sites search engine friendly
Improving user experience
Why organic search is better than paid
How SEO is similar to word-of-mouth marketing
Off-page SEO
Long lasting effects
Supporting the conversion tunnel
Local search
SEO return on investment (ROI)
SEO
SEO is made up of three parts:
1. Technical SEO forms the foundations for your site. Having good foundations will help to ensure that search engines find and index your site.
2. On-page SEO helps both the user and search engines better understand the content on your website. Its primary aim is to improve the user experience.
3. Off-page SEO is the portion of SEO that requires long-term, continued investment. Off-page SEO is about building your brand online through engagement with users, customers, peers, and potential customers.
But what makes SEO such a valuable digital marketing channel?
1. Sheer potential
Google processes over 160 bn searches every month. With 95% of us conducting searches online, there is still room for this number to grow.
While only a fraction of these 160 bn searches will be relevant to your business, the potential reach is still greater than all the mailing lists you could ever purchase – not to mention the potential for global engagement.
SEO allows you to strategically target people who are searching online and ensures an increase in traffic, and therefore revenue. The internet is big and the potential vast; SEO is the only digital marketing channel that will allow you tap into this.
2. Making your site search engine friendly is quick and fruitful
Making your site search engine friendly refers largely to 'technical SEO'. It ensures that search engines can find and index your site, giving you the best possible chance to rank highly in search engine results pages (SERPs).
Without implementing technical SEO, all other online marketing efforts will, quite literally, fall short of the mark.
Make improvements to technical SEO by:
Submitting an XML sitemap to Google and Bing
Submitting and testing robots.txt file
Examining URL structure and ensuring keywords are present
Ensuring 301 redirects are in place for any URLs that have been changed
These only need doing once (although crawl issues will need continued monitoring) and are relatively simple to implement.
Investing in technical SEO is relatively cheap and paves the way for the success of your future digital marketing efforts. It's essential.
3. Improve user experience
Optimising on-page SEO elements include:
Creating unique meta descriptions for each page
Creating unique title tags that contain the keywords for that page
Creating clear URLs that contain keywords
Optimising content so that it's clear, engaging and relevant.
These can improve the user experience and assist search engines in their understanding of what the content on your site is about. The value of this is exponential; without this, your site will struggle to rank for keywords and site traffic will be minimal.
4. Organic search is better than paid
Paid adverts, or Pay-Per-Click (PPC), is the act of sponsoring specific keywords that you want your site to appear for.
Paid ads allow your site to be highly visible, even if it's devoid of any SEO, but there are disadvantages:
PPC is expensive: average overall cost is per click
Click Through Rate (CTR) is low: only 9% of those who see an advert will click it
Low number of impressions: 70-80% of people ignore paid ads on Google and concentrate on organic searches.

PPC can gain impressions as a result of being in the prime position, but it can't guarantee a conversion rate. This is due to the lack of SEO; or more specifically, a lack of on-page optimisation.
I've seen many examples of this: a company blindly invests in running PPC campaigns for a landing page they wish to promote. The landing page is normally a buy-now page which bears little relationship to the sponsored keyword, like 'best places to buy washing machines'.
The problem is that paid ads do not take into consideration the true intent of the search, almost 'duping' the searcher into visiting the site by promising the webpage is relevant.
SEO works differently. It requires the site owner to think carefully not just about strategy but about on-page content, user experience, ease of being found and relevance to the search terms.
Additionally, using PPC can cause a spike in bounce rate as the user clicks on an advert and then realises the landing page isn't relevant. High bounce rates can have a detrimental effect on your ability to rank well in searches.
In comparison, organic searches in the top positions achieve a CTR of 30%. Pages in positions 9-10 on the results screen achieve a CTR of 2%, which is better than paid adverts. The added advantage with investing in SEO is that the effects are long lasting. Unlike PPC ads that will no longer feature at the top when the campaign ends, the effects of SEO remain, or (hopefully) grow.
5. SEO is word-of-mouth marketing
Word-of-mouth marketing is the best and most valuable form of marketing and in some ways this is how SEO works.
One of the most important aspects of off-page SEO is creating backlinks; external links pointing to your site that pass link juice from one domain to another.
Search engines regard backlinks as a vote of confidence: a link is created because your site, product, services or content is good enough to share. You can't (and definitely shouldn't) buy backlinks, which is why they are so effective.
Another large part of SEO is the development of social media channels like Google+, Facebook and Twitter. 'Likes', followers and friends all act as a vote of confidence in your brand.
Although social media marketing is separate to SEO, the latter drives the need for social media and encourages the sharing of content.
Additionally, Google+ is a ranking signal and reviews obtained on this platform can directly affect rank position. And don't forget that 88% of online consumers consider reviews to inform their decision. This brings us nicely onto my next point…
6. Off-page techniques drive brand development
Off-page SEO focuses on brand development through the creation of sharable content, building relationships and acquiring links. Overtime, off-page SEO can raise brand profile, increase traffic and increase conversions.
The best way to secure good quality backlinks is by creating great content. This content should focus on answering customer queries, explaining processes and providing information about your niche.
Creating good content isn't solely about achieving backlinks. Businesses will also gain a competitive edge by being highly authoritative, transparent, trustworthy and informative – something that other marketing channels are unable to achieve.
7. Long-lasting effects of SEO
Although it can take a while to reap the rewards from your SEO efforts, it's the only channel that can continue to have an impact and grow organically.
For example, once a page begins to achieve a high position from achieving a good number of external links, it's likely to gain exposure and attract further links. This means that the cost of SEO can reduce over time and is a far more effective marketing strategy than an email that may get results initially, but nothing beyond.
8. Supports your site at every stage of the conversion tunnel
Google is constantly updating their algorithm to drive more relevant and precise search results to the user, fuelling the creation of content that addresses customer problems and enables businesses to target audiences throughout the entire purchasing process.
The buyer journey:
Research: Customer conducts searches that include questions like where, what, when?
Comparison: Customer investigates and compares brands
Location: Customer seeks store address
Fulfilling these types of queries will allow your site to attract a highly relevant audience with a higher conversion potential.
9. Local search drives more traffic
Local searches are loaded with potential: 50% of local mobile searches and 34% of desktop local searches lead to a store visit in one day, with 18% of local mobile searches leading to a purchase within one day.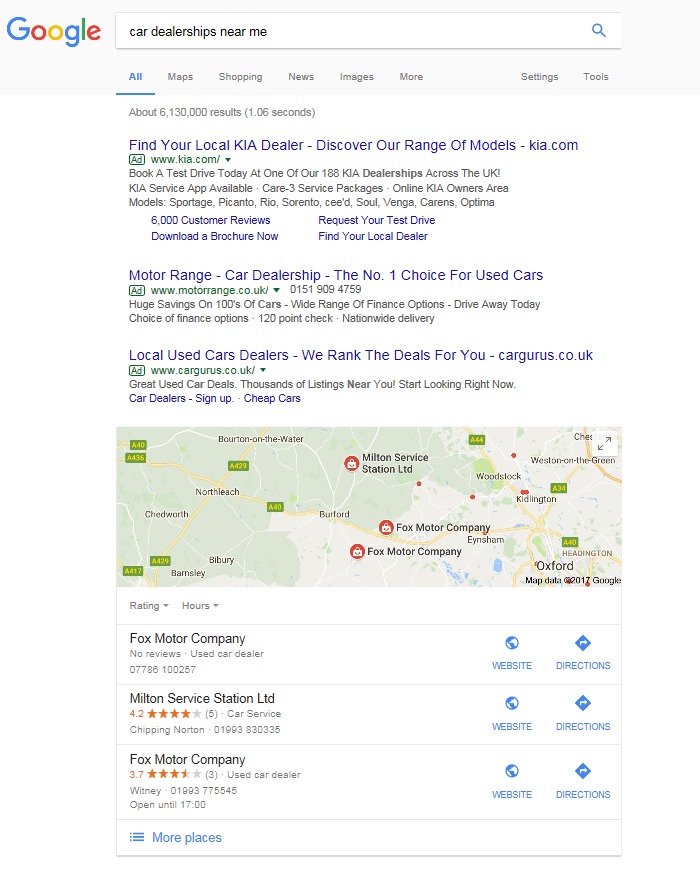 Local SEO enables businesses to show precisely when and where they are open for business.
With Google My Business, businesses can also display photographs, reviews, exact location and telephone numbers. BrightLocal reports that local search drives more clicks and calls than any other channel.
10. Lower marketing expenditure over time
SEO is the only channel where you'll see ROI improve over time. Due to its ability to attract visitors, backlinks and harbour trust, this improves a site's overall ability to rank highly and can increase sales with less and less effort.
Think of the discussion over SEO's value as a marketing channel like the chicken and the egg debate. Yes, e-mail marketing is effective but how do you get people to sign up to your mailing list if they cannot find you online in the first place?
Although other digital marketing strategies can be effective, they only provide fleeting rewards. SEO, on the other hand, requires constant self-reflection and improvement; it drives site owners to produce valuable, informative and targeted content while simultaneously building a robust online brand.
SEO also values and rewards your efforts for building a better and more honest customer experience. For all those reasons, SEO – the holistic approach – is great for attracting and retaining customers.
Ultimately, SEO is responsible for driving a solid marketing strategy. It forces site owners to establish who their customers are, what they are looking for and what is the best way to reach them.
Get this right and your SEO will grow and improve over time with diminishing effort. It will require smaller investments and achieve a higher RIO; it's by far the most valuable digital marketing channel for your business.