We Brits spend a vast amount of time listening to music. And increasingly, we're turning to online streaming for our daily fix of tunes. In fact, according to OfCom's Media Nations Report, 2018, music streaming accounts for 29% of all audio listening among 15 to 24 year olds. 
Spotify is currently the most popular platform, owning 36% of the global streaming market. With a user base of 159 million users – 83 million of which are premium subscribers – Spotify's audience is spending an average of 25 hours a week using the platform to listen to their tunes. 
For these reasons, marketers are beginning to turn towards music streaming as the next opportunity for social marketing. After all, with such a huge user base, there's a huge potential audience for brands to tap into with their marketing activity.
But how ripe is the audio streaming consumer for marketing outreach?
What are the opportunities in Spotify?
Spotify is one of the fastest growing platforms, with a subscriber rate rising 46% year on year over the last decade. The potential of Spotify's audience for brands is huge, especially given that Spotify consumers are open to using the platform for socialising too.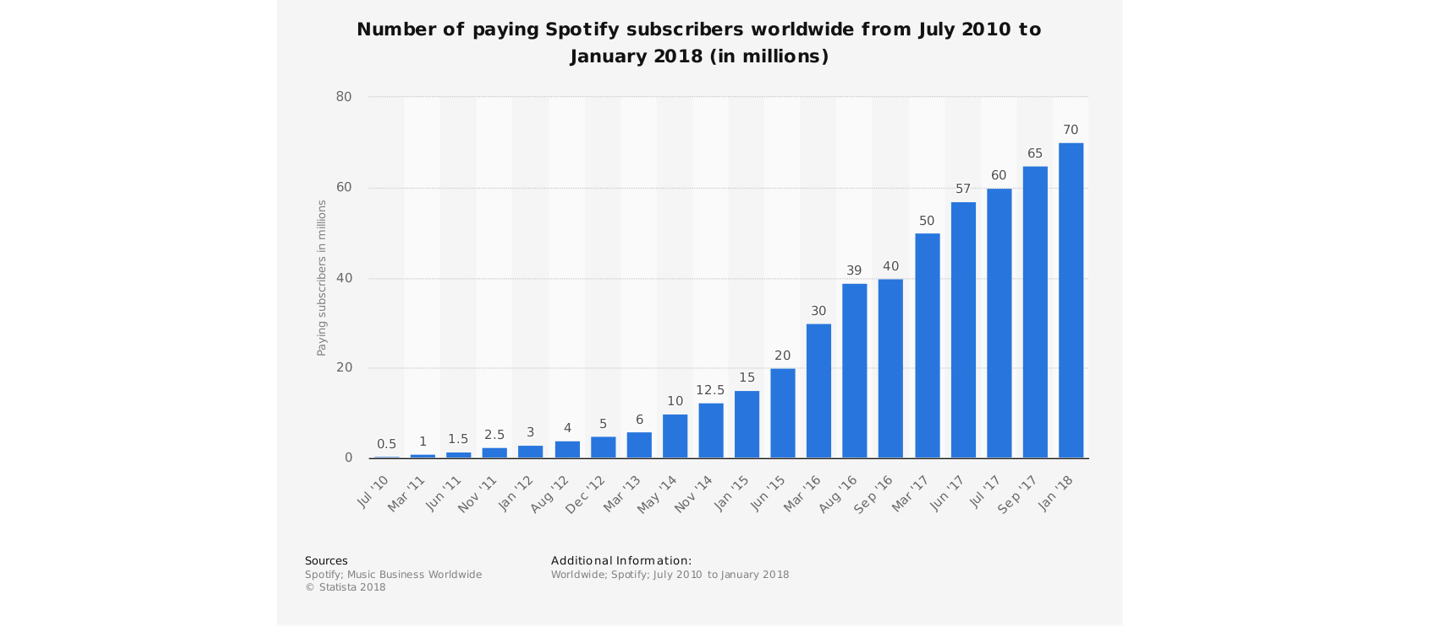 1. Spotify users are open to paying… and recommending
According to research, consumers who stream music are twice as likely than non-streamers to pay for a brand and are 74% more likely to recommend brands to a friend.
Companies are already capitalising on this, with Pandora joining forces with Mazda to integrate its app into their newest cars, the Mazda CX-3 and CX-9.
2. Tricks and tactics
It's predicted that music streaming platforms will start stealing the tricks employed by other social platforms. Just look at how the Facebook-owned Instagram stole the Stories idea from Snapchat and are now seeing a massive 500 million daily users.
Although it's difficult to predict how Spotify will develop over the coming months, users and brands are poised to find out.
3. The growth of audio marketing
As we see a growth in the smart audio market, we'll expect to see brands take advantage of its potential for advertising. Devices like Google Home and Amazon Echo are mainstays in many households, and uptake is on the increase.
The more prevalent audio becomes, and this is expected to gain on video in terms of engagement, the more consumers should expect to hear audio ads throughout the day.
In the not too distant future brands should be reaching an audio-receptive audience and seeing unparalleled ROI from audio advertising.
4. Deep learning means more personalisation
For a long time, Spotify has excelled at personalising their service. When users open Spotify, they expect to see recommendations based on their listening history. They're introduced to like for like playlists and profiles based on their listening habits.
If Spotify continues to improve its machine learning, brands could expect to be found in consumers' recommended feeds.
Big brands are capitalising on personalised Spotify too. Last year, Netflix teamed up with Spotify in the launch for Stranger Things 2 where they created profiles for 13 of their characters. They then used listeners' data to match up fans of the show with the character profiles that best matched their own listening habits.
How to leverage Spotify
Spring 2018 saw Spotify launch new opportunities for brands and marketers, with features such as sponsored playlists, self-service Ad Studio, and podcast partnerships with the likes of Buzzfeed.
It now has a dedicated section for brands on their site.
1. Spotify Audio Ads
Spotify's self-service Ad Studio allows brands to build and manage custom audio advertisements. The Ad Studio offers:
Ad creation in less than 10 minutes
Audio creation from scratch or ability to import your own
Audience targeting by gender, location, age, genre, activity and device
Forecasting impressions
Monitoring and analysing your audio campaign results
When you create your ad, best practice guidelines from Spotify can be found here, you can customise your Cover Art, and also provide a URL destination to drive users to your website.
Once you've created your ad, it will be played to the basic users (those who do not pay for premium membership) during ad breaks.
And with the in-built analytics, you'll be able to analyse metrics such as:
Total number of ads served
Total number of clicks
Click through rate
Reach (unique people who heard your ad)
Frequency (number of times each person heard your ad)
A word of warning: Spotify ads are not for the tight of budget. With a minimum spend of $250 (around £200), it's not the same as Facebook where you can experiment with small spends and see how it goes.
2. Spotify Codes
We discussed social platforms stealing tricks from each other earlier. Spotify has launched a detail similar to Snapchat's scanning feature. This allows users to share brands' music with friends and other social accounts by scanning the code on their app.
This code, which can be placed anywhere digitally or in print, will drive traffic to your profile from all sorts of sources, from an embed in an email to a printed leaflet, to in-store merchandising.
Here's Starbucks' Coffeehouse Playlist code:

And, if you want to create your own, make a start here.
3. Branded profiles and playlists
Brands are increasingly turning to Spotify playlists for its a huge opportunity for engagement. With the audience numbers as big as they are, the potential to boost brands' brand awareness is massive. 
With branded playlists, not only do users choose to follow your playlist or profile, allowing you to demonstrate a new voice to your followers, but users can also share your music across their other social media too. With integrations with Facebook, Instagram, Twitter and WhatsApp, this is where Spotify is moving into the social sphere.
When done well, and treated like ads, branded playlists can help to demonstrate your brand voice. It can show that you're connected with your followers; you're relaxed and approachable.
However, there are a few requirements to follow. For example, you have to include at least 40 tracks on your playlist, with only one track per artist, in order for it to be branded.
Brands like Nike are excelling at it, with their Nike+Run club: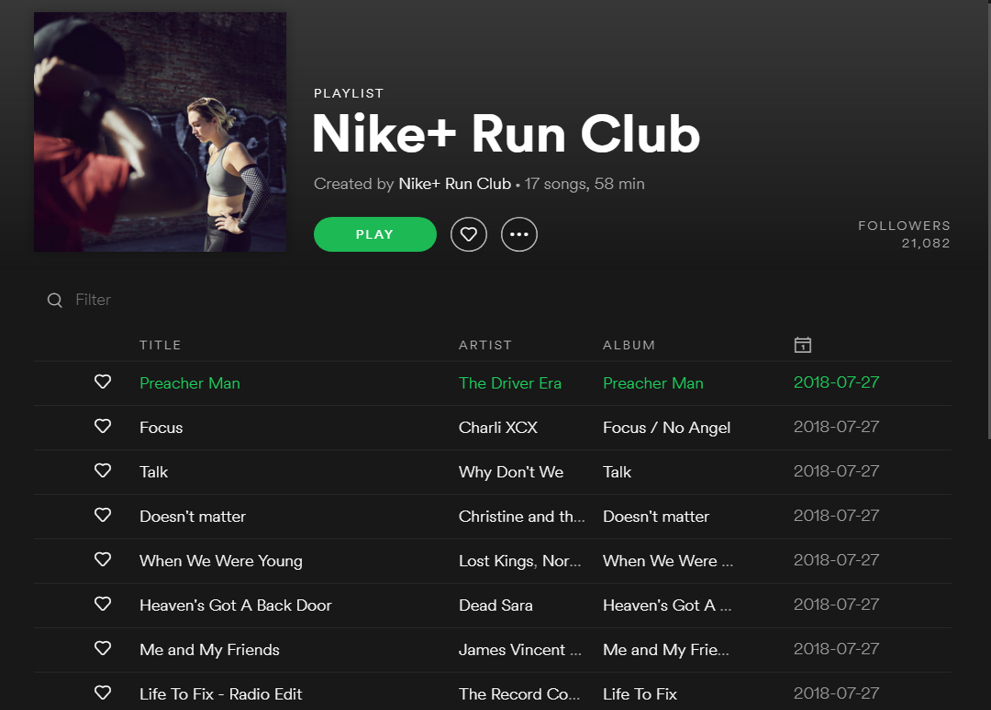 Other brands joining in: McDonalds, Coca-Cola, Victoria's Secret, Starbucks.
4. Sponsored playlists
For the last two years, brands have been allowed to sponsor Spotify's major playlists; some of which have millions of followers. Most popular playlists are Songs to Sing in the Car (with over 5 million followers) and Teen Party (with nearly 4 million followers).
This has opened up more opportunities for brands, aside from simply curating their own playlists. Now they can gain more exposure and reach out to potentially millions of new followers.
5. Integration with Instagram
Spotify now lets you post your playlist to your Instagram Stories, so that your Insta following can see what you're listening to, and click through to your Spotify profile and playlists.
What does this mean for brands? For those actively using Stories as part of their social media engagement, sharing their music further helps to demonstrate their brand values, their "behind the scenes" culture.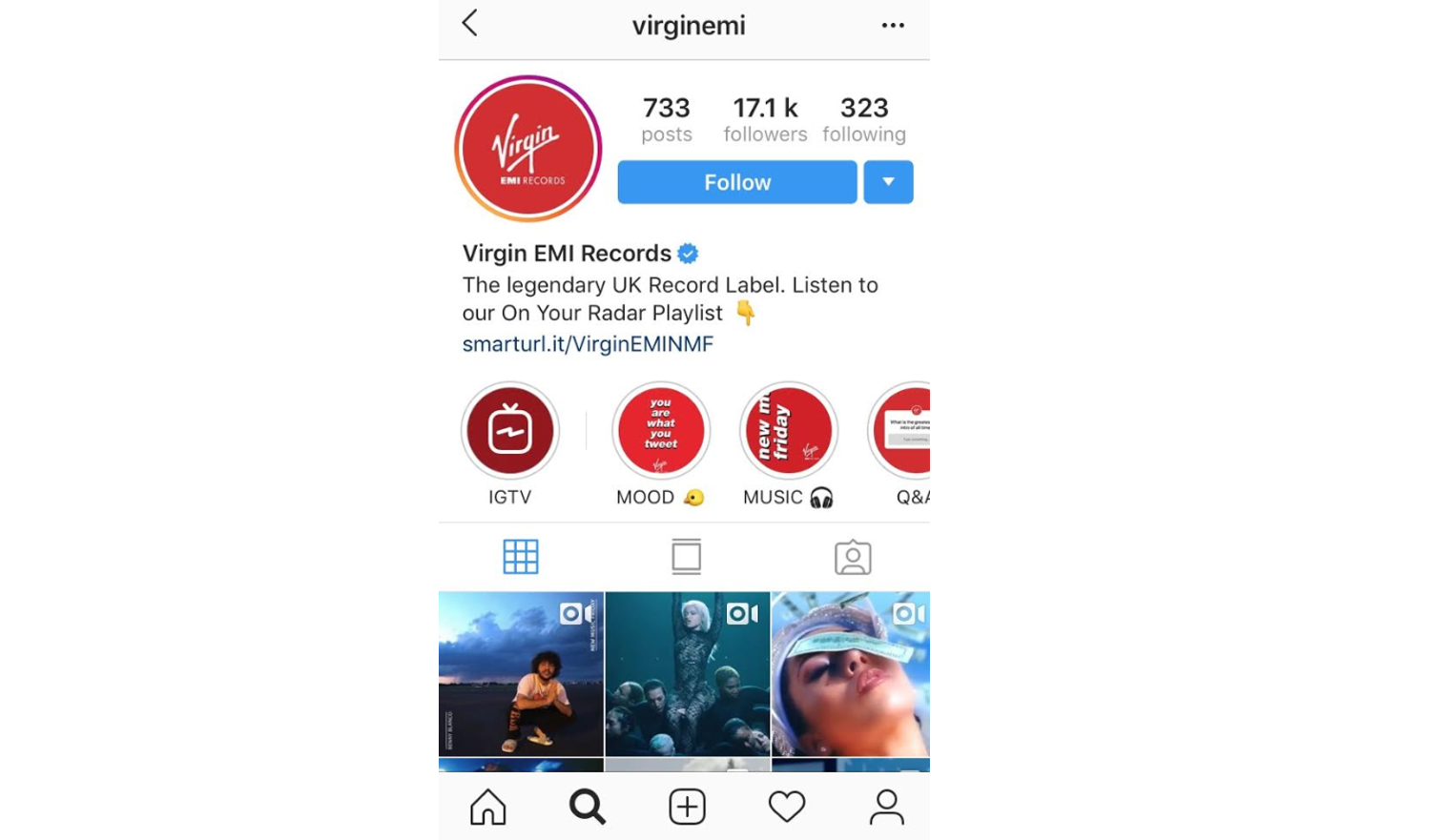 6. Consumer targeting
Spotify has recently joined forces with Neilson Indonesia to gather insights into Spotify users. According to the research, 84% of Spotify users are millennials (aged 15-34); 60:40 female to male; more outgoing in their leisure pursuits than non-Spotify users; and more affluent.
It also discovered patterns of Spotify usage, with users tending to listen consistently throughout the day, but particularly while commuting, exercising and working.
Savvy brands can use Spotify to leverage these insights, and more, when targeting their marketing and advertising campaigns.
Smirnoff is a case in point. Having noticed that the top 10 streamed tracks in 2017 were male artists, Smirnoff partnered with Spotify to produce "The Equalizer". This used Spotify big data to break down the gender biases of users' playlists and redress the balance using the Equalizer tool.
The results: Smirnoff was clear that the main aim of the campaign was to redress the gender imbalance inherent in the music industry, but they also benefited from significant brand exposure in the process.
The verdict
Music streaming is becoming a mainstay of people's everyday lives. We have music streaming through our smart speakers in the morning, in the car on the way to work, and on our laptops and smartphones throughout the day.
As music streaming platforms like Spotify become more integrated with other media it's likely they'll be seen as social platforms like any other. After all, how better to socialise than through the medium of music?
And as Spotify becomes more sophisticated with its deep learning, it'll be able to deliver a more personalised service to its users.
And as these two areas start to develop, its likely that there will be a huge scope for brands' marketing and advertising. After all, the Spotify audience is huge, and they're open to being sold to.
But for now, Spotify's potential for SMEs is relatively limited. It demands a big minimum spend, which is a big ask for smaller companies looking to try out new opportunities.
My advice: set up a branded profile (include your URL and branded image) and start creating a playlist. Put thought into your music choices and make sure they reflect your brand. When your playlist is complete, integrate it with your Instagram Stories and share it on your other social media.
As for the higher end features: hold back until it becomes more accessible for smaller brands.