Managing your online marketing will certainly keep you on your toes. Between regular Google updates, changes in user behaviour and new technology rollouts, the digital world is constantly evolving. This means that your keyword strategy should be too.
Over the years we've seen big changes in this area. Long gone are the days of keyword stuffing. Now, an effective SEO keyword strategy focuses on quality not quantity. Not only does this provide a better user experience, it also ensures you don't fall victim to harsh Google penalties.
Using an old-fashioned keyword strategy is not only ineffective, it can actually hurt your rankings. From using long-tail phrases to aligning your research findings to your consumer journey, below I'll show you how to create an effective keyword strategy for 2020.
What is a keyword strategy?
One of the most common reasons websites fail to rank in search engines is a poor keyword strategy. The phrases you're using are an important factor when it comes to SEO, and Google will look at them when deciding where to place your content on its pages.
Therefore, keywords are a highly effective way of directing traffic to your website. As we all know from our own online behaviours, we'll often type a search query into the likes of Google and click on a website based on the results that come up.
This does unfortunately mean that simply guessing which keywords you should be using isn't enough to out-do your competition. Keyword research tells you the phrases your target audience is searching for and how competitive each phrase is. It's also a great way to get alternative suggestions you may not have thought of.
Keyword strategies include more than just your research however. It should also detail the actions you're going to take based upon your findings such as the content you're planning to write or how you're going to track your results. Your keyword strategy is about how you want to target those keywords both now and in the future.
What if you have a keyword strategy but you're not ranking in Google?
Poor search engine rankings are bad news for any small business owner. Just like a shop hidden down a dark, unknown alley is unlikely to get any trade, it's almost impossible for your website to generate revenue if people can't find it.
Your website may be failing to rank for a variety of reasons, but one of the most common is a poor keyword strategy.
If you think your keyword strategy could be letting your website down, below I've listed some of the most common mistakes people tend to make and how to find the phrases that are really going to help your site get seen by your target audience.
Seven common keyword mistakes
1. You're using phrases that are too competitive
One of the most common reasons websites fail to rank is because they've targeted search terms that already have a huge amount of competition. The more competitive your keywords are, the harder it will be for your website to feature highly in search engine results pages.
If competition for a particular keyword is high, search engines will always favour stronger websites. A number of factors will be considered including:
How much traffic your site receives
Inbound links
Outbound links
On-site SEO (for example: content, links and meta data)
Off-site SEO (for example: social media activity and the quality of your inbound links)
Site speed
This means that if you're a small boutique selling women's clothes for example, you will never be able to compete with the likes of ASOS for the search term 'women's dresses.'
Before you even begin your keyword strategy, it's absolutely crucial to make yourself aware of the competition for your target keywords (more on this below). It's unlikely that you have the SEO budget of a multi-million-pound company so if there's simply too much competition, you're better off finding alternative keywords.
2. You're using irrelevant keywords
Companies often pick keywords with high search volumes but don't pay enough attention to how suitable they actually are. In order to drive the right traffic to your site and convert visitors into customers, you need to choose keywords that match the concerns of those landing on your website.
If for example, you're a high-end accountancy firm that's expensive, you shouldn't be using phrases like 'cheap accountants,' 'affordable accountants,' 'low cost accountants' or 'budget accountants.' You should instead be looking at keywords like 'top accounting firms' or use phrases that don't mention budget at all and instead focus on the aspects of your business you're trying to promote such as 'chartered accountant' or 'tax accountant.'
Remember, every searcher has a purpose and is looking for something specific. By understanding your customers and the language they use, you can ensure that your website is the one to provide them with the answers they need.
A great way to do this is to look at Google Analytics. Simply log in to your account, in the left tool bar click on acquisition, then campaigns and then organic keywords.
This will really allow you to dig into your data because it will tell you the keywords people are typing into Google to find your site, how much traffic each keyword generates, how long people are spending on your site, the bounce rate of each keyword and the number of pages viewed.
If people are bouncing off your site with particular keywords, this tells you that they're not finding what they were expecting to. If there are certain phrases which consistently make conversions however, these are the ones you should be targeting.
If you look at the example below, you can determine that perhaps 'cheap laptops' isn't the best phrase for this business. It yields the least time on the site and at nearly 66%, has quite a high bounce rate. This suggests that perhaps once people get to the site, they realise that the laptops on offer aren't actually cheap.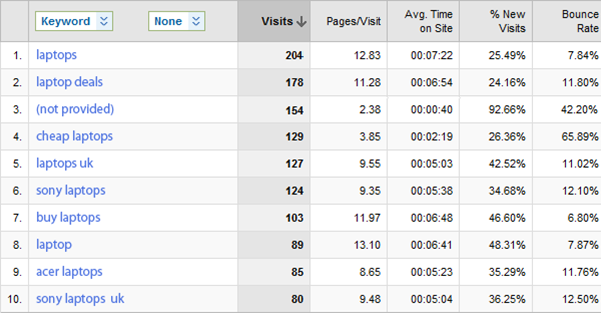 3. You're not grouping your keywords
Keyword grouping involves creating clusters of related keywords. If your target keyword is 'breakfast ideas' for example, you could also use 'breakfast recipes,' 'healthy breakfast ideas,' 'quick breakfast ideas,' 'easy breakfast ideas' and so on. 
You can then use these groups when creating your content so you can reach a wider audience. The benefits of keyword grouping include:
It takes advantage of the fact that multiple search terms can have the same intent. For example, 'coffee shop near me' means the same as 'local coffee shop.' If your page is optimised for one and not the other, you could be missing out on valuable traffic
It prevents 'keyword cannibalisation' which is where you're effectively competing against yourself. If you're using the same keyword across multiple blog posts for example, they're competing against each other to reach the top of Google. If you have groups of similar keywords however, you can use different phrases for each post. This also helps you to rank for multiple keywords rather than just one
Learn more about keyword grouping with this helpful blog which explains more about the strategy and how to carry it out using Google Ads.
4. You're not putting keywords in the right place
Knowing where to put your keywords can be just as important as identifying the right ones to use. Google looks at a number of different areas of your website, not just your content, and if it can't find keywords there, this could have a big impact on your rankings.
The places you should be putting keywords on your website include:
Page title: Your title is a starting point for Google to determine the relevance of your website when someone is searching for something. This is the clickable link that shows up when you type in a query. In the example below, this is 'Women's Workout & Gym Clothes.' Because of the keywords being used in the page title, Google knows that this website has exactly what the searcher is looking for.

Meta description: If you don't use an SEO tool, Google will automatically use the first 160 characters of your content. It's worth spending some time tailoring your meta description because this is the very thing that tells people what your website is about and it's also a great place to add keywords. This will ultimately decide whether or not someone clicks the link so ignoring it can be costly. In the Nike example above, it clearly lists all the women's sportswear they sell so a searcher can identify whether or not this is what they're looking for before they've even visited the website.
While it's important to add keywords into your content and meta data, avoid keyword stuffing. This is the practice of adding many different keywords as often as possible so that search engines pick up on them.
This is considered a black hat SEO tactic and you will be penalised for it. Google favours quality over quantity when it comes to content, so make sure you're writing for your audience, not a search engine. Moz.com provides a handy guide which will help you to identify how many times you should be repeating keywords on your pages.
5. You haven't aligned your keywords to the consumer journey
If you want your target audience to notice your business, it's important to think about the consumer journey and which stage of the buying process someone may be at when they land on your website.
This will allow you to build a relationship with new visitors, target your content according to their needs and guide them through the sales funnel.
Aligning your SEO keyword strategy to the consumer journey allows you to effectively target phrases and topics that your audience cares about. If you're spending time and money on the process, naturally, you want to ensure that you're reaching the right people at the right time.
More importantly, you want to engage those who are genuinely interested in your products or services and who are looking to make a purchase now or in the near future. You don't want to simply drive a lot of poor quality traffic to your site for the sake of getting your visitor number up.
Thinking about user intent is a fantastic way to attract high quality traffic. User intent tells us what a user is looking for when conducting a search query. It takes into consideration the keywords being used but also delves deeper by trying to understand the context and intention behind them.
Typically, there are three main types of user intent:
Informational: The user wants to learn something and is therefore seeking out more information. For example, 'summer fashion trends for 2020' or 'how to complete a tax return.'
Navigational: When someone is trying to find a certain website. For example 'The Guardian' or 'Marks and Spencer.'
Transactional: When the search query shows the user's intent to purchase a product or perform a different type of transaction (such as contact you). For example 'local accountant' or 'kitchen cleaning supplies.'
It's a great idea to have specific landing pages on your website targeting the different types of user intent. Let's say you sell baking supplies for example:
Informational: Someone may search 'how to make banana bread.' Blogs are a great way to share your knowledge and expertise and answer people's queries, plus they can rank pretty well in Google too.
Transactional: Someone may search 'banana bread tins.' In this case, it's important that your product pages are optimised with the keywords people are searching when looking to buy the products you sell.
Successfully aligning your content and keywords with user intent will help to maximise click-through-rates and lead to those all-important conversions.
You can find more information about user intent and how to get it right here. You can also pick up some great tips about personalising the user experience in this blog.
6. You're not using long-tail keywords
Long-tail keywords (four or more words) are more specific search phrases that usually get less traffic but have higher conversion rates. The online shopping site, Amazon generates 57% of its sales from long-tail searches because they're more targeted and you're therefore likely to reach an audience that's more likely to make a purchase.
For example, if someone searches 'healthy cook books' chances are they're just browsing and you'll lose them because of the huge selection of products available in this category. If, however, they type in 'Joe Wicks Lean in 15 book' Amazon can take the searcher straight to the page they're looking for and they're more likely to make a purchase as a result.
Although 'healthy cook books' will no doubt get higher search volumes than 'Joe Wicks Lean in 15 book,' you can guarantee that the long-tail phrase enjoys higher conversion rates.
7. You haven't done a competitor analysis
Knowing how competitive a keyword is will help you to determine whether or not it's a phrase you should be using. If you take the term 'garden furniture' for example, it gets a lot of monthly searches but it's very competitive which means you're unlikely to get high search engine rankings for it.

If you Google 'garden furniture' you will see that it's all well-known brands at the top of the page. These companies have the budget to compete for these keywords so for a small business with a much lower budget, it's unlikely that you would be able to rank for such a popular term.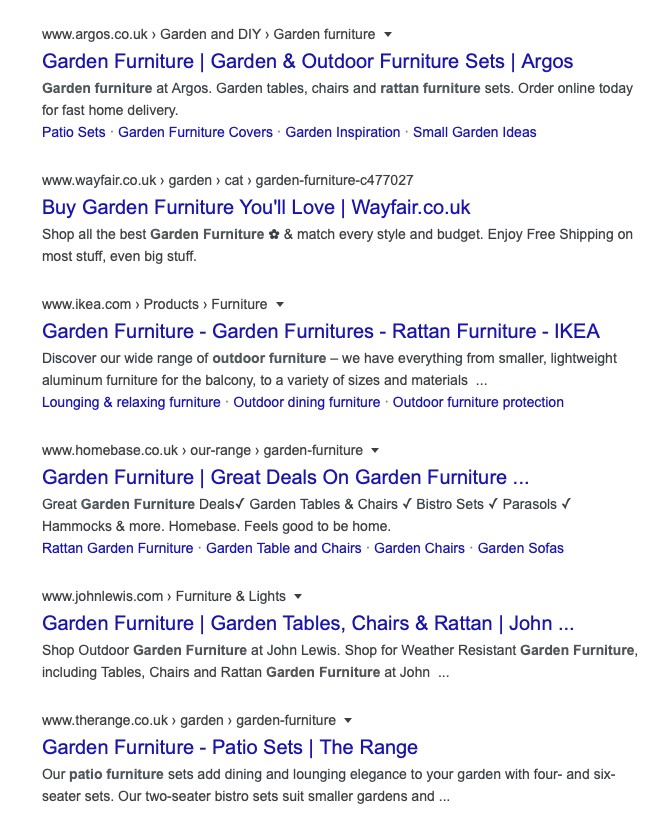 You can find out more about how to choose the right keywords by heading to Google Ads.
Another great way to find keywords is to identify the phrases your competitors are using. There are a number of competitor keyword research tools which are free, quick and easy to use which can help with this:
Moz.com
Moz's domain analysis is a great tool to use. Simply type in a domain and it will tell you the authority score and how many keywords it ranks for. It also tells you the keywords the site is ranking for and breaks it down into helpful categories.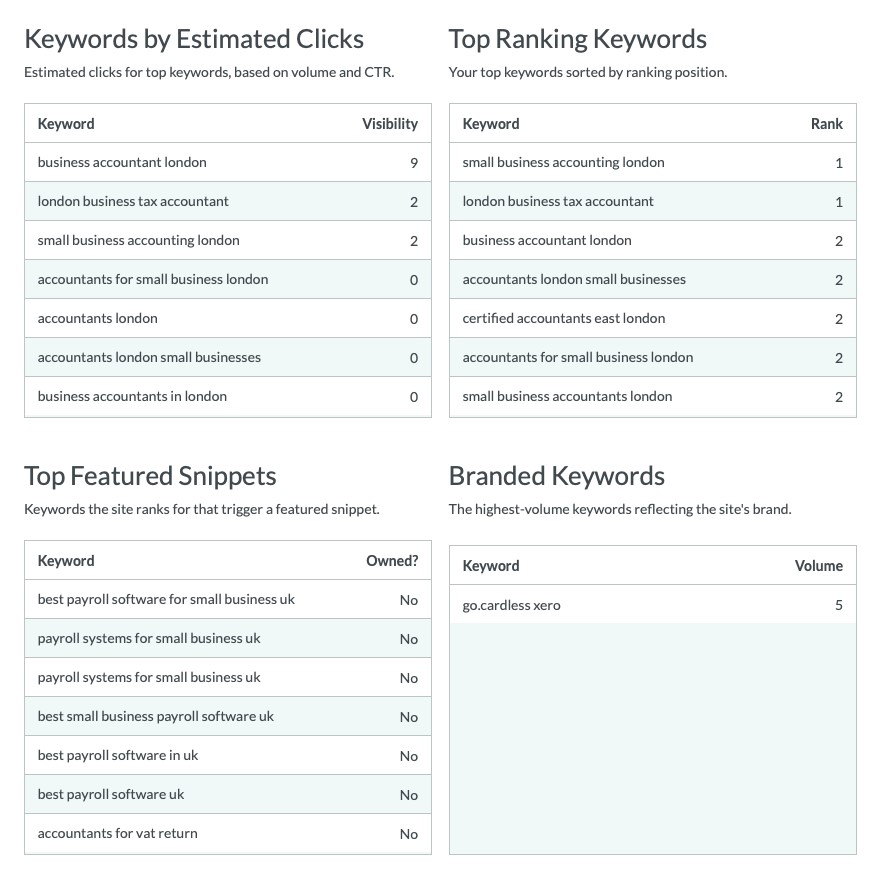 Spyfu.com
Spyfu.com gives you lots of valuable insights into your competitors for free. You can see everything from how many paid and organic keywords a site is ranking for to their ranking history, who their competitors are and what their top pages are. As well as enabling you to keep a close eye on your competitors, SpyFu is also a fantastic way to measure your own performance.

Other great sites for completing competitor keyword research include:
Ahrefs (you get a free seven-day trial and then have to pay)
You can find more about online tools for competitor research here.
Once you've completed your keyword research and competitor analysis, you should have a great list of keywords to use. As part of your ongoing SEO keyword strategy, keep an eye on who's ranking for your target phrases.
You can do this by simply typing your keyword into Google and see who comes out top of the list. It's well worth spending some time on the sites ranking above yours to see how they're incorporating these phrases into their content. This will provide you with valuable insights into what works when it comes to high ranking keywords.
Now you've identified your target keywords and you know where to place them on your website, you should start to notice some positive movements in your search engine rankings. If you're still struggling, it's worth carrying out an SEO audit. This will help you to detect any potential issues with your site which may be affecting your rankings and traffic such as broken links, speed, and duplicate page titles.