Recently, I wrote about how to use LinkedIn as a small business and the various ways in which being on this professional platform can benefit your marketing efforts.
Today we're going to concentrate on one particular element of LinkedIn for your business: LinkedIn Message Ads. What are they, how do they work, and how do you set up a successful campaign? Keep reading to find out…
What are LinkedIn Message Ads?
If you've ever used LinkedIn, you'll probably already know that it has a direct messaging feature called InMail. It's a powerful tool in a marketer's arsenal thanks to the fact that it has a 300% higher response rate than emails.
It's free to message members you're connected with, but you'll need to sign up for a Premium account to gain the ability to send private messages to people you're not connected with. But there's another level of LinkedIn messaging at your disposal.
Previously known as LinkedIn Sponsored InMail, LinkedIn Message Ads are sent directly to recipients' LinkedIn Messaging inbox along with all their other direct messages, though they're marked as 'Sponsored'. They fulfil a specific purpose as described by LinkedIn: "Send direct messages to your prospects to spark immediate action".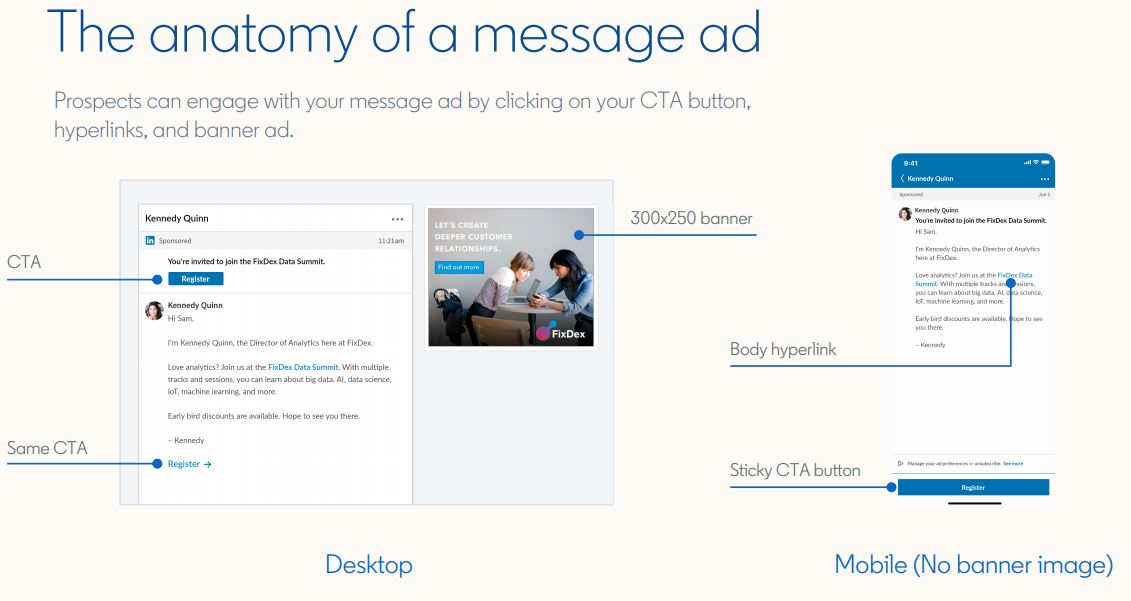 While regular InMail is ideal for sending individual messages – such as contacting people you're interested in recruiting or making personal connections as part of your networking efforts – Message Ads are perfect for lead generation and encouraging immediate action. As LinkedIn says, Message Ads have a number of advantages, including:
Targeted messaging – use Message Ads to deliver a targeted message to a specific demographic chosen by you, with a single call-to-action button to drive the actions you want your prospects to take, such as making an enquiry with you or downloading a brochure
Stand out – your prospects can only receive the same Message Ad once every 45 days, which means your message is more likely to get noticed. Not only that, but recipients will receive your ad when they're already active on LinkedIn, making it more likely that it will attract their immediate attention
Strong engagement – unlike emails, which quickly get lost in a busy inbox, Message Ads are sent on a less cluttered platform, meaning your message stands out more – and it shows, because according to LinkedIn, more than one in two prospects open a Message Ad
Lead generation – you can add a lead generation form to your message to collect leads directly, making your marketing efforts more efficient by increasing conversions by up to four times. These allow prospects to send off an auto-filled form with their details without leaving your ad
Performance monitoring – comprehensive reporting and conversion tracking features allow you to see how well your campaigns are performing, with specific insights such as open and click-through rates, and details about which companies are taking action
With Message Ads, you'll be messaging specific demographic groups in bulk rather than individuals, and you'll only be reaching people on LinkedIn – not on LinkedIn's 'Audience Network'.
How to create LinkedIn Message Ads
Head over to LinkedIn's Campaign Manager and sign up as a new advertiser, and then you're ready to click 'Create Campaign' and begin creating your first ad. Here's how to do it.
1. Decide on your objective
Because LinkedIn Message Ads have a call-to-action button, you'll need to start by deciding what your objective for the campaign will be. Perhaps you want to encourage people to sign up for your newsletter, or download a brochure?
You'll be able to choose from several pre-defined objectives, which for Message Ads are website visits, lead generation and website conversions. If you want to include a Lead Gen form, select lead generation as your objective.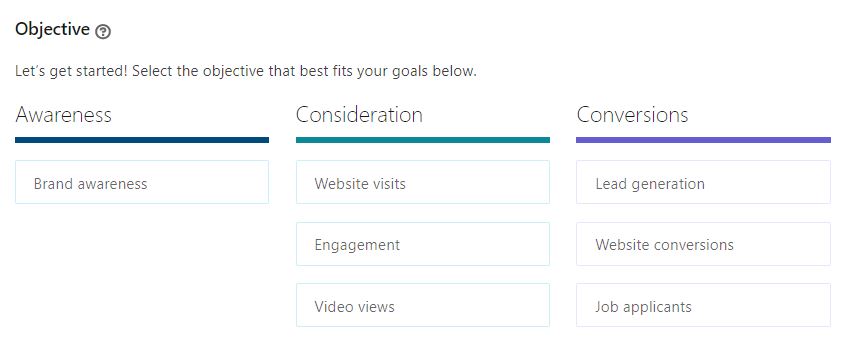 2. Choose your target audience 
Next, you'll be given the chance to choose who you want your Message Ads to be sent to. Start with their profile language and location (or multiple locations) and then under 'Audience Attributes', narrow this down to specifics such as their job title, education level, interests and so on.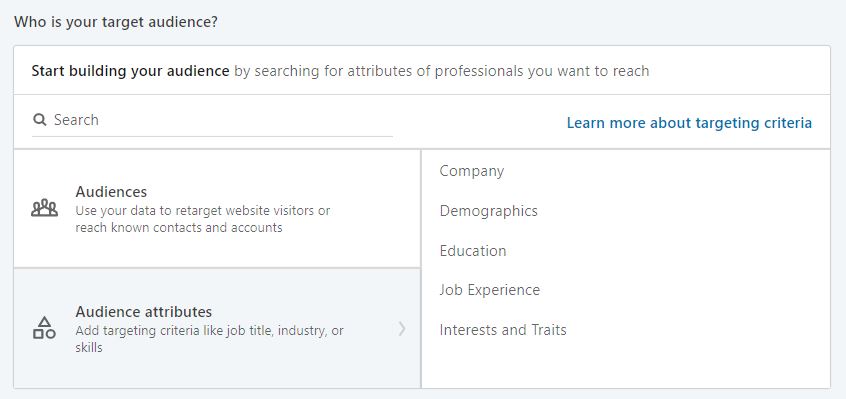 3. See the projected results
At this point, Campaign Manager will show you the projected results of your campaign, which will vary depending on your targeting criteria, bid and daily budget.
Select 'Message Ad' and you'll then be able to set your budget and start and (optional) end dates for your campaign.
For Message Ads, you'll be bidding on a cost-per-send basis. LinkedIn doesn't recommend setting a daily budget because messages are sent in real-time – when the recipient is active – and there are strict limits on how often an ad is shown. You'll also be able to enable conversion tracking, which will give you important information about the actions on your website that have resulted from your ads (such as purchases and downloads).
4. Craft your ad
Now click 'Create New Ad'. There are various elements you'll need to write:
Sender – you'll be able to configure the name of the sender, which ideally should be your own name or that of a prominent figure in your business
Subject – write an interesting, concise subject line designed to pique the reader's interest. This needs to be a maximum of 60 characters including spaces and punctuation
Call-to-action button – this is the button readers will click on to take the action you want them to take after reading this message, such as 'Download Brochure'. You can have up to 20 characters including spaces and punctuation
Body copy – this is the main email copy and has a 1,500-character limit, but it's a good idea to keep it short and snappy so that you're more likely to hold the reader's attention. LinkedIn recommends no more than 500 characters. Break up the text using bullet points so that it's easy to read, and you can include a link to a landing page on your website
Lead Gen forms – these help you capture leads directly through the email, using forms that are already auto-filled with the recipient's profile information. Here's a tutorial on how to set these up
Footer – you have the option of including a disclaimer or terms and conditions in a footer, with a maximum of 2,500 characters
Banner creative – This is a visual addition to your ad that displays when the message is read on desktop. If you don't include your own banner image here, it's possible that recipients may see another brand's banner, so it's worth creating your own to support the content of your message. These can be JPG, PNG or GIF (non-animated), and are 300 x 250 pixels in size. The maximum file size you can upload is 40KB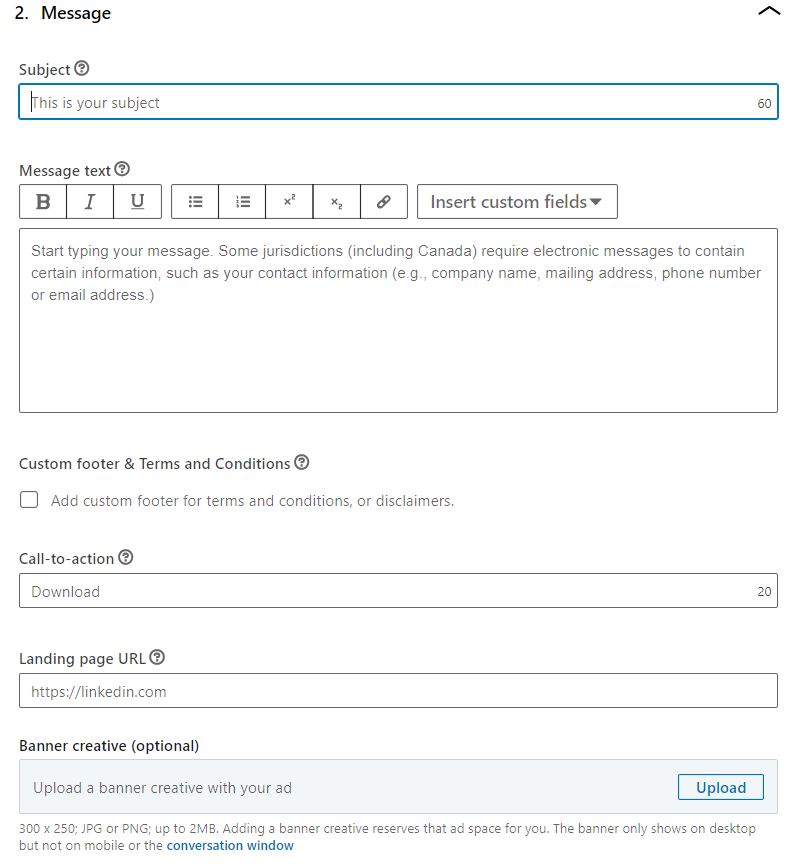 5. Monitor performance
As I mentioned earlier, you can view a variety of performance metrics for all your campaigns, and these will give you valuable information about how well your ads are performing.
As with any kind of online advertising, it's always a good idea to test multiple versions of your ads, trying different variations such as changing the subject lines or tweaking the call-to-action. You can then monitor the performance of each to learn what works best for your audience.
Best practices for LinkedIn Message Ads
As you might expect, there are various things you can do to help give your LinkedIn Message Ad campaign the best chance of success. Here are some best practices for creating effective ads and setting up high-performing campaigns.
Keep your audience in mind – craft a message that speaks directly to their concerns and show them how your proposition will benefit them
Greet them by name – use %FIRSTNAME% and/or %LASTNAME% in your greeting and the ad will automatically use the recipient's first name and last name for a more personal introduction to your message
Preview your ad – remember that your Message Ads can be viewed on both mobile and desktop devices, so it's worth ensuring that your content looks equally good on both. You can click 'Send test message' to have it sent to you, and here are some more tips on how to preview and test a message ad
Launch on a Tuesday or Wednesday – according to LinkedIn, these are the best days to launch Message Ads
Keep compliant – Make sure recipients know exactly what they're signing up to and keep GDPR compliant 
As with any form of online advertising, there's likely to be a bit of trial and error involved in running an effective campaign with LinkedIn Message Ads. However, by being systematic with your ad testing and refining your ads based on the performance metrics, you'll be able to hone your message to something that works well for your target audience.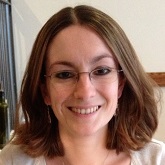 Rachel Ramsay is a freelance copywriter with a background in digital marketing. She's written copy for clients ranging from the United Nations World Food Programme to The North Face, and particularly enjoys working with lifestyle and travel brands. In her spare time, she volunteers for Guide Dogs and flies light aircraft and helicopters.
Read full profile