Our lives are lived via our smartphones; there's no denying that. And ever since 2015 when mobile officially overtook desktop in internet search, the business world has been investing a lot of time and money in adapting to consumers' changing habits.
Thanks to advances in location intelligence, marketers can now target consumers based on their physical location, track how digital ads translate into footfall, and connect the dots between ad exposure, to in-store visits, to product purchase. For the first-time marketers can measure how online behaviours relate to physical sales in shops.
But how is location-based marketing done effectively, and does it really work? What are the ethics around location data sharing, and is it morally right? We'll look at how brands are doing location-based marketing successfully and reveal both the opportunities and downsides it can bring whether you have an existing business or simply exploring the possibility of becoming self employed.
What is location-based marketing?
Simply put, it's a marketing strategy that uses smartphones' geo-data to notify consumers with local business offerings relevant to where they are. As with all marketing tactics, location-based marketing covers a huge spectrum of complexity. Some businesses have whole departments dedicated solely to it. But for SMEs and start-ups, simple geo-targeting tactics can be employed as part of a broader digital marketing strategy.
Such tactics can range from simple push notifications when a certain trigger is activated, such as walking into a specific store. Or a more integrated campaign could involve using location data to glean information about your potential customers' habits and then target them with tailored adverts or notifications based on their location, the time of day, the weather or day of the week.
How it's done
All smartphones have GPS, and companies can retrieve the longitudinal and latitudinal location of a consumer via their GPS or mobile phone triangulation. They then use their app or website to send their consumers targeted messaging relating to where they are.
For example, say you were walking to work one morning and as you rush down the high street, you pass a Starbucks. At the same time, your phone pings and alerts you to a discount offer on a Starbucks cappuccino. You haven't yet had your morning coffee, and this is suddenly very tempting. After all, you're right by the Starbucks, and you now have a discount voucher to use.
All that's happening here is basic location marketing. Starbucks have access to your smartphone's GPS and can see that you are right by your local branch. They then automatically send you enticing offers to tempt you into that store.
There are further subsets and technologies that are covered by location-based marketing:
Geofencing
Geofencing is when marketers use technologies such as "beacons" along with GPS and radio frequency identification (RDID) technologies to determine a geographical boundary within which to trigger a real-time location-based notification.
Geotargeting
Geotargeting, a subdomain of geofencing, is the personalisation of messages based on demographics, behaviours and interests. It's more specific than geofencing. Rather than sending a generic message to everyone who falls into a specific location, it tailors notifications to a specific crowd, such as only your business followers.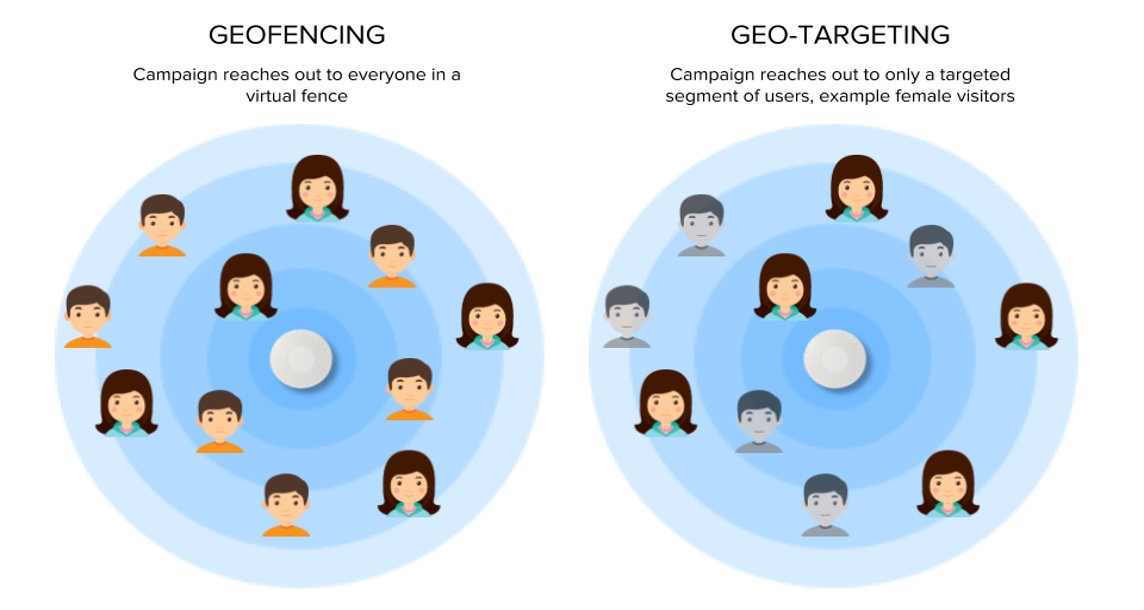 Geo-conquesting
Geo-conquesting is the term given to the tactic of using location data to steer your customers away from your competitors with a timely and enticing notification. For example, you might be headed to the same Starbucks, and up pops a message from Costa to say that they're offering a free pastry with every coffee.
Location-based technologies and tools
GPS (Global Positioning System) is a satellite-enabled system that allows location and time information anywhere in the world.
Beacons are wireless sensors that use Bluetooth Low Energy to transmit signals to smart devices. Unlike GPS, they don't require internet connectivity to receive notifications, and can also track indoor movements. Hence, they are more precise and perfect for targeting consumers within shopping centres.
Location software such as Location Smart and Koupon Media, among others, are paid-for tools that will help businesses to build location data into their marketing strategies.
Why companies are doing it
Figures from BIA/Kelsey show that companies are increasingly investing in location targeting with an estimated $32.4 billion projected. So why are businesses so keen to turn to location-based marketing?
There's no doubting the prevalence of mobile use today. With 85% of the UK's adult population owning a smartphone, and 1 in 3 mobile searches being linked to location, there's a huge opportunity for businesses to tap in to smartphones to reach an increasingly receptive mobile audience. It saves time on pushing untargeted ads and sees around 20 times greater returns than traditional banner ads.
High conversion rates
When done well, location-based campaigns can dramatically increase reach and engagement. According to Lawless Research (2018), commissioned by Factual:
87% of marketers are using location-based marketing with positive results
65% are using location data for ad targeting
53% are seeing increased conversions
85% are seeing an increase in their customer base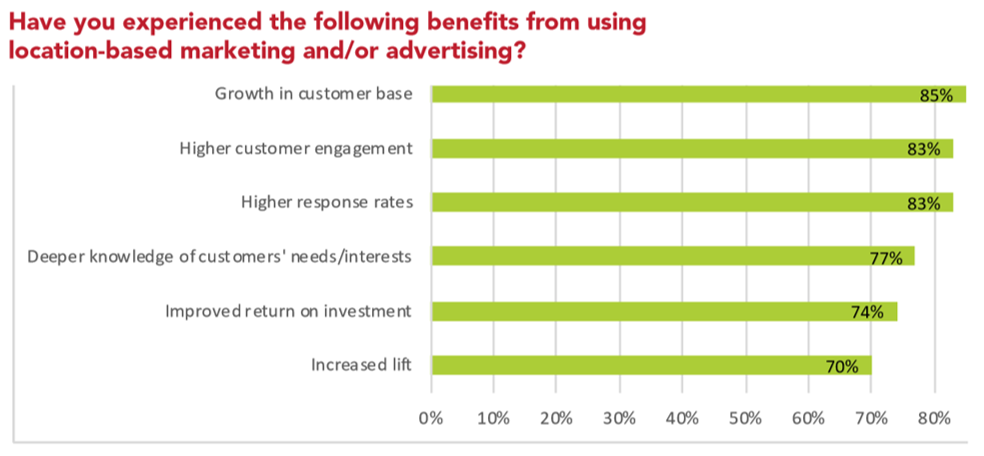 Customer insight
Aside from using location to proactively target customers, businesses are using location data to garner behavioural information about their audience: where and when they shop, how long they spend in shopping centres, the time of day they travel, where they choose to eat or drink out. These all help to build up a three-dimensional picture of audiences and help SMEs to target and personalise their marketing accordingly.
How brands are doing it well
Adidas
Last year Adidas was launching its NMD range and was aiming to increase sales in its Middle East and North African region through some advanced mobile targeting. Its objective was to increase ad engagement and improve in-store footfall.
Its approach was to use geofencing to identify an initial target audience based on particular shopping locations relevant to the Adidas stockists. It further refined the audience by looking at behavioural data to do with fashion and fitness.  
This audience was then targeted with rich media ads while they were browsing content at home. The ads were delivered in real-time containing calls to action to help them locate their nearest Adidas stockist. This same audience was then targeted again when they came into proximity with an Adidas stockist.
The results: a 22% increase in footfall which, in one Tuesday alone, saw 226 devices in-store.
Starbucks
Starbucks is acing its direct marketing with 90 million transactions per week across its 250,000 stores worldwide. It's majoring in big data intelligence to perfect its marketing campaigns, as seen in its mobile app and rewards scheme.
But as part of their app and rewards scheme, members authorise Starbucks to gather info about their coffee-purchasing habits from which drinks they prefer to their usual time of day for ordering.
Then, when a customer enters any Starbucks – even if they've never been to that branch before – then they will be identified by their smartphone and the barista will be able to identify their "usual".
On top of this, the Starbucks app will then give the customer suggestions based on their usual order. This cloud-based intelligence system called a digital flywheel programme, is sophisticated enough to recommend products dependent on the time of day, day of the week, the weather outside and your specific location.
How consumers are responding
Over the last few months, GDPR has been a big deal for marketers and consumers across the EU. With new policies on how consumer details are gathered and used, people are more tapped into their data rights than ever before.
However, recent research shows that a huge 73% of consumers allow apps to access their location allowing marketers a good level of insight into their online behaviours. However, it's also true that 77% of consumers will share their location only if they're confident their details are being held securely, and 34% will delete an app altogether if they receive badly targeted push notifications and adverts.
The lesson here: consumer reaction to location-based marketing really depends on how transparent and ethical marketers are being with their data.
The challenges
Data privacy is a big deal this year, as we've just discussed. According to GeoMarketing.com, users say that privacy concerns are the top reason for turning off their location settings, for fear of businesses accessing and sharing their data. As a marketer, it's your duty to be explicit about how you're planning to use consumer data, and whether you are going to share location data with third parties.
Opting in is important for data privacy but it also means that about 40% of users are reluctant to do so. As such you're never truly reaching your whole potential audience.
Relevancy is also a potential issue for location-based marketing. People are bombarded by messages asking them to opt-in to receive further notifications, but it's not always obvious what the benefits are. Make sure you highlight the reasons your customers should opt in, outlining one or two tangible benefits they'd receive.
Accuracy is a must when it comes to location-based marketing yet isn't always achieved. Inaccuracies can occur if data is outdated or skewed by urban density, moving devices or human error. But investing in decent pattern recognition technologies will help to iron out any unreliable data collection methods.
In summary: Give it a try
Location-based marketing is one of those tactics that seems a little daunting at first, for a couple of reasons. Firstly, we're in a time when GDPR is such a treacherous area. Secondly, the process of going about it seems far too tricky for a humble SME.
But the data suggests that consumers are indeed relatively open to being targeted by their location providing that they have opted in and that you are transparent about how their data will be used.
As an SME you don't need to adopt a vast location-based strategy. Instead, you can begin with simple steps, using location data to do some consumer research, and then move on to tailoring push notifications to entice nearby customers into your store.
As with most marketing tactics, it's worth a go. Keep measuring to check in with what's working, and tweak what's not and, as you feel more confident, move on to more complex levels of location marketing.