With online retail growing rapidly over the last decade, the trend has been for e-commerce to take an ever bigger share of the overall retail market in the UK.
In 2010, for example, online accounted for 6.8% of total retail sales in the UK. Last year, it was 16.8%. When you look at the numbers by sector though, there are some variations. One is luxury e-commerce. Last year, online sales of luxury goods made up just 10% of total luxury sales.
Luxury e-commerce grew by 23.3% in 2017, more than three times faster than total luxury retail growth, and it is expected to be nearer 20% by 2025, but luxury shoppers seem to be less inclined to buy online than those in many other sectors.
In this post, I'll look at why many luxury shoppers seemingly prefer shopping in stores to online, why some choose online instead, and how luxury brands can bridge the gap between channels and find the best customer experience.
Luxury, like some other sectors, could be accused of being slow to catch on to e-commerce in the early days. This is certainly the case for some of the bigger luxury brand names. Manolo Blahnik, Dolce & Gabbana and Chanel all decided not to sell online until relatively recently.
As a result, it could be argued that they've missed out on the lessons they would have learned if they'd sold online much earlier – learning from early mistakes, honing the user experience, and so on. It could also be argued that poor experience and difficulty in finding what they want has led to luxury e-commerce being less established in customers' minds than, for example, fashion e-commerce.
That said, some retailers like Net A Porter have sold luxury brands online for some time, and have done so very effectively, offering luxury brands alongside great user and customer experience.
In short, the delay in luxury brands coming online may have had some effect on the relatively slow growth of luxury e-commerce, but I think there are other reasons, such as the shopping habits of luxury consumers.
Key differences between online and offline luxury shoppers
Google stats provide some insight into how luxury consumers shop. They tend to be more tech savvy, and the internet does play a big part when people are researching purchases.
75% of luxury consumers research online before making a purchase, with 68% using search engines for research. However, 72% of shoppers say they prefer to purchase in store, while 65% say they want to touch and feel products before buying.
The result is that, while e-commerce is still significant, the vast majority of luxury purchases are taking place in store.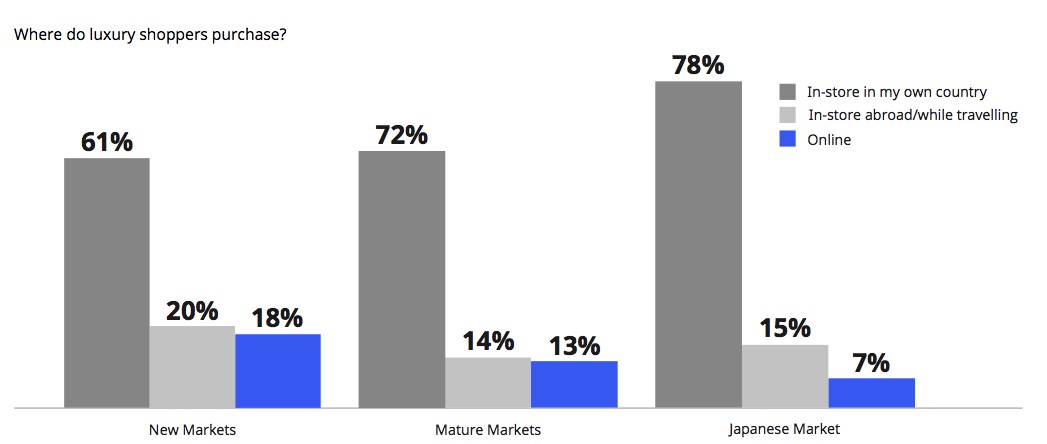 There are several reasons why people prefer to shop online, and KPMG summarises some of these in its 2017 Global Consumer report.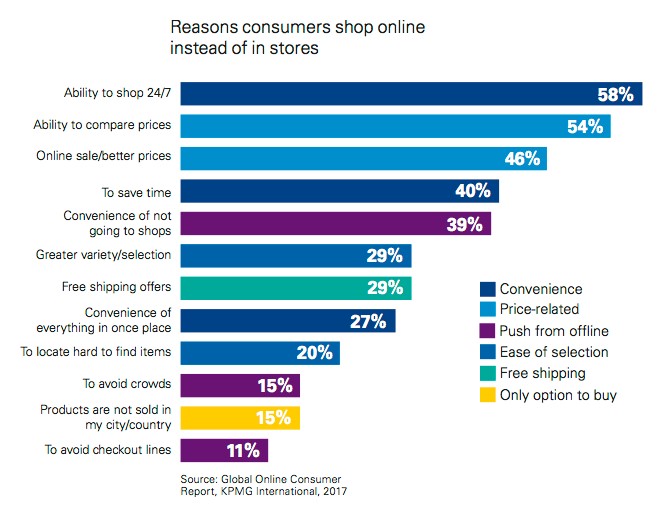 As we can see, convenience – in terms of easy access and saved time – plays a big part, as does price. People can compare prices easily, and there's also a perception that prices are better online (though this is not always the case).
These two factors are perhaps more of a concern for shoppers in general. This is certainly true of price. I'm sure nobody wants to pay more than they have to for products, but luxury consumers are likely to be some of the least price conscious shoppers.
Indeed, the same KPMG report cites brand as one of the biggest factors in the decision to buy a particular product, cited by 33% of luxury buyers. The average was 22%. These concerns outweigh price for many shoppers.
So, the biggest factors in buying online are convenience, choice and price. For many, it can be less about the buying 'experience' than finding the right product, at the right place, and having it delivered at a convenient time and place.
For offline luxury shoppers, these are the factors that deter them from buying luxury goods online: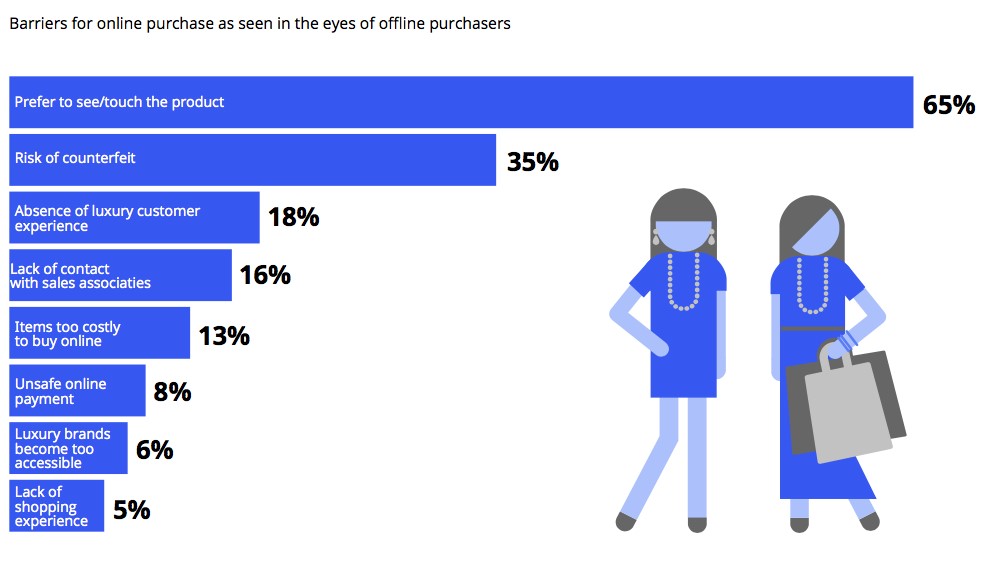 By far the biggest factor is not being able to see products up close, try clothing on, and just get a feel for products. The risk of buying counterfeit shouldn't be an issue with most luxury e-commerce sites, but clearly something buyers should be careful about when buying from places such as auction sites and private sellers.
The buying experience is clearly a factor too, with 18% citing the absence of that luxury/shopping experience, and 16% valuing contact with sales associates.
This is clearly a challenge for luxury brands as they seek to sell more online, and one reason why a physical presence will always be necessary for some.
That said, the online buying experience has come a long way. Customer service support for example, with live chat and one to one service. For example, Net A Porter provides fashion consultants and premier service for its online shoppers.
It's hard to reproduce the ability to see and touch products close up, but brands can at least make up some of the gap with excellent product photography and video.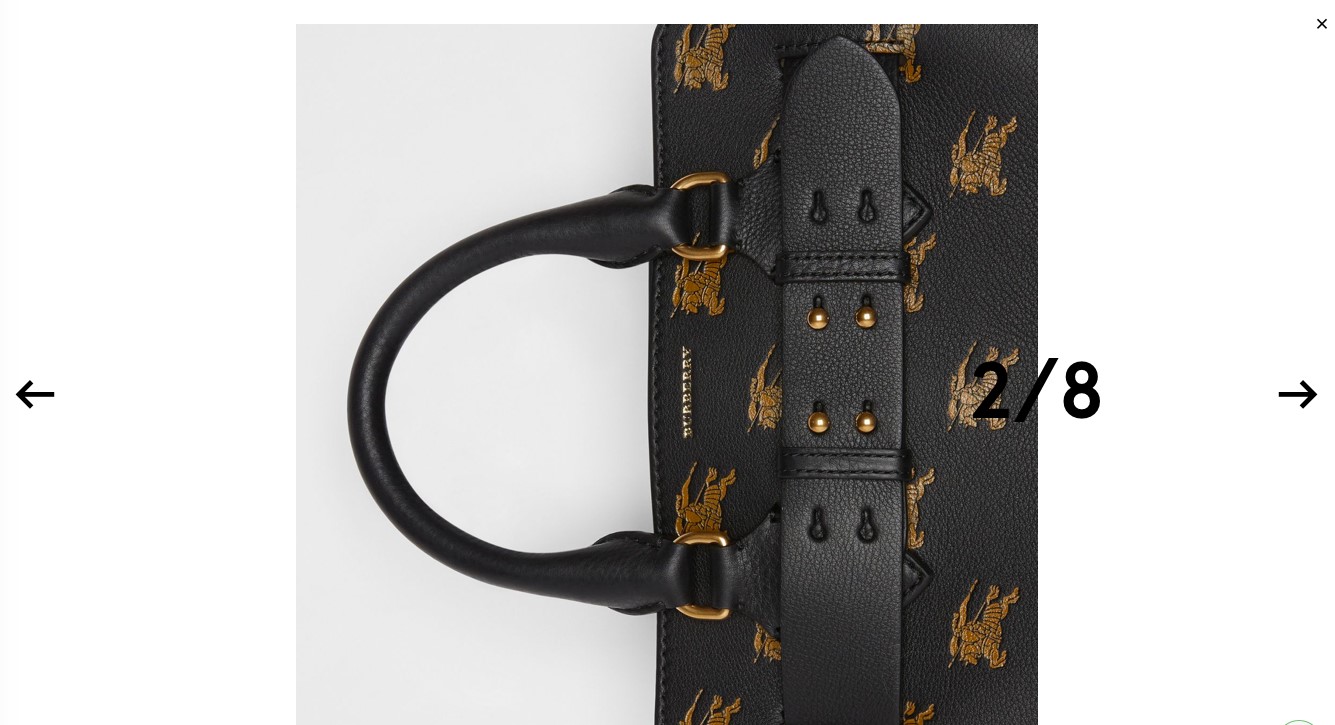 Why luxury retailers still need stores
A store presence is still vital for many luxury brands, and even some previously online-only brands have been opening stores. Net A Porter has used pop-up stores on several occasions, though mainly on a temporary basis.
Other brands have been opening more permanent stores, formerly online-only eyewear retailer Warby Parker now has several physical locations where people can have eye tests and try on frames.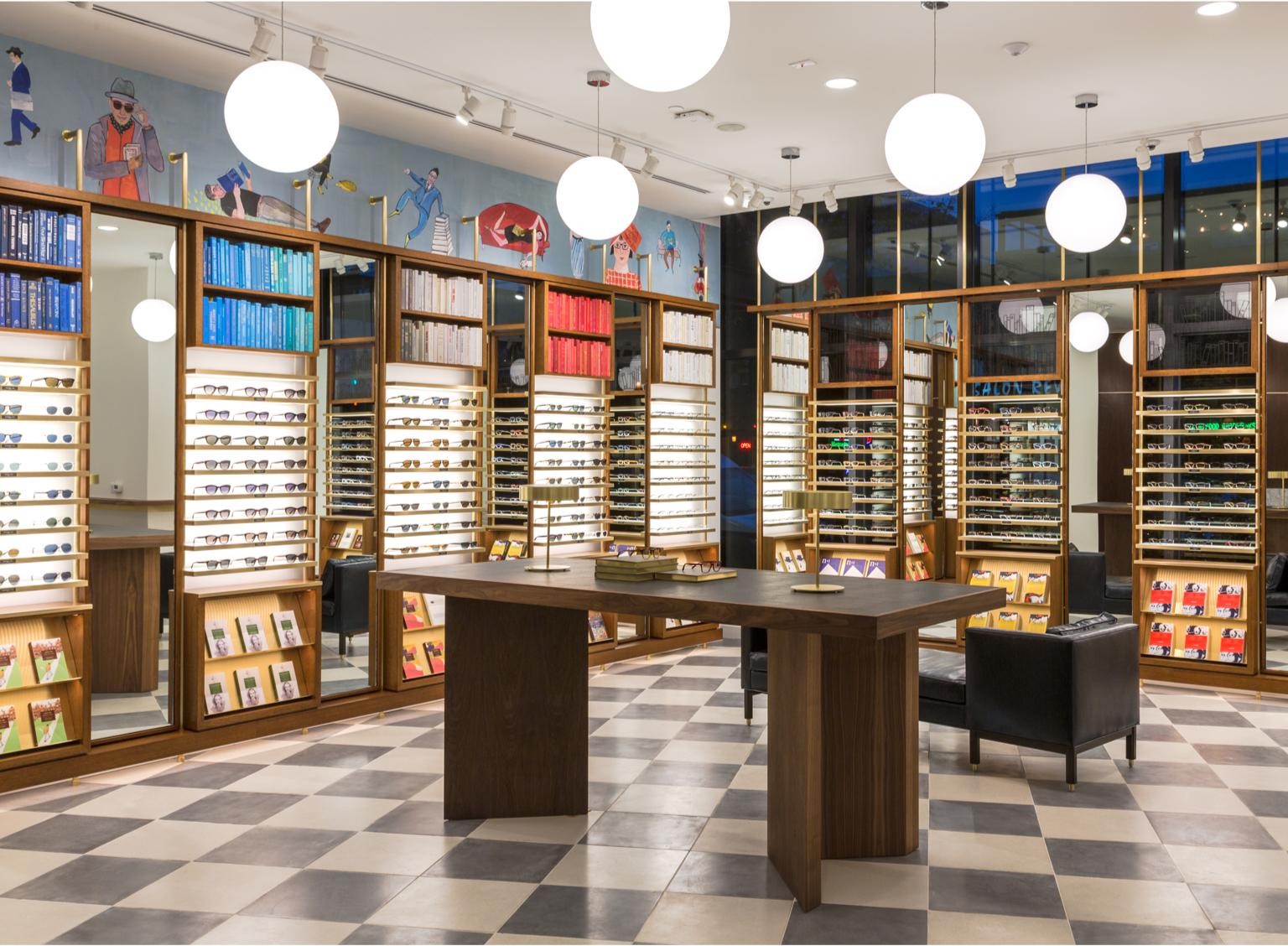 Warby Parker is clearly thinking about how stores can help boost a brand's social media presence. Luxury stores are thinking about how they can create 'Instagram worthy' spaces which inspire people to share their in-store experiences on their social channels.
Warby Parker's Green Room is one such example. It allows people to use a green screen to shoot 15 second videos on a variety of backgrounds.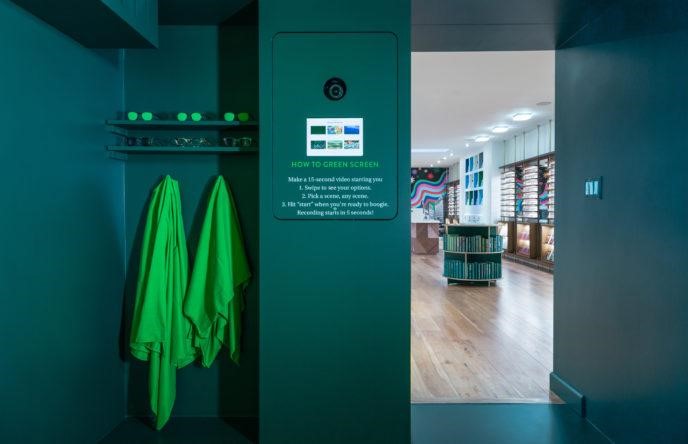 With online tools to try on frames virtually, as well as offering try before you buy on frames so customers can test out frames at home before deciding, Warby Parker has been working hard to overcome the barriers of being an online-only retailer, but clearly feels that having a physical presence as well creates a better experience for customers.
The interaction with customers is one major plus of having a physical presence. Shoppers can get help and advice from store staff, and it's, of course, the best way for them to get up close with the products they're considering.
There's an element of credibility associated with a physical store presence which is especially valuable for luxury brands. It establishes them as a real rather than merely virtual presence in some customers minds and offers that reassurance even for online buyers.
How luxury retailers can bridge the gap between online and offline
As long as the luxury consumer's preference is to buy offline, then luxury retailers and brands are likely to need some sort of physical presence, whether through their own stores or by selling their products through other high street retailers.
A physical presence can help retailers to sell more online, and vice versa, so it's not about whether online or offline is best, it's about providing choice for customers, and allowing them to shop and interact with brands in the way that suits them best.
As Warby Parker Co-Founder and CEO Neil Blumenthal explains, it's about providing the best all-round experience:
"It's [thinking about] what is an easy, holistic experience? When luxury companies sell you an incredibly expensive handbag, and then you can't return it to the same branded store either a couple blocks away or in another city, that is not a luxury experience. It's just keeping in mind the entirety of the customer experience, and also knowing that where product on its own used to be sufficient, now it's really about product, and service, and convenience. Ease is prioritized by consumers in a way that was never the case a generation ago."
Indeed, online and offline should complement each other. Luxury retailers can use their store networks, and the knowledge of their staff to encourage people to buy, whether online or offline.
Meanwhile, the ability to return items to stores and the reassurance that offers can persuade more people to buy online, safe in the knowledge that the store is there if they need it.
An offline presence also offers huge advantages which can be used to improve the offline experience too. An e-commerce site allows luxury retailers to gather huge amounts of data which helps them to learn about customers shopping and spending habits.
Lessons learned from this can be applied in stores, while those retailers than join up offline and online can provide a better experience for shoppers.
For example, Nordstrom's apps allow customers to check stock in local stores, select those they'd like to try on, to the extent that they can have a dressing room ready for the customer when they arrive with the clothes they've selected.
Luxury retail is changing and has to adapt to the internet. While we can expect more luxury buying to move online, stores will have a major part to play for some time. It's not about online or offline though, it's providing the whole package.
This package includes the product, the buying experience, convenient delivery, great customer service and more. It's about using the combination of websites, apps and stores, to provide that luxury experience however people want to research and buy.