If you run a local business, event or organisation, you'll know that footfall is your lifeblood.
And once you have a website to support your local endeavour, attracting traffic and turning it into visitors through your doors is a huge challenge.
Fortunately, you have a powerful tool at your disposal to help you – local SEO. Your website should be an extension of your brand, the online version that drives people to your bricks-and-mortar location.
Whether your site is marketing a florist, a dentist, a food festival or a sports club, local SEO is a highly effective way to make the most of your online home.
With 50% of those performing a local search on their phone visiting a store within a day, and 34% of searchers using a computer or tablet doing the same, the power of local SEO to increase visitors is clear.
Unlike many forms of local marketing, you remove the guesswork from who you are targeting. Local SEO is aimed at those who are looking for your product, service or offering, and in your area.
What is local SEO?
Every day, millions of us search online, and many of those searches are looking for something in a particular location or near to where we are.
When people look for a specific type of product or service, such as clothing, a plumber or tennis club, they often add a local term, such as a town name, into their query. Search engines understand this, and answer with local search results, often with a map and a selection of specific local listings.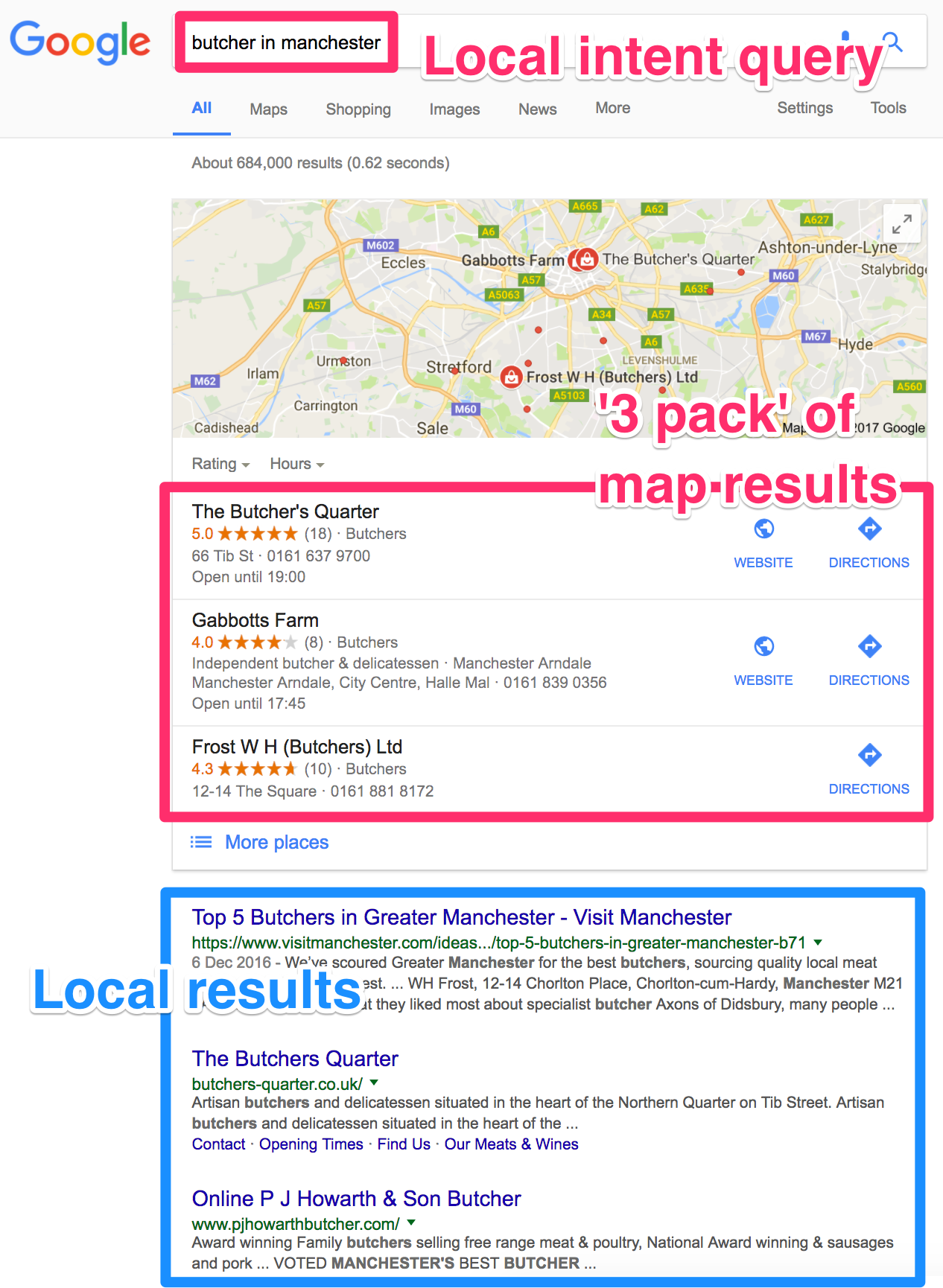 Similarly, there are many queries where a search engine such as Google and Bing will interpret local intent, even if you haven't specified one, and give answers based on your location – something that is more common as we search on our phones or wearable tech.
It's not until you begin looking that you realise how prevalent these kinds of searches are.
Put simply, local search engine optimisation (local SEO), is the tactic of making a site appear when someone performs one of these local searches. Its goal is to earn more traffic by appearing when potential customers search online for goods or services you provide.
For us, local SEO is about appealing when customers are searching for a local service, planning their next trip or appearing when they are in your area and suddenly realise they need what you offer.
A sub-discipline of SEO, local SEO is often a way for small businesses or local organisations to compete in search. Without the large brand resources often needed to rank for general search queries on a national level, small businesses can still rank for local SEO's more specific queries.
Why is local SEO important?
Because of the dual positives it offers:
more chance of ranking thanks to the specific nature of the search query, and the increase in 'on the go' searches gives local businesses and event & organisation creators more opportunity than ever to reach their audience.
targeting those looking specifically for what you offer – both product and location.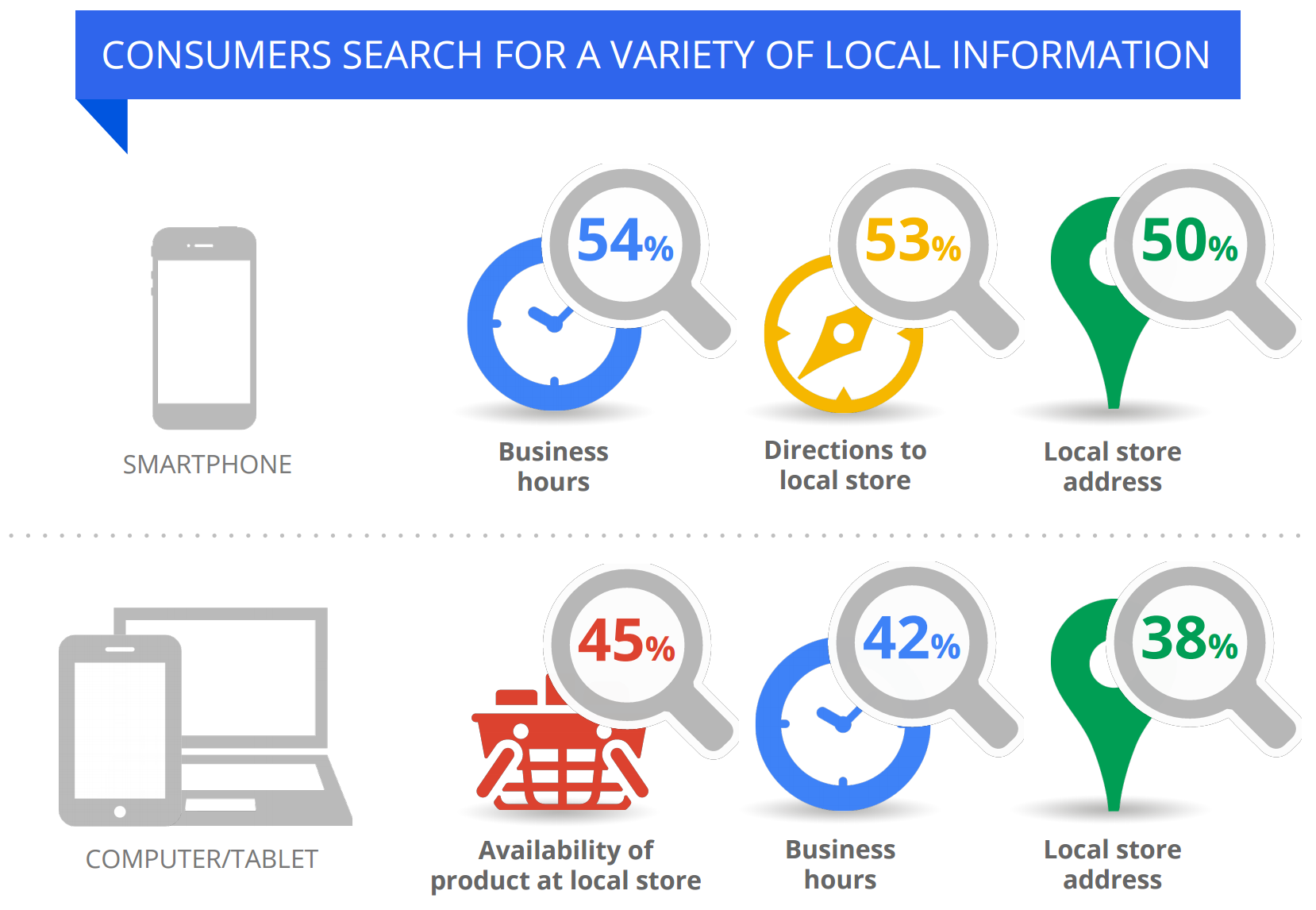 Nearly 1 in 3 mobile searches are local, and 18% of local searches made on smartphones lead to a purchase within 24 hours.
It is predicted that there will be 46.4 million smartphone users in the UK by 2018, and our increasing comfort with conducting on-the go searches means the amount of times Google serves local search results is constantly increasing.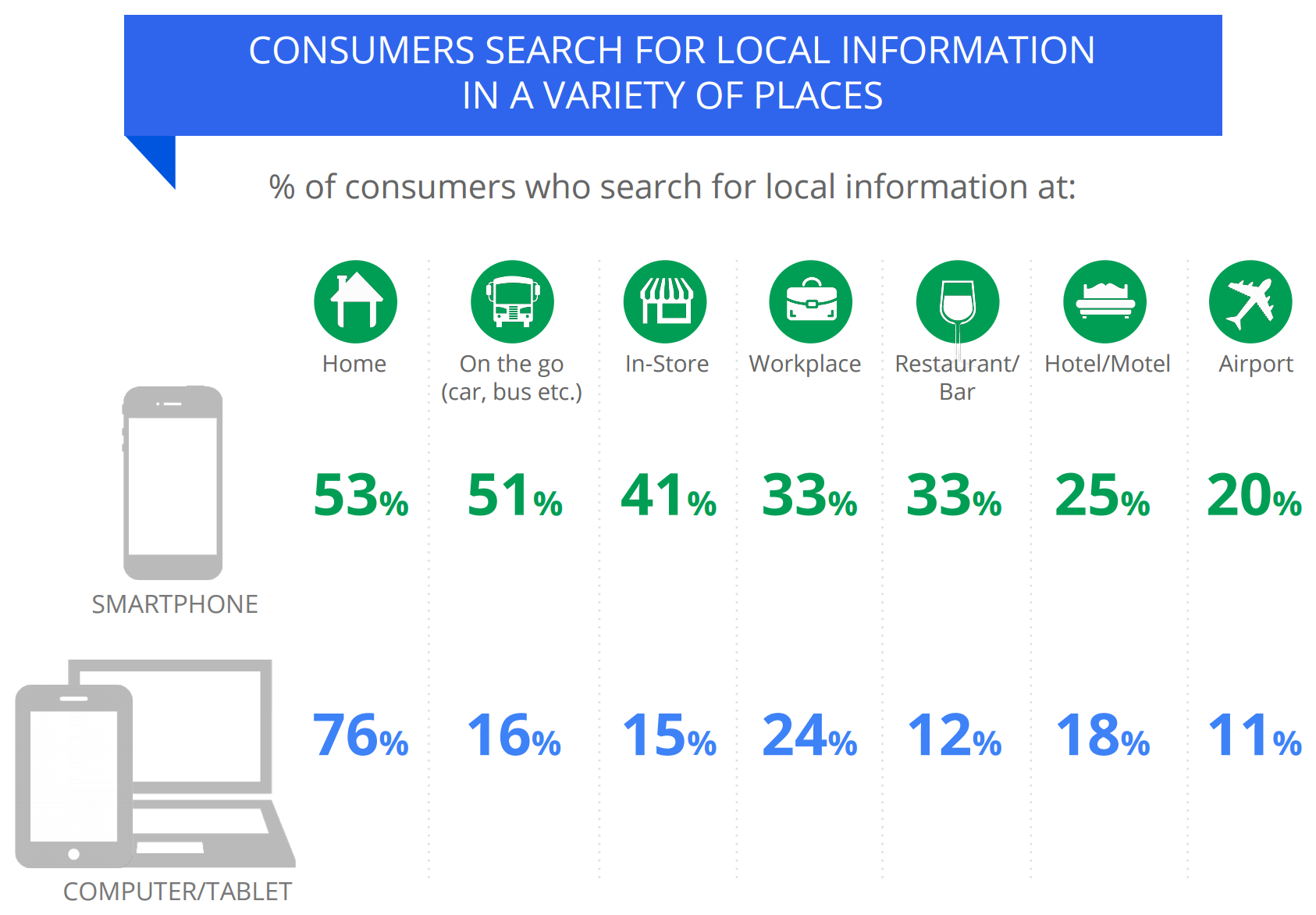 Over recent years, Google has doubled down on local. It has introduced new elements to its algorithm to make local searches more useful, constantly fine-tuned it's local result layouts, and made efforts to simplify the formally-confusing process of claiming your business listing with them.
Why?
With more searches done on mobile than on desktop in the UK, more and more of them have a local intent (56% of on the go searches and 51% of in-store searches have local intent according to Google) so this emphasis produces a better product for their customers
Google have started to introduce advert options within the maps on local results
By empowering small businesses, Google helps them earn more traffic, and in exchange have better search results (plus perhaps convince more local businesses to buy ads…)
As online competition increases, business owners are forced to target a more niche audience, and locality is one of the best ways to do this. Especially if you have a physical location in your operation's hub.
Sounds good! How do I get started?
Just as with its big brother SEO, local SEO has many different elements to consider. These combine to determine local rankings.
The three main considerations Google makes are relevance, prominence and distance. How relevant is your business, how notable and how close?
When it comes to the many ways we can improve local SEO, the main tasks can be grouped into four main categories:
Improve the on-page optimisation of your website for local search terms, feature local information (such as address and phone number), use semantic markup and create locally-focussed content
Claim and optimise your Google My Business listing – this is how you get and manage your placement on Google Maps, as well as influencing local rankings
Build citations on third-party websites, to help show you are an active business and make it easy for search engines to consistently see the correct name, address and phone number (known as your NAP)
Earn reviews and mentions on other websites, to help provide legitimacy, add review ratings to your search results and get links
That sounds complicated…
So, how do you learn local SEO?
As with much of building and marketing a website, getting stuck in is the best way to learn.
Don't be intimidated. Like many parts of running a local business, the important parts can be mastered. The key to starting a local SEO campaign is just that – getting started. By taking your first steps, you're already ahead of much of the crowd.
The fundamentals of local SEO are straight-forward, and dedicating a bit of time each week can generate progress.
You don't have to do this on your own; we've put together a huge guide to the whole process, guiding you through the changes to make to your site, how to claim your Google My Business listing, find citation opportunities, earn links and more.
And if that wasn't enough, we've also got a handy downloadable cheat sheet which summaries the key points for you to work on.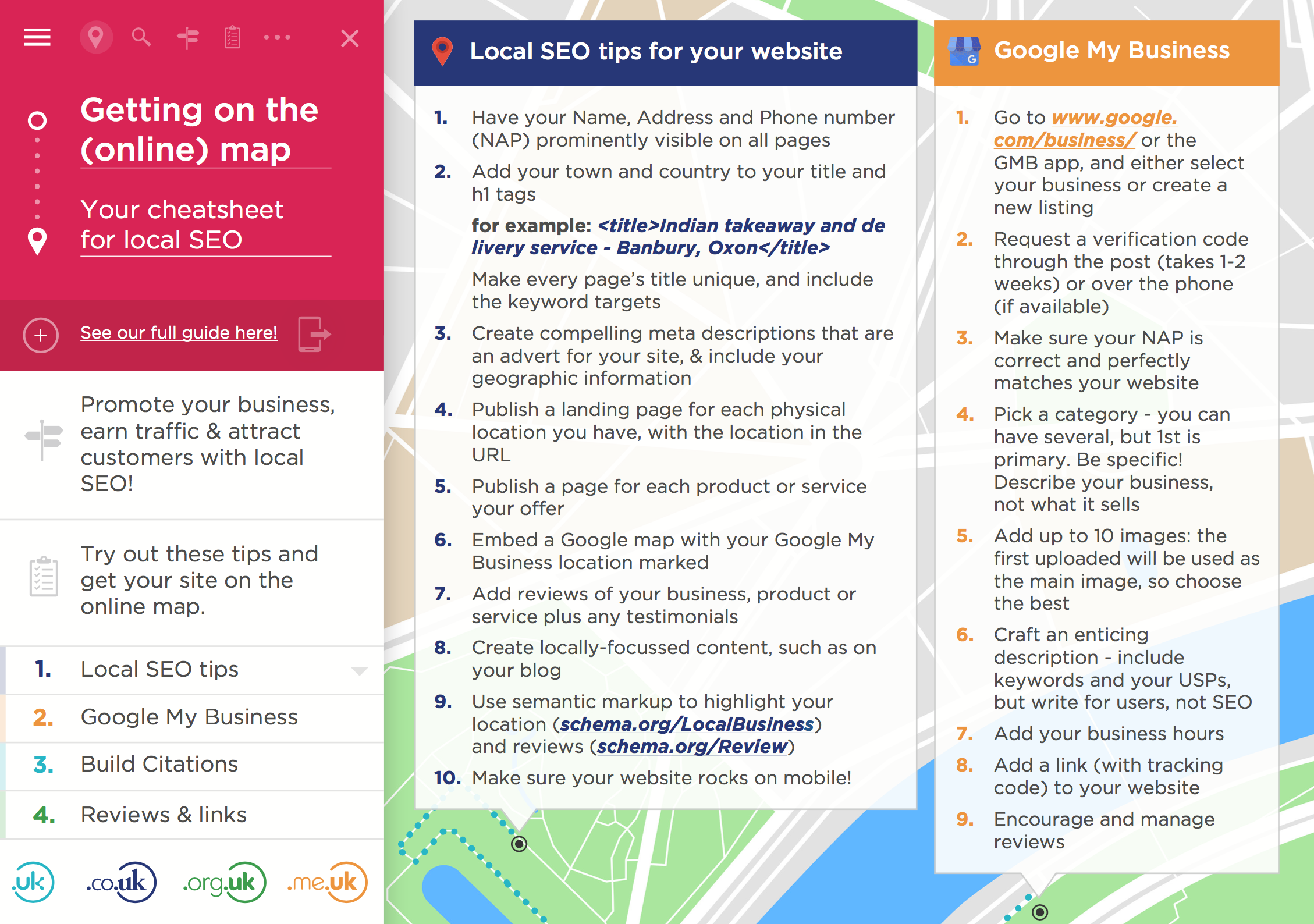 In summary
Local SEO is your opportunity to make a mark in search, and get your site on the map.
As with all local marketing, local SEO works well by being a great neighbour – being part of the local community starts the relationships you need to build content, brand awareness and links. Add in some technical know-how, and you have the formula for success.
So give it a go. People are searching for what you offer, and local SEO is your map to getting in front of them.