As GDPR comes further into focus, it's time to start thinking about intelligent, strategic marketing that doesn't get on people's nerves, or worse, breaches privacy laws. With this renewed focus on data privacy and the control that users should be granted over their details, contests should become a thought topic for marketers.
Contests have long been an easy way for marketers to obtain people's contact details, and the process usually involves customers being automatically added to a marketing mailing list when they submit their entry for a competition. This seems to have been the goal for a long time: capture people's contact details so that marketers can send them further information. Building a contact database is tough, and this method has been favoured for years as an easy way to capture and store people's names, email addresses, and sometimes phone numbers.
But, this isn't the only option. Although not specifically focusing on contests, in the study 'Evidence that user-generated content that produces engagement increases purchase behaviours' the authors concluded that "Based on this research, we recommend that marketers consider UGC creation as a potentially powerful engagement tool. We would contrast this with simply asking consumers for their email address or suggesting that they 'like' a brand on Facebook, perhaps in exchange for a coupon, as is currently more common in practice."
Is obtaining contact details from competitions still relevant?
While we've established that email marketing can still be effective, plentiful other benefits can be had from running online contests beyond getting email addresses.
Some of these are shares, impressions, and engagement.
Social media has had a profound impact on the way that marketers operate, offering a host of exciting opportunities. User-generated content is definitely one of them, especially when it comes to competitions. Not only does this extend the potential opportunities for creatively hosting a competition exponentially, but also allows for different KPIs (Key Performance Indicators) to be established. Depending on the goals of the marketer, it's worth considering that different insights and feedback from a different style of contest might be just as useful as contact details, if not even more so. No marketing email sign-up is usually required for social media competitions, and users also seem to enjoy the involvement.
These wider benefits from hosting online social competitions also makes me wonder whether marketers should start allowing for greater user control for non-user generated content competitions, for example, offering two checkboxes when people enter: one for contact details should they win, and one optional checkbox allowing people (on their own terms) to opt in to an email marketing newsletter. People should voluntarily choose to provide their information, not feel like they have to just to participate. The traditional process of automatically subscribing participants to a marketing newsletter from entering a competition is not really a true opt-in.
You might say that this might lose loads of email addresses and not be conducive to a marketing effort, but would it really be beneficial to send marketing emails to people who probably don't want to receive them in the first place, only to have them unsubscribe? Likewise, marketing emails sent to someone who isn't interested might just end up sitting in their junk inbox never to be read. Post-GDPR, email addresses will be rarer and still valuable for marketers, but people will be less likely to want to provide them.
Marketers want people to sign-up to inform their business efforts and sell products, but they need the right people to sign up; people who actively want to hear news and information about the company. User-generated content (UGC) can be a gateway for this and allows myriad benefits such as a greater reach for a campaign, but also through this broader audience engagement can allow the right people to subscribe to information – at their own discretion. It shouldn't be a concern that an audience is small or niche either, as long as they're aligned with the company's ethos and service/products. Less is more when it comes to quality contacts and valuable potential leads.
Marketing is being forced to become more specific and relevant
Due to customers facing information overload on the internet every day, tolerance for unnecessary marketing is low, and relevance is absolutely key. UGC competitions can help to appeal to the right people, who might choose to follow/subscribe to a brand's output or engage in other ways.
One example of a contest that inspired a wealth of UGC is National Geographic's Wanderlust contest, in which users were encouraged to share stunning images on social media for a chance of winning a photographer's dream expedition to Yosemite National Park.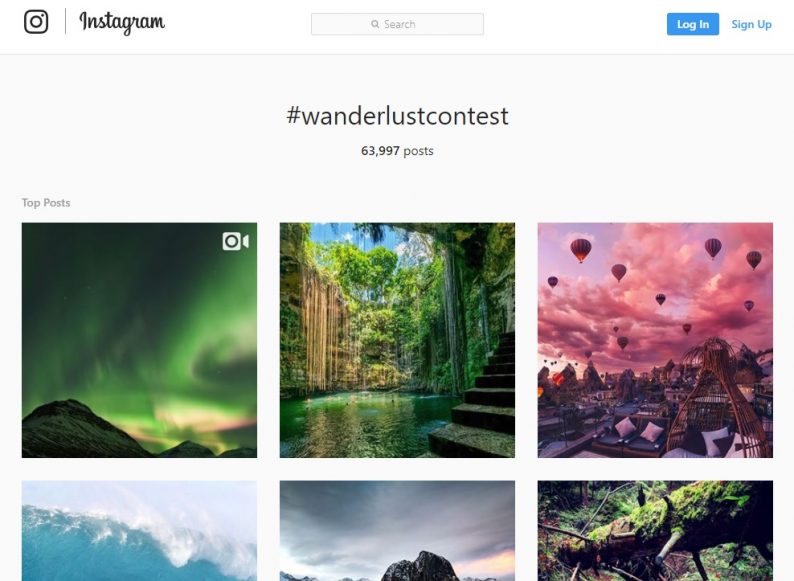 Source: https://www.instagram.com/explore/tags/wanderlustcontest/
The contest was a hit because the creators understood exactly what their audience was interested in (stunning travel photos, exploration) and had a prize that appealed to them.
As far as I know, no email addresses were garnered for marketing emails for this, and the hashtag was wildly successful. Likewise, another campaign that took off was Marc Jacobs #CastMeMarc campaign that sought to cast models through social media entries.
This was so successful, the brand had to hold a second contest due to the proliferation of entries streaming in. In both of these case studies, the companies propelled their own success within the context of their competitions by encouraging their followers to do things that they already love to do. All they had to do after that was to join in a discourse about it by using a hashtag. From social media users' perspectives, it may be considered easier to use a simple hashtag rather than sign-up/sign-in for something, another interesting usability concern.
From these examples and increasing studies on the matter, UGC contests could prove to be an interesting way for marketers to tap into opportunities introduced thanks to social platforms, affecting all aspects of a campaign from research methodologies to interaction.
If you're putting together competitions, ask yourself:
Is this GDPR compliant?
Do I really need someone's email address for this contest?
Are there other things to gain from hosting the competition aside from gaining contact details? (Think qualitative and quantitative.)
Would they want to be subscribed to a mailing list just because they want to win this prize?
Am I thinking empathetically about the wants of my audience?
Would a social UGC strategy be more beneficial in this instance?
If you want to run a social UGC campaign, remember to check the guidelines of each social media outlet so that what you intend to do is legal.
Gathering contact details doesn't always produce results, so make sure that your output doesn't equate to a one-way dialogue in which your audience ignores your messages or unsubscribes. The results that marketers want from their audience are strategic: click on an ad, buy a product, respond and engage, and so on, but getting there needs to be strategic, too.