Whether you've just sent out a social media post, published a whitepaper or updated your website or blog, we all know that content plays an important role in online marketing.
Did you know that it's just as important to measure content performance however? By doing this on a regular basis, you can:
Discover your best-performing content so you know what's resonating with your audience
Identify content that may need improving
Measure ROI. For example, if you've invested resources into putting together a whitepaper but are disappointed with the number of leads it generated, you'll need to think about whether to pursue this avenue in future or what to try differently next time
Determine what's boosting your SEO efforts. What's sending traffic to your website? What's getting the best engagement? What are people sharing?
Measure what's driving conversions. This is an important one because ultimately, you have a goal in mind when publishing content. This could be to send traffic to your website, to encourage people to join your mailing list or to generate more sales
Below I share some ideas of how to track content performance so you can measure its success.
How to measure content marketing success
Let's look at three free and simple ways small businesses can keep track of their content marketing success and gain valuable insights into content performance.
1. Google Analytics
Google Analytics is a free web analytics service which tracks everything that's happening on your website. It tells you how many people have visited your site, how long they spent there, which pages they looked at, how they found your site, which device they used, which country they're from, whether or not a conversion took place and so much more.
If you want to know how to track content performance, Google Analytics is without doubt one of the top tools.
With regards to content, the metrics you should be measuring through Google Analytics include:
Pageviews – how many views are pages or blogs receiving? If you monitor your blogs for example, do you notice a particular trend? Maybe some subjects get lots of views while others don't. This gives you a great indication of the type of content your audience likes to see
Time on page – this is important because if you lose people after a few seconds, it's a sign your content isn't as engaging as you'd like it to be
Bounce rate – this is measured when someone lands on your page and leaves immediately with no interaction. It's worth noting that if someone visits one webpage, gets the information they're looking for then leaves, this will record a time on page of 0 and a bounce, even if in this scenario the interaction is successful
Conversions – make sure you set up goals in Google Analytics. This is anything you want visitors to do from signing up to a newsletter to making a purchase. This will allow you to monitor the steps people took leading up to the goal, such as being exposed to a social media campaign for example
Page value – if you have an e-commerce website, this is another important metric to measure. Say you promote a new product on Facebook for example and someone clicks on the link and then goes on to purchase the product. Google Analytics will be able to track this and therefore place a value on that particular page
E-commerce tracking – if you have an e-commerce website, you can segment and analyse your data as well as discover relationships between your content marketing, user engagement and transactions
If you're new to Google Analytics, here are some great resources to help you get started:
2. Social media
Another great way to measure content performance is to keep track of how well it's performing on social media. This will enable you to replicate the campaigns which have done well and avoid making mistakes that result in content going unnoticed.
Here's how to measure content marketing success on your social media platforms.
Likes
We're all familiar with likes on social media and this one is pretty straightforward. If a post receives a lot of likes, it's a good indication your followers enjoyed the content.
You could add a column to your social media schedule for likes (and all the other metrics) so you can easily keep track of this. This will also allow you to compare likes across all your posts quickly and easily. If you're using a social media management tool, you'll most likely be able to gain access to these insights within the platform too.
Do remember to take into account factors such as timing. This can play a big role in engagement and you should experiment with the best days and times for your brand to post. If you send out a post at 11pm for example, depending on your target audience and industry, there's a chance it could get missed by a large percentage of your followers.
Comments
Pay attention to the content that tends to provoke discussion among your followers. Maybe it's when you post about a certain topic or ask a question. Have any posts promoting your recent blogs or ebooks seen more of your followers tagging their friends, family or colleagues perhaps?
Social media platforms prioritise which posts show up in news feeds based on 'meaningful engagement.' If people are interacting with a particular post, the algorithm detects that it's worth showing to more people, which is why comments are also a great way to boost your post and drive engagement.
Shares
Companies rely on people sharing their content to reach new audiences. This will also help to provide that all-important meaningful engagement that gets more eyes on your post. People are often picky about what they choose to share with their friends and family so if someone's willing to share your content, it means they value what you have to say.
As with all the metrics I've mentioned so far, it's very easy to find this information on social media. Simply head to your post and it will tell you how many likes, comments and shares it has received, like in this Instagram example below.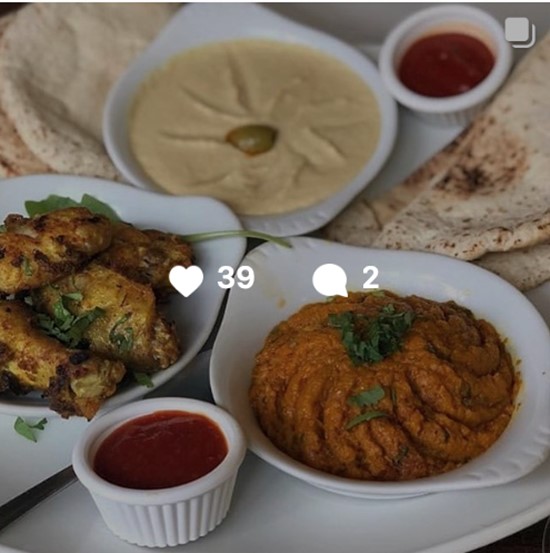 Clicks
If you're posting a link from a social media account to your website, chances are you want to know how many people have actually clicked on it.
You can either monitor this from your social media page or through Google Analytics.
Facebook
Simply click on the post and it will bring up a number of metrics including clicks and reach (I go into more detail about reach later).
Twitter
Simply click on your post, head to 'view Tweet activity' and then 'view all engagements'. You will be presented with the following metrics which includes how many people clicked on your link.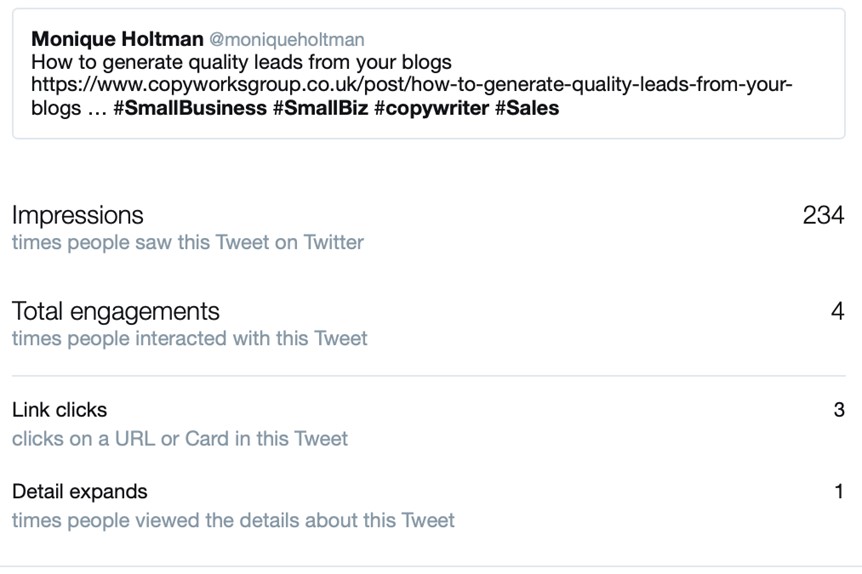 Instagram
Perhaps the most frustrating aspect of Instagram for small businesses is that you can't post clickable links on your posts. Once you have 10,000 followers you can access the 'swipe up' feature on stories which takes users directly to a web page.
Until then however, your only option is a link in your bio. You can either change this link when you have a new blog or page to promote or you can set up a linktr.ee account. This lets you post one link to your Instagram bio which then opens up into several links.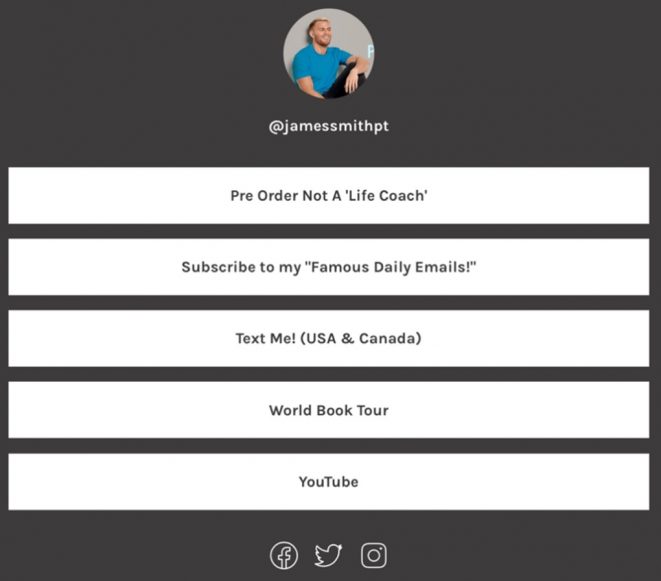 You can measure the performance of the link in your bio if you've set your profile up as a business or creator account. Simply head to 'insights', 'accounts reached' and then under 'account activity', you will be able to see website taps. You can choose to view this for the last seven or 30 days.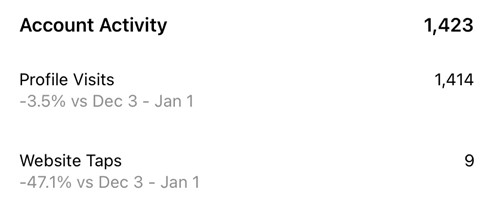 Social impressions
Tracking the number of impressions your content is getting will help you in two ways.
Firstly, it will help you to identify if you're posting at the right time. If your content tends to get much higher impressions when you send it out in the morning, you know this is a better time to post compared to afternoons or evenings.
Impressions is also a great way to measure content performance. If your impressions are in the thousands for example but you're getting very few engagements, this could be a sign your content isn't appealing to your audience.
You can check impressions on Twitter by simply clicking on the graph icon on your Tweet.

This is also easy to check on Facebook as it automatically tells you under each individual post how many people were reached.
Instagram offers some great insights into reach and impressions if you have a business or creator account. Simply click on 'view insights' under your photo and it will bring up the following information. This will also enable you to determine whether or not your hashtags are driving traffic to your account.
3. SERP ranking
Where you appear on search engine results pages (SERPs) is crucial if you want potential customers to find you.
If you're on page one of Google's search results for example, there's a stronger possibility that people will click on your site. The higher your rankings, the more traffic you're likely to receive which improves SEO.
If your website is ranking highly for your targeted keywords, it means Google considers it to provide value and is a good indication that your content is performing well.
From this you can gain valuable insights into why your content is performing well in search or what else you can do to give it a boost. For example, a good position in SERPs could indicate a new link building campaign is working well, you've chosen the right keywords or Google has identified your content as high-quality and relevant.
Let's take a bit of a closer look at keywords and how to monitor your rankings further. You'll likely have a set of keywords you're trying to rank for. These will consist of phrases that closely describe the product or service you offer, and they may appear on standard web pages or in your blog.
In an ideal world, you want your website to show up on page one of Google whenever someone types in these phrases. You can check this by simply searching in Google. This is quick and easy if you're on the first few pages but if you're way down the list, it can become time consuming.
You can also use Google Search Console to identify the terms you're ranking for as well as keep an eye on how your ranking changes over time. One thing Search Console tells you is what your average position for specific keywords is.
It's worth remembering that rankings aren't static – they can go up or down so it's important to keep an eye on this regularly. This also means you can identify whether you may need to update your content or make changes to improve your site's position.
You can monitor the keywords which are driving traffic to your site through Google Analytics. Simply log into your account and click on 'acquisition' on the tool bar on the left. From here, click on 'all traffic' and then 'source/medium' and this will bring up a list of keywords. If people are accessing your website through these terms, there's a strong possibility you're ranking well for them.
This is another good indication your content is performing well and also allows you to search for opportunities where you might be able to improve your position further and identify what type of content is performing well in SERPs.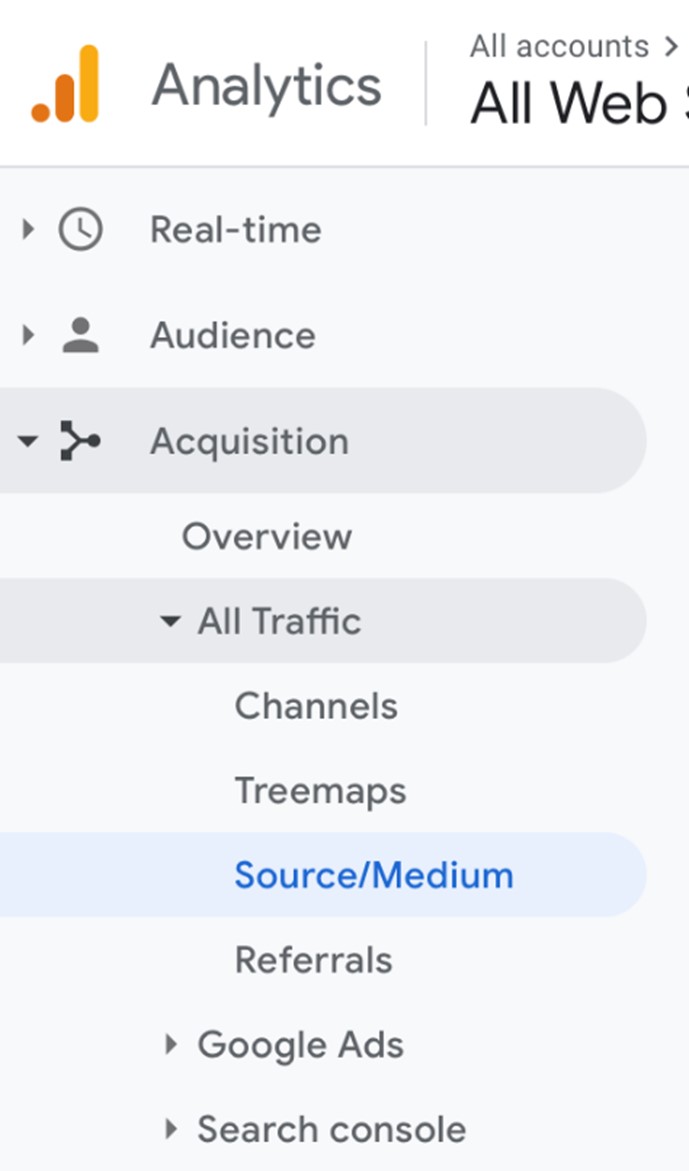 If you need help understanding more about keywords, this introductory guide to keyword research will be a great help.
Navigating Google Analytics, social media and SERP rankings can feel like a challenge to begin with. Once you get your head around the metrics however, it provides a fascinating insight into your business. Armed with the right data, you can learn how to produce content that's insightful and engaging while driving sales and boosting profits. What small business owner wouldn't be happy with that?