When building your CV, it can be very stressful and competitive for some, especially for those who have maybe had to take time off or are applying for their first job role. There are a lot of resources online that aim to help those who are not aware of the structure and style of CV writing. However, there are many people who lie and exaggerate their credentials on their CVs. In January 2018 the BBC's 'File on Four' programme investigated and discovered that "more than 3,000 fake qualifications were sold to UK-based buyers by a single company in 2013 and 2014" with "one British buyer spending nearly half a million pounds on fake documents such as master's degrees and doctorates." These were used as credentials on CVs.
Who is lying on their CV?
In 2015, the Higher Education Degree Data check (Hedd) survey showed that a third of students and graduates "embellish" and "exaggerate their academic qualifications." This has become a common and increasing problem. NGA HR services wrote a statement in 2018 saying, "90% of HR directors have found exaggerations on a CV or job application." This is becoming an increasing concern for employers as research shows that "the average organisation is spending up to £40,000 a year on these challenges." The issue of CV fraud can also impact other candidates that do have the qualifications for the job but are being trumped by those who have lied.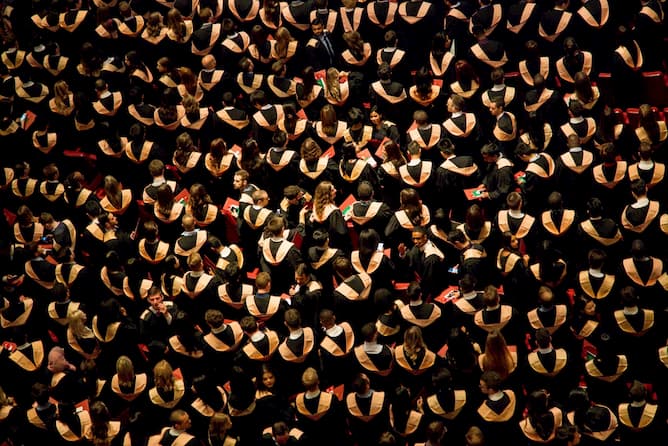 Why are people lying on their CVs?
The obvious answer is to look better than your competition when applying for jobs. However, there are multiple factors that contribute to the crime.
You may believe that it's because of 'lazy millennials'. However, many hard-working students and university graduates are struggling to find work after graduating due to underemployment, even with a 1st and 2:1 degree qualification. Gavin Fernando says that, "today it takes young people 4.7 years on average after leaving fulltime education to enter fulltime work. 30 years ago, it only took an average of one year."
This has the biggest impact on motivation of candidates and creates a lot of stress and anxiety. As the underemployment increases for graduates as Michael Koziol says in an article, these outcomes are, "significantly worse than before the global financial crisis."  This can lead to graduates and students fighting for job roles by including fake and misleading accolades within their CV, out of fear and pressure from the competition.
Equally, those that have been unemployed for long periods of time also feel this anxiety. Most candidates worry that having been away from work for a long time looks suspicious and therefore they may choose to lie about dates of their work.
Although these statistics are aimed and associated with students, university graduates, and the unemployed a lot of this fraudulent behaviour is also committed by those who are working in professional and "responsible roles." BBC's 'File Four' program revealed that one person working as a nurse managing an "agency for elderly and mental health clients", paid "£120,000" for dubious PhD, Master's, and Bachelor's degree qualifications.
Most commonly lied about fields on a CV
The NGA in 2018 released a study that showed the most common areas lied about on CV's found by HR Directors were:
Skills – 44%
Career history – 43%
Professional qualifications – 39%
Qualifications from university – 35%
Qualifications from school – 32%
Industry body membership – 27%
References – 24%
They also looked at areas that would have the greatest chance of "candidate removal" including:
Qualifications from school – 81%
Qualifications from university – 79%
Professional qualifications – 77%
Industry body membership – 76%
References – 69%
Skills – 53%
Career history – 52%
This is to show how serious these offences are and not an indication of what you can get away with. The bottom line is that it is fraud and people need to be careful and more honest, especially with offences such as those stated above.
The difference between outright lying and exaggeration
There can be confusion as to what is classified as lying and what is seen as a white lie. In retrospect both are wrong and fraudulent. However, most offenders classify the following as exaggerations:
Exaggerating dates of employment – this entails prolonging your actual attended time during an internship, work placement, or company for example.
This is not beneficial to candidates and employers as it might seem like you have more experience that you actually do but employers will test your knowledge and could catch you out. Equally, if you are applying for jobs after a long period away from work it is better to be honest about your time off, tell employers and don't be anxious about it. Employers are people too, and most likely will understand and not penalise you.
Extending hobbies and interests – some candidates may exaggerate interests to sound more interesting or even reflect interest of your employer contacts. For example, in a study conducted by Ebuyer (online tech retailer) in April 2018 of 2,000 UK office workers, nearly 47% had "embellished" information in their CV. One candidate said, "I like horse riding as I knew the owner liked it a lot… in reality I hate horses."
This not beneficial to employers or to the candidates as this doesn't reflect your true personality. Conveying your actual interests is more exciting to employers as your interests can be different to usual responses.
Exaggerating skills – most people are familiar with Microsoft Word, PowerPoint and basic applications such as these. However, they might not be as skilled in programs like Microsoft Excel or photoshop. Even if you have limited experience with the app some candidates exaggerate the level of skill they have.
This is not beneficial to either parties in the employment process. If you apply for a certain role that requires a program/skill, there's no way you'll be able to perform that role effectively, if you lie/exaggerate. Even if you have some experience of a program, employers may ask you to do things that you are incapable of doing.
Exaggerating educational achievements – Some people may have started online courses for a subject and have completed half of the course and gave up. They then say to employers that they have completed the course which is not true.
Again, this is not beneficial to either parties. Employers will ask candidates about their experience with the course and test their knowledge. Exaggerating any form of educational achievements is pointless, it shows no development other than name dropping institutions and these offences can be easily found out, as shown above.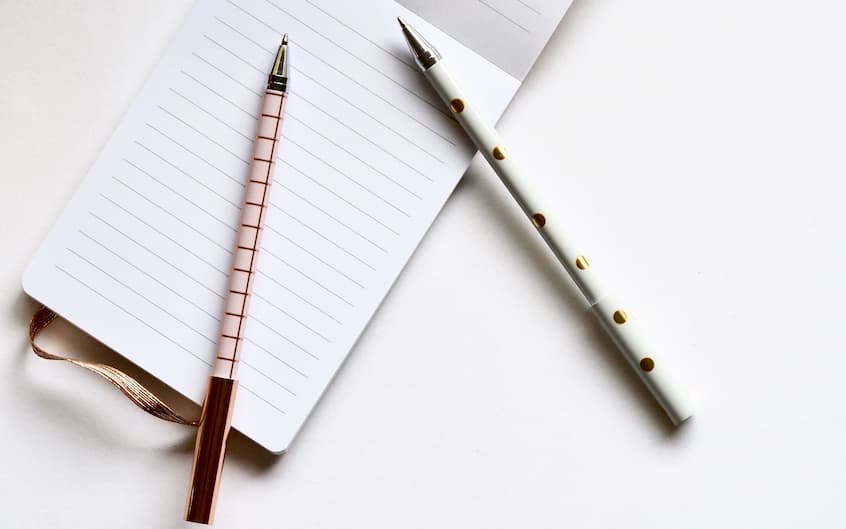 The repercussions
Senior solicitor and head of employment firm 'Aston Bond' states, "lying counts as fraud and you can be dismissed for gross misconduct, fined or even sent to prison if the authorities choose to make an example of you."  
In the image below, it shows the legislation act against fraud and what is defined as fraud.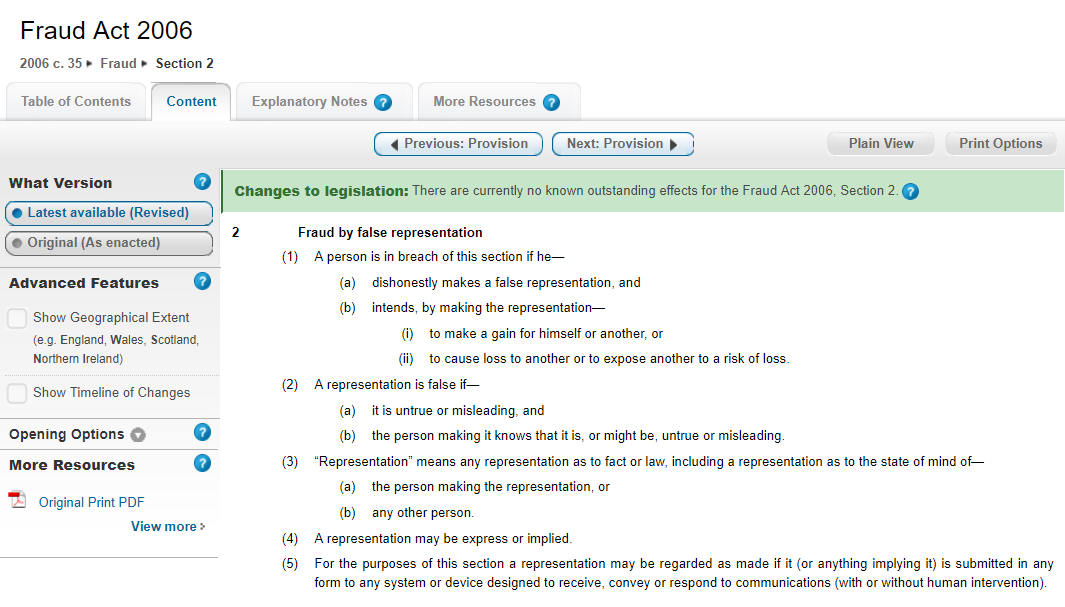 Source: legislation.gov.uk
Another repercussion of lying and exaggerating your CV is that, if a company you are applying or working for finds out that you have committed fraud, they can report you to the 'Credit Industry Fraud Avoidance System (Cifas) internal fraud database'. This then means that if you tried to apply to other company it would be flagged up that you have committed fraud in the past and could deter employers from acknowledging you as a candidate.
If you think you won't be caught, you are mistaken. There are browser extenders such as "talent analytics", which can extract and save data on candidates from multiple websites and social media profiles. This then helps to eliminate any discrepancies, with regards to your stated achievements.
In overview, you should not lie your way to a job role that you deserve. Likewise, you should not feel the need to lie because of employment pressure. Employers base their recruitment roles on personality as well as academic achievements. Honesty really is the best policy and will advance your career in a much better way than through lying and exaggerating.