Much advice around SEO revolves around what businesses can do on their own websites to maximise their search rankings.
This includes features of technical SEO – optimising title tags and creating site maps, and content related optimisation techniques, such as keyword research.
Off-page SEO refers to actions taken outside of your website that help to influence and aim to improve search engine rankings.
While it's important to maintain on-site SEO as a key search marketing tactic, a well-executed off-site SEO strategy can complement these efforts and help your content to stand out.
In this article, I'll look at why off-site SEO is important, how it affects search rankings and some key off-page SEO strategies and tips for small businesses.
Why does off-site SEO matter?
There's a lot that businesses can do to optimise their search rankings on-site, from making it easy for Google and other search engines to find and index your pages, to creating content that attracts visitors to the site.
However, there are other factors that Google takes into account when determining where websites should rank for particular queries, and many are not directly influenced by on-site SEO.
For example, the Moz ranking factors survey, which asks SEO experts about what they think are the most influential ranking factors in Google's algorithm, features many off-site factors.
These include domain and page-level link metrics, as well as social metrics. Generally speaking, these are factors that are out of the immediate control of the site owner but tell Google about the site's reputation and authority.
Domain and page-level metrics reflect the relative importance of websites and pages compared to other sites on the web.
This is a measure of domain and page authority, measured by how relevant, authoritative and trusted other web users think they are, indicated by how often they use or link to these pages.
There has been some debate over whether social metrics impact SEO, but many now see this as an influencing factor, albeit one that is less important than domain and page-level metrics.
Key metrics such as follower numbers, numbers of views and shares, and general engagement could be used by Google, while the ability to rank with social posts in search results (YouTube videos, Facebook pages etc.) certainly helps a brand's visibility.
Links matter to Google and the other search engines, and there is a clear correlation between links and rankings, as shown by ahrefs: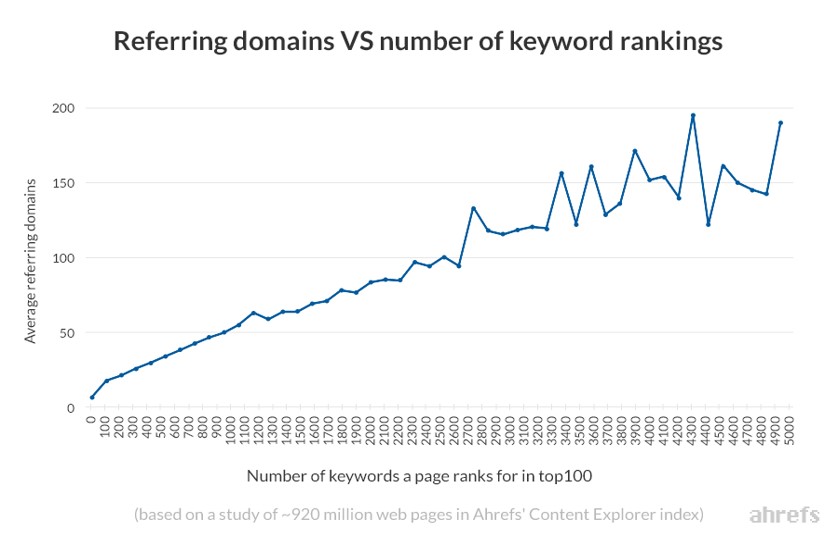 Links are one of the biggest factors behind the way a site ranks for a particular term. Alongside a number of other signals, Google uses PageRank to calculate the relative importance of a website or page by looking at the quantity and quality of the other pages that link to it.
The exact calculations used by PageRank are closely guarded by Google, but broadly speaking, three factors are taken into account:
The number of pages linking to your site, and the quality and relevance of these links.
How many outbound links are on each linking page.
The PageRank of the pages linking to your site.
Quality is an important consideration here. In the past, SEOs have been able to improve a site's ranking simply by accumulating as many links as possible. This is something that Google has attempted to address in various algorithm updates, and so mere quantity of links will not help in most cases.
The quality of the ranking site matters. If you have a link from an established site like bbc.co.uk which Google knows and trusts, then this link will matter more. Additionally, generally speaking the more links a page has, the less benefit each link gets. 
Therefore, much of off-site SEO is about building links back to your website and content, as a way to improve the way Google and other search engines view your website.
Off-site SEO doesn't end with link building though. In fact, almost any activity that occurs outside your own website which can help, directly or indirectly, to improve your search ranking fits the bill.
This could include things like social marketing, guest blogging on other websites, influencer marketing, and anything that generates mentions of your brand and products.
Off-site SEO strategies
These are some of the most common off-site SEO strategies, all designed to build links and increase brand awareness.
Link building
It's important to avoid link building strategies which may fall foul of Google's rules, specifically buying links, or link exchange schemes. Any short term benefits are outweighed by the risk of being penalised by Google if found.
Instead, link building should look to earn links through good content and promotion. If you create products and content worth linking to, then these links will be more relevant and therefore more valuable.
As Sarah Miles explains in this guide to building backlinks, link building can begin with business listings in places like Google My Business, Yelp, Bing and others. It's important to ensure that any directory sites are of good quality.
Many links are acquired just by promoting content effectively. Some marketers will email sites specifically asking for links, but this isn't always necessary. However, when a site does mention you or use some of your content, then asking for a link isn't unreasonable.
Customer service
If your service is excellent, then this can be used as a way to market your brand. Good service generates brand mentions on social and elsewhere and can help to build awareness of your business and, by extension, the content you produce.
Influencer marketing
There is some cynicism around influencer marketing, and with good reason in many cases, as many just see it as celebrities being paid thousands to use a certain brand's products.
For small businesses on limited budgets, this type of influencer marketing is unrealistic, but there are types of influencer marketing that can produce results.
For example, if you identify key influencers (there are some tools for this task) then you can consider gifting them products in return for endorsement. This can work well when there is a good fit between products and influencer so any endorsement looks natural.
Another tactic is to identify key influencers within your industry that can help you to promote your content. For example, tools like BuzzSumo not only help to measure your content marketing, but also help to identify people that can help with promotion, or have already helped.
Social media
A strong social strategy also helps to build both brand awareness and links. As a channel for promoting content, social media can get your articles and videos in front of more people. If the content is good enough, then it will naturally attract links over time.
You can be proactive too. For example, finding key influencers from sites you're looking for links from and targeting them with relevant content can be very effective, as in the example shown here.
Brand mentions
Brand mentions can come from a variety of sources, including many of the strategies outlined here.
It can pay to monitor mentions to get a feel for what's working, and the sites that are mentioning you. Here you can be proactive, being alert to sites or influencers that mention you with content or even asking for links back to your site for current content alongside brand mentions.
Guest blogging
Guest blogging is a great way to build brand awareness and create mentions and links to your content while sharing your expertise on a relevant topic.
When looking into guest blogging, it's important to carefully consider the sites you want to write for and their relevance to your products and content.
If you're known in the industry or active in certain groups, then you may receive offers to guest blog, but otherwise, you can contact sites directly and offer to help them out with content.
Here, it helps to have a strong article idea and outline, or even a few. Looking at the target site and understanding the topic and content it creates should help to make your proposal more relevant.
Guest blogging can earn you links and can help to promote your brand, but it's important not to do it just for this reason. Self-promotional content created for this purpose can be dull and is easily ignored, so it pays to make the effort and create good content for the site and its readers.
Content
The single most effective thing you can do to build links is to create content that people want to link to. Good quality, useful content can pay off over time in a big way. When it works well, it can attract links from other sites, and if it can consistently rank well, more links will follow.
It helps to think about different content types to use. Content should be written for the reader primarily, but it pays to keep SEO in mind when writing, being aware of target keywords, and linking effectively to other pages on your site.
The content types you choose will depend on your site and products. Infographics and visual content can help for short-term campaigns and perhaps help you pick up press coverage, as can more news-related pieces.
In my experience though, some of the most useful content is evergreen, working over the long-term. This may be content that addresses key customer questions, such as educational content around the products and services you offer.
This ideally answers some of the searches from your target audience and, if useful, it will attract links and remain relevant over a longer period of time.
Summary
Since many of the things affecting off-page SEO are out of your control, it may seem like a harder task than optimising on-site content.
However, it's well worth paying attention to, as just a few extra links generated from off-site SEO can make a lot of difference.
Also, if you have taken the time and effort to create the best content you can, and optimised it effectively, it's worth making the effort with off-page SEO to give your content greater exposure.