Last year, Brits spent an incredible £133bn on the internet, and as interest grows in high quality, unique products, there has never been a better time for independent sellers to thrive online.
Although marketplaces like Amazon, ebay, Etsy, Not on the High Street and Craigslist make it easy for us to sell products and services, should we be relying on these sites alone for future growth and sustained success?
I have been asked several times over the last few weeks about the best ways to gain more exposure for online shops that exist on marketplaces. After some initial research I discovered that in the UK alone there are more than 500 independent business selling on Not on the High Street, yet only 11 hit the one million pound turnover mark. I looked closer at a few of the most successful sellers and discovered they had one thing in common: their own online presence.
While there is no disputing the benefits of marketplaces, it's important to be aware of how – when used in conjunction with a high performing site – an independent seller can gain a competitive edge through a multi-channel approach.
Taking advantage of marketplaces
1. Inherent trust
Popular marketplaces are well-known and are therefore trusted by consumers. Customers are confident that payments are secure, data is protected and that sellers adhere to strict terms and conditions that ease the process of getting a refund, should they need one.
2. Exposure
One of the major factors in reaching a good position on Search Engine Results Pages (SERPs) is through the proper use of keywords throughout your website. However, competition is very high in retail, which makes it almost impossible to rank well for search terms. Popular marketplaces are well established sites and will carry a lot of authority, so they are more likely to rank well for search terms or phrases.
For example, when searching for 'brown leather bags' on Google Amazon appears fourth and Etsy appears sixth (if we dismiss the adverts).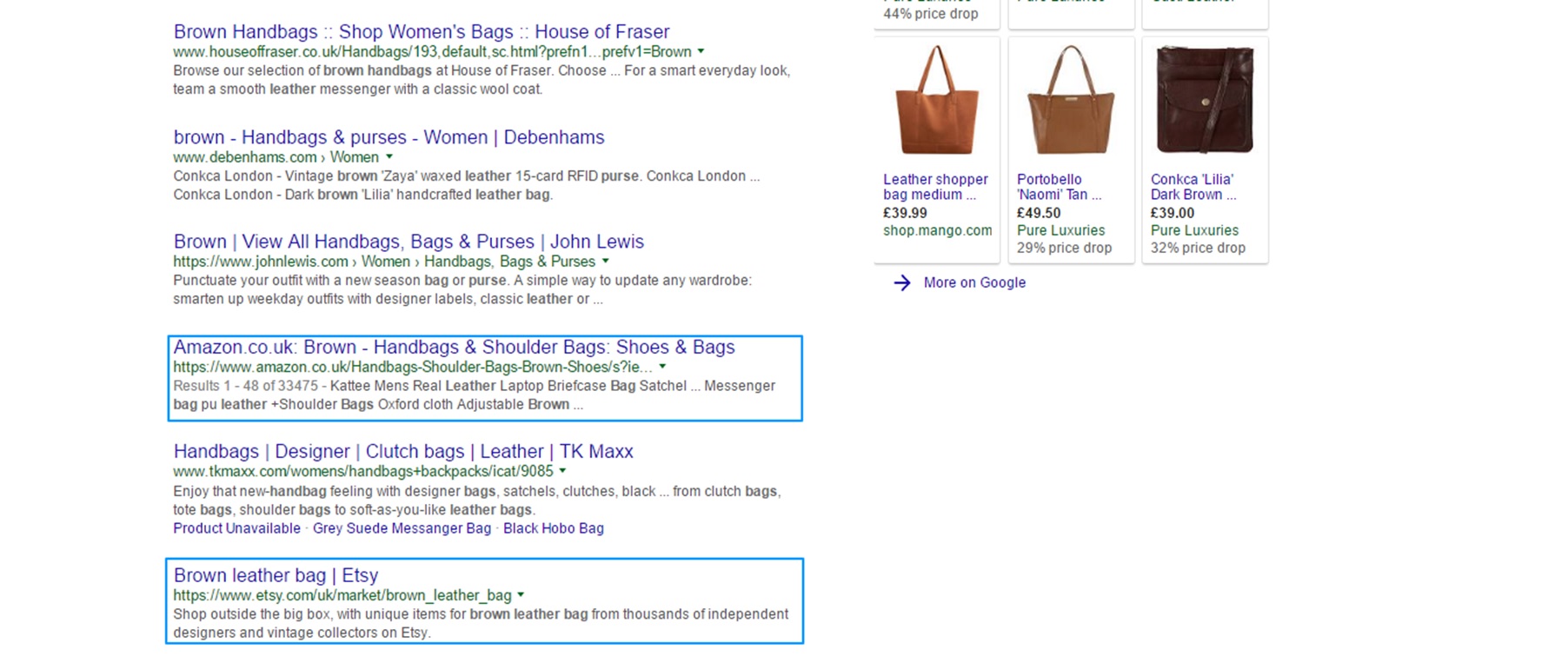 If you offer products that aren't particularly unique and are commonly searched for, you can leverage the authority of these sites to increase your chances of being seen.
3. Marketing/promotion
Marketplaces will inevitably have a large marketing budget and will regularly send beautifully constructed emails to their vast mailing lists. This is particularly handy if you sell personalised gifts, as these sites are usually very good at creating hype at seasonal times such as Mother's Day, Valentine's Day and Christmas.
Although these email blasts may not directly link to your products, they help drive more traffic to the site which will increase your chances of being seen. Third party sites may also offer advertising incentives to sellers, which will provide access to subscribers. Take advantage of these opportunities where you can.
4. Inbuilt SEO features
Use the SEO features that are integral to the marketplace platform. For example, when listing new products, make sure to use search terms that your audience will likely use and consider what makes your product unique. It is also a good idea to include anything that makes your product distinguishable and therefore more attractive; for example, if your products are handmade, mention it!
5. Link to your site
If you already have a website, most marketplaces will allow you to link to it. Although these will inevitably be 'nofollow' (the link juice isn't passed to your site), having a link on these sites can help drive more traffic to your own.
Benefits of having your own online presence
1. Greater control
According to a report from 2014, 66% of the highest earners that sell products on marketplaces such as Amazon said that they were concerned about managing customer relationships. Selling on your own website gives you the ultimate control. Not only are you free to set your own terms and conditions, you may also find that you are better equipped to manage complaints or questions regarding products.
You can also use your site to capture customer data by offering them incentives to subscribe. In this way you can build a list of subscribers to target at a later date with personalised messaging.
2. Increased revenue
Selling directly to the customer means there are no commission fees to pay. You will still have to pay transactional fees if using PayPal or credit cards, but by establishing a good pricing model you can ensure that you are cashing in. In fact, you may find you are able to sell your products slightly cheaper on your site because you aren't having to pay for commission. That said, if you're successful at selling on a particular marketplace, I wouldn't recommend undercutting your primary channels.
3. Give the people what they want
Consumers, particularly younger shoppers, are savvy. They conduct in-depth research on brands and products and tend to make less impulsive purchases and more informed decisions. What information are they searching for?
• Your personal or business bio: if people can connect with your brand they are more likely to buy from you
• Product research across social media: 40% of global millennials (aged 16-24) use social media to conduct product research
• Reviews: according to BrightLocal, 84% of people trust online reviews as much as a personal recommendation
Ensure all this information is accessible and include reviews and links to your social media accounts on your website. Not only does it make it easier and faster for your consumers to research you, it also provides an awesome user experience. Additionally, if you're managing multiple social media accounts and attracting reviews, this is will help with the visibility of your site – the solution is two-fold!
4. Future proofing
Consumers in the 18-24 age bracket are far more likely to search and shop with independent retailers online – a trend that will only continue. This is great news for independent retailers offering something unique, but only if you convey a strong and emotive story behind the products and services that you offer. Furthermore, you must ensure that consumers trust your brand by having a functioning website that can offer them a top-notch experience with safe and secure payment options.
5. More opportunities to reach consumers
A multi-channel approach creates more touch points with the audience throughout the path to purchase. If you're active on blogging sites, social media and marketplaces, you are increasing your chances of being seen and will be far more likely to drive traffic through to your site.
6. Better control over SEO
Having your own site allows you to be in control of your SEO efforts in a number of ways:
• Meta descriptions and title tags
Unlike most marketplaces, your own site gives you control of your own meta descriptions and page titles. These appear underneath the search snippet on search engines, for example, when searching for 'reclaimed wood art', the meta description on Etsy is generic and more to do with the range of products on offer.

However, when you list products on your own site, you can create enticing and highly converting descriptions, such as offering a 10% discount on first purchases.
• URL structure
URL structure is important to the user experience and for SEO: URLs that are well structured and include keywords will help with your ranking ability. A marketplace may create the following URL for your product:
marketplace-example.com/view/page/id34584/
On your own site, you can apply a considered structure and therefore inject proper meaning into your products and categories. For example, a good URL structure would contain product keywords like this:
mysite.uk/giftsforher/mugs-blue
• Page optimisation
Although we have previously said that it's hard to rank for keywords used by large, well established sites, this shouldn't put you off, particularly if you have a unique product or a USP. On marketplaces, you are competing with hundreds, if not thousands, of other sellers and it can be just as hard to stand out. Instead, focus your attention on developing your own site and you'll have a better chance of attracting those customers who are looking for something unique.
• Content marketing
One of the most effective ways to improve your SEO efforts is to attract links from trusted sites, and the best method of achieving this is to produce great content that people will link to. You could incorporate a blog onto your site to talk about your business, your ideas and your design process, and use it to share information about your niche. Not only will your site benefit from external links, you will build a valuable connection with your audience, helping to instil trust.
7. Tap into the 'Buy Local' movement
Currently, there is a 'Buy Local' trend across the UK. More people are making conscious decisions to buy locally or nationally as opposed to importing goods. A lot of independent sellers are making the most of this trend: for example, Jacks and Stripes use their locality as their USP and report that consumers buy their products knowing that they are handmade from reclaimed wood found in Somerset, England.
If you have a similar USP for your products, let your customers know where you are located by getting a UK domain name.
Final thoughts
There is no doubt that established marketplaces provide fantastic opportunities for independent sellers but in a competitive world – where buying behaviours and attitudes dictate that businesses must be highly visible, trustworthy and transparent – there is no substitute to having your own site. Ultimately, managing your own website provides direct access to your customers and allows them access to you, your story, your brand, your social networks and any linked external shops from one central place; a central place that you have complete control of.