Podcasts have taken the world by storm in recent years, with over 7 million people listening to them each week in the UK alone. As well as enjoying listening to them on your morning dog walk or on a long car journey, why not take advantage of this increasingly popular form of content to promote your small business?
It's a highly personal format that, according to research, many people download and listen to with their headphones on. This gives you a uniquely engaged audience who are tuning out all other distractions to listen to what you have to say, making it second only to a one-to-one conversation – only you can potentially achieve that connection with a nationwide or even international audience.
If you'd like to venture into the world of podcasting as a way of sharing your business's expertise with an engaged audience, one of the things you'll be needing is a way of recording and editing your podcasts.
The good news is that you don't need an audio engineering degree in order to create and edit a professional-sounding podcast. With that in mind, today we're looking at the best podcast software to help you start harnessing the power of podcasting to promote your business. Let's look at each of the big players in turn.
1. GarageBand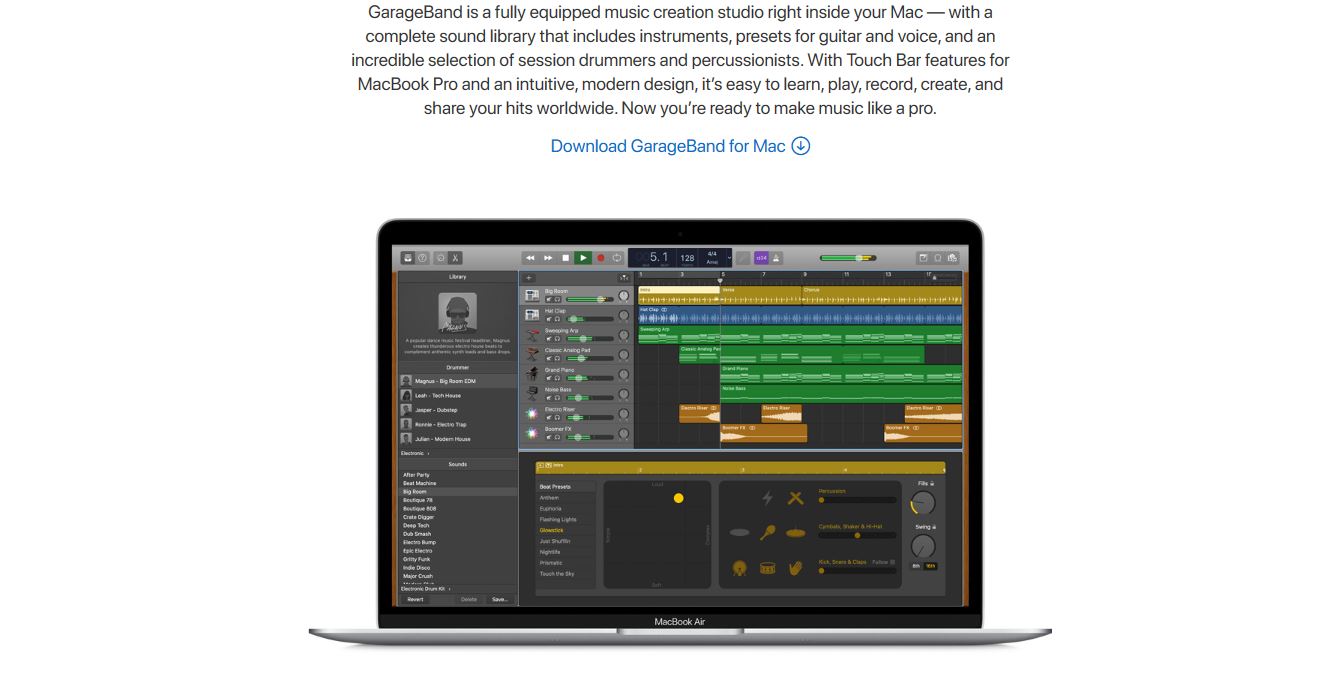 Overview
If you have an Apple Mac or mobile device, you'll have GarageBand already included in your operating software. This studio editing app is user-friendly and free, allowing you to create professional-level podcasts without having to have any technical knowledge or prior experience of podcasting. Perfect for beginners, it comes complete with a sound library and presets for voice, and you'll find it intuitive to use.
Pros and cons
GarageBand is popular for a reason. It costs nothing and is incredibly easy to use, even for someone new to podcasting, so you won't have to spend long hours watching YouTube tutorials trying to figure out how to use it (though there are plenty of these available if you need a little extra help – such as this GarageBand podcast editing tutorial). It's sleek and reliable, so you're unlikely to have it crash on you when you've spent hours working on your podcast.
GarageBand makes light work of stitching together all your audio clips into one, so you'll find it easy to edit in clips from different interviews or add in voiceovers. It also supports MIDI recordings and features a library of pre-recorded sounds, so you can make your podcast sound professional with jingles and background music.
As for its downsides, the main disadvantage of GarageBand is that it's only available on Apple devices. Even if you do have an Apple device yourself, this could still prove to be a limitation if you're working on your podcast with someone who doesn't have a Mac.
What's more, although it's great for simplifying the podcast creation process, GarageBand has its limitations when it comes to editing your audio, which can mean you spend longer trying to come up with a way around them (only being able to add effects to whole tracks rather than individual sections, for example). And, as with the Apple ecosystem as a whole, it's not open source – so you're entirely reliant on Apple when it comes to updates and improvements to the software.
2. Audacity

Overview
If you don't have a Mac, then a podcasting software choice is Audacity, a powerful yet free programme for PC that can also be used on Mac desktop computers and other operating systems. It's not as beautifully designed as Apple's solution, but this multi-track audio editor does a great job of all your podcast editing needs. Among other things, it lets you record live audio, cut and mix sounds together and add in effects such as speeding up or slowing down the audio.
Pros and cons
Audacity is specifically designed as a digital audio editor, which means it's perfectly cut out for editing your podcasts. Unlike GarageBand, it's been developed by a group of volunteers and it's open source, which means that anybody can view the source code and contribute. It gives you more scope for editing the finer details than GarageBand, even allowing you to write your own plug-in effects (with Nyquist).
You'll find a comprehensive range of audio editing tools in Audacity, including multi-track recordings, level meters, pitch and tempo changer, noise removal and much more. You can click the 'Undo' button an unlimited number of times, and you can export files in a range of formats.
The downside to Audacity is that it's not so easy on the eye as GarageBand, and it's also less easy to learn to use because it's not so intuitive. Of course, there are plenty of YouTube tutorials on how to record and edit a podcast in Audacity, and it's perfectly possible for beginners to learn, but it'll take a bit more time to get used to than GarageBand thanks to the huge number of settings and effects available to you.
Another major downside to Audacity, particularly when compared with GarageBand, is that it doesn't have a library of pre-recorded sounds and it doesn't support MIDI recordings. If you're planning to jazz up your podcast with jingles or background music, this will make things a bit more challenging.
3. Adobe Audition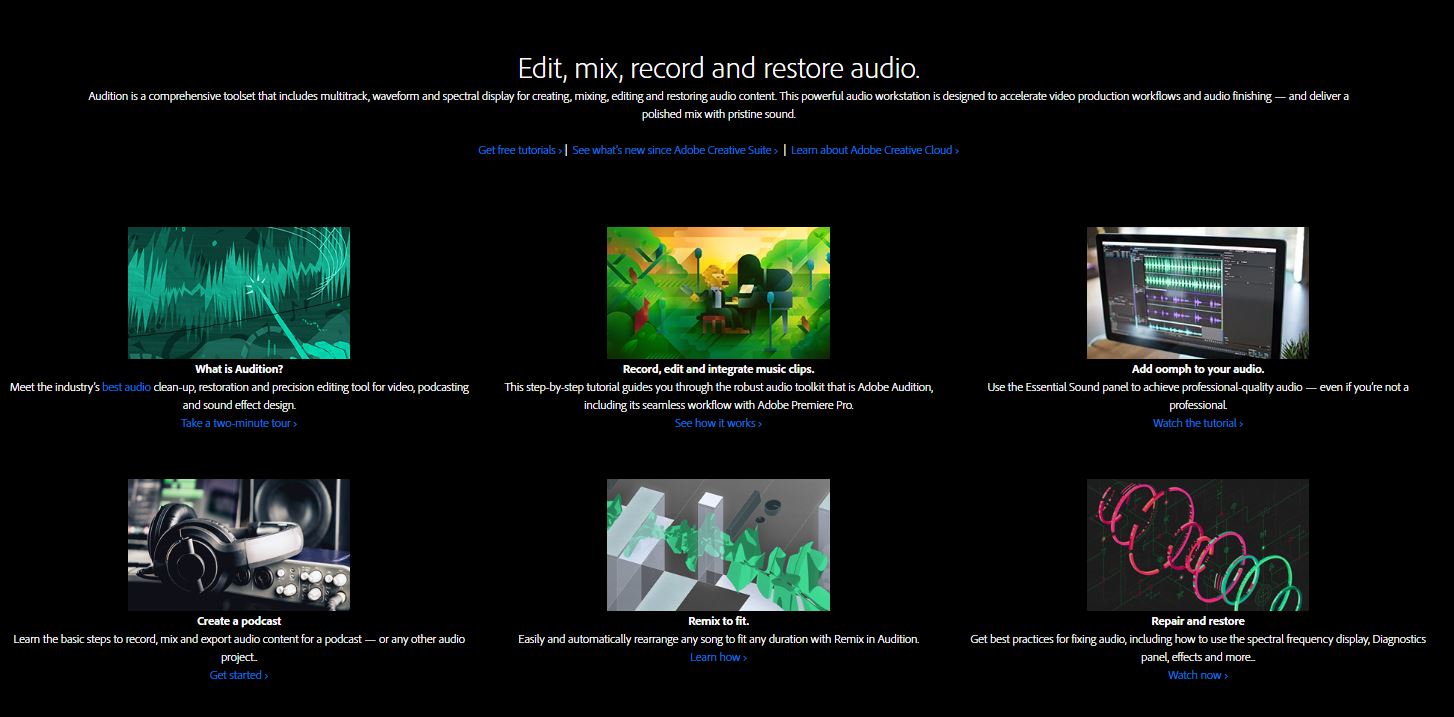 Overview
Another option for podcast editing is Adobe Audition. Adobe Audition provides a digital audio workstation that lets you record and mix high-quality podcasts before exporting straight to your audience. This is a good option if you already pay a monthly subscription to access other Adobe apps, and you don't need to be an expert to use it (there are lots of free tutorials available to help you get to grips with it).
Pros and cons
The great thing about Adobe Audition is that it has a library of thousands of royalty-free sound effects, which let you enhance your podcast so that it sounds sleek and professional. It's also great for editing out noise, and works well in conjunction with other Adobe products if you're used to using those.
The downside to Adobe Audition is that although it offers both Waveform and Multitrack editing, some users don't find it as effective for multi-track recordings, and it doesn't support MIDI recordings. What's more, unlike GarageBand and Audacity, Adobe Audition isn't free – you'll need to pay a subscription fee of £19.97 a month to use it. Alternatively, you can subscribe to the whole suite of Adobe Creative apps for £49.94 a month.
4. Alitu

Overview
For a simpler option for podcasting beginners, the last option I'll touch on today is Alitu, a web-based tool that claims it "takes your raw recordings and helps you turn them into an amazing, audience-growing show." A less technical option than any of the digital audio editors we've looked at so far, Alitu makes it easy to create podcast episodes, keeping your editing time to a minimum.
Pros and cons
Alitu is incredibly user-friendly, so it's perfect if you're not so technically minded and just want to focus on building great content. Use it for creating, mixing and editing your podcasts, and let it automatically convert and clean up your audio for you so that you can effortlessly get rid of background sounds (such as a fan or noisy computer). You can upload multiple recordings, add in your own theme music, trim out mistakes and use fades to make your recordings sound professional.
The downside is that Alitu isn't free – you'll have to pay a monthly subscription fee of $28.99 a month to use it. You'll also be more limited in what you can do in terms of audio editing with this software, as it doesn't let you set audio settings manually. That's because it's simplified the process to make it user-friendly, but podcasters who enjoy editing the finer details may not get on so well with this software.
Want more tips on making the most of podcasts for your small business? If you're not yet sure whether podcasting is for your business, have a read of these tips on why you should consider podcasts for your content marketing strategy. For more advice on creating polished podcasts, check out this post on perfecting your podcast recording, and learn how to reach more listeners with tips on 11 ways to grow your podcast audience organically. Finally, if you'd like to make money from your podcasts, find out how to monetise your podcast by attracting sponsorship.