Coming after a post-Christmas slowdown in consumer spending, Valentine's Day is a big opportunity for many online retailers. For some retailers of gifts, it can even be one of the biggest sales days of the year.
According to stats, British shoppers spent £650m on Valentine's gifts in 2018 both online and offline, up from £620m in 2017. Spending was projected to reach £853m in 2019.  
In this article, I'll look at some examples of how retailers have promoted their Valentine's Day products, on-site strategies, and how they've made it easy for shoppers to find and buy Valentine's gifts.
Valentine's Day strategy
With Valentine's Day being a one-off, time-limited event, the key to marketing strategy is timing. It's about getting the message across to potential shoppers at just the right time and putting in the groundwork so that your message is visible at this time.
SEO
So, if you want to rank for your target keywords in the run-up to Valentine's Day, then you need to work in advance to take advantage of traffic spikes.
As Google Trends data shows, search terms such as 'Valentines gifts' deliver sharp spikes in traffic for a brief period, from mid to late January to mid-February.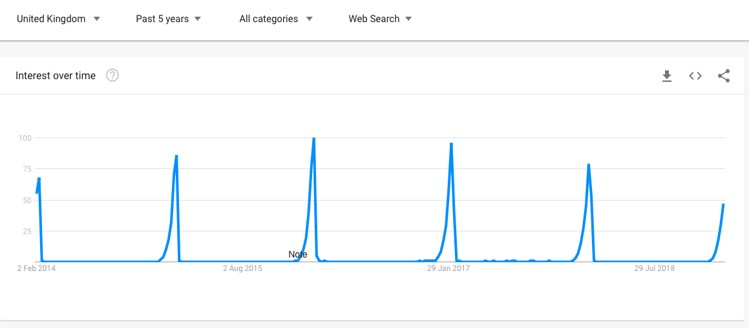 If you can peak around this time, then you're in a position to take advantage, but this takes careful planning. Landing pages need to be created well ahead of time, with useful content related to the event and your products.
In addition, internal links should be pointed at the page for the target term, so Google is in no doubt which page you want to rank for the term. Some sites which fail to do this end up having their own pages competing with each other or fail to get the best possible page to rank highest.
It's also a long game, so if you manage to achieve high rankings for your target Valentine's page, don't delete it, keep it and update it for the next year.
For example, this 'Valentine's Day Gifts' page from notonthehighstreet has been live for several years, with the company updating products and content every year.  This is a big factor in its prime position in the search engines.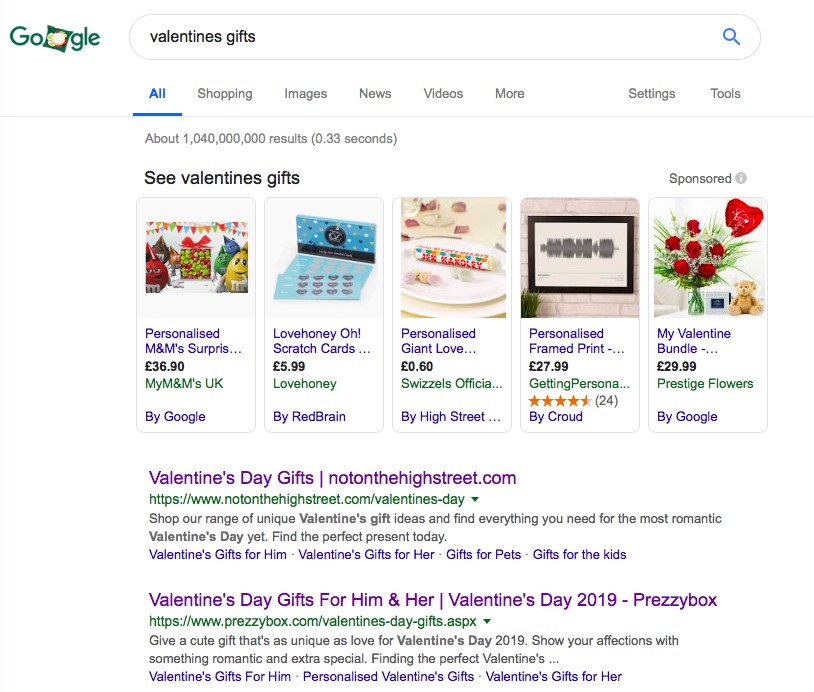 Email marketing campaigns
Timing is also key for email marketing campaigns. Ideally, you want your email to arrive just as recipients are planning to buy gifts. Generally speaking, Valentine's shoppers are buying in the week or two before Valentine's Day, though this will vary according to the products.
Lingerie purchases, for example, peak two weeks before Valentine's Day, with jewellery peaking a week before. For other categories, people are more last-minute in their shopping. Purchases of chocolates peak the day before, perhaps as people run out of ideas.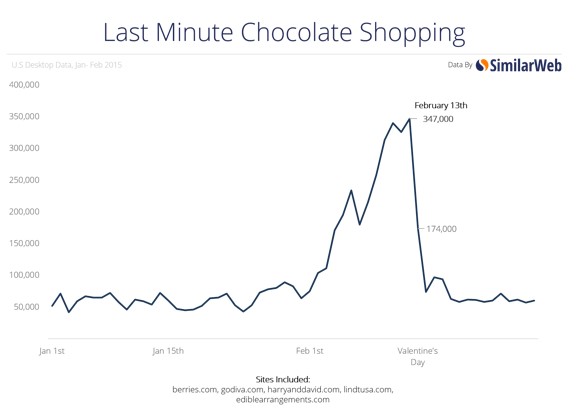 This means the window for email campaigns is relatively short, perhaps two or three weeks leading up to February 14th. In that time retailers could send perhaps four or five emails, with last-minute deals to appeal to procrastinators.
In addition, some retailers choose to send marketing emails well in advance, to preview their Valentine's product range, and catch early shoppers. This, from Hotel Chocolat, was sent on January 24th.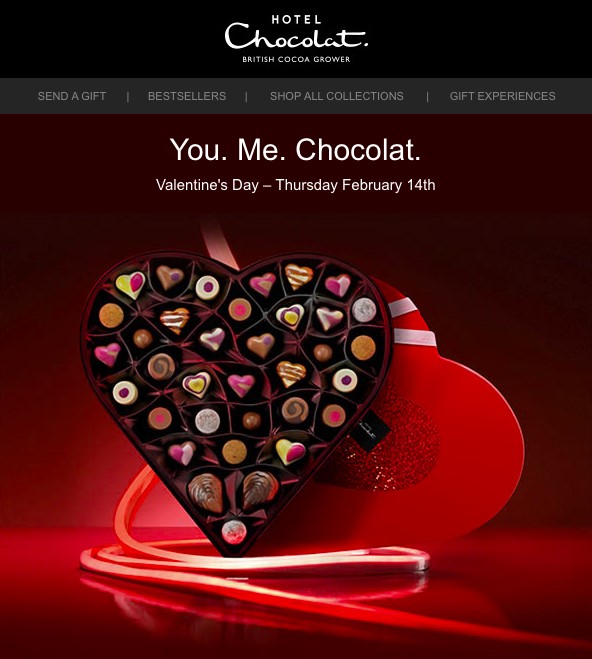 Social media
Social media channels can be used to amplify any Valentine's Day products and promotions, or competitions designed specifically for social channels.
For example, one of Body Shop's social campaigns was a competition under the #SendingAKiss hashtag inviting people to send in selfies.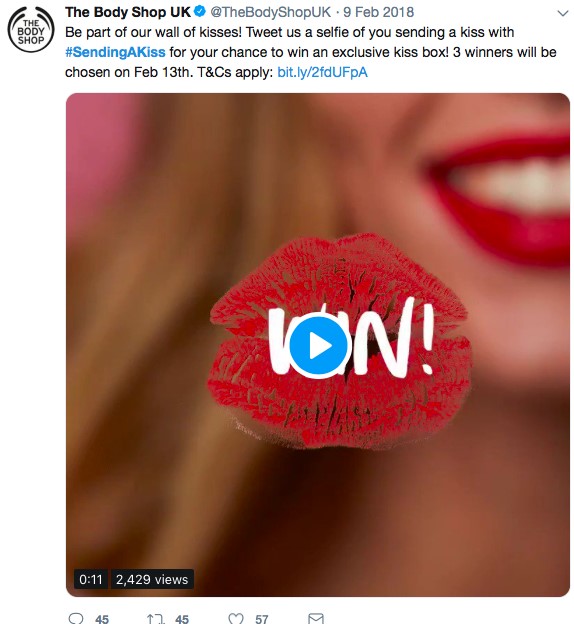 Creating urgency through content
Content for Valentine's Day should be planned well in advance, as with SEO. One useful area to focus on is gift guides and ideas. These can help your target audience with ideas, as well as allowing you to promote your products.
Urgency is a key marketing tactic for this kind of event. It's time limited, and so customers do need to make purchase decisions relatively quickly, so they can buy gifts in time for the day.
Adding urgency messaging throughout the customer journey can persuade last minute doubters to make a purchase. For example, data on stock levels showing that the product is almost out of stock is useful information for shoppers, but also tells them they'll need to act fast or they may miss out.
Likewise, delivery deadlines can be highlighted as people view products, reminding them how long they have to order to ensure items arrive on time.
Countdown timers are one way to make urgency messaging clear and can be used on-site and in marketing emails.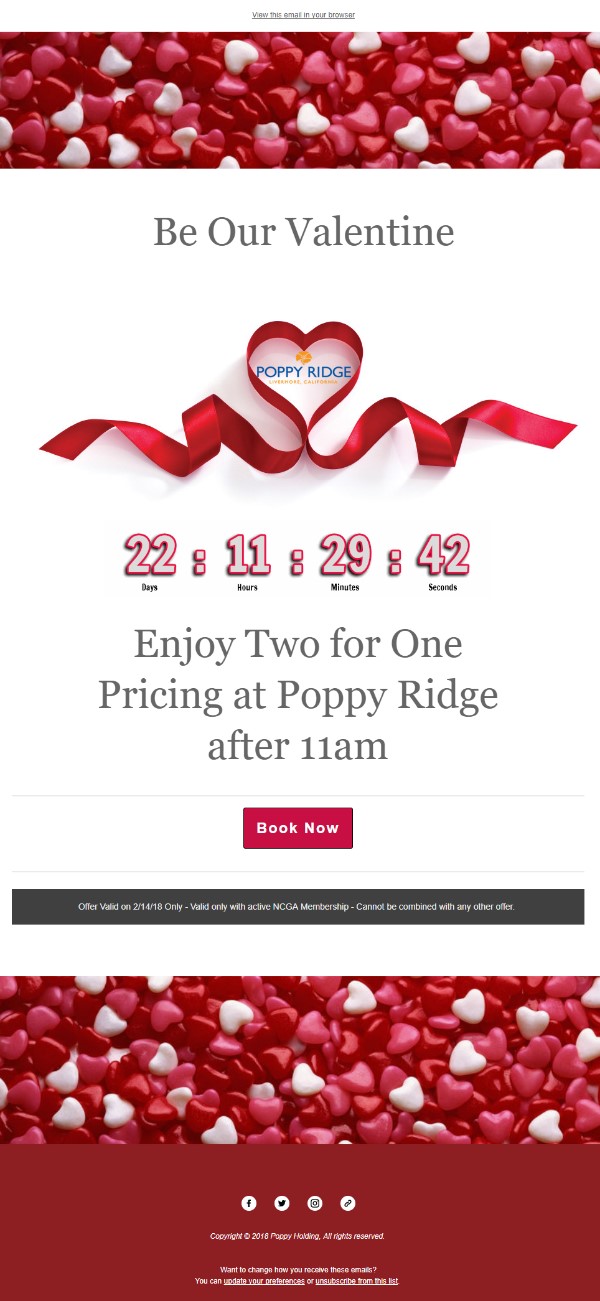 Examples of how retailers have promoted Valentine's Day
Get some inspiration of how your business can use Valentine's Day to promote products with these examples from real-life retailers.
Firebox
Firebox is known for its quirky gifts and often promotes these in its Valentine's Day marketing efforts.
Recommendations for products like spreadable pink gin feature in their email marketing, with subtle hints to the Valentine's Day theme through emojis.

Firebox also uses social channels to promote products, such as with this beard bouquet. It's hard to tell with Firebox, but some of these products seem to be designed as much to provoke a reaction on social media, as to appeal to customers.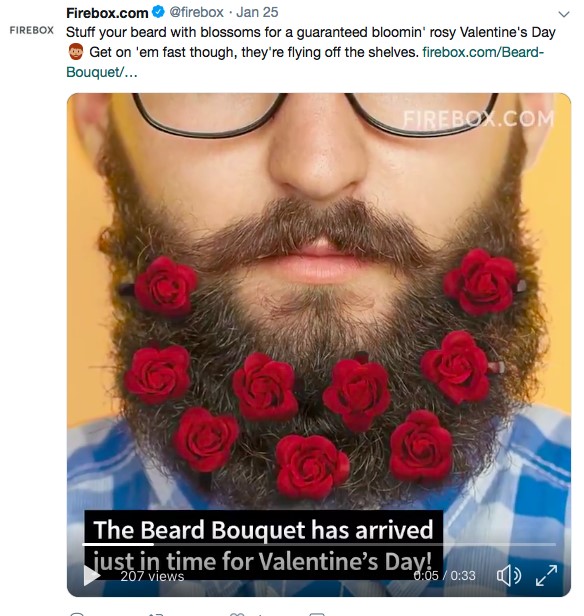 On-site, Firebox often puts its Valentine's Day promotions front and center, with a prominent promotion on the homepage.
This particular banner lead into a Valentine's shop, with all the relevant products shown on one page, which helped customers to find gift ideas quickly.
Notonthehighstreet 
Notonthehighstreet produces lots of content around Valentine's Day and does a good job of providing inspiration for visitors looking for gift ideas.
Curated content and gift ideas can be very helpful for shoppers, and Notonthehighstreet has used inspiration pages to present lots of ideas under different categories, as well as links to useful content.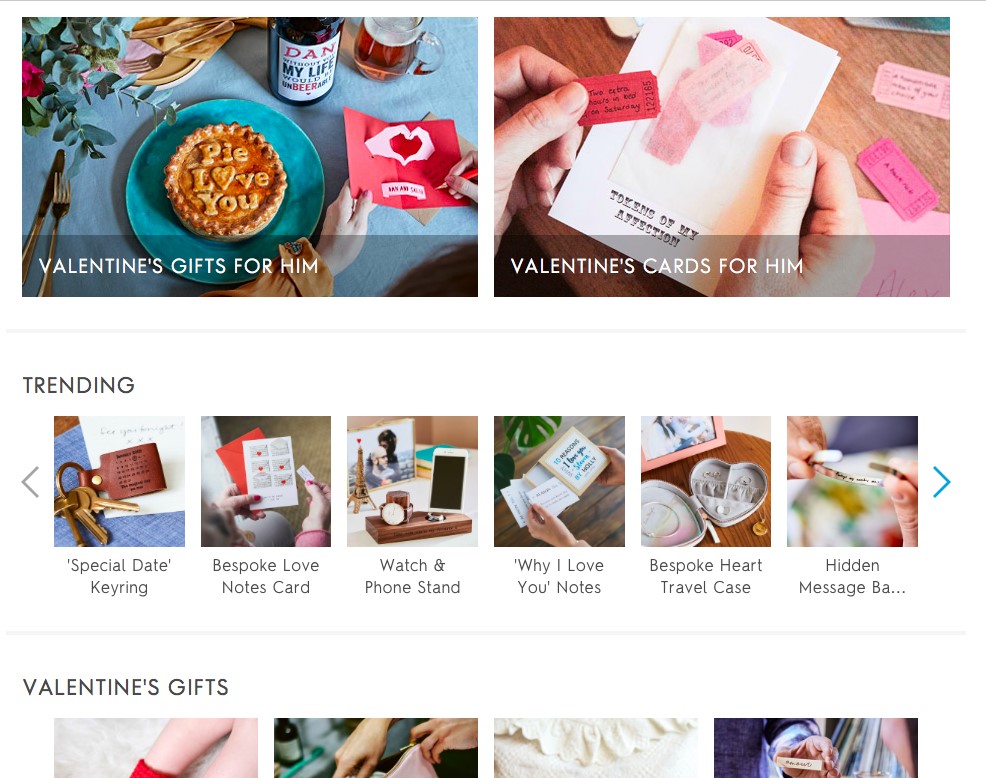 For example, this interactive presentation contained 12 simple ideas for gifts and things to do around Valentine's Day, and shoppers could click through to view and buy any of the products displayed within.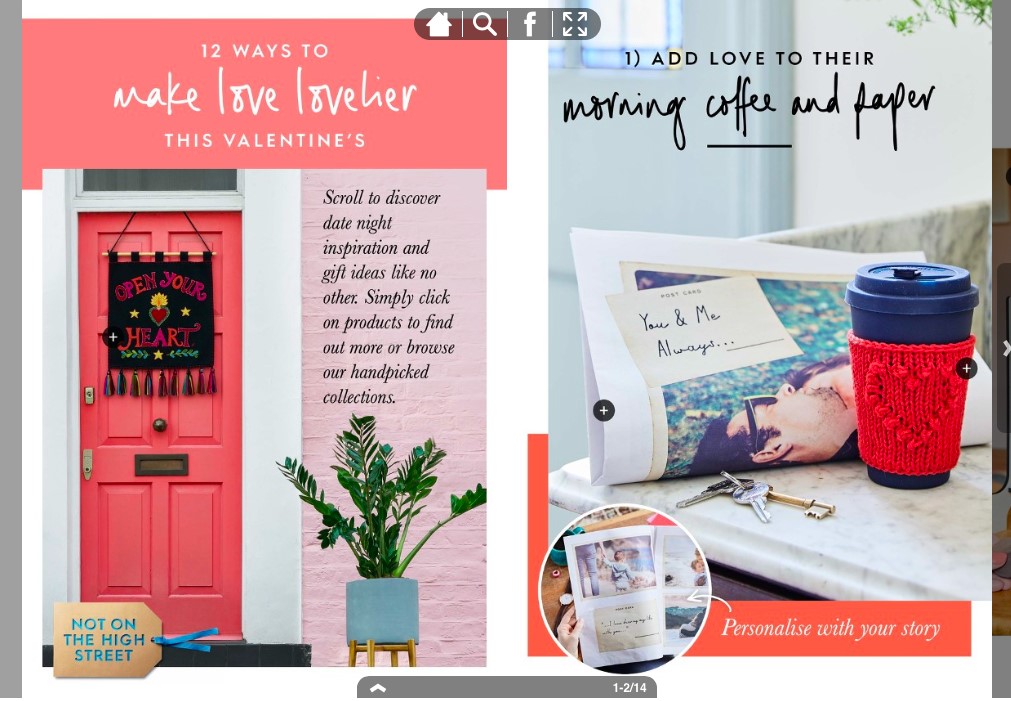 Elsewhere, its Valentine's landing page provided a good example of how to use filters and sorting options to help people to narrow the product selection.
After selecting Valentine' gifts for her, I still had 350 products to choose from, but I could narrow this down further by price, product feature, delivery option and more.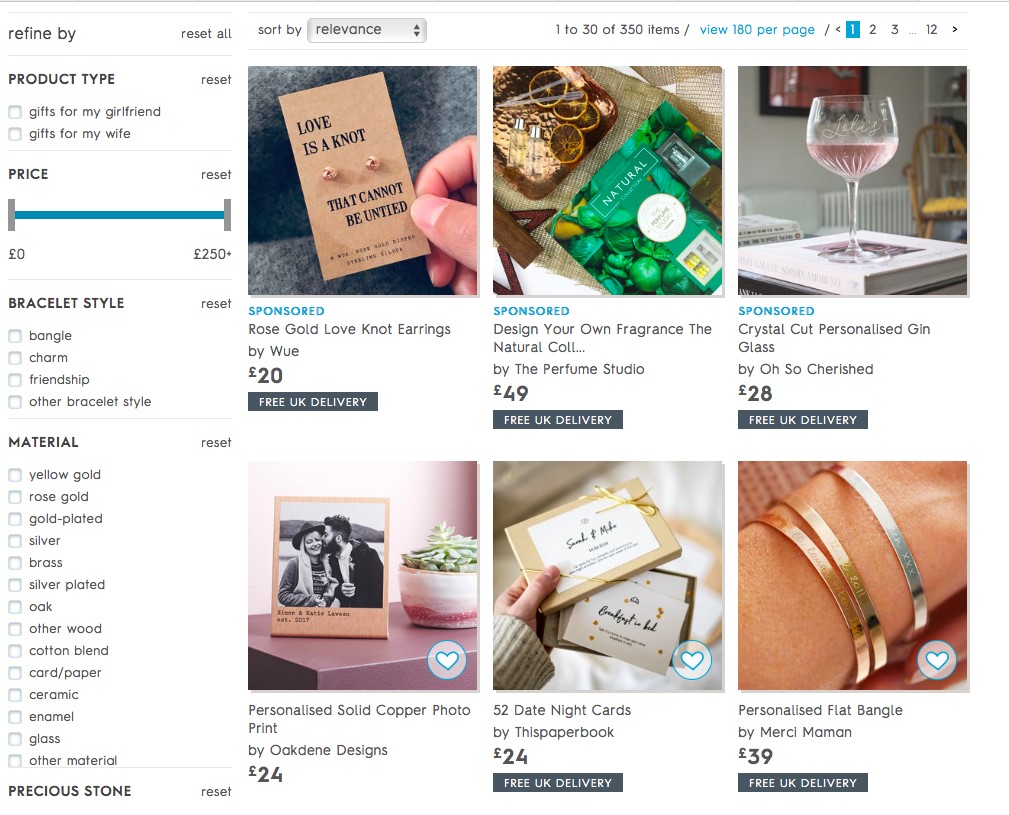 The Perfume Shop
The Perfume Shop used a gift finder, which asked several questions to help consumers find the right perfume for their partner, or whoever they were buying gifts for.
After a series of questions, it presented several product options with links to buy, try again if you didn't like the results or links to other gift guides.
This can help make gift buying easier for shoppers, as it removes a lot of effort, while narrowing the product choice can help to speed up the decision.
The Perfume Shop also highlighted the extra services it offers, such as engraving, finishing touches like soft toys and chocolates to complete the gift, and e-gift cards.
Extras like engraving and finishing touches are all great ideas to tempt the customer into buying the gift by making it that little bit more special.
From the retailer's perspective, these extras are great for persuading customers to spend a little more, thereby helping to push up average order values.
Offering gift cards is another excellent tactic, which helps to appeal to undecided shoppers, as well as those who leave their shopping until the last minute, as they can be delivered instantly, even on the day itself or via email.
Marks and Spencer
M&S often promotes its Valentines gifts on the homepage, though not as prominent as some other sites.
Since it isn't primarily a gift retailer and Valentine's Day, though important, is not the biggest retail event, this seems a sensible move from M&S. Previously they've laid out their homepage so the messaging is there for those that are looking for it, but it doesn't detract from its other messaging.
This Valentine's gift guide provided useful options for shoppers to filter and sort, and to narrow the product range, according to the gift recipient, type of product etc.
There were plenty of ideas there for shoppers and setting them out in this way can shorten the product selection process for users. 
As with Perfume Shop, M&S cross-promoted some relevant and complementary products to tempt shoppers to add more to their baskets.
In addition, delivery timescales are always nice and clear. Shoppers will naturally have concerns about whether items can be delivered in time for Valentine's Day, so it's good to make this information as clear as possible.
Pandora
Pandora normally puts Valentine's Day front and center, as it's a key retail event for them. It's a site on which almost every product could be a Valentine's gift, but previously it has lead customers to a tailored gifts page with a pared down selection of products.
As with other sites here, users could filter the product selection by price range, material and more.
These product pages convey the key information that gift shoppers need, such as free delivery, free and easy returns, and estimated delivery timescales, as well as the reassurance that orders will be wrapped.
These are key considerations when shoppers are thinking about buying, and it helps to have clear reassurance on product pages.
You can also see there's a good use of urgency through the countdown timer for express delivery. As it gets nearer to the date this is a useful option for shoppers, as well as being a way to persuade them to decide on a purchase quickly.
In summary
For retailers, the key is to make the purchase journey as easy as possible for shoppers, which is why the retailers here all opted for curated Valentine's gifts pages, and added ways to help shoppers choose, like gift finders and filters to narrow choice.
It's also about giving shoppers clear information about key aspects of the purchase decision – whether items will arrive on time, if they can be returned easily, and how they'll be presented.
Getting started early is also key to running a successful retail campaign around Valentine's Day. Hopefully, these examples will inspire you to create and run your own marketing activities around February 14th, and give you a good starting point to get planning straight away.