Keeping an eye on other businesses in your sector is a vital part to ensuring your offering is competitive and can give you a wealth of insights to influence marketing campaigns, increase website traffic and improve your search performance to name a few. 
Depending on the products and services you offer, your competition may be local to you or you may be competing with retailers thousands of miles away.
And even if your online marketing efforts are delivering excellent results, it's always useful to keep an eye on your competition. One way of doing this is by taking advantage of the multiple online resources and insights website analysis tools can offer.
Competitor website analysis tools to consider
There are a range of tools and techniques to help you with competitor analysis. These tools can make the process easier, save you time or provide insights that you'd struggle to find elsewhere.
Here are a selection of online analysis tools which are ideal for monitoring your competitors, complete with a mix of social media, SEO and content marketing analysis.
SEO tools
Competitor analysis in the search marketing context is all about seeing what your competitors are doing, what's working for them and using this information to your advantage.
Most of the competitor analysis tools here are looking at keywords, content and links to see which keywords your rivals are targeting, how they use content to rank for these and how and where they are gaining useful backlinks.
Most tools in this space aren't exclusively intended for competitor analysis, they'll also help you to learn about and optimise your own website for search engines. For this reason, it can pay to take this into account when looking at pricing.
1. SpyFu
SpyFu is a tool which allows you to enter the URLs of competitors to present an analysis of the keywords that they are buying on AdWords, and also those they rank for organically.
It provides a useful overview of competitor search activity, including the number of paid and organic keywords, the proportion of paid and organic traffic and the number of keywords that overlap with other competitors.
This allows you to see which paid terms your rivals are spending their marketing budgets on, giving you an idea of what may be working for them and the terms you may need to target for your own site.
Also, by knowing what they spend money on, you can then find related but cheaper PPC keywords to use your budget effectively.

The tool provides a list of sites competing for the same keywords, which may uncover previously unknown rivals as well as the paid and organic keywords that other websites are competing for.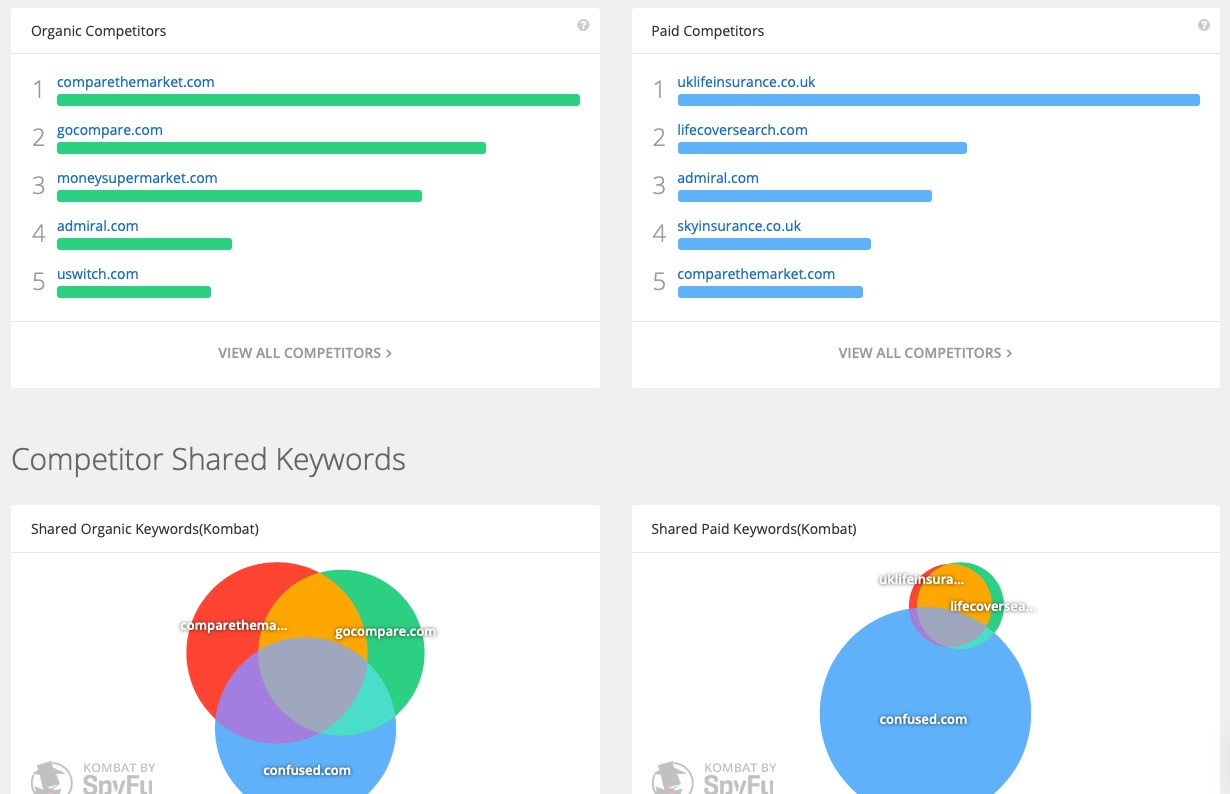 It identifies competitors' top pages by search traffic. You can then analyse these pages to see what rivals are doing in terms of content and search optimisation and what is working for them.
For example, if their best performing pages feature a lot of content for certain terms, and your own pages are relatively light, then perhaps you need to work on producing more content to outrank them.
You can also find useful data which will allow you to identify new keywords to target, understand your competitor's search strategies and monitor your own progress over time.
Pricing: This basic view is free but the data is limited. For paid users there are three tiers of pricing, with the basic plan starting at $33 per month if paid annually.
The basic plan should suit most small businesses and offers unlimited data and ten custom reports (a domain overview on a competitor for example), with more custom features, access for multiple users and bespoke reports available on the higher price plans.
2. Ahrefs
This tool has access to a wide range of keyword, content and backlink data which can be used to check out competitors.
Using ahrefs you can find keywords which competitors are ranking for, get an idea of the success or otherwise of their search marketing efforts, through backlink growth for example, and see where they are gaining links.
If you know where your rivals are gaining links, it can give you ideas of the specific sites (and types of sites) to target with your own PR efforts. It also tells you which kinds of pages and content your rivals are using to acquire new backlinks.

Pricing: There is no free version, though there is a 7 day free trial if you want to check it out first. Pricing starts at $99 for the Lite version and $179 for Standard, with the number of keywords you can track, and reports you can run, increasing the more you pay.
It's a useful tool, with more data and reporting options than SpyFu. However, at this price point, it may only be worth using if you have the time and resources to make the best use of all the data on offer.
3. Moz
Moz is a well-established SEO tool, intended for use by businesses of all sizes. It provides keyword analysis on your own and competitor sites, backlink analysis and competitor tracking. For example, you can view and track the rankings of your competitors for specific keyword groups.
Moz is mainly about the paid version, but there are some basic free tools, which can be a good place to start. For example, you can enter a competitor's site and view (limited) data such as top keywords, sites where they are gaining links and top search competitors.
Pricing: For more data and access to all the Moz features, Moz Pro Medium (for SMEs) starts at $149 per month, although there is a free 30 day trial to check it out first.
It's a useful tool, handy for optimising your own site (through landing page analysis for example) as well as keeping an eye on others.
Content marketing tools 
4. Buzzsumo 
Using Buzzsumo, you can enter a keyword to view popular content on that topic, or enter a domain to show your own or competitors content.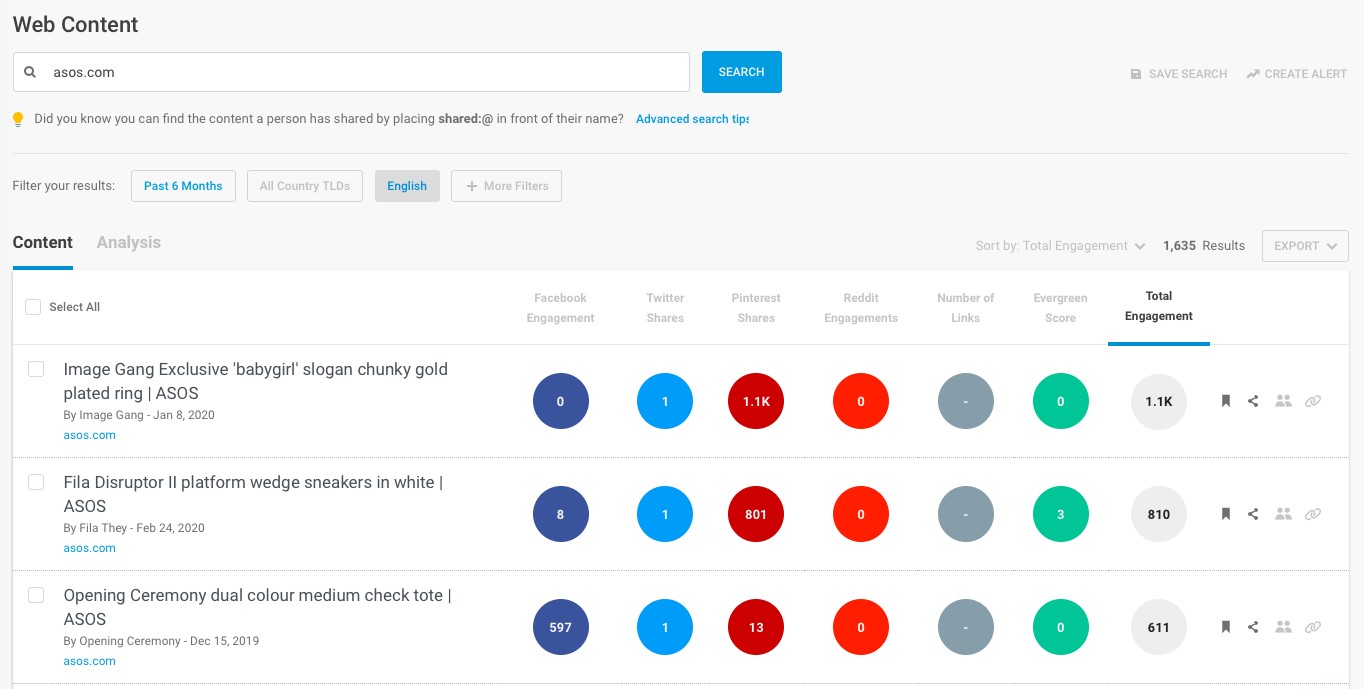 Buzzsumo will then show the most popular content over key social platforms including Reddit, Facebook, Twitter and Pinterest. It will score content based on the number of engagements, showing the number of links it has gained, and a score for how evergreen the content is (how likely it is to remain successful over time).
This essentially allows you to identify key pieces of content from competitors that have been successful, so you can learn the lessons from it – what type and style of content works, which platforms it has worked best on and so on.
Another key benefit is being able to see how content is shared across the web, as this can improve the promotion of your own content. For example, you can identify key influencers who have shared your own or others' content and helped to amplify it. You can then target future content at these accounts.
Pricing: Plans start at $99 per month, and these allow you to dig into the data more deeply and to set alerts. As you go up through the price plans, you open up more alerts and features like YouTube and Facebook analysis tools.
Social tools
Analysing your competitors' use of social media can provide some valuable insight into their strategies, helping to influence and improve your own.
Which platforms are successful for rivals in your sector? How often are they posting content? What type of content is working for them? The answers to these questions can help you to improve your own social strategy and performance of your posts and campaigns.
5. Mention
As the name suggests, Mention is all about tracking mentions of your brand or competitors across the web. This can be done manually, but Mention pulls this data together for you and can save a lot of time.
Using this tool, you can set alerts for your own company and competitors so you can see when you or your rivals are picking up coverage around the web.
The tool will track you and your competitors, comparing mentions side by side with rivals, and calculating relative share of voice, reach, daily activity and geographic data.  With this information you can see how successful your social strategies are and see where other companies in your sector are picking up coverage.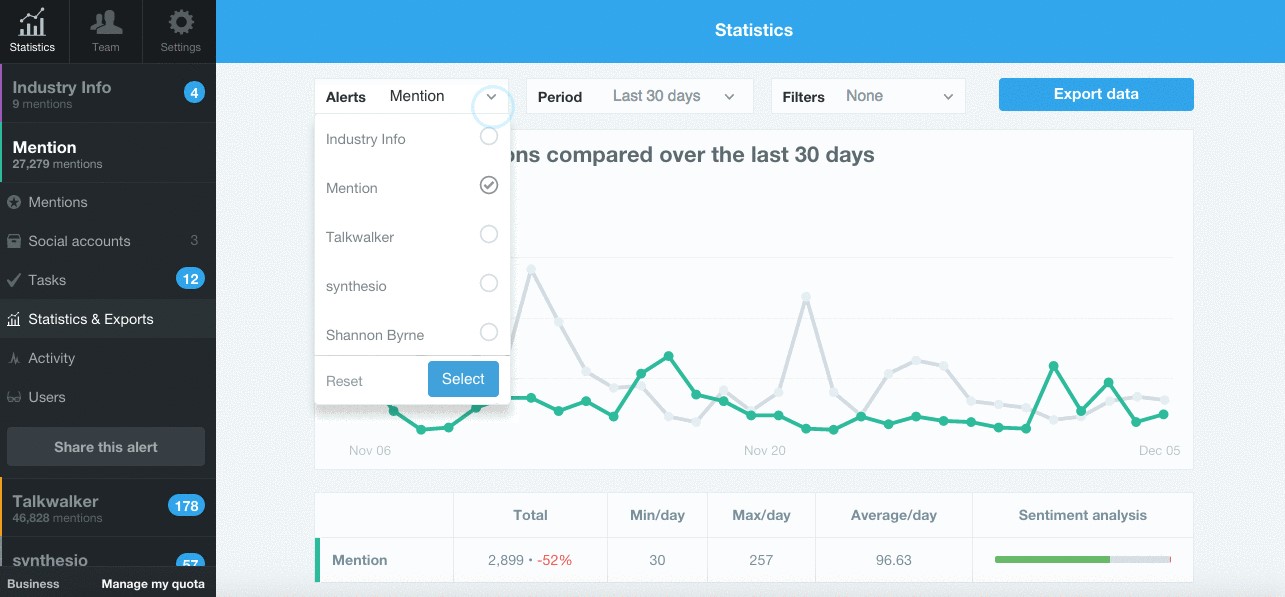 Pricing: There is a basic free version, although this is limited to one alert that is designed to test the service. For effective customer analysis you'll need to spend at least $83 per month so you can monitor 10 social accounts and track multiple mentions.
It's a useful tool, which can save a lot of work manually tracking competitor mentions, although the pricing means that, unless you rely heavily on social strategy, it may be more suitable to larger businesses.
6. Keyhole
Instead of tracking mentions, Keyhole shows trends and analysis of selected hashtags, keywords or social accounts. This can be more effective than simply tracking brand mentions, as these run the risk of pulling in lots of irrelevant information.
For example, you can look at keywords and hashtags relating to your products, to see which competitors are being mentioned in relation to these terms. Then you can review the social content they're posting and compare it to your own.
Perhaps they're being more successful because they use video more effectively on social media, it could be the timing and frequency of posting or maybe their tone of voice is different to yours.
This is something you can test yourself as you optimise your own social media strategy, but finding out how competitors use social media provides a useful shortcut.
It can also pull together a number of metrics for your brand or competitors and, depending on the price plan you choose, can track multiple keywords and key influencers.
These metrics, from volume of social posts to follower growth and engagement, provides a useful benchmark against which you can compare your own social strategy.
Pricing: The basic account is $29 per month, and prices can be adjusted depending on the number of accounts you want to track.
As with Mention, this is a tool that may be more suited to some businesses than others. To make full use, it requires a marketing strategy which is strongly focused on social media and PR.
7. Awario
This social listening tool helps you to monitor your own brand, your competitors or key terms in your sector around key social platforms, including YouTube, Facebook, Twitter, Reddit and Instagram.
It can help to identify key competitors. For example, after setting up key terms to track, Awario will show you companies that are promoting products and services similar to your own.
Using this insight, you can see which social platforms are most popular with the brands in your sector, which content works best for them and how frequently they post.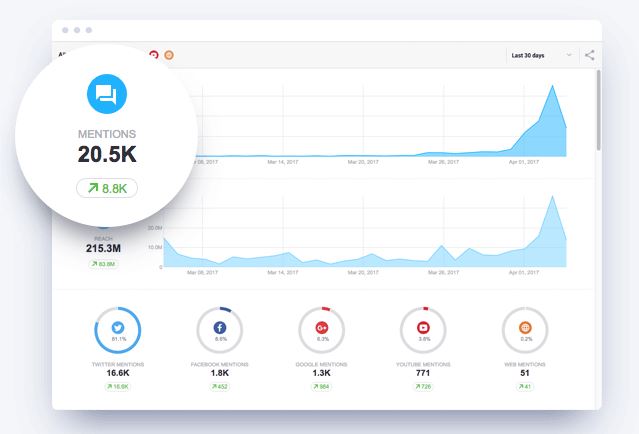 Pricing: Plans start at $29 per month, though this allows you to monitor just three topics. For effective competitor analysis, the $89 per month plan, with 15 topics, may be more suitable.
This is potentially more usable and useful for SMEs, at the $89 per month price point. It's easy to set up and covers perhaps the five most important social platforms.
Email marketing
Keeping an eye on competitors' email marketing campaigns can help you to find ideas for your own emails, see the kinds of promotions your target customers are seeing, and get an idea of the timings and frequency of emails that work for them.
8. Mailcharts
Mailcharts is a tool which allows you to access an archive of email marketing data from a wide range of brands. Using this tool, you can look at competitors in your field to view their emails and stats around them. You can also add brands to track within the app.
It will show examples of emails, as well as key data such as popular days to send emails, average length of subject lines and more.
It's an alternative to monitoring competitor emails yourself and the analysis can help to save you time. For example, by viewing historical trends, you can see when competitors begin their seasonal campaigns, so you can adjust your plans accordingly, perhaps starting earlier to get ahead of them or understanding when best to run a promotion.
Pricing: The basic free version allows you to track three brands and view two weeks of data. From $100 per month you can view historical data and track ten or more competitors as well as viewing detailed analysis.
In summary
Competitor analysis can provide some key insights which can improve your own marketing efforts and allow you to benchmark yourself against rivals in your field. 
If you're a newcomer or challenger in an established market this analysis can provide a useful shortcut for you – if you know what works for your rivals, you can try similar techniques yourself.
There is some overlap between all of these tools – some of the social tools will help you to identify sites from which you can gain links for example, while some of the content tools rely heavily on social data.
Many are not exclusively competitor analysis tools, so it's important to factor in the other uses and benefits when deciding which tool to use. For example, an SEO tool which analyses and helps you to optimise your own key pages while also showing where competitors are acquiring links may be more cost efficient.
Another key point is that some of these tools are targeting enterprise clients with higher price plans and may pay more attention to this than developing new features for SMEs and single users.
One final thing to consider is alternative ways of acquiring the same data. Many tools use publicly available data, and there are free tools that can achieve similar results. Often, you're paying for convenience and time saved rather than for access to exclusive data.