It's easy to end up with a jumbled-up inbox, so keeping on top of the organisation of your messages is a pivotal regular practice. There's also something oddly satisfying about classing, grouping, filing, labelling, tagging, systemising and tabulating: a practice that seems to be inherent in human nature. Whilst the negative connotations of categorisation might apply elsewhere, designating and pigeonholing can be rewarding when it comes to decluttering your cyber-letterbox.
If your inbox is a complete shambles, then these tips will help you to organise it quickly and efficiently to keep on top of incoming messages.
Use folders
You'll likely be receiving myriad messages from different people and for different purposes, so folders are a great way to instantly make your inbox more manageable.
Right click on 'Inbox' and scroll down to the 'New folder' option.
You can right-click this new folder to rename or delete at any time.
Start creating categories
If you click on the drop-down 'Categorize' option, then go to 'All categories' you'll have the option to create new categories and rename existing ones.
If you right-click on an email, you can categorise that email with more than one category.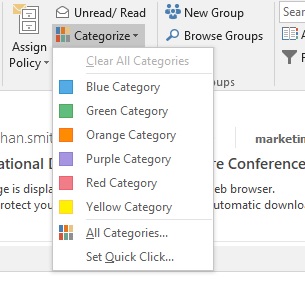 Quick steps
This option allows you to automate tasks into a single click. This is a great way to organise, especially if you get lots of emails from the same sender or mailing list.
To set up a Quick Step, click on the drop-down list and click 'New quick step'. You can name this, choose an action, and set up a keyboard shortcut for this is you want to.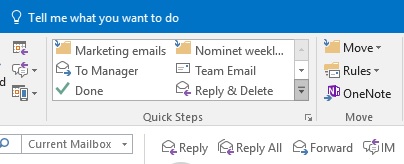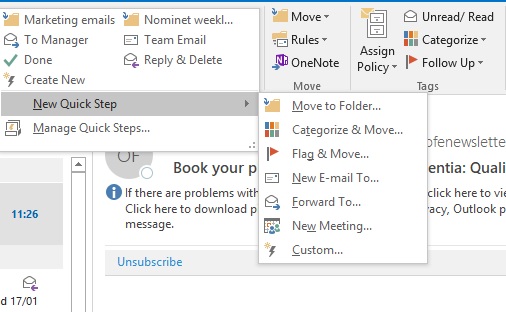 Save and use email templates
If you're having to write out the same email to lots of different people, minus personal details such as names and addresses, then this will be a lifesaver.
To do this, find one of the emails that you've sent and forward it to yourself. Edit out the personalised information such as contact details, and then click File – Save As. Choose 'Outlook template' as the file format.
To start using this, go to File, New, and select New Items – More Items – Choose Form. Choose your template, and amend as necessary before sending.
What's the most effective method you've found to organise your inbox as a small business owner or entrepreneur? Leave us a comment on our social media accounts.
Got questions about email? Leave a post on social media with the hashtag #AskTheUKDomain and we'll get back to you.