With much of the UK currently working from home, online security has become a top concern for employers. 46% of global businesses have in fact already encountered at least one scare during the Coronavirus lockdown.
With 49% saying they expect to fall victim to a data breach or cyber security incident in the next month, password managers are a great way to protect your business – especially with so many employees working remotely.
What is a password manager?
From our social media, email and bank accounts to Netflix, online shopping and work applications, there's an endless list of passwords to remember. It's perhaps unsurprising that 52% of us reuse the same password for multiple accounts.
If your employees are doing this for their work applications, it poses a big security risk. 80% of data breaches are caused by compromised, weak and reused passwords which puts into perspective just how important this issue is.
Fortunately, password managers can help to protect your staff and your business and improve your SME cyber security.
These software applications store and manage all your online credentials. They can also generate strong passwords for you. All this information is then stored in an encrypted database which is locked behind a master password. The master password unlocks your data so you can retrieve whatever information you need.
What is the best password manager? Five platforms for SMEs
When deciding what is the best password manager for your business, a number of different factors are likely to influence your decision.
Below I've listed five popular password managers, including helpful insight into everything from cost, key functions and their pros and cons.
1. Google Password Manager
Google Password Manager allows you to easily view and manage passwords you've saved in Chrome. Passwords are securely stored in the user's Google account and can be accessed across all devices.
Key functions of Google Password Manager:
The password service lets you manage your login credentials
Option to save new passwords and automatically sign you into websites
'Saved passwords' let you see the password for sites you've registered to
You can conduct a password checkup which tells you how secure your passwords are
You can remove sites and their credentials if you no longer need them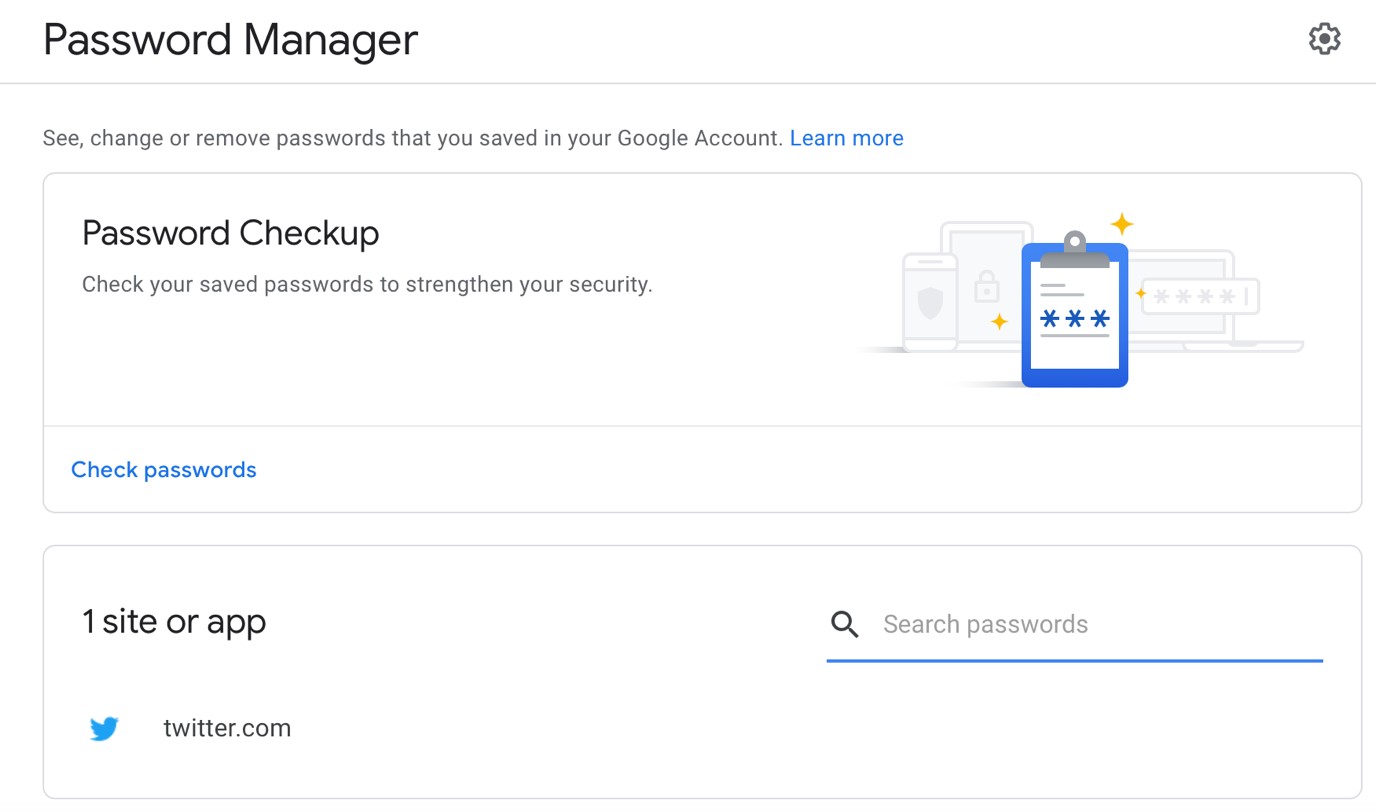 Cost: 
Google Password Manager is free to use.
Pros:
If you already use Google Chrome, this is a built-in feature so you don't have to download anything
It's easy to use
It will alert you if you reuse a password or choose one that can be easily guessed
Extra security measures such as asking for your computer's password before you can view login details
Cons:
It's only compatible with Google Chrome
It's quite basic compared to some of the other applications available so many not be the best password manager if you're looking for something more comprehensive
2. LastPass
LastPass remembers all your passwords across all your devices, for free. You also have the option to upgrade to a business account which enables you to connect employees simply and securely.
Key functions of LastPass:
You create your account with one long, secure master password and LastPass will remember the rest
Save sites as you log in and import sites from your email or another password manager into your Password Vault
'Save and fill' remembers your login details for nominated sites
Password generator creates secure passwords for you
Secure notes lets you store addresses, credit card and passport information (these details are encrypted so they can't be accessed by an external source)
Business accounts have many features including an admin dashboard, directory integration, customisable policies, secure sharing, reports and more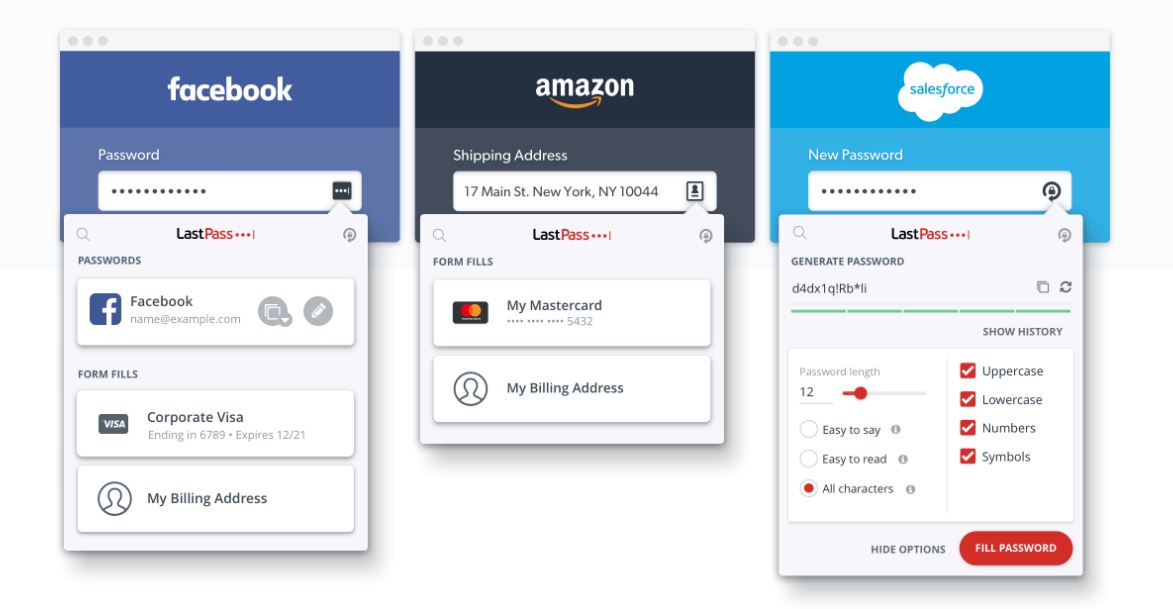 Cost: 
LastPass is free for a basic account which includes a free 30-day trial of Premium
Premium is £2.30 per month for one user
Families is £3.07 per month for six users
Business accounts range from £3.07 – £6.14 per user, per month. You can also opt for a Site License which means you pay a flat fee versus a seat-based rate, so you can add more users as your company grows without any extra cost
Pros:
LastPass is compatible with all browsers. Simply install the extension and get started
The site boasts strong encryption algorithms. Data stored in your vault is kept secret, even from LastPass
Multifactor authentication provides added security
You can upgrade your account for more features
Free 30-day trial for the paid options. You don't have to enter any card details so you don't have to worry about forgetting to cancel if you decide it's not for you
Cons:
If you choose to upgrade your account, payment is taken in one lump sum annually rather than a smaller monthly payment
You have to upgrade your account to a paid plan to unlock some of the features
3. Dashlane
This application fills all your passwords, payments and personal details across the Internet, on any device. Dashlane also comes with a simple built-in VPN for added security.
Key functions of Dashlane:
Autofill for usernames, passwords, addresses and card numbers
Uses a patented security architecture and AES 256-bit encryption – the strongest method available
Built-in two-factor authentication
Securely share passwords with individuals or groups
Can keep business and personal credentials separate
Admins can monitor employees' password health, ensuring your business accounts stay safe
Admin console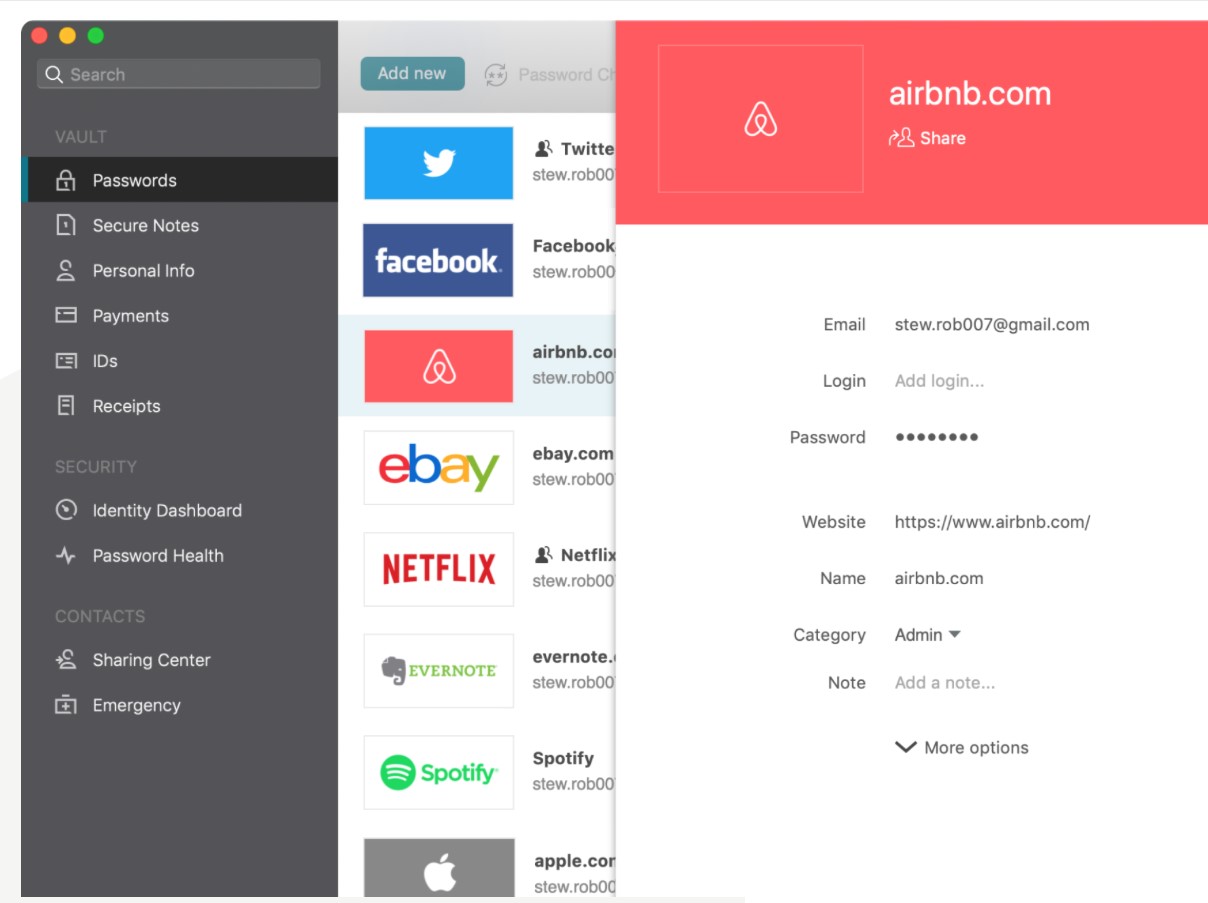 Cost:
Free account lets you save up to 50 passwords on one device. Also includes a free 30-day trial of Premium
Premium account is $3.33 per month
Business is $4 per user, per month
Pros:
Industry leaders in security
You can sync your Dashlane data to all your devices automatically
Dashlane can't see the information you've stored on the platform
Includes VPN protection
Scans the Dark Web for compromised accounts
You don't need to enter your card details for the 30-day free trial
Cons:
It's one of the more expensive password managers, especially if you already have a VPN
Limited support for Internet Explorer
If you upgrade your account, payments are taken annually rather than in monthly instalments
4. Keeper
You can protect your passwords and personal information from cybercriminals with Keeper. It's available for all popular platforms and browsers and there are plenty of positive reviews on their website.
Key functions of Keeper:
Two-factor authentication
Secure password sharing and inheritance
Generates strong passwords and auto-fills them into your websites and apps
Secure file storage for sensitive files
Save and restore previous versions of your records at any time
Custom fields
Option to enhance your online security and data protection with secure add-ons such as protecting yourself from the Dark Web

Cost:
There are lots of different pricing options for personal, family, student, enterprise and business accounts. Keeper Business is £2.08 per user per month and Keeper Enterprise is £3.33 per user per month. Accounts are billed annually.
Pros:
Retains full history of passwords and files
You can securely scan and store payment information for faster checkout
You can create, share and manage records with others
Information is stored in a highly secure, encrypted digital vault
You can add up to five emergency contacts to grant vault access
Cons:
The internet form filling is quite limited
No fully automated password updates
5. Bitwarden
Bitwarden provides an easy and inexpensive way for individuals, teams and businesses to store, share and sync sensitive data.
Key functions of Bitwarden:
Two-factor authentication
Securely share and manage logins across your organisation
Store and share sensitive files
Vault health reports tell you how secure your passwords are
User groups allow for easier management and greater control across teams and departments
On-premises hosting

Cost:
Free for two users
Teams – $5 per month for five users. It's $2 per user, per month for any additional users
Enterprise – $3 per user, per month
Pros:
Supports all popular platforms and browsers
You can install and sync all your devices
Your data is fully encrypted before it leaves your device which means only you have access to it. Bitwarden can't read your data.
Not as expensive as some of the other platforms. You can also contact them if you would prefer to pay monthly rather than annually
Free trials are available if you wish to upgrade your account
Cons:
Support for iOS is quite limited
Full-scale secure sharing costs extra
As well as password managers, there are a number of other ways you can protect your business in an increasingly online world. Why not have a read of some of these other blogs to find out how to protect yourself from cybercrime?