Whether you work in marketing or not, you're likely to encounter personalisation every day of your life. It's the email you received this morning that was addressed to you by name, the happy birthday discount voucher your favourite restaurant sends you every year, the recommended items that pop up when you do an online shop and the new series that Netflix suggests you watch.
Over the last few years, companies have started to use the data they hold on their customers to create more intelligent marketing activities. By personalising content and targeting campaigns to us on what feels like an individual basis, we're more likely to feel a connection with brands and therefore engage with them. After all, who wouldn't enjoy that feeling of walking into a shop and being recognised, welcomed and treated as though you're a truly valued customer?
As you may have guessed from the fact that personalisation is everywhere you look these days, it really does work. The problem is, now that consumers have come to expect it, has it lost its special touch?
A few years back we probably would have been deeply touched to receive a happy birthday email and a voucher for a free bottle of wine from a restaurant but now we expect it, does it still have as much of an impact?
According to statistics from the marketing technology company, Pure 360, personalisation does indeed still yield fantastic results for those who choose to embrace it.
93% of companies that use personalisation have experienced an increase in conversion rates
A personalised homepage has been found to increase sales by up to 7%
35% of Amazon's revenue is generated by its recommendation engine
74% of customers get frustrated when content isn't personalised to them
59% of consumers say that personalisation significantly influences what they buy
50% of shoppers say they're more likely to use a retailer again if they're presented with personalised offers and information
Personalisation can also still offer myriad benefits including:
Improved customer experience. Customers are more comfortable providing personal information if they get something in return. They fill out forms, download whitepapers, participate in surveys and indicate their favourite purchases or preferences. In return, they want a personalised experience in the form of discounts, high-quality content tailored to their interests and a streamlined user experience.
Increased revenue. By identifying and responding to the preferred channel for each customer, companies can increase their ROI. With the right automation technology, marketers can identify which channel customers engage with, then automatically follow up across channels as part of an omnichannel approach.
In order to remain effective, however, personalisation does, of course, have to evolve and just like everything else, it needs to be bigger and better than what people would typically expect. Cue the introduction of extreme personalisation.
Customers now expect more than personal engagement – they also demand that you communicate with them at the right time, on the right device and with the right message. Extreme personalisation comes down to one simple reality: customers want your company to know who they are and whether it's in-store, online, through social media or on the phone, they want consistent, high-quality experiences from your brand.
It is, in fact, predicted that by 2020, customer experience will overtake price and product as the key brand differentiator. So although personalisation is everywhere, it still forms a crucial part of your marketing campaigns. The key is to get a bit more creative with your efforts to ensure you stand out from your competitors.
How to get personalisation right
Whether you're new to personalisation or you're looking for inspiration for new campaign ideas, below are some great ways SMEs can create tailored content to their customers.
Capture data
Personalisation is impossible unless you have data to work with. Google Analytics is a great (and free) way of tracking clicks, time on site, abandoned shopping carts, purchase history and exit pages. You can then use this information to personalise marketing campaigns to customers based on their behaviour.
Say for example you're experiencing high cart abandonment rates. Sending an email to these customers offering free delivery for a limited time could be enough to entice them to go through with making the purchase.
More information can be found here including the rules for collecting and storing data and methods for capturing the information you need.
Focus on the details
By remembering past behaviours, you can present relevant products and offers that will appeal to individual customers. This is a win for both you and the consumer – they're happy because their shopping experience is tailored to them and it's great for you because conversions are likely to increase.
There are a number of ways you can implement this type of personalisation:
Remembering purchase information, shipping addresses and card details removes one barrier that would otherwise stop the customer from converting
Identifying the best, most relevant deals for the customer encourages them to convert because they don't have to spend time shopping around
Personalised content can encourage customers to engage and do business with you. This can include subject lines, greetings or references to previous actions taken in email campaigns
Specific landing pages pre-loaded with customer information. This could be a log in page for example where consumers can view previous purchases and simply click 'repeat order'
Advertising
Every time you see an advert, chances are that it has been strategically placed in front of you. Whether it's the PPC ad that pops up when you type a search query into Google or the Facebook post you see promoting the new gym that has just opened in your home town – personalisation is important in your advertising too.
Whether you're sending out an advert or promoting a post, make sure you know who you're targeting. Sending it out to anyone and everyone isn't just expensive, it's unlikely to generate great results. Gender, age, location, occupation and interests should all be factored into who is seeing your content. If you're promoting an HR seminar, for example, the only people who need to see this is HR professionals – anything else is just a wasted effort.
Customer retention
Customer retention is crucial because not only do you start to develop a meaningful relationship, these are the very people who keep your business afloat. You rely on them for repeat purchases, it's much more cost-effective to retain customers than it is to attract new ones and the longer someone remains loyal to you, the more likely they are to recommend you to others.
Examples of personalised marketing that helps with customer retention include:
Loyalty programmes
Personalised offers
Suggested products or repeat purchases based on previous browsing or buying behaviour
The companies that get personalisation right
We can all personalise an email but it's the companies that go above and beyond that really get noticed. Take Coca Cola's 'share a coke with…' campaign. It started in Australia where they branded their products with the 150 most popular first names in the country.
The campaign was a huge hit and they sold more than 250 million bottles and cans that summer alone. It was then expanded into more than 70 different countries across the world.
What makes the campaign so brilliant is that they essentially created 1-to-1 connections with millions of customers without actually needing to market to everyone on an individual basis.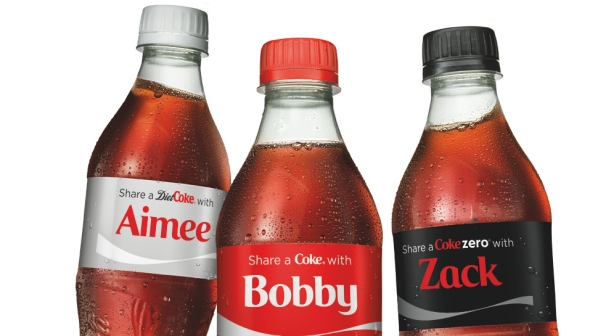 Image source: https://www.coca-cola.co.uk/stories/share-a-coke
Amazon
Amazon's personalisation methods aren't exactly new, they have in fact become famous for them. They remember everything from your name and card details to every delivery address you've ever used and all your previous purchases. They take it a step further by recommending items they think you might like and sending cart abandonment emails to entice you to go through with your purchase.
They even have an entire 'recommended for you' page which is based on your purchase history, items you've clicked on in the past and products which are similar to the ones you've bought or browsed.
Not only does this extreme personalisation make shopping on Amazon incredibly easy, it also encourages unplanned purchase decisions. Perhaps this is why the online retail giant is tipped to become one of the first billion dollar companies in the world.

Spotify
Spotify is a great example of how companies can use personalisation for services as well as products. The music streaming provider uses an algorithm to develop your 'taste profile' based on the songs you listen to and save. They then find similar songs that fit your profile and create a Discovery Weekly playlist for their listeners.
This is very clever personalisation because it gives users something for free – a brand new playlist every Monday. In turn, however, Spotify benefits from this because people are more likely to stream music and download new songs they wouldn't have otherwise considered.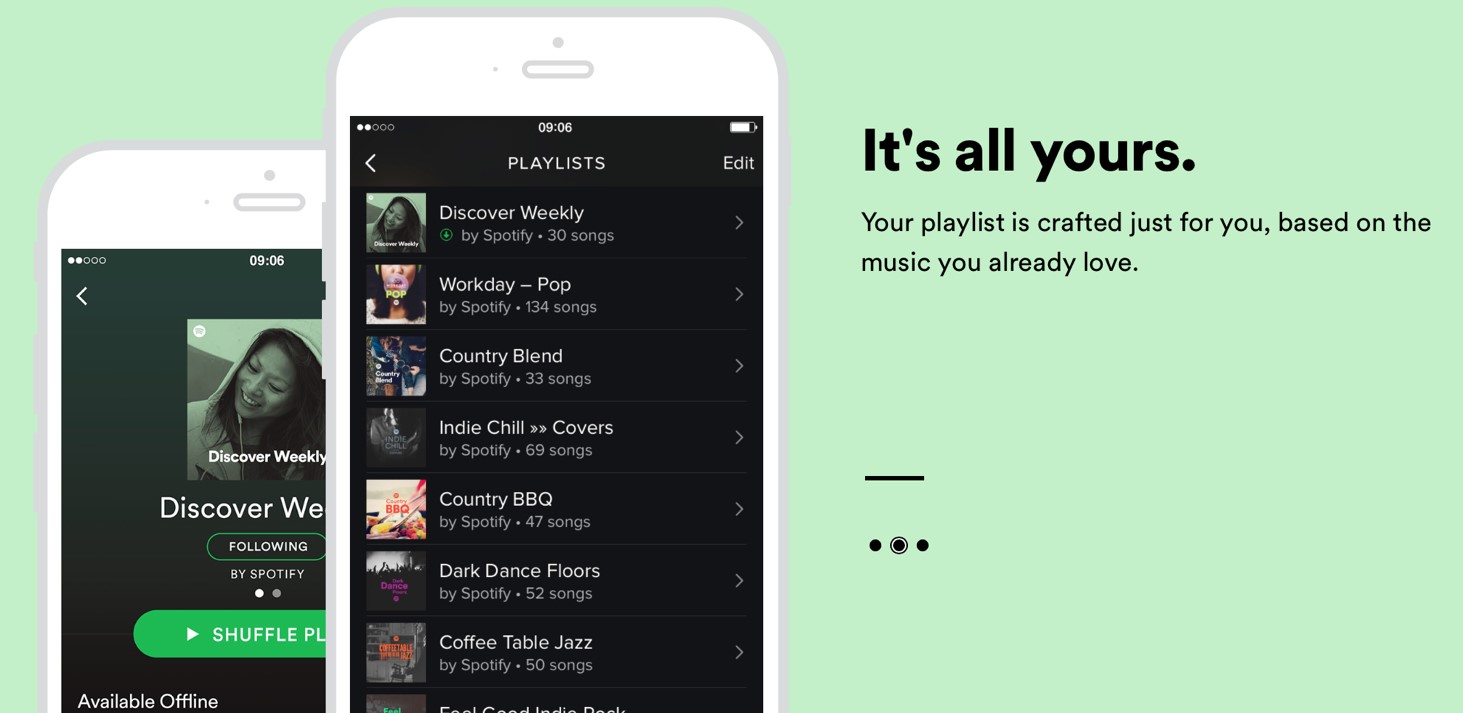 Although personalisation may feel mainstream these days, it's still well worth doing. It ensures that your marketing is predictive rather than reactive so you can offer and provide your customers with what they want before they even request it.
As well as improving otherwise generic marketing methods, personalisation focuses on customer understanding which is what helps to truly set your brand apart from the competition.