When it comes to email marketing, it's all very well getting your messages into people's inboxes, but if they only get deleted then your efforts will have been in vain. One way of making your email campaigns more effective is to personalise them using details you hold about your customers.
In this article, I'll be looking at how to make your emails more personal, with a few real email personalisation examples thrown in for your inspiration.
Why personalise your email campaigns?
Personalisation is something that's been talked about quite a lot because it's a great way to offer your customers a better experience of your business generally, not just in your emails. But as a hallmark of email marketing best practice, adding personalisation to your email campaigns is particularly beneficial: personalised emails deliver 6x higher transaction rates.
Not only that, but stats from marketing technology company Pure 360 show that 74% of customers feel frustrated when content isn't personalised to them. Meanwhile, 50% of shoppers say they're more likely to use a retailer again if they're given personalised offers and information.
With that in mind, let's look at some of the ways in which your small business can use personalisation to increase the success of your email marketing campaigns.
1. Use their name
One of the simplest and most obvious personalisation tactics is to use the recipient's name when you address them. So, rather than "Hi there!", you'd start with "Hi there, Rachel!". This is easily achieved with email marketing software that lets you pull in a first and/or last name from a list. It's a common feature of email marketing these days, which means that it may not reflect well on your business if you don't do it.
It's not only in the opening of the body copy that you can use someone's name. Using it in the subject line of the email is a guaranteed way to capture their attention, helping your email stand out in a sea of other marketing emails. In the example below, for instance, I'm more likely to notice Tesco's email because, unlike Cowshed in the email before it, it's addressing me by my name.

Emails that use the recipient's name in the subject line are 26% more likely to be opened, so it's a no-brainer.
2. Buying cycle stage
If an email doesn't feel relevant to its recipient, the chances are that it'll get deleted straightaway. That's why it's so important to create your content for narrow segments of your audience so that you're sending content that they're more likely to be interested in.
A classic example of this is to tailor your content to the stage the consumer is at in the buying cycle. If they've only just signed up and haven't purchased from you yet, your email content could be more of an introduction to your brand with an encouragement to browse your website to discover more. Once they've started browsing, or a few days later, you could drop them an email to give them an incentive to purchase – an offer code, for example.
You could even send emails to those who've started to make a purchase but have abandoned their order before fully placing it.
Here's an example from Arena Flowers, who sent an email with the subject heading 'Looks like you've forgotten something' with some friendly copy encouraging me to complete my order. The email also includes a photograph of what I'd nearly ordered (the highlighting is Gmail's, not the original email).

So-called 'cart abandonment' is a huge source of lost revenue, with an average of 88% of all online orders abandoned before being placed. If a timely email from you converts some of your abandoned orders to a sale, that's another big argument in favour of personalisation.
3. Using geographic data
Another way to make your emails feel more personal to the people you're sending them to is to make use of geographic or demographic data. Making use of the data you have available on your customers or prospects means you can write copy and use images that are relevant to consumer locations, age groups and likely concerns.
Jet2, for example, know that I've previously booked flights from Birmingham, so sending tailored flight deals using this piece of location data is a great way to maximise interest in their emails.

Although it's not actually my 'home town', it's useful to have an email with flight deals from Birmingham, as it's one of my nearest airports. I'm much more likely to be interested in this than in deals from Manchester, for example, which I'd have received had they not targeted their audience by location.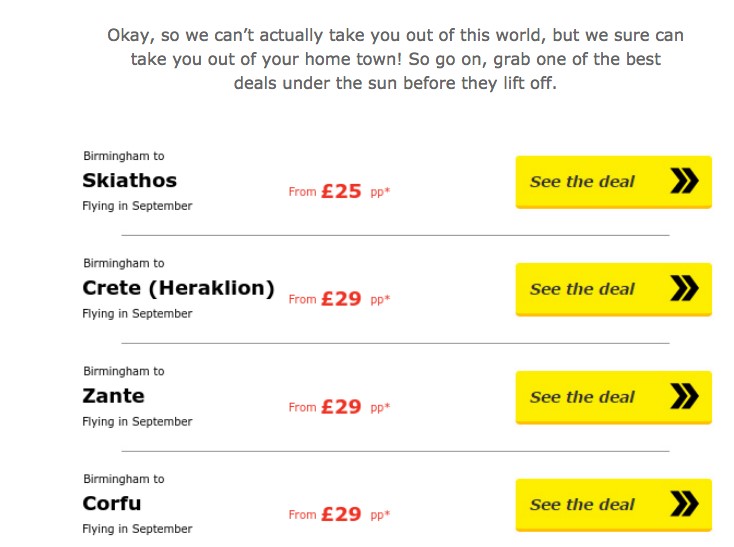 Targeting consumers based on their location also gives you the chance to personalise the images in your emails to location-specific photographs that they'll immediately recognise. For instance, if you're conducting a nationwide campaign, narrowing your segments to specific regions or cities gives you the opportunity to use city-specific imagery so that your emails feel more relevant to the recipient.
This idea could also work well if you're running a campaign that in some way involves things that vary by region, such as the weather. For example, if you were trying to push umbrella sales and a particular part of the country had been suffering a prolonged deluge while the rest of the country had been sunny, you could send an email out only to customers in the rainy area, lamenting the weather and offering a solution.
4. Using demographic data
Using demographic data, you'll be able to tailor your content further. For example, if you're writing for an audience of over 60s, you'll naturally use different language to how you'd write for students in their late teens and early 20s. Personalising your emails to each age group means you'll be more likely to appeal to each group of people than if you tried to write one email that appealed to all of them.
Similarly, for some types of product or service you might be addressing a different set of concerns when writing for women from those you'd be addressing in writing for men. That could be as simple as only sending special offers on men's products to men, and women's products to women, or it could be more about the different usage of a product: for example, you could sell razors to both women and men, but an email to women might focus on smooth legs, while one to men would focus on a smooth face.
Tailoring not just the language you use but the specific concerns of a particular set of people means you'll be able to send emails that the recipients feel are talking directly to them. That means segmenting your audience – and tailoring your email content accordingly – makes a lot more sense than blanket emailing your entire mailing list with the same generic message.
5. Product recommendations
For customers who've previously bought from you, or who've expressed their interests when they signed up to receive your emails, you could personalise your email marketing by sending them product recommendations that you think they'll like. This is a great opportunity to upsell for repeat business, and works in a similar way to the example from Jet2, using data from previous purchases.
For example, if you sell clothing and they've previously bought a pair of jeans from you, you could send them a selection of boots that will go with them. If you sell plants, you could send them recommendations for fertiliser or plants that go well alongside the ones they've bought.
Similarly, if you have a core base of customers who always buy the same products from you, they'll likely be interested in hearing from you when you have discounts on their favourite products.
6. Personalise your own brand
Personalising your emails makes the recipient feel as though you're talking directly to them, but you can take that a step further by putting a human face on your brand. Some brands opt to send emails from a named person in their company so that it feels more like an email from a friend or 'real person'. In the example below, Classic FM has used the name of one of its presenters as the sender:

For small businesses just as for big ones, sending emails from a specific person – such as the owner, or the person in charge of a particular product area – is a nice reminder that your business is not a faceless corporation but a small enterprise made up of real people. You could use your own name, or choose someone appropriate from among your team depending on the contents of the email. For example, if you're a farm shop and you've decided to launch a local flower delivery service, your email could be sent from the florist who'll be arranging your bouquets.
Now that you've got plenty of food for thought on the subject of personalisation, you can learn more about segmenting your audience in this guide to email marketing. Finally, if you're sold on the idea of personalisation and you want to go further with it than just your emails, have a read of this article on whether your business should offer personalisation.