When you're busy running a business, finding the time to promote yourself on social media can be challenging. If you're barely keeping up with running your company's Facebook page, adding another social network into the mix may seem too much hassle.
When the potential rewards are so great, it's worth the extra effort – but only when the platform suits the business. The question we're helping you with today is: is Pinterest the right platform for yours and should you include it in your social media strategy? 
What is Pinterest? How does it work?
With smartphone app and desktop versions, Pinterest works like a virtual pinboard, giving you somewhere to 'pin' things you've found on the internet and sort them into different themes (boards) to save for later. Here's an example of a board from the White Company, in this case, one dedicated to bedroom design inspiration: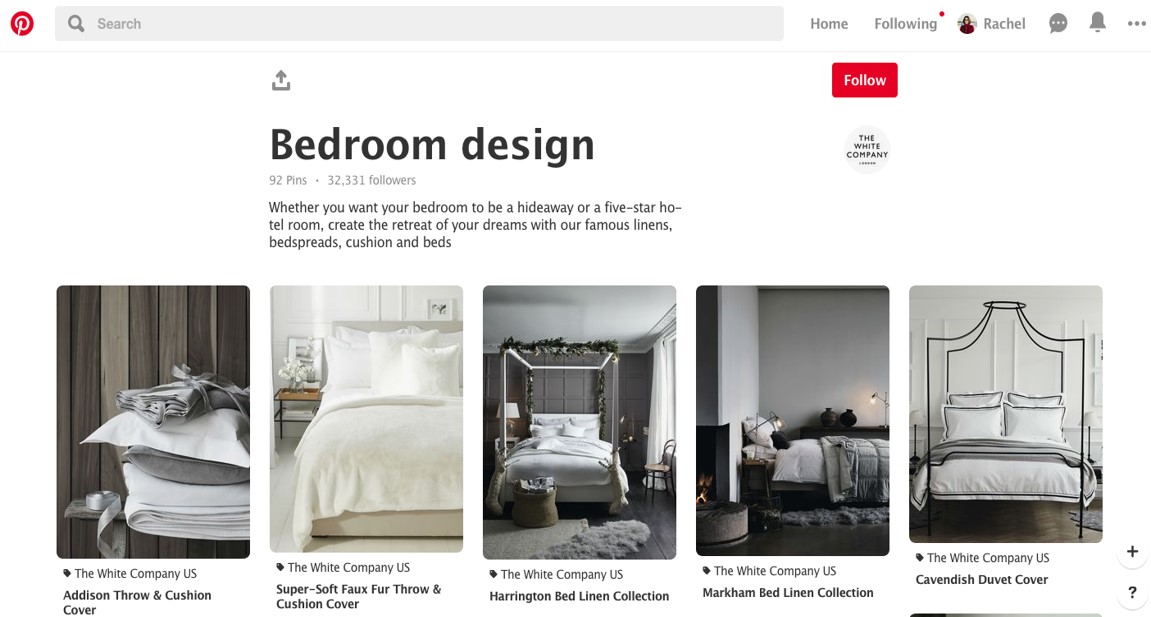 As you can see, 'Pins' are image-based tiles. Each one has an image, a description and a link back to its original source. This heavily visual format makes Pinterest great for creating mood boards, collecting ideas and planning, and that's why it's particularly popular for things like wedding planning, interior design and renovation, cooking, crafting and other creative pursuits.
Like all social networks, users can follow accounts they find inspiring, including those run by brands, and pins by those accounts will appear on their dedicated 'Following' tab. Each time someone pins an idea to their own boards, it appears in their followers' feeds along with similar content by accounts they don't yet follow. It will also appear in results for relevant searches, making it easy for users to discover new ideas on themes they've shown an interest in.
The business benefits of being on Pinterest
As well as searching for inspiration and collating ideas, many people use Pinterest to search for products they want to buy. According to Pinterest, 93% of people say they use Pinterest to plan purchases, and 87% of Pinners have purchased something because of Pinterest. As a business, having a presence on the platform means you'll likely be exposed to people who actively want to make a purchase. For the right businesses, Pinterest can be a powerful way to achieve business goals, such as:
Raise brand awareness – it's not just your followers who see your Pins; when someone saves your Pin, their followers see it too, so more and more people will find out about your brand. 67% of Pinners say they've discovered a new brand or product from business content on Pinterest.
Send traffic to your website – because Pins link to webpages, being on Pinterest is a great way to drive traffic to your website.
Boost sales – promoting your products and sending traffic to your product pages helps boost your sales, and if you have a physical shop then raised brand awareness may also help bring more people to you.
Work toward other goals – such as encouraging people to subscribe to your blog or newsletter. Pinterest claims there are six times more conversions from Pinterest referrals, and five times more sign-ups, suggesting it's a good platform for enticing users to take particular actions.
The great thing about Pinterest is that because it's so useful for seeking out inspiration and saving ideas, and also for actively searching for purchases, it gives you an opportunity to reach people at every stage in the customer journey. But Pinterest isn't necessarily the best choice for every business, so is it right for yours?
Is your niche suited to Pinterest?
The first question to consider is whether or not your products (or services) are something people might use Pinterest to find inspiration for. The suitability of Pinterest to your business very much depends on your niche; these are the top ones. It's a visual platform that relies on attractive images to draw attention. For example, a furniture company has a natural fit with interior design – a major niche on Pinterest – but very technical products may be more difficult to promote using this platform. Think about what kind of content you'd want to promote: does it fit in with what's popular on Pinterest?
Is your target audience using Pinterest?
Of course, even if what you sell seems ideally suited to the concept of Pinterest, if your target audience isn't using the platform then you may not meet with the success you're hoping for. For example, 70% of Pinterest users are women (although 50% of new sign-ups are men), so if your products are geared towards men then you may not experience quite the same level of interest as a brand making products aimed at women. The demographic is typically young, including 52% of US millennials, so it's worth doing some extra research if your target audience is older. You'll find lots more Pinterest demographics stats here.
Another good way to gauge whether your target audience is using Pinterest is to check your Google Analytics, as you might find you're already getting traffic from Pinterest. If this is the case, people are already sharing your content of their own accord, so having your own presence on it makes sense. However, if you don't see Pinterest in your referrals already, that's not to say it won't work for you. It's also worth signing up for a personal Pinterest account to explore what your competitors are doing, and how many times their content is being Pinned, as this is another good indication of whether or not your potential customers are keen Pinners.
Can you create the right kind of content?
Finally, an important factor to consider is that, as we've already mentioned, Pinterest is a very visual platform, so you'll need to be able to create high-quality images that are both relevant to your business and that people will want to share. Your Pins will be competing with lots of professional photography, so they'll need to look the part. Do you have content you could use already, or do you have the skills or budget to create it?
What next?
If you've reached the end of this article convinced that your business is the right fit for Pinterest, then stay tuned for our next article, in which we'll be guiding you through the process of getting started with Pinterest for your business.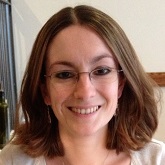 Rachel Ramsay is a freelance copywriter with a background in digital marketing. She's written copy for clients ranging from the United Nations World Food Programme to The North Face, and particularly enjoys working with lifestyle and travel brands. In her spare time, she volunteers for Guide Dogs and flies light aircraft and helicopters.
Read full profile