Sometimes it's easy to forget about the array of different content options available. Often we focus on the written word – blog articles, long-form articles, whitepapers – and forget about the audio-visual options.
Digital audio, or the podcast, is becoming a big deal for marketing professionals, with the number of weekly podcast listeners doubling in the last five years (from 3.2 million to 5.9 million).
I'll explore how podcasts could support your other marketing activity, and the ways in which you can get started right away:
Why podcasts will help your marketing strategy:
They boost trust
In an age where storytelling sells, brands are finding ways of showing an authentic voice to their customers. Social media stories have helped businesses portray their brand in a relaxed and informal way and podcasts are giving businesses the chance to speak directly in the ear of listeners. They're a chance to communicate your brand the way you want to.
In a study done by Medium, podcasts came out as intrinsically trustworthy sources, with 82% of respondents saying podcasts were either "trustworthy" or "very trustworthy".
They expand your reach
Believe it or not, not everyone is a fan of scrolling through social media to find information. Or reading blog posts for that matter. For some, listening is the preferred way of consuming content, whether that be via music streaming platforms, radio or podcasts.
And while many of us dip into a variety of media as we go about our day, it's important that brands make the most of all the opportunities out there to share content.
To make content specifically for listeners helps to expand your reach beyond your readership and social following. If you want to reach a younger audience, for example, then podcasts are absolutely the way to go. If you publish your content on iTunes or Stitcher, your content is readily available to a whole new audience to download for free.
And whilst reach doesn't, in itself, mean higher revenue, it all helps towards raising your exposure and starting the journey towards earning new customers. 
They position you as a thought leader
Maybe it's the fact that the content is spoken directly into the listener's ear, but brands tend to use their most creative and interesting ideas for podcasts. They often take a slightly different angle to a common topic or subvert traditional ideas.
One good way of using your podcasts to position yourself as a thought leader is to interview a well-known expert in your field. Not only does that give you an opportunity to expand your network, but it also gives your customers some insight into the salient topics in your industry.
They can boost conversions
Just by putting a CTA at the end of each podcast, you turn your podcast into a lead generation tool. 
Your CTA might be a simple "subscribe to our podcast series", or a more direct "Shop our products". Whatever your CTA, make sure you have your landing pages ready in advance so you receive as much lead growth as possible.
They're cheap, quick and easy to produce (and digest)
The beauty of podcasting is that it can be done on a shoestring, and take very little time. All you need – at the most basic level – is a phone, a microphone, and a programme for recording and editing your audio.
They offer the potential to delve into audio advertising
Because of the rise in podcast popularity, brands are starting to see the potential for audio advertising. Placing audio ads within the ad-breaks of podcasts can reach new audiences and be a lot cheaper than TV or video advertising. Allowing third parties to advertise on your podcast can also be a good revenue-generating opportunity. 
How to do it:
1. Write up your strategy
Your podcast activity, like any marketing activity, needs a documented strategy.
Your strategy needs to identify why you're doing it, your audience, as well as your budget, resources, and the amount of time you can dedicate to it.
2. Identify your goals
This largely depends on you as a business, and what your overall business goals are. Your podcast goals need to support those broader business aims. So, you might want your podcasts to:
Generate more leads
Increase your revenue
Increase your authority in your field
Keep existing customers "warm"
Document your goals, and make sure you report against them regularly.
3. Identify your podcast audience
Knowing your ideal audience will ensure that your content will be relevant and focused.
First of all, it's worth noting that podcast demographics are weighted more towards the younger population, with the under 35s being the most engaged: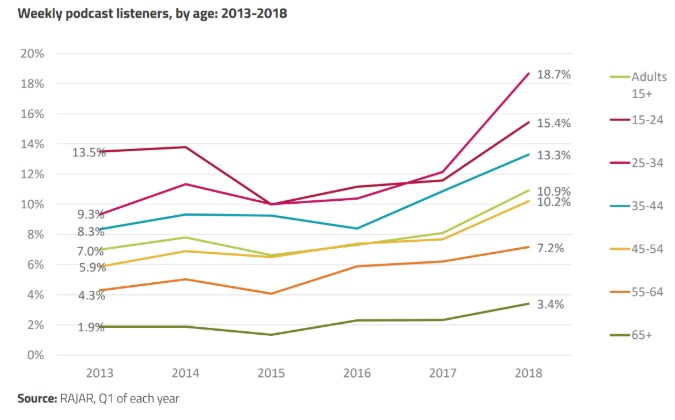 To identify your audience it might be beneficial to develop some "listening personas". Your personas will identify your potential listeners' goals and help you to tailor your content to answer their needs directly.
4. Choose your tools
The equipment you choose will have an impact on the quality of your recording. As a rule, the more you spend on your tools, the better your podcast will sound.
If you're on a tight budget, however, you can produce decent audio using your smartphone or tablet and a microphone. Record your audio in your "voice recorder" or "voice memo" app and plug in a microphone.
However, you might find the process easier (and better quality) by using a laptop or desktop computer. There are plenty of recording and editing tools available such as Ecamm Call Recorder for Skype at £30, or Ringr from £6 per month.
A microphone is a must when you're using a smartphone. At under £10, the Gyvazla clip-on microphone will do the job, or for better quality, there's the iRig Mic Cast at £32.
You'll also need some editing software. Audacity is a free tool, letting you both record and edit your audio. You can also add intro or outro music as well as phasing in and out effects. 
Dedicated podcast maker tools like Alitu, will mean you won't need editing software. It pretty much does everything from record your audio through to editing and publishing it.
You'll also need a media host on which to place your podcast. Platforms such as Buzzsprout, blubrry, or PodBean will host your audio for you, giving you your own dedicated page which you can personalise with your brand visuals.
5. Plan your episodes well in advance
Planning in advance will help you to organise your time and resources effectively and also ensure that your publishing schedule stays on track (particularly important if you have podcast subscribers tuning in to hear your episodes).
A dedicated podcast editorial calendar might help you with this process, or you can add your podcasts to your broader content calendar.
6. Determine podcast length
The ideal length of a podcast is around 20 minutes (i.e. the average length of a commute). Short podcasts are around 15 minutes, and long-form podcasts can reach an hour or more. To a great extent, the length of your podcast depends on the nature of your industry and topic.
As long as you're staying on-topic and engaging throughout – and all your podcasts are roughly the same length – then it doesn't matter a great deal.
7. Determine your podcast frequency
This depends on how much time you have to dedicate to producing audio content. Ideally, a weekly podcast works best. People plan their lives around what day of the week it is, and so publishing a podcast on the same day each week will tap into your audience preference for regularity.
However, if you don't have the time for a weekly podcast then it's better to put out a high-quality monthly podcast than four or five weekly mediocre instalments.
8. Determine your format
There are many different ways you can present your podcast. You can choose to host your show on your own alone or co-host it with a colleague. You could also host an interview show in which you field questions to a person of interest – perhaps an expert in your field.
Other formats include documentary or docu-drama style podcasts, or round-table discussions.
There are pros and cons to every format, but the trick is to find a style that suits you and will appeal to your audience.
9. Create authentic, relaxed and useful content
When you come to record your audio, you may have chosen to go for a fully-scripted episode or opted for a more laid-back approach. If it's the latter then make sure you at least have some cue-cards in front of you so you stay on track.
Your content needs to be three things:
Authentic – it must come straight from you and offer your listeners something that they couldn't hear elsewhere.
Relaxed – podcasts are much easier to listen to if they're informal. Keep a light tone, regardless of how informative your content.
Useful – if your content doesn't add value to your listeners, then they simply won't tune in to your next episode.
10. Edit, publish and share
It's likely that you'll need to do a bit of production work on your audio file once you've stopped recording.
The Audacity, Alitu, and Adobe Audition tools will let you edit your material, as well as add extra effects like a music overlay.
Once you've finished editing, make sure you go back one last time and listen to it carefully from start to finish. Don't forget to include a good, keyword-rich heading that will be found when searched for by your audience. When you're happy, you'll need to publish your podcast.
The first thing you need to do here is to upload it to a media host (it's a common misconception that to publish your audio, you upload it straight to iTunes or your website). Your media host will give you a dedicated web page with a unique RSS feed URL.
To upload your podcast to iTunes, you'll have to copy the RSS feed URL and submit it to iTunes under Submit a Podcast: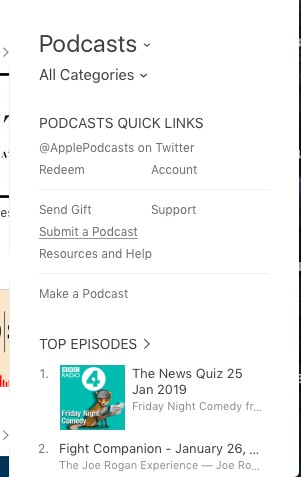 To upload your podcast to your website, you'll need to find the HTML/embed code on your page in your media host's site. Once you've found the code, copy and paste it into the code editor (not visual editor) in your new post. Make sure you check the preview before clicking publish.
Once your podcast is sitting on your website, make sure you share it widely across your social channels and include it in your email newsletters. You've put in a lot of hard work, so make sure you get your content heard!
In summary
There are good reasons for bringing audio into your content strategy. It reaches a new and receptive audience, it can turn listeners into leads and then customers, and it can build trust between your brand and your audience.
The process of producing podcasts, whilst not completely straightforward, can be done with relatively minimal time and financial input, and produce good results in return.
With any new content strategy, however, it's worth monitoring its progress. Check in on the traffic it's achieving, the engagement it's receiving, and tweak your strategy to get the best results.