It's easy for retailers to focus on conversions, thinking of ways to bring customers in and encourage them to purchase. This is important of course, but it's also vital to look at what happens to customers after they've completed the checkout on your website.
Once they've made a purchase, it shouldn't just be left there. By keeping a line of communication with customers, you can encourage them to return again and again.
It's really about keeping your brand in mind and providing good reasons for them to shop with you regularly.
This is where post-purchase emails can help. There are several different types of emails retailers can send, with different goals, but the same broad aim: to keep customers engaged and to persuade them to buy again.
These stats illustrate the importance of customer retention for retailers:
Customer loyalty leads to profits. Increasing customer retention by just 5% boosts profits by 25% to 95%. (Bain & Co, 2015)
23% of customers who had a good customer experience told more than 10 people about it.
Small Biz Trends report that 80% of future profits are achieved from just 20% of a company's existing customers.
The same report also estimates that 65% of a company's business comes from existing customers.
In this article, I'll look at how post-purchase email strategy can help to improve retention rates, the types of emails to send to customers, and tips for improving the effectiveness of these emails.
Why post-purchase emails are important
The general aim of post-purchase emails is to maintain contact with customers who have purchased from your site, keeping them informed of new products, sales and other events, and rewarding their loyalty.
These emails can reinforce the customer's positive feelings from their initial purchase, help to keep your brand in the customer's mind, drive repeat purchases, and help you to learn more about your customers.
Assuming the right foundations are in place and customers are receptive to your emails, post-purchase emails can help with all of these goals.
This means that customers need to be satisfied with the product, the delivery, and any interactions they've had with customer services.
Types of post-purchase emails to send
Here are some of the emails you can send to customers after they've made a purchase. Some are best sent very soon after purchase, while others are designed to maintain contact with customers and encourage them to buy more over the long-term. It's worth noting that you'll need to check what permissions and consent customers have given to send some of these communications.
1. Order confirmation emails
These emails are essential and should be sent immediately after the customer makes a purchase. Any delay here and customers will start to wonder whether or not their order was successful.
They provide instant reassurance for customers and offer the chance for retailers to explain what comes next in the process.
One obvious purpose is to confirm the products ordered and the total price of the order, as well as the delivery address. This gives the customer a chance to check everything is as they expected.
In addition, it's good practice to provide links and a contact number for customer services in case they have any problems or have questions about their order.
The email can also be used as a starting point for a future email relationship, or to reinforce the brand and its tone of voice. This copy from Firebox is a good example of this – the fun tone matching the brand.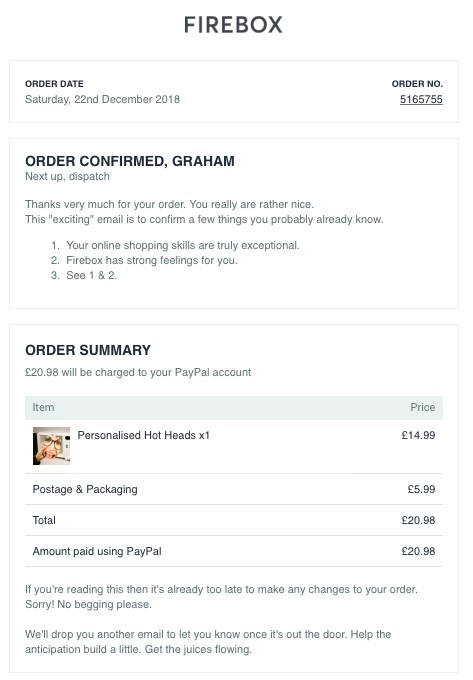 2. Shipping confirmation
Shipping confirmation emails reassure the customer that their order is on the way and provide key information on delivery dates and times. In the case of click and collect orders they may need a reference number for collection.
Clear information on when products will be delivered helps here, as well as information on what to do if you're not around.
This example from Denby, using DPD, is a good example. It's clear about delivery date and the information I'll receive nearer the time (they also send SMS with a time-slot) and gives options to change delivery times or select other options, such as delivering to a neighbour.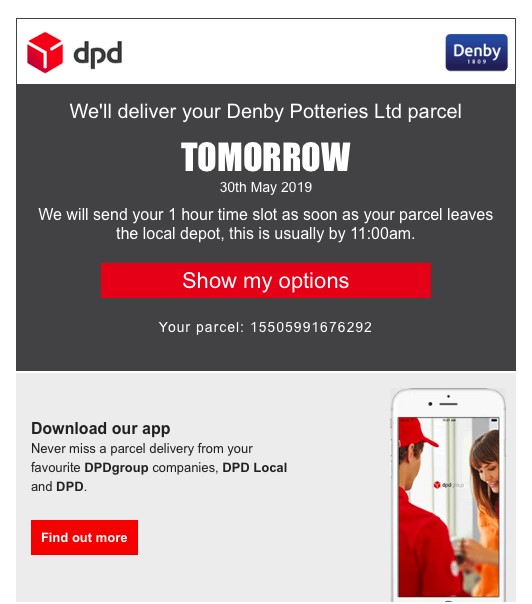 Both order confirmation and shipping emails are functional and are there to provide key information and reassurance to customers.
This can be important from a retention perspective too though. Clear communication, combined with efficient fulfilment of deliveries, sets a standard from the start and leaves the customer with a good impression, something they'll remember when they're thinking of ordering again.
While providing clear information is the priority with such emails, they can be used for marketing purposes too. One way is to suggest items related to the purchase, as Crate & Barrel does. Providing information that customers need should be the priority, but well-presented product recommendations can still be included.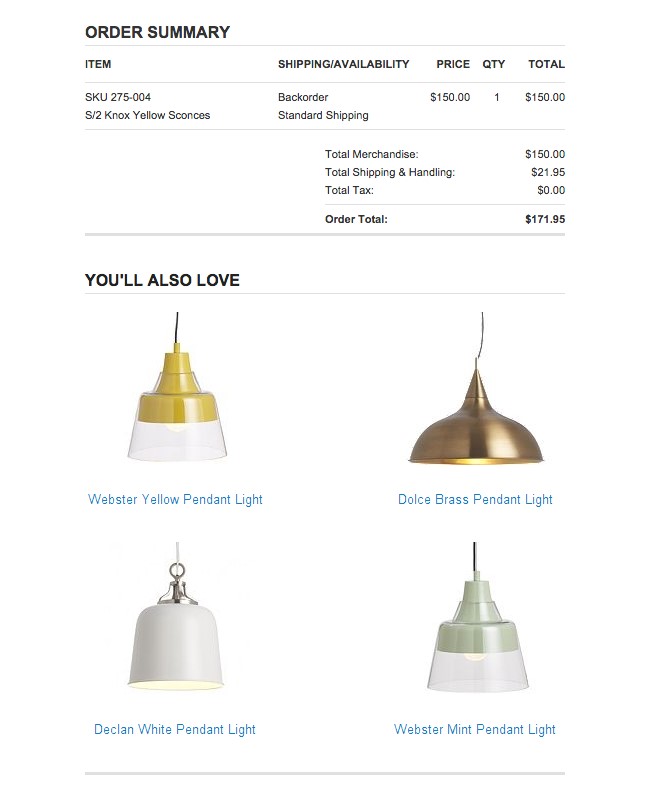 3. Ask for reviews 
It's a good idea to proactively ask customers to review their purchases. This helps retailers to gather useful insights about both products and services, and also sends a message that you are taking an interest in customer satisfaction.
Reviews can also yield some useful information about your products and services, which help you improve, while using the reviews onsite and in marketing could help to drive further sales.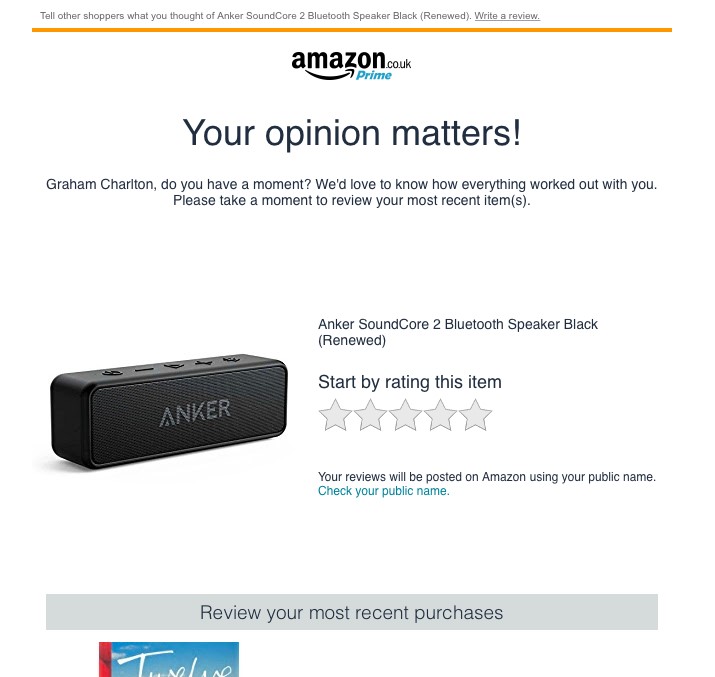 The key here is to time emails appropriately, so that customers have had a chance to receive and use products before you ask for feedback, and to make it easy to leave reviews.
If you ask for lots of information that seems like hard work for customers, you'll attract fewer reviews. Amazon's approach here, to leave a star rating with the option of writing more, is a good approach if you're looking to build up your review numbers.
4. Replenishment reminders 
For some product categories, customers will need to reorder after a period of time. This includes things like food, cosmetics, and toiletries.
To ensure that customers reorder from you, email reminders can be sent to prompt them when they're likely to need to stock up.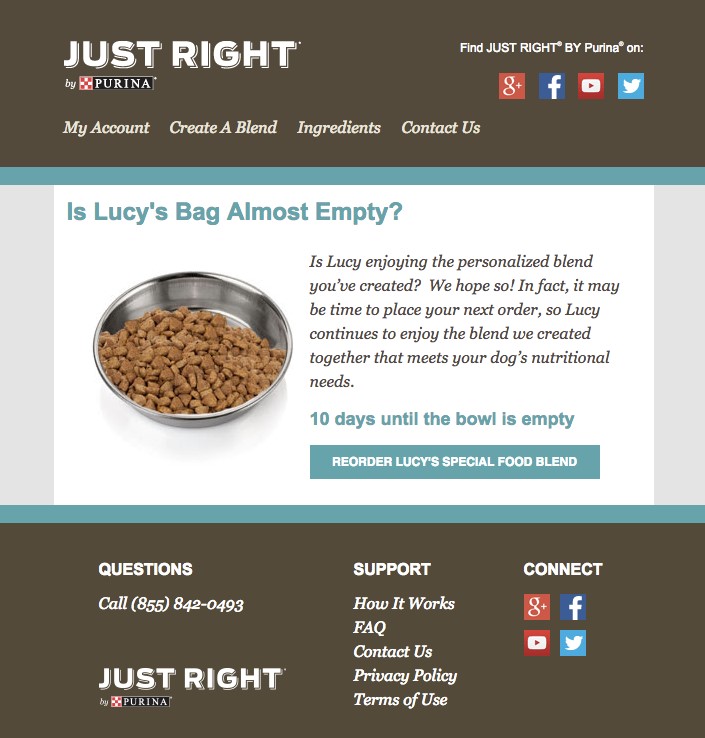 Timing is important, as emails need to arrive in time for customers to order before they run out, but not too early that they're not ready.
Retailers can use data from the customer's own purchase history, say of how long it typically takes to run out of products to be as accurate as possible with timings.
5. Product recommendations and cross-sells 
For existing customers, an email with relevant product recommendations can be the prompt they need to return to make a further purchase.
Emails can recommend cross-sells – products related to those the customer has already purchased – or just products that the customer may be interested in.
The most successful emails need to get the timing right and be relevant. It's important not to bombard recipients with too many emails, or they may begin to ignore, or unsubscribe from emails.
Emails need to be relevant. Sending the same broad email to all customers may achieve some results, but the more personalised the emails, the better they are likely to perform. According to stats from invesp, personalised promotions emails have 29% higher open rates and 41% higher click rates.
The key here is to use the data you have on the customer's preferences, as well as previous purchase behaviour, to make more intelligent and therefore relevant product recommendations.
6. Sales emails 
It can pay to let customers know about upcoming sales events, new product launches and other updates they may be interested in.
If you have a sale on, or some other event (such as the launch of a new product range) then it's a useful prompt to bring customers back to your site.
These emails can be effective but are easily overdone. If sales emails are too regular the tactic will lose its effectiveness. However, if customers are interested in your products, then a well-timed sales email can tempt them to your site to check out the offers.
7. Anniversary/occasion emails
Birthdays and other milestones provide a good reason to email customers, and reward their loyalty. One example is birthday emails with special offers, as in this example from Nike with a 25% discount code.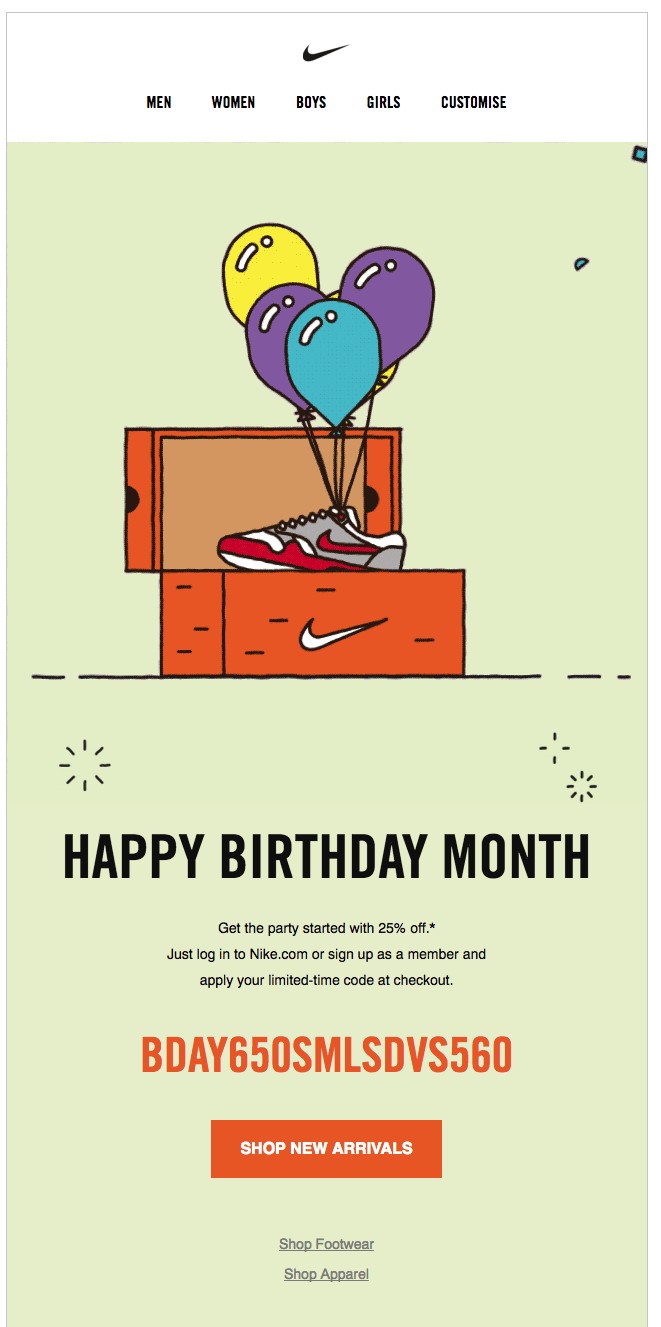 8. Win-back emails 
If you're keeping an eye on customers' behaviour – how often they purchase and how often they open and click your emails (the RFM model is useful here), then you can get a sense of when customers are beginning to lose interest in your marketing.
Using the data you have you can identify customers who are wavering. Perhaps they haven't made a purchase for a while or haven't been opening emails as often as they used to.
One tactic to try in this instance is a reactivation email, which is an attempt to remind the customer of your brand and tempt them back to your site. Using email, you can tempt them back with a reward, special offer, or simply a timely reminder.
Here's an example from Astley Clarke, which adds the carrot of a discount to encourage customers to buy again: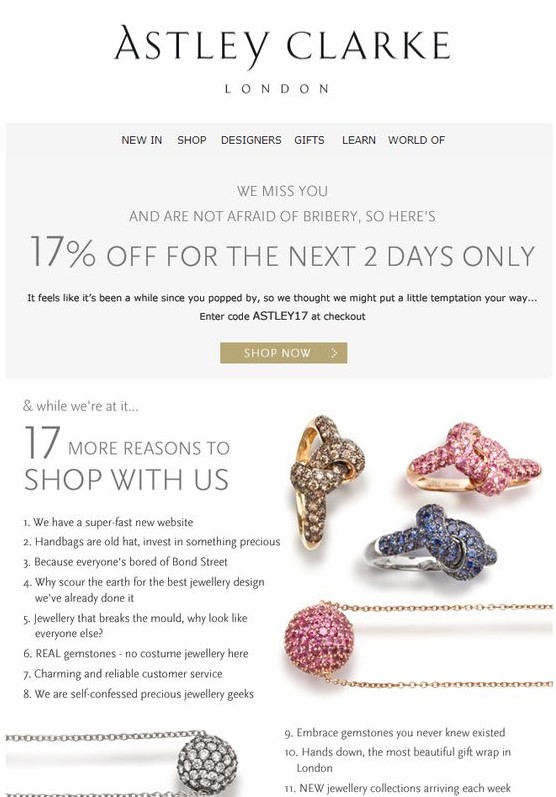 In summary
The key theme that runs through all of these post-purchase emails is that they help to promote a longer term relationship with customers, by keeping your brand in their mind and providing compelling reasons for them to make repeat purchases.
The key ingredient is to use data on customer preferences and on-site behaviour to increase the relevance of emails, and to ensure that they're well-timed and not overused.
With the right email strategy, a purchase can be just the beginning of a loyal customer relationship which can maximise the value of the customers you acquire and help you to retain the customers you already have.