Congratulations on setting up your new e-commerce website. With an incredible 87% of UK retail purchases (even excluding groceries) now made online, a digital platform is a fantastic way to attract new customers and boost sales.
The next step is learning how to promote your e-commerce store. In this article I'm going to share lots of tips and tricks, including both paid and free tactics, covering promotions, social media, reviews, ads and more.
How to promote an e-commerce website
1. Use SEO strategies
An optimised site stands a much better chance of ranking highly in search engines. High rankings equal more traffic and sales which is ultimately, what any business wants.
If you'd like to know how to promote an e-commerce website with SEO, below are some great ways to do exactly this:
Keywords
Do some research to identify the keywords your potential customers are searching for. Incorporating them into your content helps your site to rank for these terms so people can find you. Here's an introductory guide to keyword research if you've never done it before.
Blogging
Having a blog on your website is a cost-effective way to keep your content fresh, drive traffic to your site and get those keywords in. It also provides you with an opportunity to share all the great benefits of your products. Remember, blogging might not be for every site, if you don't have the resources or time to produce regular, high-quality content it could be better to focus on some of these other tactics. 
Title tags and meta descriptions
SEO title tags are an important element of on-site SEO and should include the main key phrases you're targeting as well as the name of your business. Your title tag will show up in search results and can be the difference between someone clicking on your site or choosing a competitor. Anyone can see the title tags a site is using because it's the text that shows up in the tab of the page you're looking at.

Meta descriptions are the 160-character descriptions of your webpage which show up beneath the title tag in search engine results pages. This is essentially an advert for your business and again, it's what will either encourage people to visit your site or choose a competitor. If you don't have this valuable information on your site, people have no idea what it's about and neither will Google.

Internal and external links
Internal links can boost SEO by showing how pages are related to one another, signalling important pages to Google and also by encouraging visitors to further explore your site, thus increasing the amount of time they spend on it.
If you have a blog page, this is a great place to do this if you're talking about a specific product. You'll also often see e-commerce sites doing this by recommending similar products or items to compliment purchases.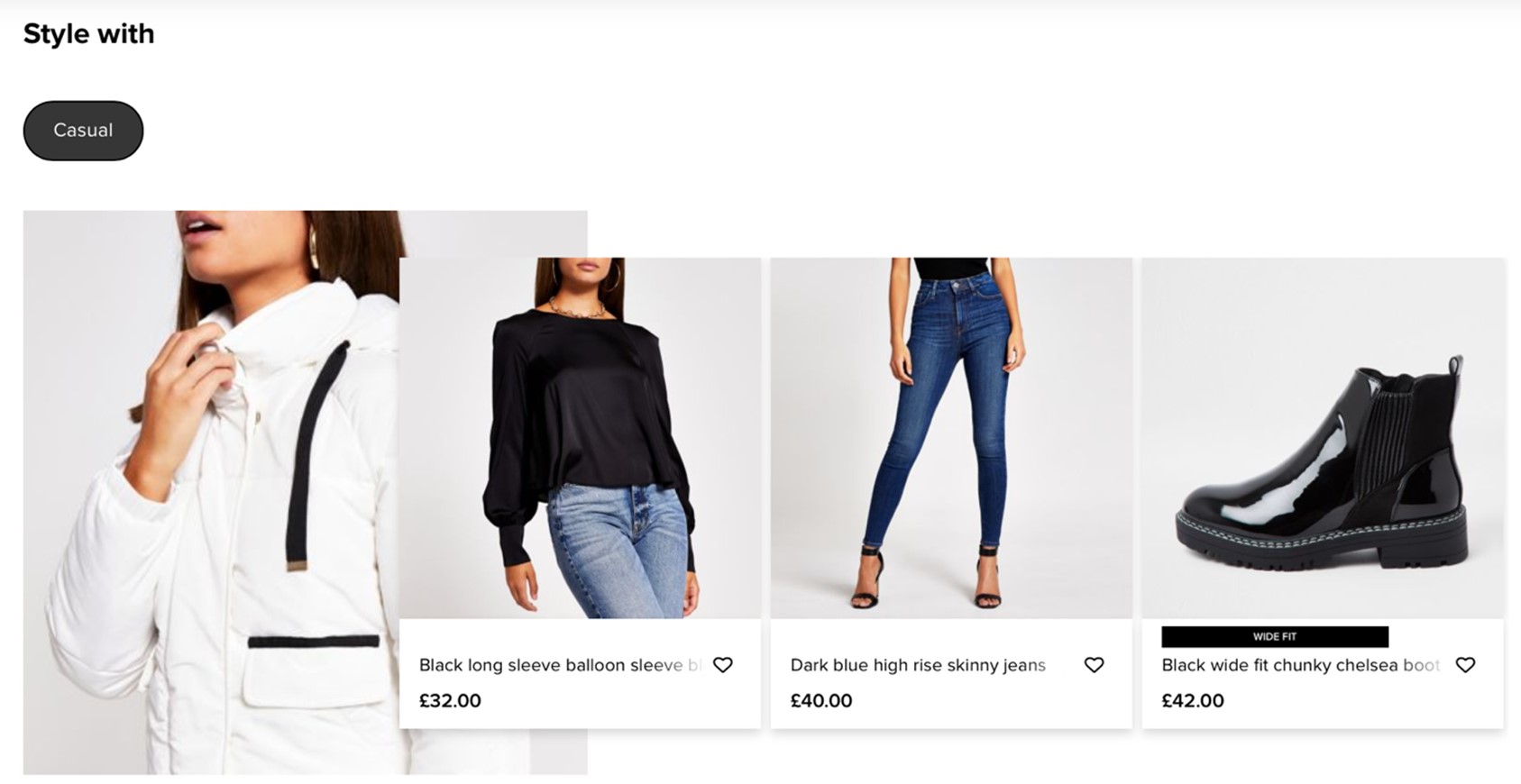 External links provide your site with authority and help to direct traffic. Creating high-quality content is an effective way to encourage other websites to link to you.  
The great thing about SEO techniques is the ability to promote your e-commerce website for free, as it's something you can do yourself if you have the time. Don't forget that you should optimise each individual product page using the techniques above to ensure they all have the best chance of ranking in search engines. SEO can take time, especially for brand new websites, but it's worth building these solid foundations at the beginning.  
2. Run sales and promotions
If you're trying to decide how to encourage customers to your new e-commerce store, sales and promotions can be a great way to do this. Discounts can be an effective way to convince people who aren't sure about making a purchase to go through with the transaction.
Always put a time limit on your sales and promotions. The time-bound nature of these campaigns creates a sense of urgency which means people will act now rather than waiting. By saying 'limited time' or 'offer valid until stocks last,' you tap into people's instinct to buy something impulsively in case they miss out.

3. Utilise social media
If you want to know how to promote your e-commerce website for free, social media is the tool for you. The great thing about these platforms is that there are so many different ways you can reach out to potential customers.
Simply having a social media presence you're consistent with is a great way to build a loyal community, stay in touch with existing customers and attract new audiences. People expect to see brands on social media and will often use it as part of their research when deciding whether or not to make a purchase.
You can use your social pages to showcase your products, post a link to your latest blog, direct traffic to your website, share video demonstrations of your products and let everyone know about any sales or promotions you're running.
A branded hashtag can improve the discoverability of your brand. Not only is this helpful for your customers, it means that you can quickly and easily find out what people are saying about you.
The watch brand, MVMT for example has created the hashtag #jointhemvmt in a bid to engage with their followers. Having the hashtag means that when a customer uploads a photo of their watch, other potential customers will be able to see it too. With more than 158,000 posts using the hashtag, this shows how much you can extend your reach by creating one for your brand.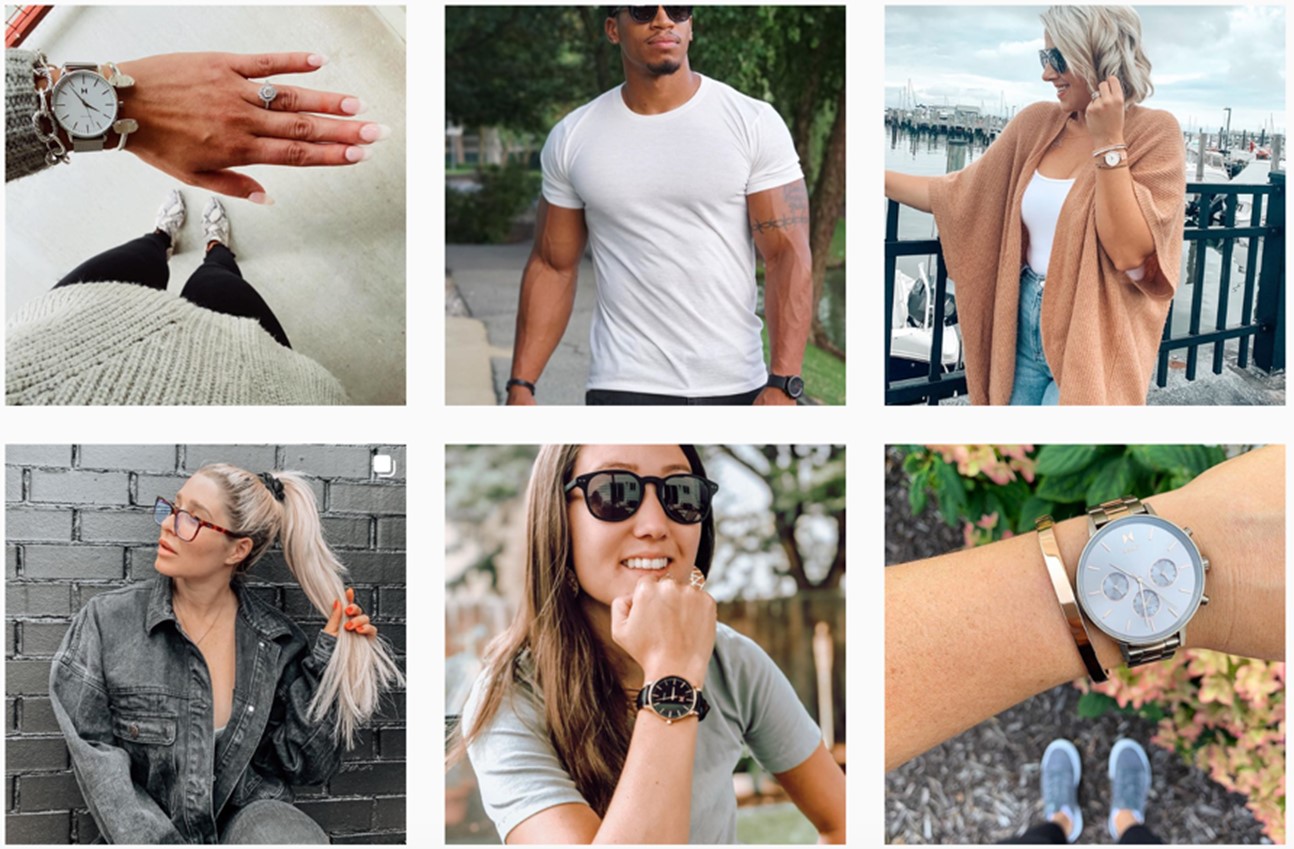 This brings us nicely onto the topic of user-generated content (UGC). Customers uploading photos of themselves using your product is an incredibly powerful marketing tool for businesses.
It's genuine, authentic, provides social proof, increases your exposure to new audiences and people trust it. Don't be afraid to ask new customers to post something – many are happy to do so because of their desire to play a greater part in a brand's community of followers. You can also offer incentives such as entry into a competition or the chance to feature on your website.
Social advertising
If you're happy to invest a bit of money into your social media strategy, there are a couple ways you can do this to boost your profile.
Paid advertising
You can promote posts or create an advert from scratch and then pay for it to feature in news feeds of people who don't even follow you. This is a great way to reach out to new audiences, especially if you don't have many followers. You can even target who sees your ad based on gender, location, job title, hobbies and more. If you can team this up with a promotion, it gives people an extra incentive to head to your page.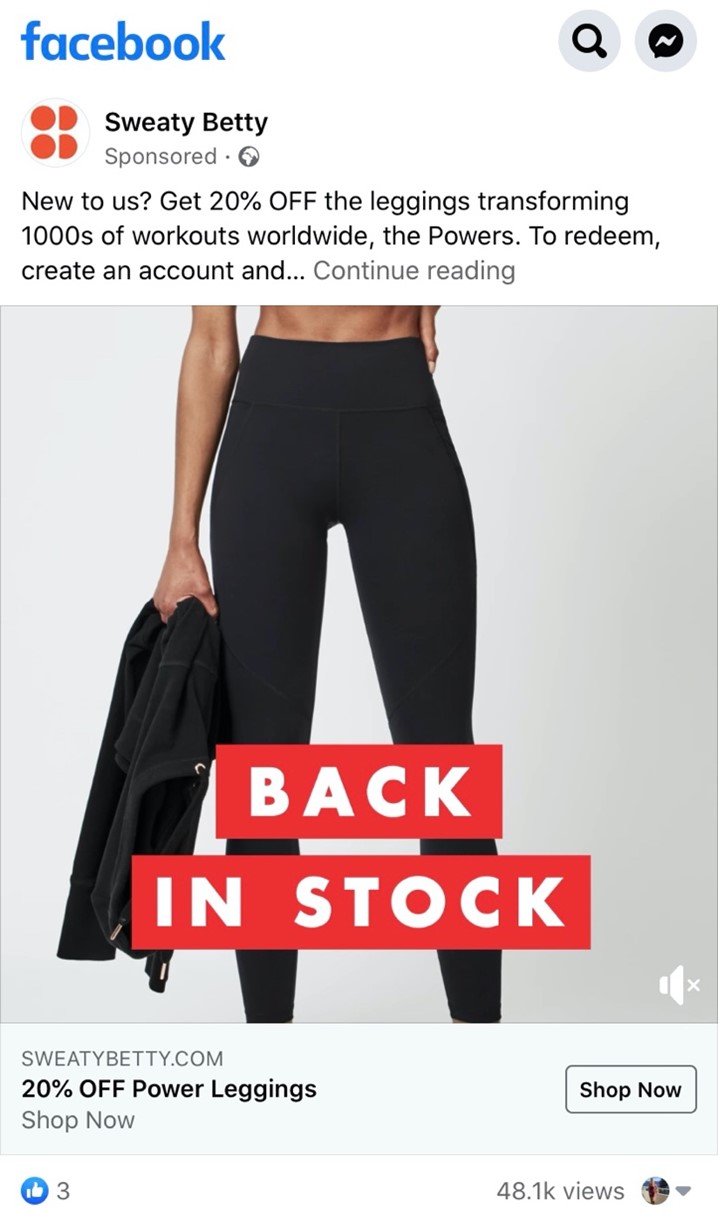 Influencer marketing
Using influencers is another way to promote your e-commerce business on social media. This is something brands are leveraging more and more because it's proving to be highly effective.
Influencers have a lot of followers who trust them and like to use the same products as them. With a big following, they can help you build immediate and lasting trust with customers on a large scale.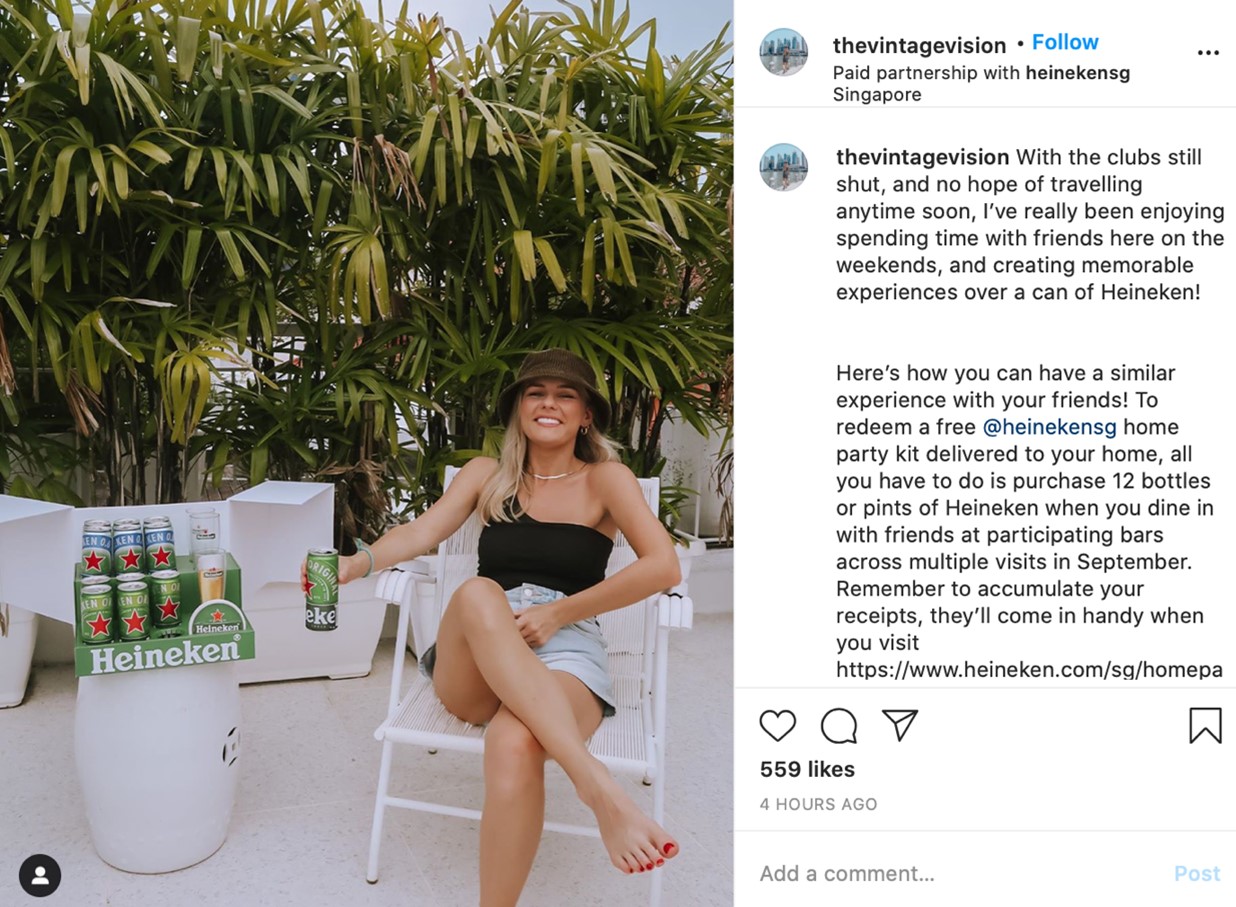 Head to this social media guide for small businesses to find out everything you need to know to get started on social media, from how to create a strategy and brand image to advertising and influencer marketing.
4. Run competitions
E-commerce websites rely on user engagement as a driving force behind building customer loyalty and increasing sales. One of the easiest and most effective ways of achieving this is through competitions.
Additional benefits include being able to attract the attention of new and existing customers, gaining new social media followers and encouraging people to engage with your brand. With most companies already on social media, this is a good place to run your competition.
This is a great example of a social media campaign run by Neom Organics on their Instagram page.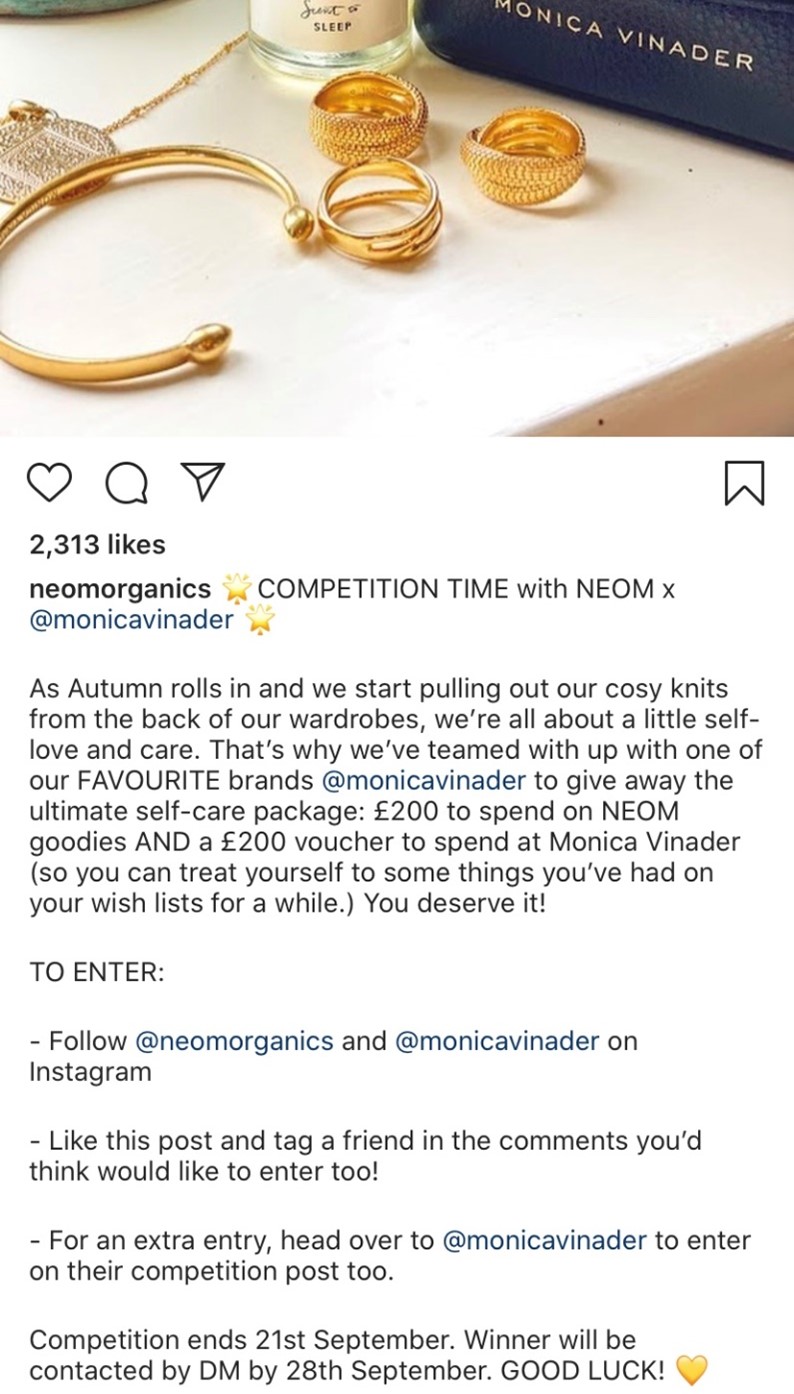 They've made the competition relevant to the time of year and they've teamed up with another brand. This means they increase the likelihood of attracting entrants, followers and potential new customers because anyone following Monica Vinader will also see the post.
In order to be in with a chance of winning, people must follow both brands, like the post and tag a friend in the comments. As well as increasing followers and boosting engagement rates, new people will see the brand through the tag and with more people liking and commenting on the post, it means Instagram is more likely to show it on news feeds and in Explore. Both brands are also encouraging their followers to enter the competition on each other's pages which again means they're likely to attract new followers, likes and comments.
5. Reviews
In a world where a huge amount of purchases are now made online, reviews are incredibly important to any e-commerce business. In fact, 93% of people say that online reviews impact their buying decisions and 91% trust them as much as a personal recommendation.
With reviews playing such an important role in the buying process, encouraging comments about your e-commerce business and products can attract customers, increase sales, boost profits and even improve SEO.
These blogs can help you get started with online reviews:
6. Give out free samples
While many business owners are reluctant to give out free samples, they can be an effective way to attract new customers and generate sales you wouldn't otherwise have been able to acquire.
It can be very difficult to persuade someone to part with their money if they've never used your product before or even heard of your brand. If they can try your product with no risk however, they're highly likely to do so.
Today's consumers want to be able to try before they buy. A survey carried out by EventTrack found that 78% of people who bought a product said the reason they did so was because they were given the opportunity to try it out first.
Other benefits of giving out free samples include:
Builds loyalty with customers
It's a perk of shopping with you over a competitor (by giving out a free sample with every order for example)
Expands shoppers' knowledge about other products you offer which could lead to more sales of new products
Can push a tentative customer towards making a buying decision
7. Paid advertising
When discovering how to promote an e-commerce website, there are many free ways to do this (such as through social media). If you really want to give your site a boost however, paid advertising can really help.
We've already discussed how you can do this on social media through advertising and using influencers. Google's PPC advertising is another effective way to get your brand noticed.
When we type a search query into Google, we're presented with organic search results as well as paid ads. A huge benefit of paid advertising is that the ads are displayed at the top of the page so it's the first thing people see. Aside from the little ad symbol, the ads look just like the organic search results: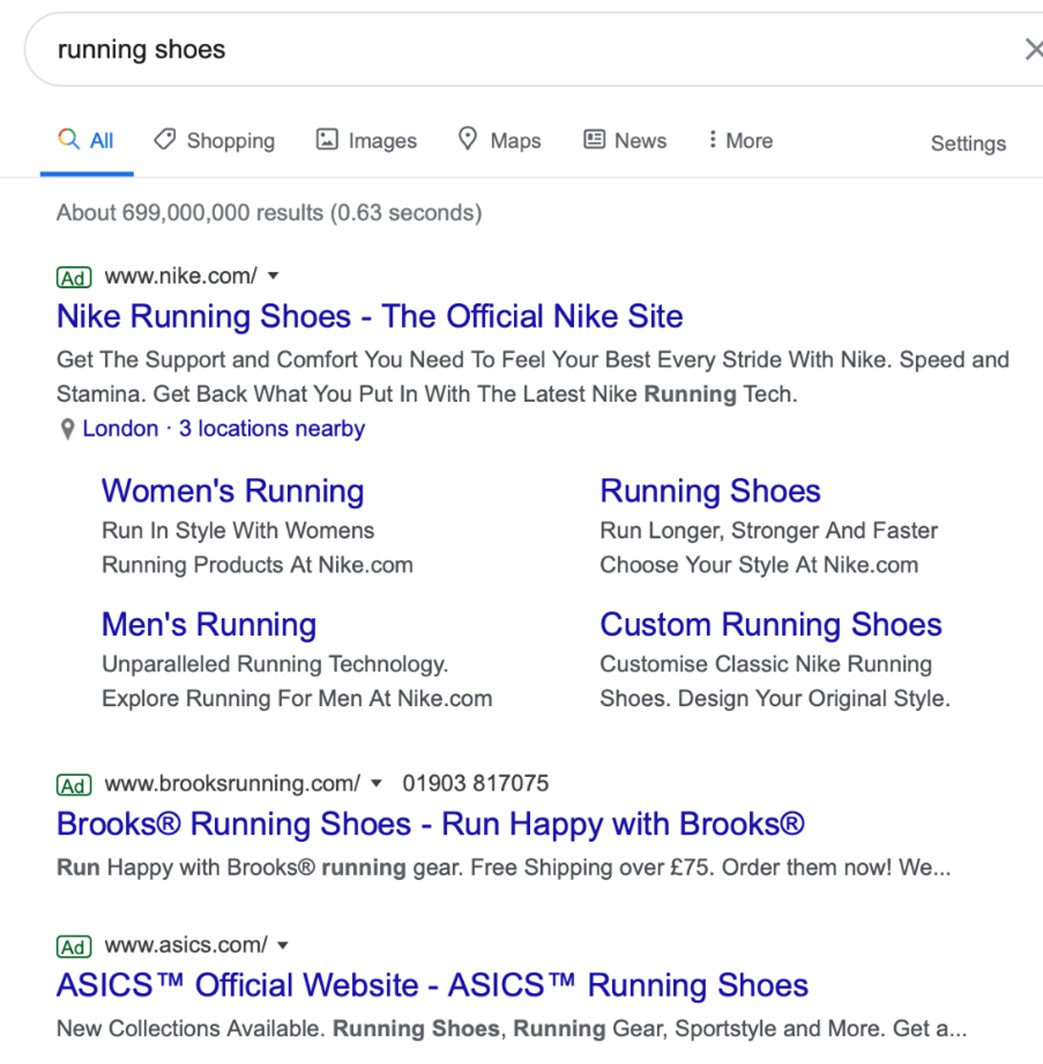 PPC ads are particularly helpful to brands who don't feature on the first page of Google organically. They help you get noticed, drive traffic to your website, you only pay when people click on your ad and with plenty of data available on the platform, you can easily track and measure results.
These helpful articles can help you set up, run and monitor effective PPC ads:
These seven techniques are a great starting point when it comes to encouraging customers to your new e-commerce store but there's lots more to try, for example:
Flash sales – A very short sale encourages customers to buy now rather than waiting. This is a great tactic for selling out-of-season stock or shifting products that haven't sold particularly well
Run a loyalty programme – This encourages customers to use your site again and again rather than going to a competitor
Send reminder emails – If a customer hasn't re-ordered a product from you, a friendly email asking if they need to replenish their stock can prompt them to make a purchase
It's a case of understanding where your target audience hangs out online and how best to reach them. Start with one or two of these techniques and see how they perform. It can also be a good idea to try a mixture of tactics that might bring in traffic more instantly (such as paid channels) and those that will work better in the long term (such as SEO).
If you're looking for more great ways to get the most out of your e-commerce website, these articles might be helpful: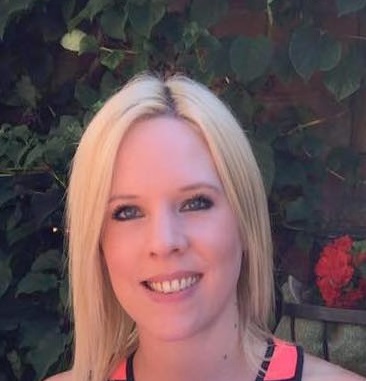 After completing her degree in Journalism, Monique began her career at a digital marketing agency. It was here she discovered a passion for online marketing with a particular focus on content creation for the web. Six years ago Monique set up her own copywriting business, Copyworks Group, which specialises in creating content for websites, blogs, newsletters and social media pages.
Read full profile