E-commerce payment processors fulfil a key role for e-commerce sites, allowing retailers to process payments.
They work with the online retailer's merchant account and payment gateway, passing payment information back and forth, and ensuring transactions are both secure and speedy for shoppers.
To take payments from customers and transfer them to your account, you need a merchant account which authorises retailers to take payments and works with the payment processor.
You also need a payment gateway, which will allow you to take card payments directly from your website. This acts as the middleman between the transactions on your site and the payment processor, ensuring transactions are encrypted and secure.
The payment processor works in the background to check the validity of payments, contacting the issuing bank behind the customer's card or other payment method.
There are five 'parties' involved when a customer makes a payment online:
The customer, or cardholder making the payment at your online checkout.
You, the merchant.
The payment gateway. This is the software that works on your store and encrypts the customer's payment information before sending it to the payment processor.
The payment processor. The payment processor works in the background to check the validity of payments, contacting the issuing bank behind the customer's card or other payment method.
The customer's payment system. The payment network which the customer's card is linked to, such as PayPal or Visa. It receives information from the processor and confirms that the customer has the money to cover the payment.
This all happens almost instantly, with information passed back and forth between the various parties, before the customer's online payment is either accepted or rejected.
There are lots of e-commerce payment solutions out there, some combining various elements of the gateway and payment processor, such as PayPal or Stripe.
The choice for e-commerce sites will depend on a variety of factors, taking in price, security, convenience for customers, and the potential impact on conversion rates.
Here I'll look at three specialist e-commerce payment processors and the pros and cons of each offering.
1. Shopify Payments
According to Shopify, around 800,000 merchants are running sites on its e-commerce platform.
Retailers on Shopify can use a range of third-party payment processors, but Shopify Pay is its own payment processor. It's currently only available to Shopify merchants in the US, Canada, UK, and Australia.
Pros include:
Ease of integration. The major benefit for merchants already using Shopify is the ease of integration.
Potentially lower processing fees. Payment fees can be lower than when using third party payment processing (though users can still have alternatives like PayPal as a backup to broaden appeal).
Managing payments directly. Payments can be viewed and managed through the existing Shopify dashboard, rather than through third parties, which can simplify and shorten the workload for small businesses.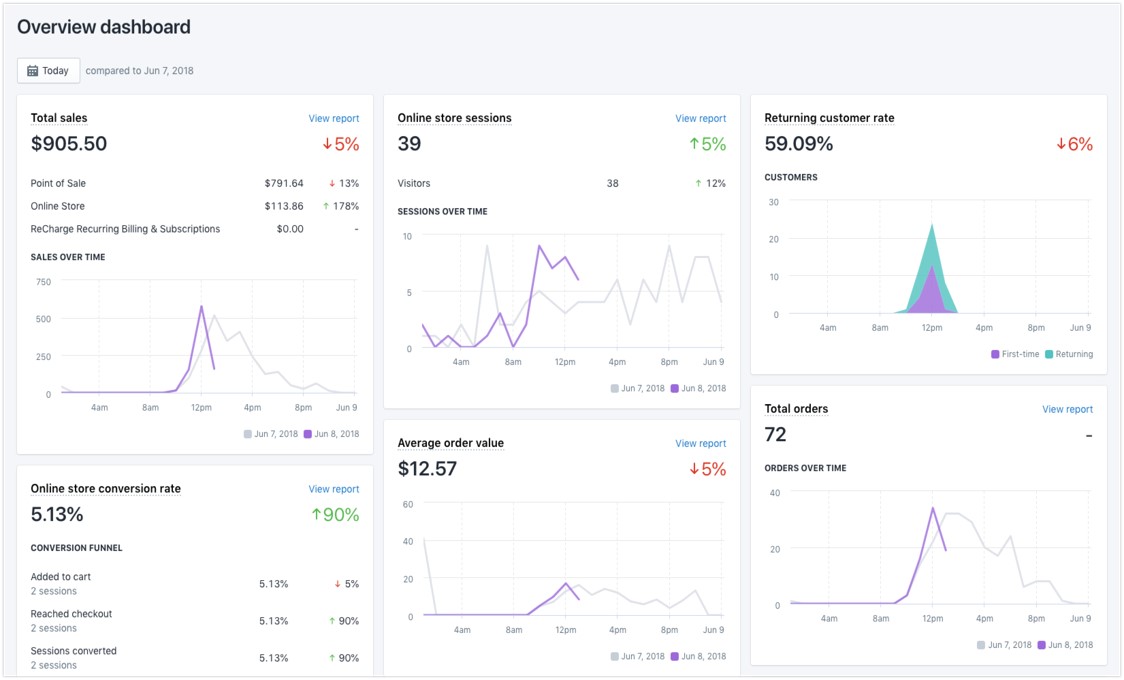 Saved payment details for easier checkout. Shopify Pay allows customers to save their billing address and debit or credit card details from previous transactions on Shopify sites. This makes it easier to buy on subsequent visits to merchants on the Shopify platform. 
Anything that reduces the amount of work customers have to do to complete checkout should reduce the level of abandonment at this stage. Indeed a recent Baymard survey put a 'long/complicated process' as the third biggest reason for checkout abandonment.
Rather than completing the checkout by entering address and card details, users of Shopify Pay can simply enter their email address and password to use their saved payment details.
This removes steps from the checkout process, making it shorter and less complex. It has the potential to reduce abandonment on desktop and mobile but is particularly important on the smaller screen as this is where checkout conversion rates are much lower.
Some of the potential downsides to Shopify Payments:
Problems with funds being held by Shopify. Without knowing the details of each case, it's hard to know how much truth there is in some claims, but there are lots of reports of funds being held from merchants for more than a month. Merchants rely on regular and predictable cash flow and have suppliers, staff and more to pay, so any delay in receiving payments from customers can cause problems.
Are people less likely to sign up for Shopify Pay? While Shopify is a brand well known to those in the e-commerce industry, it's not necessarily a name well known to the wider public. Therefore, it's possible that users are less likely to save payment details than they would with competing payment services.
2. Klarna
Klarna's own statistics claim that 100,000 merchants are using its service, and it deals with 800,000 transactions daily.
Klarna's pros:
Credit options. Klarna's main appeal is that it offers a buy now, pay later option. Retailers using this payment processor can ask for payment in full or offer credit options allowing customers to spread the cost of payments. This option can appeal to a broader range of customers, and potentially tempt them to spend more, which is great from the retailer's perspective. It's also an option that many smaller retailers would be unable to offer otherwise.
End to end payment process. Klarna handles the process on site (including credit checks) for retailers, so there's no need to take them away from the site for payments, as PayPal does for instance.
Klarna cons:
High transaction fees. Fees start at around 2.95%, which some would consider relatively high.
Refusing customers credit. Inevitably, some customers will be refused credit after Klarna carries out checks. This may lead to some unhappy customers blaming the retailer, not the payment processor. For example, if a regular customer was refused credit, would they be happy to buy again?
3. Amazon Pay
Exact stats on the number of Amazon users are hard to find. One source suggests 310 million Amazon users worldwide in 2016, and it's safe to assume that that number has grown. More than 140,000 sites are estimated to offer Amazon Payments worldwide.
Pros of Amazon Pay for merchants:
Broad appeal. There are millions of online shoppers with saved Amazon payment details, so offering this method is likely to appeal to a good proportion of online shoppers.
Ease of checkout. As with Shopify Pay, saved billing address and payment details streamline the checkout process, reducing it to entering their Amazon email and password. This makes purchases on mobile and desktop much shorter for users.
Trust in the Amazon brand. Amazon is just about the biggest name on the web, so users seeing the Amazon checkout option are likely to trust this. For smaller retailers, it allows them to 'borrow' some of this trust which can help when shoppers are unfamiliar with their brand or website.
Fraud protection. Amazon has large teams working on payment fraud, and lots of data and experience to draw upon.
Some potential drawbacks of using Amazon Payments:
Stringent fraud controls. The flipside to tight fraud security is that some customers may have genuine payments declined.
Relatively high transaction fees. Fees vary according to sales volume, but some lower volume retailers may find them relatively expensive. Merchants may feel that the brand value and ease of checkout outweigh the cost.
In summary
All three payment processors here have some very useful features and some strong arguments for using them.
Shopify's ease of integration and low processing fees are very appealing for small businesses who are already using the platform. For those that aren't, using Shopify Payments means switching platforms, which is a much bigger decision.
Klarna's offering is unique among the three options here. The key selling point is higher conversions and order values thanks to the flexible payment options if this is something retailers think their customers are looking for. It may be more appropriate for some businesses than others.
Amazon's brand name, and the sheer number of users with accounts make it a very appealing option. Like Shopify Payments, it simplifies checkout for users, but it can also help with trust issues. The high fees are a key consideration, but that may be offset by increased sales.
Of the three here, Amazon has perhaps the most attractive offering, though there's no reason for retailers to restrict themselves to just one of the three. Indeed, a choice of payment methods is very attractive to online shoppers, as payment preferences change over time.