In this series, we've been looking at how online retailers can adapt their marketing for different seasons and events, and how to create relevant and engaging content that fits with customers' shopping habits.
This time I'm looking at how online retailers can use Easter as the inspiration for marketing campaigns, creating content and promotions to appeal to customers at this time of year.
Easter is a busy season for online retailers, as shoppers head online to buy gifts. Online sales rose by more than 10% in April 2018, thanks to the influence of Easter.
Sales of non-food products online grew by 10.3% in April 2018, thanks to the timing of Easter (Easter Sunday was on April 1). In April 2017, when Easter fell at the end of March, sales fell by 6.6%.
Easter themes for marketing
It's hard to do any Easter marketing without some mention of eggs, Easter bunnies and egg puns. In fact, the majority of marketing around this time of year has some sort of connection with eggs.
While the egg theme is certainly the dominant one for marketers, it's also a long weekend for many people and, depending on the weather, there may be other angles for marketing, such as outdoor activities, DIY, and other leisure activities. 
Indeed, even if a brand has no obvious link to Easter and eggs, there's always a way to join in with a few creative ideas.
Carlsberg is one such example. It created a pop-up bar made entirely from chocolate for Easter 2016, citing the fact that Easter is an occasion when its customers drink plenty of beer.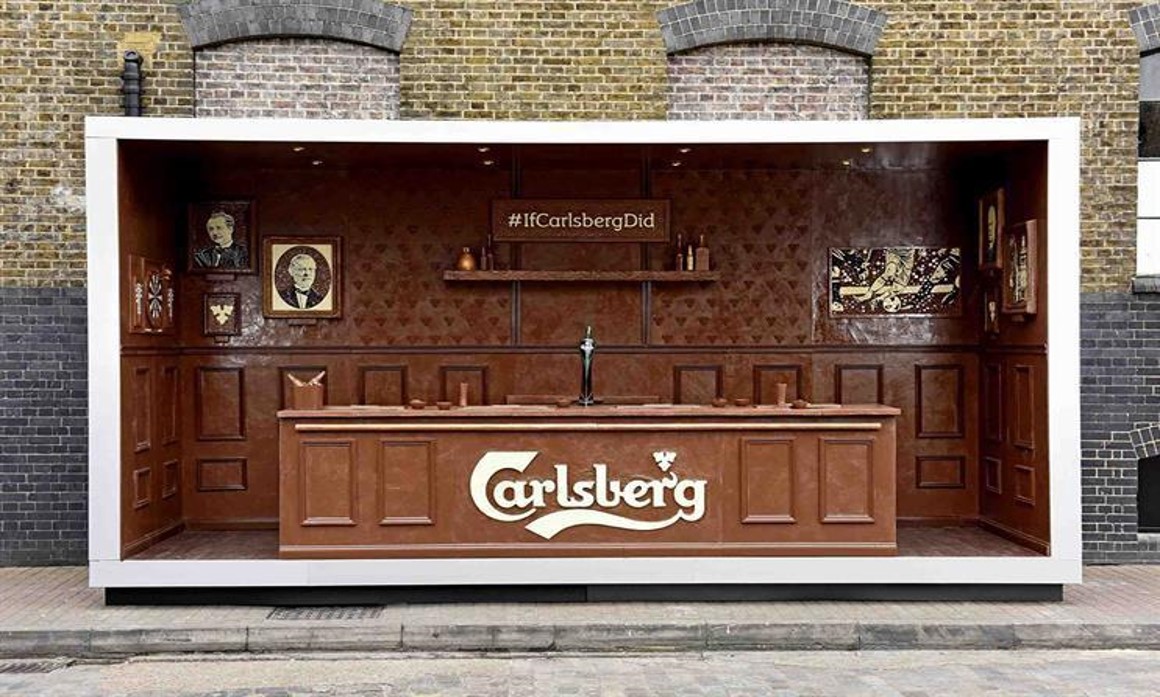 In 2019, Easter Sunday falls on April 21, so we may see early signs of warmer weather. Of course, it's the UK, so it could also rain all weekend. Therefore marketers need to be able to adapt to changing conditions like weather and adjust accordingly.
Some ideas for Easter campaigns:
Easter egg hunts – whether online or offline, Easter egg hunts and competitions can be used to promote products and bring customers to your site or stores.
Easter sales

– it's a long weekend, so people will have more time to shop online. Coming towards the end of Spring, it can be a good time to clear stock and make room for summer lines.

Contests and competitions

– Easter is associated with games anyway, so why not use this in marketing. This could mean competitions to win things like giant eggs or other Easter related products, or perhaps user generated contests like egg decorating.

Start off your Spring campaigns

– the Easter weekend often coincides with the beginning of Spring, so with customers off for a few days, it's a good time for retailers selling DIY or garden products to begin their campaigns.
Easter marketing campaign strategies
Easter is a relatively short event, with a long four day weekend and perhaps a week or two of planning in the build up to the weekend.
SEO and content strategy
If you're selling Easter related products like chocolates, then this will be a key time of year to attract interest from searchers.
The target here is to rank for your target terms at the right time, and it's a case of planning early and creating content and pages well ahead of time so it has time to attract links and move up the rankings.
For ecommerce sites, Easter themed landing pages (or homepages) are a useful tactic which can work from an SEO perspective, and as a landing page for other marketing campaigns.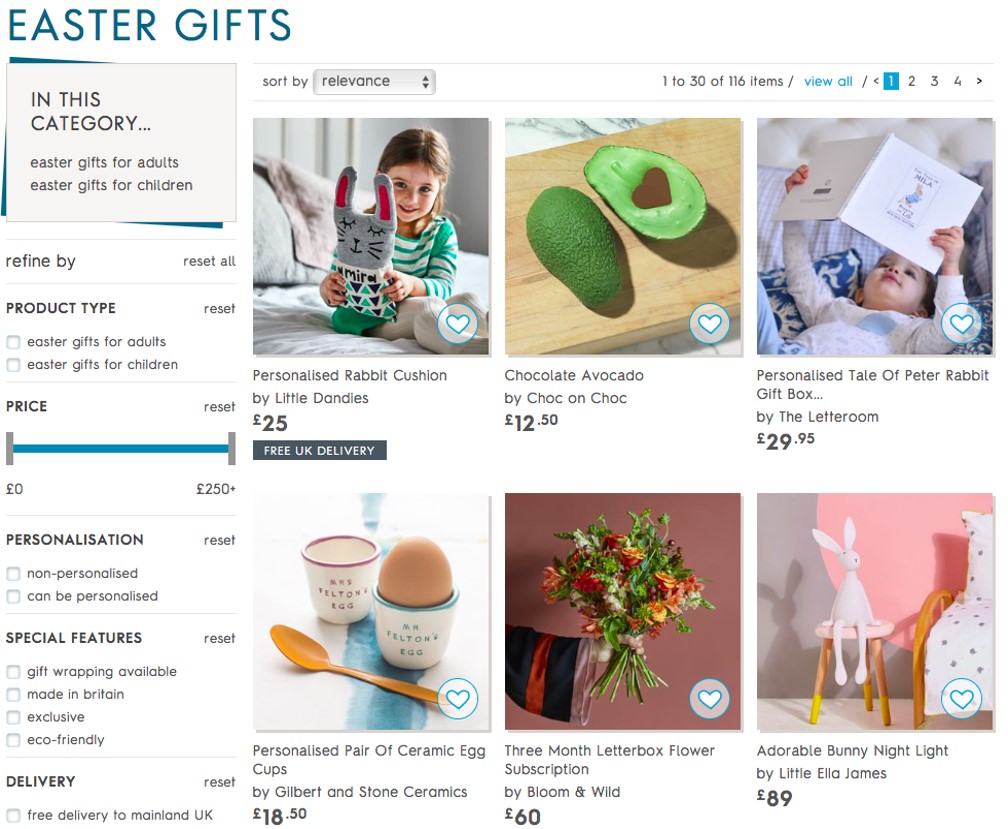 Create a landing page showcasing all the Easter related things that you have to offer.  This can be arranged as a separate category on the website, or you can use your homepage to promote your Easter products.
It doesn't just have to be chocolate eggs, there are lots of potential Easter products – baskets, ribbons, clothes, kitchenware, books, and more. 
Think about how you can use content to help and/or entertain customers around Easter.
For example, Thorntons created a piece of long-form content for Easter 2016, 'The Ultimate Guide to Easter Eggs'. It showed people the Easter egg making process, lots of facts about eggs, and interactive elements such as hidden Easter eggs.

The content was successful, enabling Thorntons to take the number one spot on Google for the term 'Easter eggs' during Easter 2016.
The mistake Thorntons seems to have made is to take this page offline, especially since it is nowhere near the first page of Google for the target search term now.
Good content can pay off on a long-term basis, and by updating pages and keeping them relevant, they can perform well the following year.
Easter egg hunts
Easter egg hunts can be used online, to encourage people to visit your site and view lots of product pages.
You could hide Easter eggs around your site, on certain product descriptions and images, and wait for your customers to find them for rewards and prizes.
These rewards for finding eggs could include:
Discount codes and promotional pricing offers.
Free gifts with purchases.
Gift cards – these encourage people to make a purchase, and can be upsold to.
Unique product bundles.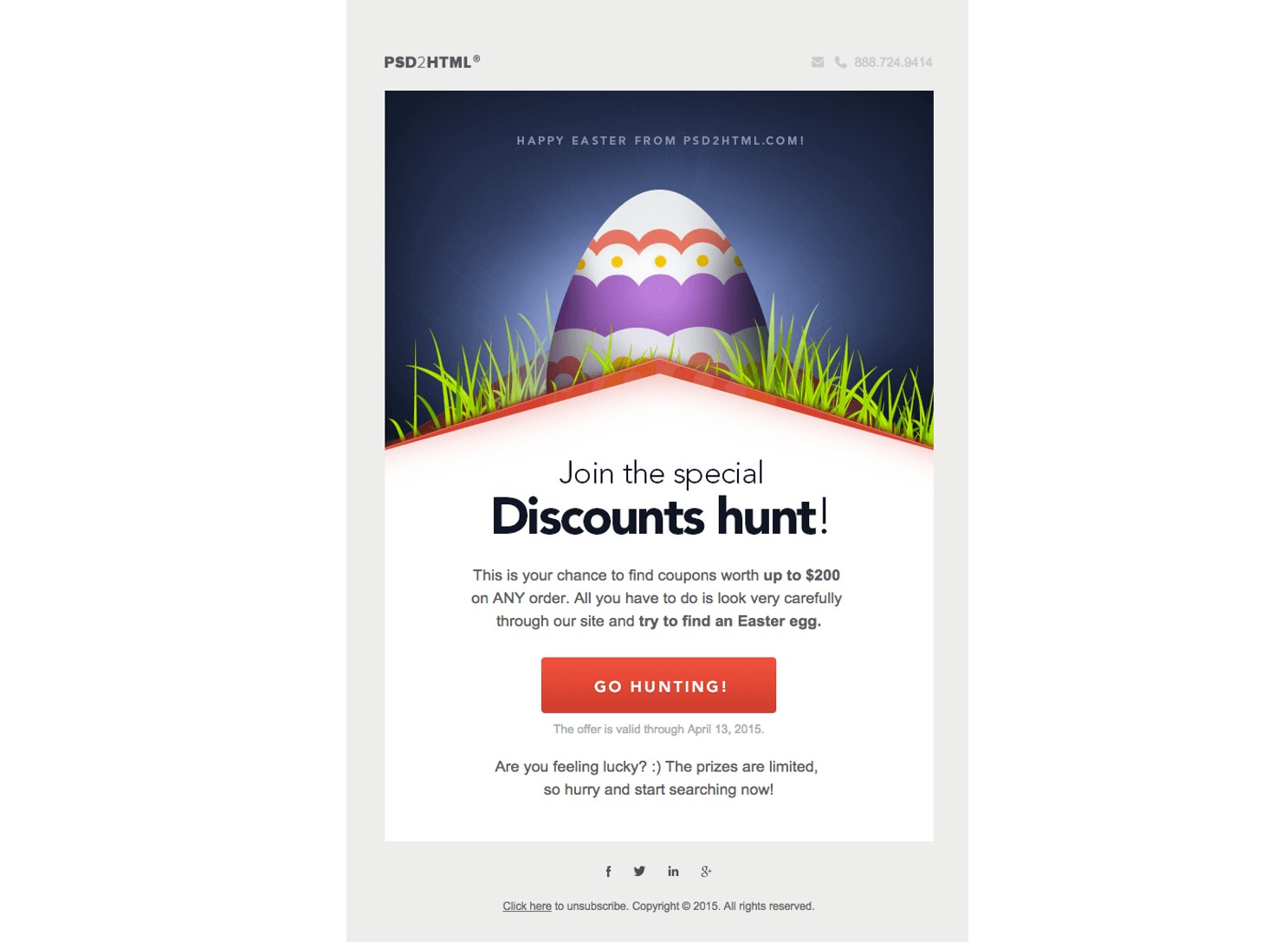 Eggs could also be hidden in emails, social media posts and more. Or promoted through these channels.
By including a shareable link to egg hunts, you can encourage people to share the promotion on their social media platforms.
Email marketing
According to data from Omninsend, using Easter in subject lines helps emails to perform better than the average.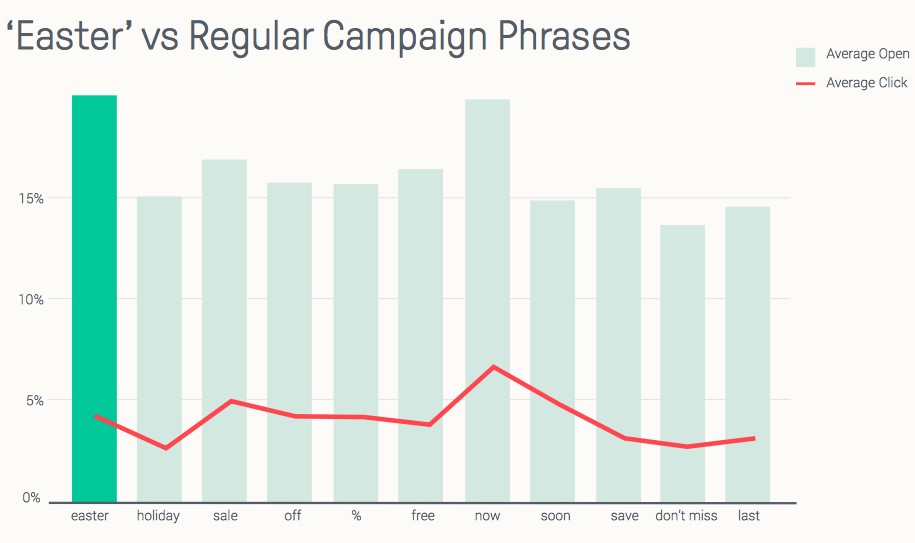 Some of the best performing subject lines included:
HAPPY EASTER with 40% off entire site! – Open rate 43% / Click rate 6.4%
Easter bundle – Open rate 39.1% / Click rate 3.5%
HAPPY EASTER – Open rate 33.9% / Click rate 4.8%
It's a time limited holiday so can be the ideal time to use some urgency in your email marketing. For example, a one day sale can work well, as customers know they have to move fast if they want to take advantage.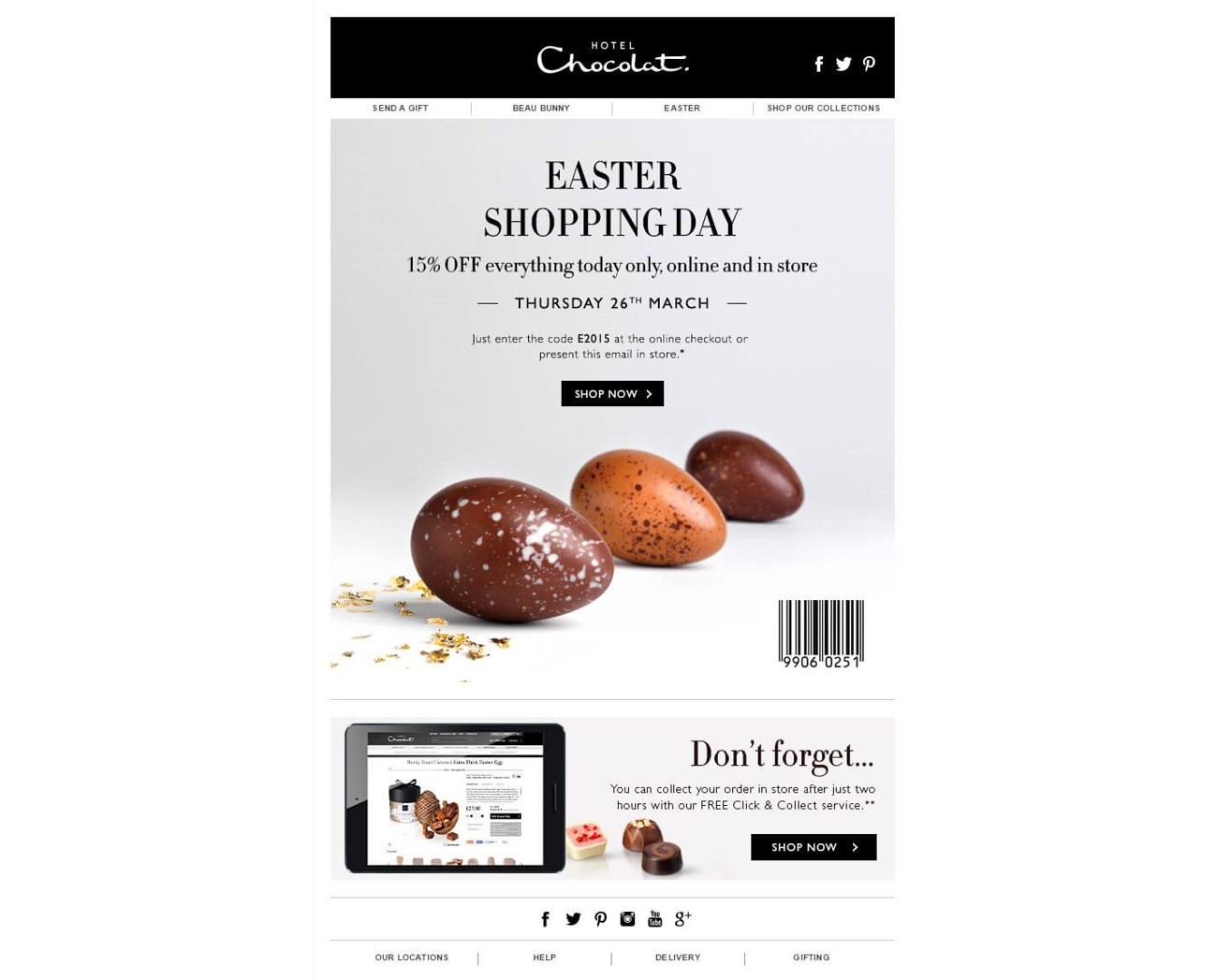 Easter email campaigns can also inspire customers with creative ideas around Easter.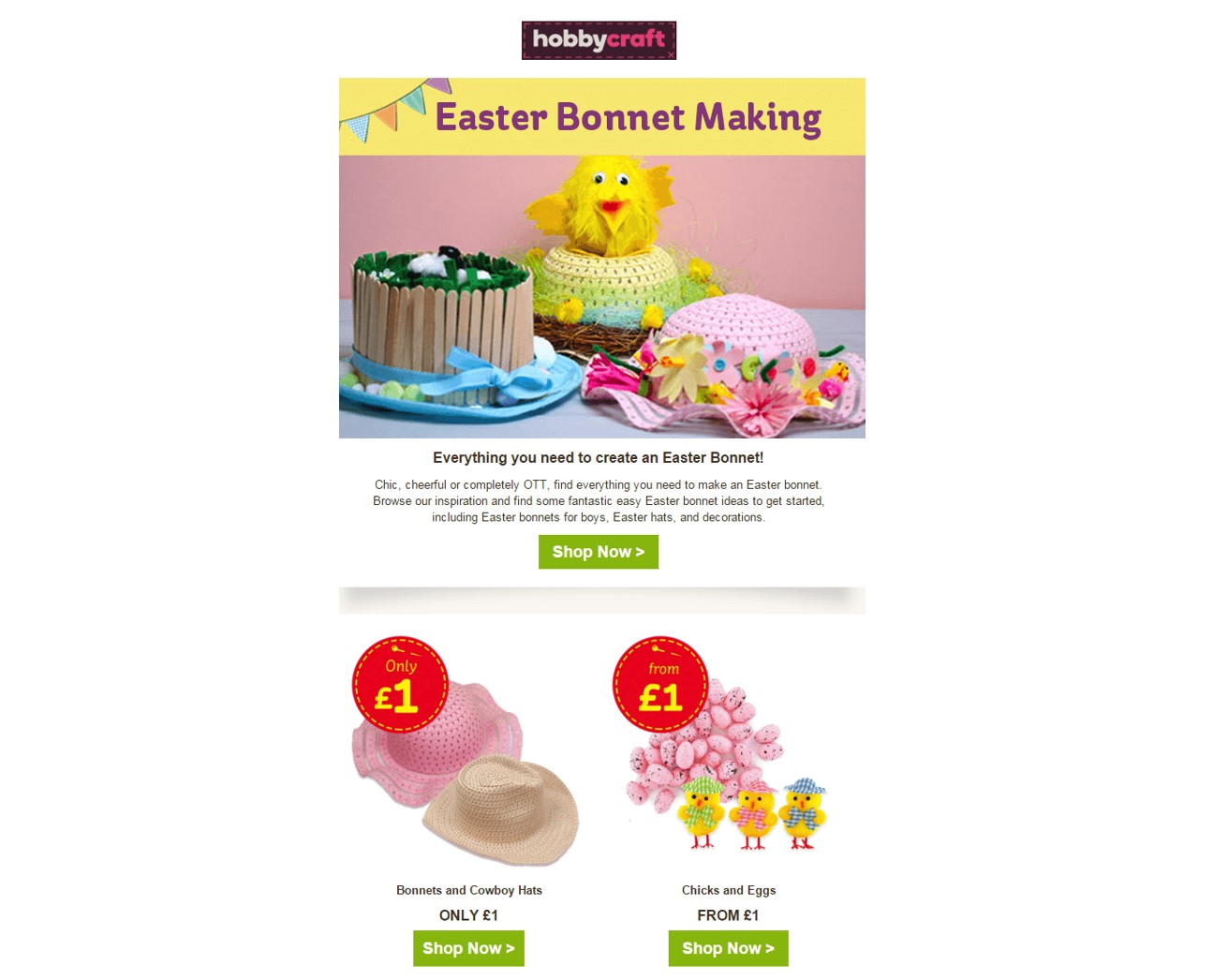 In this example, Hobbycraft shows the Easter bonnet you can make, links to some ideas and lists the products you need to make it.
As you can see there's lots of opportunities to get creative with your marketing at Easter. You can find more in the series on creating online retail campaigns for Bank Holidays here and Spring here.