We've been looking at how online retailers can adapt their marketing for seasonal campaigns, to create relevant and engaging content that fits with customers' shopping habits.
In this article, we'll look at how retailers can create winter-related marketing campaigns, using events during this season as a hook to attract customer interest.
We'll look at some of the events that marketers can hang campaigns around during this season, some of the general themes, and some examples of winter marketing from online retailers.
Themes for winter marketing
The biggest event of the season from a retail perspective is, of course, Christmas. Much marketing in November and December will, of course, focus on this.
Along with Black Friday, which now forms part of the Christmas shopping season, gift buying in November and December is the most important period of the year for most retailers. We've covered Christmas marketing in another post, so here we'll focus on other winter themes and events.
When winter begins and ends is a matter for debate. For some, winter begins in November and runs through till March. For the Met Office, it runs from the beginning of December to the end of February.
Whichever version you choose, it's clear that winter is about more than Christmas, and marketers have other themes to work with. These include:
Cold weather – an obvious opportunity for winter fashion themes, cold weather imagery can be used in content and marketing emails, while people are more likely to be spending time indoors, which opens up opportunities for things like winter recipe ideas.
Valentine's Day – this falls on February 14th of course, and is a key focus for many retailers and for some, represents one of the biggest retail opportunities of the year.
New Year – there's New Year's Eve and all the celebrations that go with it. Then there are New Year's resolutions – food retailers can push healthy products for example, while marketing content can revolve around self-help and healthy living.
January sales – people are still looking for bargains in January, so this is another hook for marketing, and a chance for retailers to attract more business and clear unwanted stock from the Christmas season.
It's cold, Christmas has finished and people are thinking about holidays later in the new year. For travel brands, it's an opportunity to attract customer interest from people looking to book early.
Winter campaign strategies
Here's some best practice ideas and examples of winter marketing campaigns:
Winter SEO strategies
It's a long season so SEO strategy will very much depend on your brand's products and target keywords.
Any brand should be looking to optimise for key product related terms all year round, but it can be about being in the right spot at the right time for winter and other seasonal marketing. This way, brands can take advantage of seasonal peaks in customer interest and search activity.
For some retailers, their products will be very much tied in with seasonal events, and so SEO strategies are very much built around this event. For example, florists will be very focused on Valentine's Day, and face a challenge to rank at the right time.
For seasonal SEO, the best approach is to plan long-term. If you want to rank well in time for Valentine's Day, you need to be planning months ahead, researching traffic peaks, target keywords and creating content.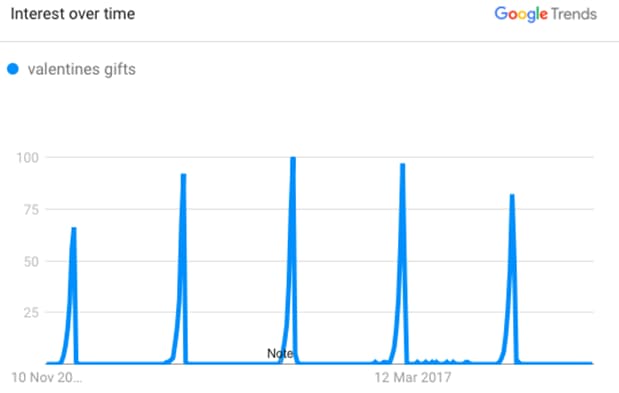 Most importantly, it's a long-term, repeatable strategy, so if you have a page that ranks well, keep it for the next year and refresh in time for the next event. This way, you can make the most of the links you attract.
Content strategy
Think about how your product is relevant to winter, and the events around it. For most retailers, there will be some sort of angle to find.
It's good to ask the following questions when planning content for winter (or any season):
What do people care about at the moment?
What are your customers looking for?
What questions can you answer? How can you help them?
How does winter affect your target customers' lifestyle and buying habits?
Of course, if you sell winter clothing it's easy to find content ideas, but there are plenty of themes to build content around.
Helpful content is always a good idea. If it's detailed enough it allows brands to target a range of keywords, while providing useful content for the customer. Written well, it can help customers to decide which products they need, and attract your target audience to your site.
This is one example from Sierra, with a guide on how to dress for winter, and lots of detail on choosing coats, gloves, and layering outfits. Detailed content requires effort and expertise, but can pay off well over the long term.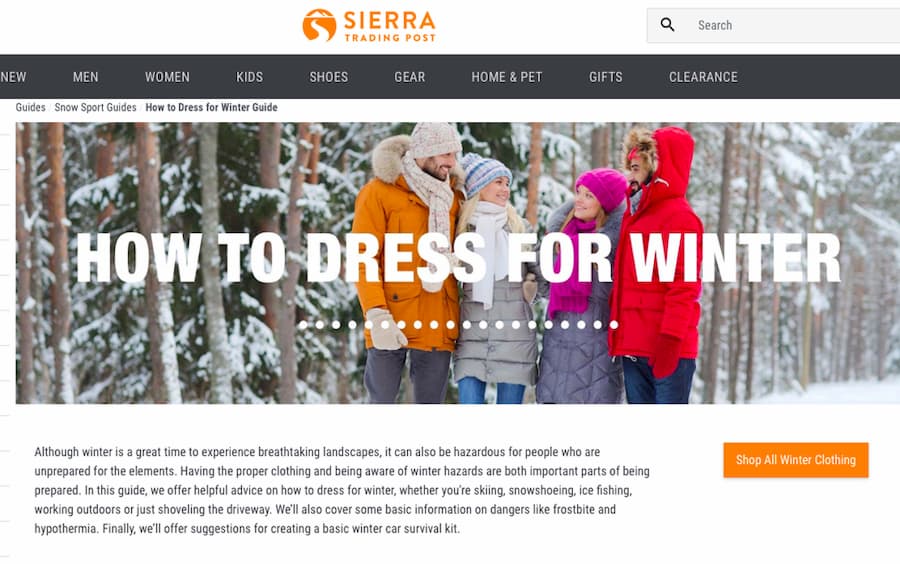 Here are some other winter content ideas:
Recipes – this can work even for non-food brands. Warming winter recipes is one idea, but healthy recipes also tie in well with New Year's resolutions. People are searching for this content, so if your brand or products can help them, then this can work well.
Gift guides – these can be great for the Christmas shopping period, but also happy post Christmas, for Valentine's Day especially.
New Year content – New Year resolutions can tie in well with helpful articles, for example with advice about weight loss or home exercise. It can also be a time for new activities and lifestyle changes, so content on getting starting with new hobbies can fit well.
Work with the weather
It's going to be cold in the UK, so make use of it in your marketing to make your messages more relevant.
In this case, Anthropologie produces a simple email which can resonate with customers enduring cold weather, with the added hook of free delivery.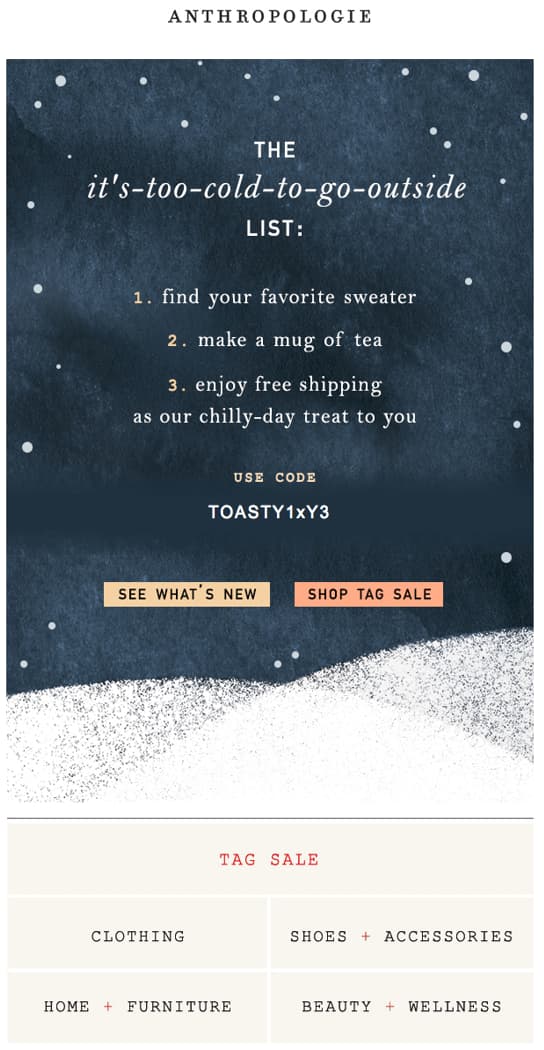 Relevant winter product recommendations can work well too: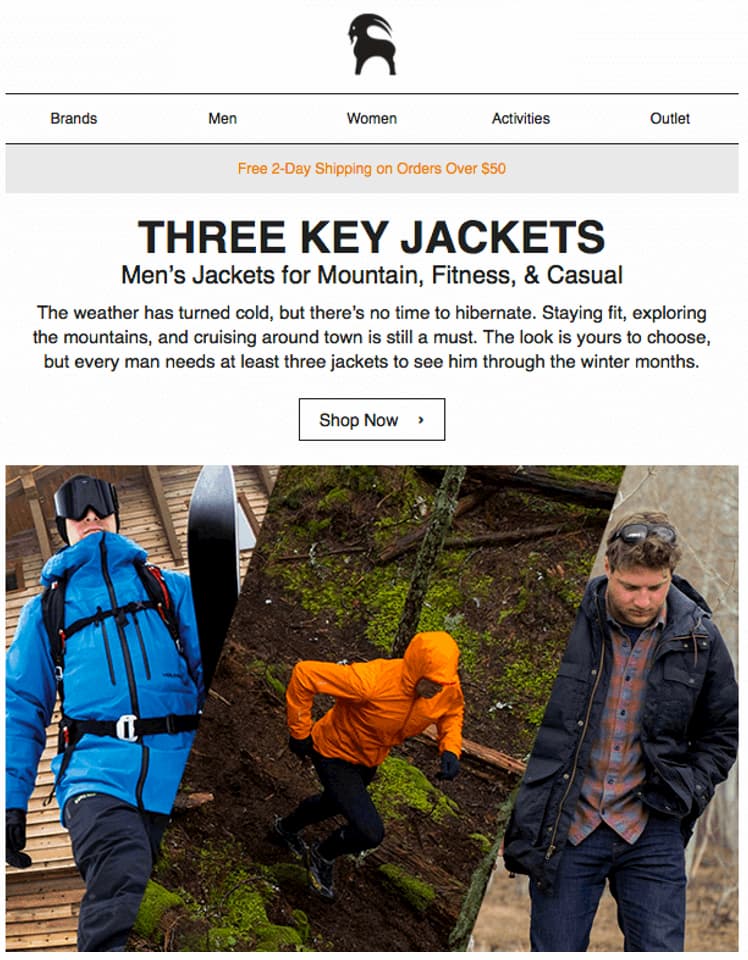 Use January to appeal to newly acquired customers
If you've had a strong Christmas shopping season and have attracted new customers in the run up to Christmas, then January is the time to keep them interested and work on customer retention.
If they've had a good shopping experience, January is a good time to follow up with relevant offers while your brand is still front of mind.
It's a great way to reinforce the positive vibes from initial purchases, and helps to build a more loyal customer base.
Gather your data and reflect
For some retailers, the post-Christmas period can be a really quiet time of year. This can make it a perfect time to reflect and assess your Christmas marketing efforts now that you have some spare time.
If you've acquired customers over Christmas, you can plan marketing to keep them on board. Assess which campaigns have worked, and where improvements can be made for the next season.