Online retail, in general, is increasingly going mobile, and the fashion sector is leading the way with the majority of traffic to fashion sites now coming from mobile devices.
One major reason for this is that online fashion shoppers tend to be from younger age groups. The majority of online clothing purchases are from customers under 44, a demographic which is also more likely to own and use smartphones.
As a result, fashion retailers have focused on mobile, perhaps more so than other sectors. We can see the results in stats like the one below, with fashion retailers driving more sales via mobile than the average.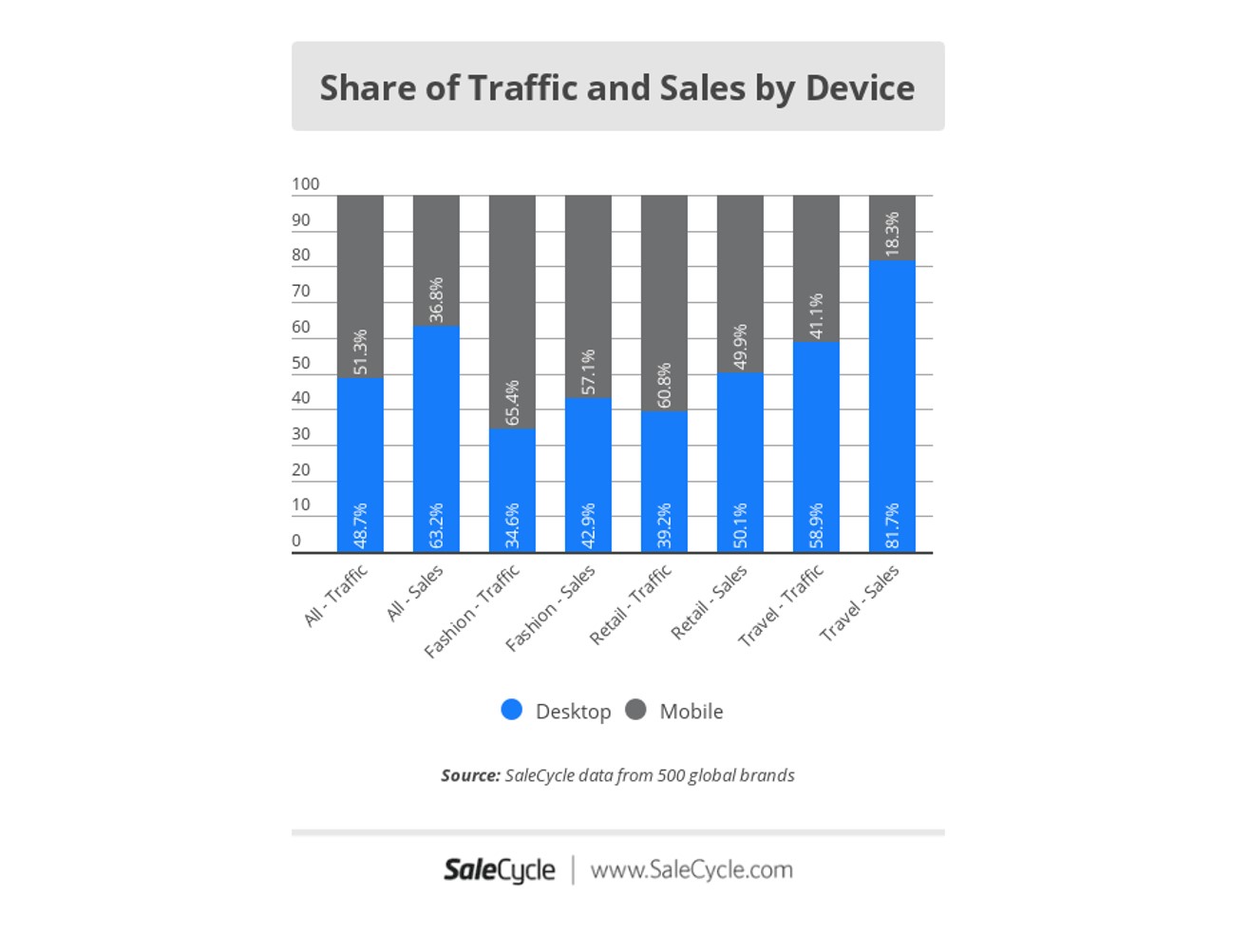 A few years ago, there was some debate about whether apps or mobile were the best way to appeal to shoppers. We've seen mobile being a strong contender to reach new customers and a wider audience in general, but apps are still important for retailers.
Apps can still do things that mobile websites can't, and they have other advantages. For example, apps can allow retailers to provide a more personalised experience, to use push notifications, and to offer useful features.
For example, apps can allow a retailer to offer augmented reality (Zara is one example) and visual search, which allows people to search by taking photos of clothing they like to get suggestions for similar items.
There have been some innovative mobile apps released by fashion brands, but also from platforms like FarFetch, which sell items from a variety of fashion retailers around the world.
Apps like FarFetch's 'See it, snap it, shop it' can serve to reduce the friction in product search, and help users to look for products in a more natural way. Key to the success of such apps is that visual search works smoothly and delivers accurate results quickly.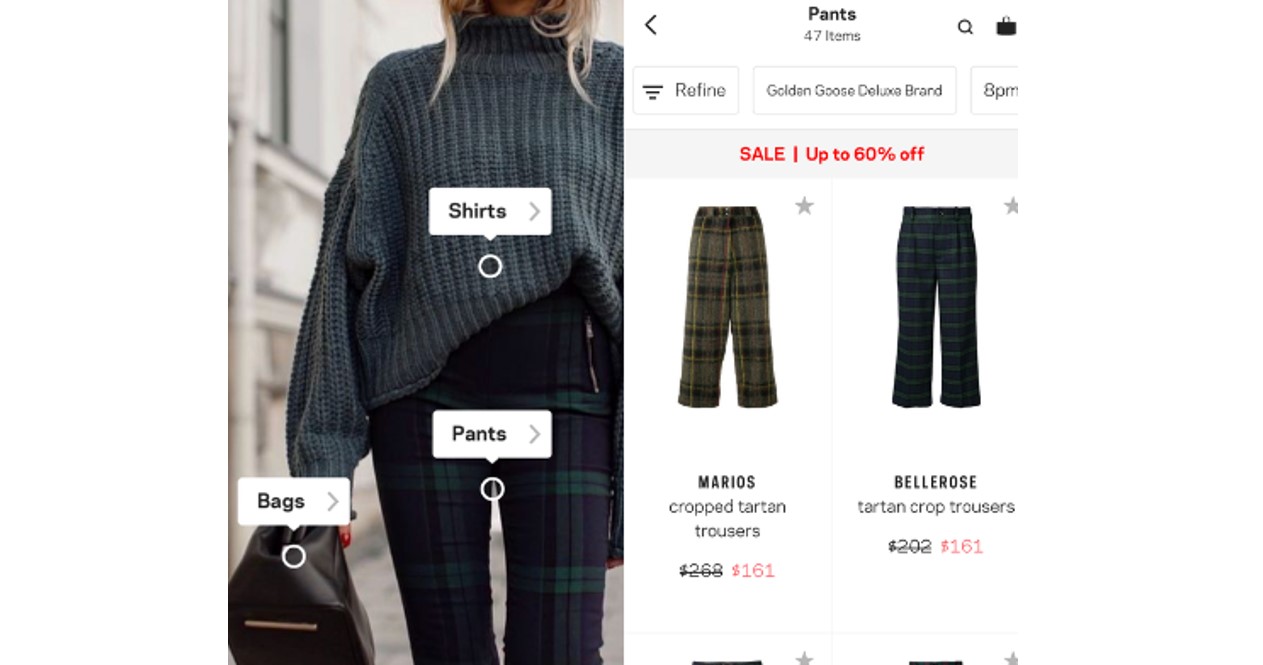 FarFetch uses details such as the product colour, fit, and fabric to find similar items if it can't find the exact item on the platform. From this point, consumers can filter items by brand, price, and other categories.
The beauty of visual search is that it allows users to find items they would otherwise find difficult to describe and search through normal browsing and search engines. It provides them with a shortcut direct to relevant products and can shorten the research and purchase journey.
FarFetch isn't the only app like this. Competitors like Donde and ShopStyle offer similar visual search features, while fashion retailers have been adopting this feature over the past few years, including Louis Vuitton, Boohoo, H&M, and ASOS.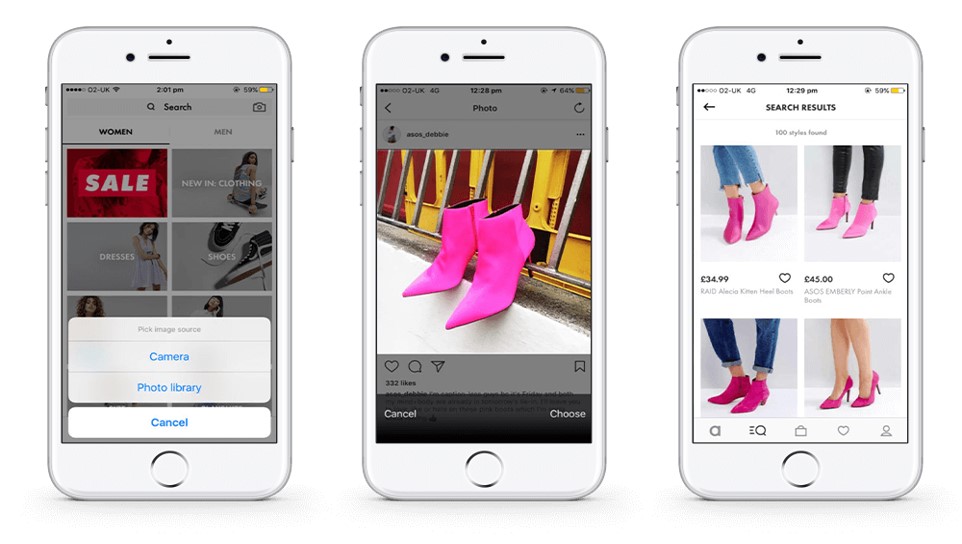 Visual search makes up a minority of all searches, around 1 billion per month, but has been growing fast. For example, Pinterest has also seen its monthly visual search volume jump from 250m in February 2017 to 600m in February 2018.
It's also a feature that younger demographics would like to use as they shop online. More than 60% of under 34s would be comfortable using visual search.
Another reason for the recent growth of visual search, and the apps that use it, is simply that the technology behind it is much improved from a few years ago, moving past the experimental stage.
It's been around for a while, Zappos used it back in 2009, but advancements in artificial intelligence have meant that the performance and accuracy of visual search can now match customer expectations.
Key benefits of visual search apps
Visual search has some key benefits for retailers and customers alike:
It offers precise product search. It's great for shoppers who need a specific item, as it reduces the number of steps the customer would otherwise have to go through. Rather than typing in keywords and browsing results, visual search can find the product they want immediately.
Cross-selling opportunities. If the product is not in stock, visual search can quickly offer suggestions for similar or lookalike products.
A better user experience. It's faster and easier to find the right product through visual search, and results should be more relevant to the shopper.
It can improve merchandising. Using visual attributes of products that shoppers have searched for, retailers can recommend products and contents that match or complement these attributes.
Integrating offline and online. Visual search is one way to link stores and websites together. For example, customers can take photos of clothes they see in store to find online stock.
Why apps can work well for fashion retailers
Many retailers may assume they have mobile covered by ensuring that their site is optimised for smartphone users. This is true to an extent, but there is an extra dimension that apps can offer.
The appeal of apps has endured for retailers and many choose to offer apps as well as mobile sites because they can appeal to the most valuable customer segments.
Customers often see native ecommerce apps as a cleaner shopping experience, more trustworthy, and an easy way of quickly accessing their favourite retailer's digital channels in comparison to the mobile web.
Apps also allow retailers to tailor the user experience to specific devices, optimising for Android and/or iOS users to ensure that their shopping experience is as smooth as possible.
In this respect, apps offer a way for retailers to address the issue of conversion on mobile. According to Monetate stats (quoted by Smart Insights), the average conversion rate on mobile is 1.84%, compared to 3.78% on tablets and 3.94% on desktop.
Apps can buck this trend. Indeed, according to Criteo, app conversions for retail and travel can be four times higher than on mobile web.
Criteo also found that, for retailers with an ecommerce app, mobile already accounts for more than 50% of online transactions and in-app sales dominate this.
One key reason is that apps attract the most committed and loyal customers, which is the segment that spends more. Apps can allow retailers to target offers and focus on such customers, as the data generated by app usage allows them to provide a more personalised experience.
There are other advantages too. In-app notifications allow retailers to target customers with offers or information on new product launches.
The enhanced features that apps can provide are another key advantage. Alongside visual search, apps can offer other innovative features for retailers including: 
QR code scanning
With QR readers embedded into apps, retailers can use them in a number of ways. For example, allowing them to scan products in store to view more details or order them. They are also often used to redeem tickets – Trainline's app allows train conductors to scan QR code tickets, while Starbucks uses QR for faster in-store payment.

Augmented Reality (AR)
AR can be used to bring products to life, in stores, or when browsing websites. For example, Zara launched an augmented reality app which allows consumers who have downloaded the Zara AR app to hold up their phones to selected store windows and view items in motion.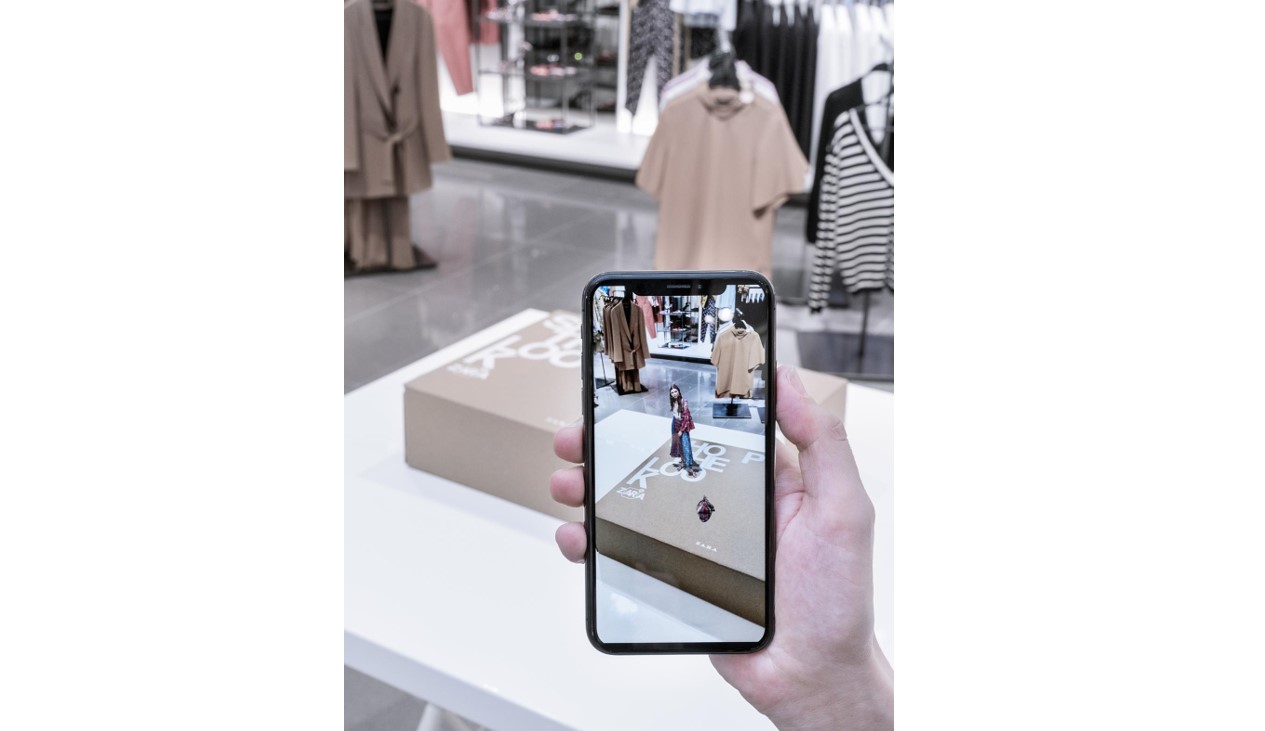 Other retailers, such as IKEA, have AR embedded into apps, so users can visualise items of furniture in their homes.
Location technology
Apps can detect a user's location, and use this to make the shopping experience easier. This can be through in-store maps which help users find what they want, highlight key products, or maps offering directions to the nearest store.
How smaller retailers can adapt to visual search
For smaller retailers, apps with visual search may seem out of reach and the preserve of larger retailers like ASOS, with the resources to develop mobile apps in-house.
This doesn't necessarily have to be the case, as any retailer could choose to commission an app, if costs allow. However, one problem may be the reach of such apps, as successful visual discovery apps reply to an extent on a large enough user base to be successful.
This doesn't mean an app wouldn't be useful anyway. They can work in terms of providing a better experience for customers, and making repeat purchases smoother. For example, my local Indian takeaway has an app with my saved payment and previous order details. As a result, I'm more likely to re-order as it takes less than a minute.
Another idea would be to apply to partner with or advertise to have products featured on apps and sites like ShopStyle. Many of these companies are seeking partnerships with fashion retailers, and invite applications.
There are ways to provide visual search on your site too. For retailers using Shopify, there are some visual search plugins, such as Shopix, which allows you to offer visual search for customers on desktop and mobile sites. It starts from $29 per month.
It's also important to realise that visual search and discovery is happening beyond apps, through search engines and other sites. For example, Pinterest Lens launched in 2017, with a 'Shop the Look' visual search feature.
This is available through its website and mobile apps, which collectively reach a worldwide audience of more than 250m. Pinterest says users are carrying out 600m visual searches a month through Lens.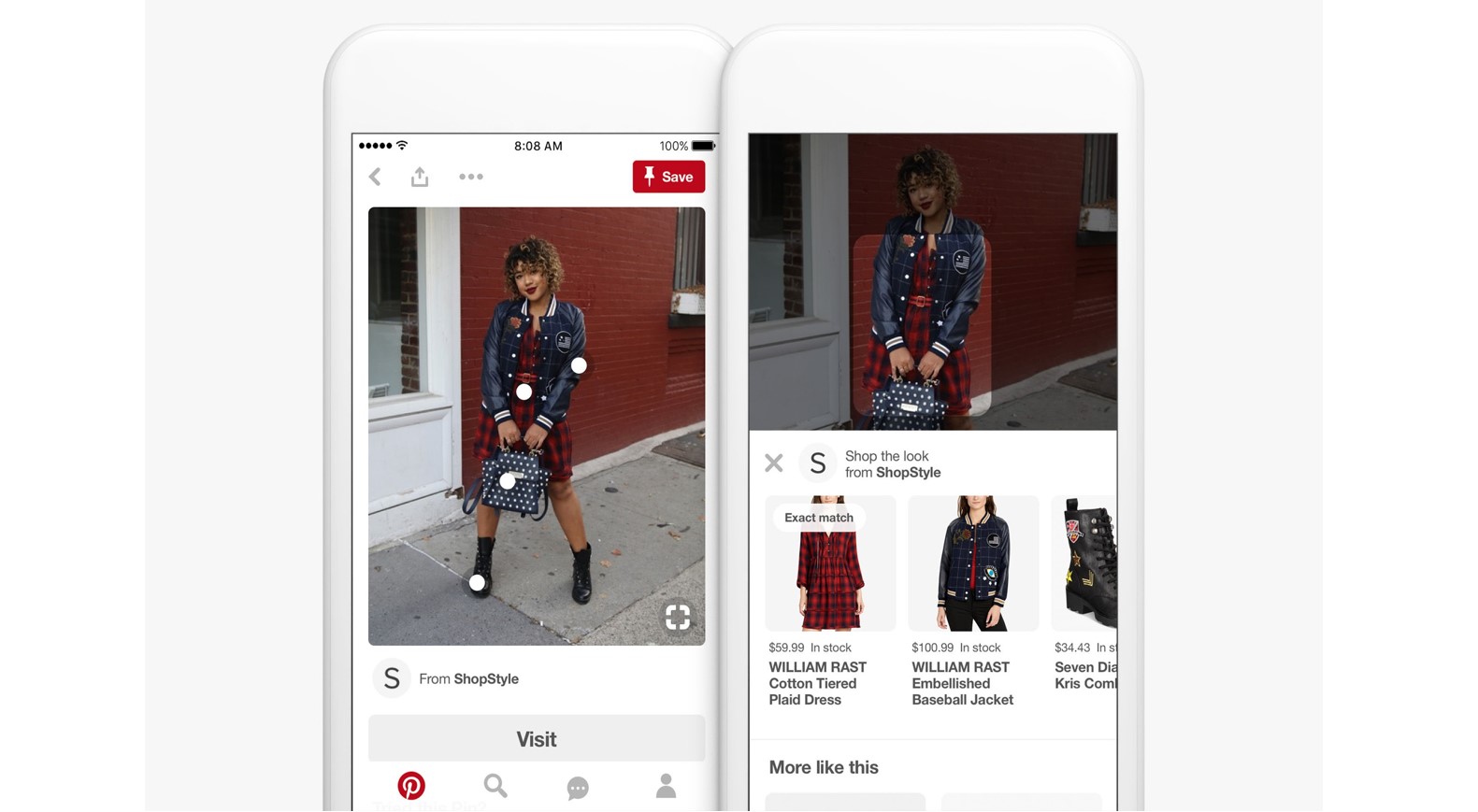 This makes Pinterest a potentially attractive platform for fashion retailers, and one possible strategy is to ensure that your products are listed on Pinterest, or even use paid features like promoted pins and Shop the Look pins.
More broadly, it's a good idea to optimise for image search so that your products have a better chance to rank well for these searches, whether carried out on Google or elsewhere.
In summary
Fashion retail has, generally speaking, adapted to the younger demographic more effectively than some other retail sectors. This partly explains the success of fashion apps from retailers.
Apps in this sector are all about improving the experience for loyal customer segments and making it as easy as possible for shoppers to find and buy the products they want.
Visual search, and the 'see it, snap it, shop it' features adds another layer to this experience, making it even easier, and working well with the way people like to discover and buy products.
For larger retailers, the obvious response to this would be to produce and commission apps with these visual features, as well as ensuring that their products are findable on key visual search platforms.
This can be more of a challenge for smaller fashion retailers, though I think visual search technology will become more accessible to SMEs. The growth of visual search is hard to ignore though, and it's important to take steps to optimise images and appeal to visual searchers.