Etsy is a global online marketplace where people can buy and sell one-of-a-kind items. You will only find independent sellers on the site, making it the ideal place for small businesses to reach new customers.
You can purchase a range of products on the site from jewellery, accessories, clothing and crafts to homeware, wedding supplies, toys and greeting cards. What makes Etsy different to platforms like Amazon, is that all the items are handmade by individuals and in many cases, can be personalised, giving products a unique touch.
Sellers simply set up their online shop so they can list their items and buyers can then search for them. It's a similar concept to eBay but rather than bidding for items, customers pay a set price which is set by the seller.
While the platform is used worldwide, I will be focussing on Etsy UK for this blog.
How to sell on Etsy UK
If you want to set up your small business to sell on Etsy UK, start by opening up your online shop. Simply register on the site and you will then be guided through a number of steps such as shop preferences. It's important to fill out all the information because without knowing about your products and target audience, Etsy won't know who to show your products to.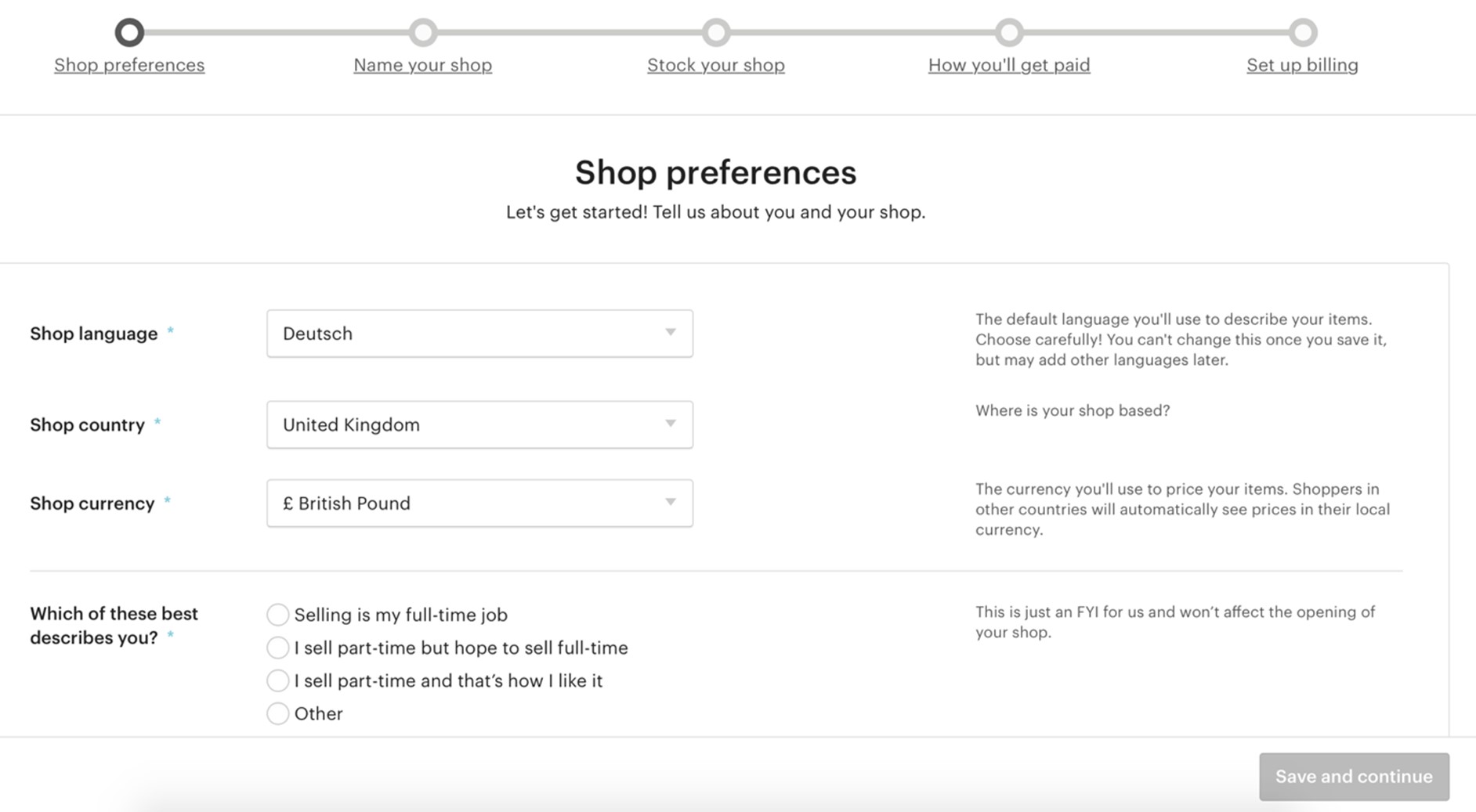 Stocking your shop is also very straightforward and again, Etsy will guide you through the process. You can add photos, videos, a product description, tags so your items will show up when buyers type in certain keywords, options for personalising products and pricing and delivery information.
Lastly, you enter how you would like to be paid when someone purchases something from your shop. An advantage of using Etsy is that it offers different payment options for both buyers and sellers. Sales are deposited into your bank account in your local currency, no matter how buyers pay, and all sales qualify for Seller Protection Policy which uses anti-fraud systems. You can find out more about Etsy payments on the site.
Do I have to pay to sell on Etsy UK?
While it's free to set up your shop, there is a small fee for listing and selling on Etsy UK. It's $0.20 USD per listing and this has to be paid regardless of whether you make a sale. There's also a transaction fee and you may have to pay VAT and some other processing fees. This will vary depending on the type of account you have. You can find everything you need to know about fees in the help section on the site.
Subscription packages
If you're thinking about selling on Etsy UK, there are two subscription packages to choose from.
Etsy Standard is available to sellers at no extra monthly cost and it's the default setting for all accounts. It includes access to all basic tools with the option to pay for additional services such as Etsy Ads as you use them rather than signing up for a monthly subscription.
You can also upgrade to Etsy Plus. This provides you with all the tools you need to take your online shop to the next level including:
A monthly budget of credits for listings and ads
Advanced shop customisation plans
Access to discounts and more
Etsy Plus costs $10 USD per month and this will be converted into your local currency. You can upgrade or downgrade your account at any time which is great for businesses that tend to have busier and then quieter periods throughout the year. Find out everything you need to know about Etsy's fees and payments as well as their subscription packages.
The pros and cons of selling on Etsy UK
If you're thinking about setting your small business up to sell on Etsy UK, it's a good idea to weigh up the pros and cons of doing so.
Pros
Etsy is a well-known and trusted site which receives a lot of traffic. As of Q2 in 2020, the platform had a very impressive 60 million buyers. This means you get access to far more potential customers than you would if trying to sell through your website alone
In order to be successful, business owners should always make decisions using data. Etsy comes with a built-in analytics platform which shows important stats including traffic to your page, favourites, visits, orders and revenue
It's very easy to set up an account and sell on Etsy UK. Once you've registered, you're guided through a step-by-step process but if you need further assistance, the seller's handbook tells you everything you need to know
The site offers plenty of advice to help your business thrive on the platform including growth strategies, optimising SEO and tips for selling at different times of the year
You can pay for Etsy Ads and Offsite Ads to boost your brand's visibility. With Offsite Ads, your products are seen on other platforms including Google, Facebook, Instagram, Pinterest and Bing
There's an Etsy app which makes it very easy to manage orders, edit listings and respond to buyers instantly, even when you're on the go
Cons
A drawback of Etsy is that unlike sites such as eBay, it's not for every business. The products on Etsy include crafts, handmade items and vintage goods and they prohibit the sale of repackaged commercial items or products you haven't designed or made yourself
There are a number of fees associated with using the platform. You pay to list an item, there's a transaction fee when sales are made, if customers pay using a credit card you're charged an additional fee and you may have to pay taxes and VAT depending on the nature of your store. If you're selling at high volume, it's worth incurring the fees but if you only make the occasional sale, Etsy might not be right for your business
While there are a lot of buyers on Etsy, there are also a lot of sellers. At the end of 2019, the site had 5 million stores and this is projected to keep growing. It's a competitive market so you need to ensure your products will stand out
Do I still need a website if I'm selling on Etsy?
Even if you're selling on Etsy, it's still important to have your own website. There are many reasons for this including:
Not everybody is on Etsy. If you don't have your own website, you're putting all your eggs in one basket and could therefore miss out on a huge market
Your website is the face of your brand in a world where we're doing more business online than ever before. Your site is important for branding, building trust and providing potential buyers with further information about your business
Your website and Etsy profile can work together. Perhaps you only offer a selection of your products on Etsy or want to introduce your full range slowly, linking to or mentioning your website could encourage shoppers to browse your full range, connect with you on social or join any loyalty or community programmes you run
Etsy is a global marketplace which is great for reaching customers all over the world. Don't forget that a lot of people like doing business with local companies however. 46% of all Google searches do in fact look for local information. Your website is the perfect place to reach out to local customers
A whopping 93% of online experiences begin with a search engine. This means that if you don't have a website, people are unlikely to find you
When dealing with new customers, you need to prove you're a legitimate company. Without a website of your own, it's impossible for people to know who you are and it's unlikely they will hand over personal information such as card details if they don't feel they can trust you
The more platforms you're using, the more you're boosting your small business's online visibility. Marketplaces like Etsy are a fantastic place to reach out to new customers and boost sales but work even better when used alongside your own website
Top tips for enjoying success on Etsy
If you've decided to sell on Etsy UK, you no doubt want to enjoy great success. Below is a list of top selling tips to ensure your business is a hit on the platform.
1. Complete your profile
If you want to be taken seriously as a seller, it's important to complete your profile. This means having a logo for your shop, including product photos and descriptions, delivery information, contact details, your location and pricing information.
2. Use good quality photos
Your photos have a huge impact on whether or not buyers choose your store. Firstly, when they type a search query into Etsy, they're presented with tens of thousands of results. By using good quality, high-resolution photos which showcase your products professionally, potential customers are more likely to click on the image.
Once someone has clicked on your listing, they're going to want to see multiple images so show different angles, depths and details. Ensure the lighting is good and also try to include at least one image of your product in action if applicable.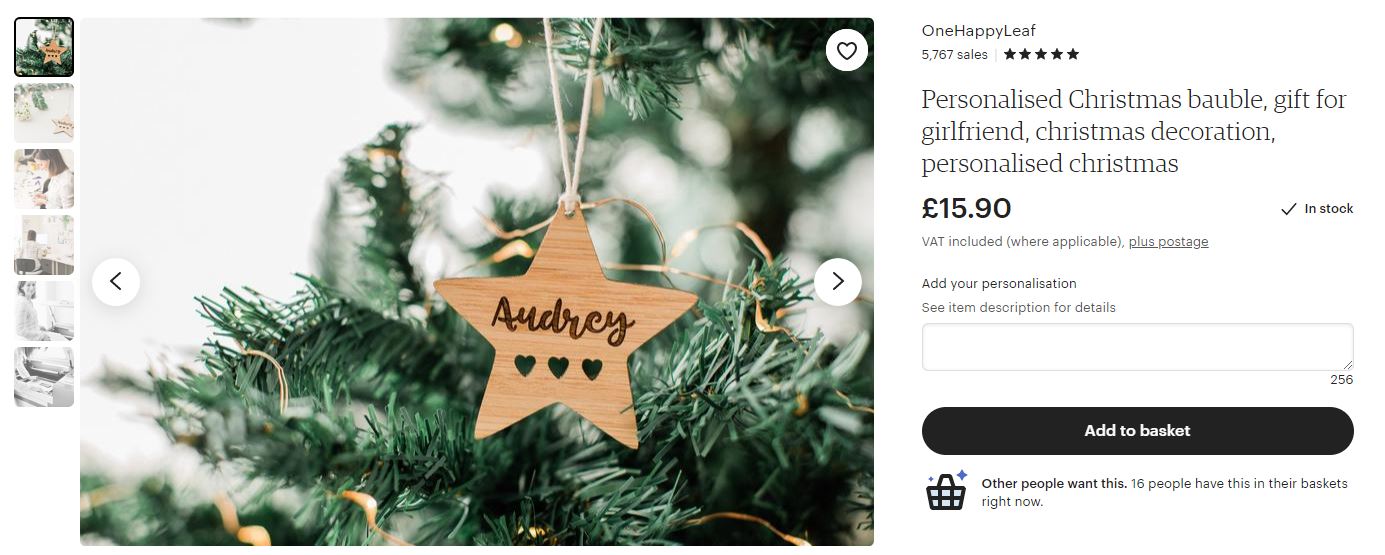 3. Think about SEO
Many of your potential customers will come from an internet search so it's important that your shop is SEO optimised. This will help your products rank near the top when people search keywords related to what you sell.
Think about everything from your business name to product titles and descriptions. Here are some great SEO tips to improve product visibility on Etsy.
4. Provide great customer service
Ensure that it's easy for potential buyers to contact you so they can get in touch if they have questions about your products or delivery. Replying quickly can also convince new customers to choose you over a competitor and it's also likely to see them make repeat purchases.
It also pays to go a step further by thanking customers for their purchase and asking if they're happy with the product and service they received. Building up your 'star rating' on the platform can also help to improve sales.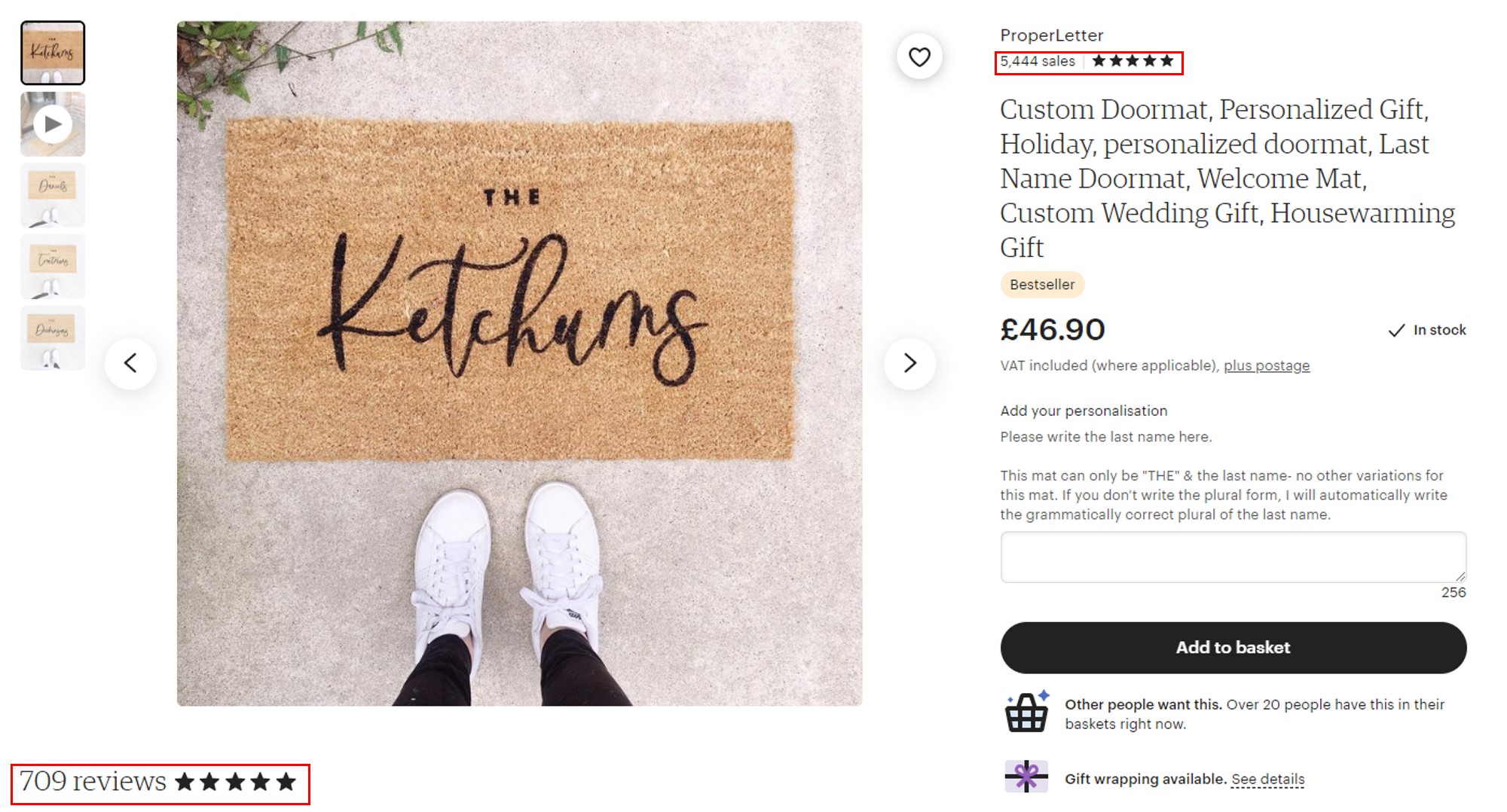 5. Cross-promote your store
Promoting your store across multiple platforms ensures maximum exposure and helps boost credibility. As well as marketing your products on Etsy, you should also think about having a website and using social media. Not only does this increase the chances of potential customers finding you, it helps to establish trust if someone is using your business for the first time.
Here are 20 more great tips which will help you enjoy success on Etsy.
Selling on Etsy is a great way to build and boost your brand. This is especially the case for new and small businesses who don't have a lot of money to spend or the functionality to reach a global audience on their own.
To ensure your store is a great success, why not have a read of some of these other blogs?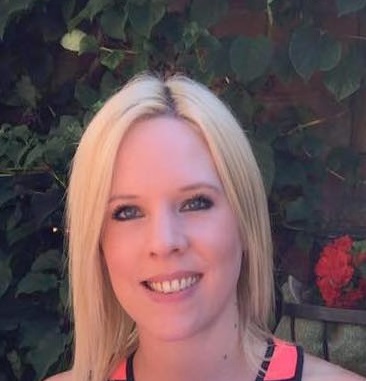 After completing her degree in Journalism, Monique began her career at a digital marketing agency. It was here she discovered a passion for online marketing with a particular focus on content creation for the web. Six years ago Monique set up her own copywriting business, Copyworks Group, which specialises in creating content for websites, blogs, newsletters and social media pages.
Read full profile