With 1 billion monthly active users, Instagram is by far one of the most popular social platforms. A fast-growing free photo sharing channel, Instagram allows users to upload, comment on and interact with photos and videos.
Marketing on Instagram also offers some great opportunities for businesses to promote their products or services, reach new customers, and even encourage sales. From small retailers to freelance photographers or landscape gardeners, any small business that can produce visual imagery can reap the rewards Instagram offers.
By setting up an Instagram Business account, you can not only start sharing your content straight away, but also gain access to multiple beneficial features from analytics to enhanced bio options.
This guide will help you in the first stage of Instagram marketing: setting up an Instagram Business profile. Let's get started!
Signing up to Instagram
1. Download the Instagram app
If you don't already use a personal Instagram account, you'll need to download the Instagram app. It can be found and installed for free from your phone's app store. It's best to use a mobile device to set up and use Instagram as desktop functions are very limited.
2. Sign up either using your Facebook page, email, or existing Instagram account
The opening screen may give you a number of options to sign up. It may offer to connect to your Facebook page, or you can sign up using a phone number or email address.
If you already have a personal account, you could sign in and then choose the "Add Account" option to create a separate profile for your business.
3. Registering using an email address
You'll most likely want to use the "Sign up with phone or email" option. Click on email and enter the email address you'd like associated with your Instagram Business account.
Click next and you'll be taken to a screen to enter your name and create a password. Don't worry about using your own name here, you can always change it later in the profile settings.
Setting up your profile details
1. Creating your username
A bit like when you choose your website name and try to find the matching domain, when it's time to create your username it's important it's related to your business. Make sure your username is recognisable so people can find you easily on the platform and that it links clearly to your business. If it's available, using your business name is best practice.
You will then be given the option to connect your new Instagram account with your Facebook or to use Facebook to find followers. You can either hit the connect button and enter your Facebook log-in details to do this or you can simply skip this step for now.
2. Adding a profile picture
Next up is your profile picture. We recommend you keep this simple and use your business logo here so your brand can be instantly recognisable.
Make sure your image is a minimum of 110×110 pixels but try to stay below 200×200. Remember that Instagram profile pictures are cropped into a circle so it's a good idea to put your logo on a blank background so you can manoeuvre it.
You will be presented with a few options to discover people and start following accounts through suggestions from Instagram and by connecting your Facebook account. You can either do this now or skip to complete later.   
If you'd like to see these steps in action, this video is a handy guide to setting up an Instagram account. To learn how to convert a personal account into a Business profile, continue reading below. 
Switching your account to a business profile
1. Switch to professional account
To transform the Instagram account you've just created into a business account, head over to your profile by clicking the profile icon in the bottom right hand corner.
From here, click the three lines in the top right corner, head to settings, account, and then choose "Switch to Professional account"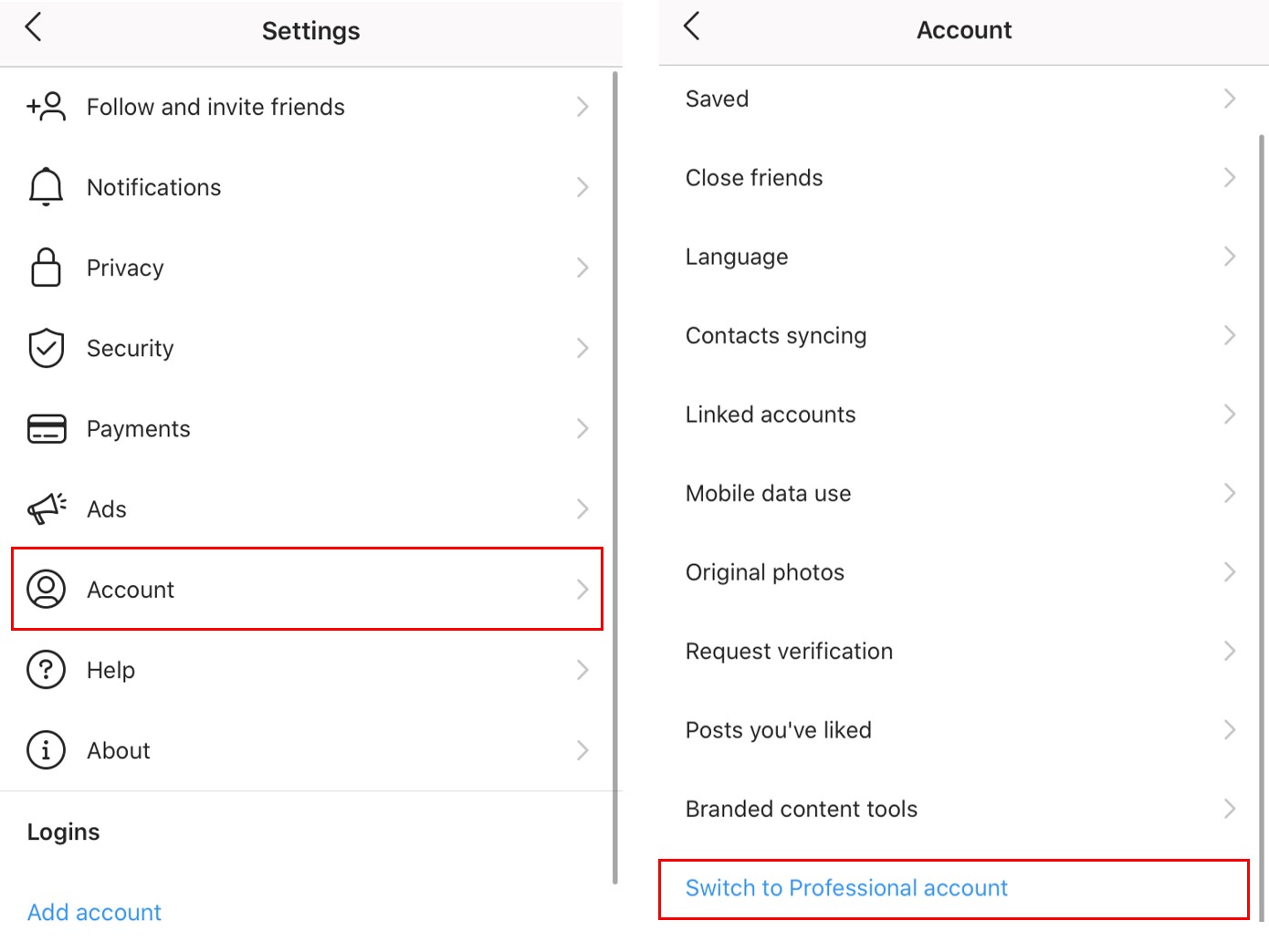 2. Choose your business profile
There are now two options for business profiles. You can choose between a creator (best for influencers) and business (best for retailers, local businesses and organisations, etc.).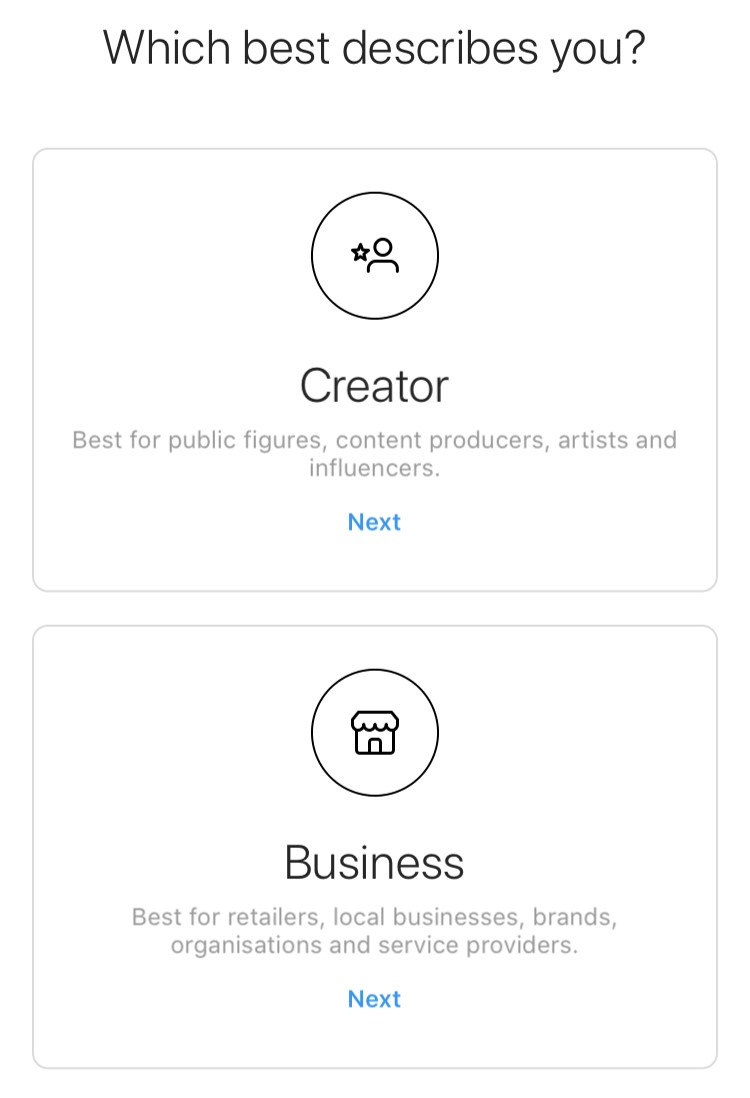 3. Finish setup
Instagram will then guide you through some of the features you'll have access to in your new Business account. From Insights (where you'll be able to find data and reports) to promotions (where you can advertise on the platform) and contact buttons (where you can display multiple action buttons on your bio).
You can then connect your Facebook page (if you haven't done so already). We'd recommend connecting your business' Facebook page here so you can promote and run ads on Instagram through Facebook's Ad Manager.
Next, you'll need to choose categories which are most relevant to your business and industry. Start by searching for any relevant terms, for example retailer, home décor and so on.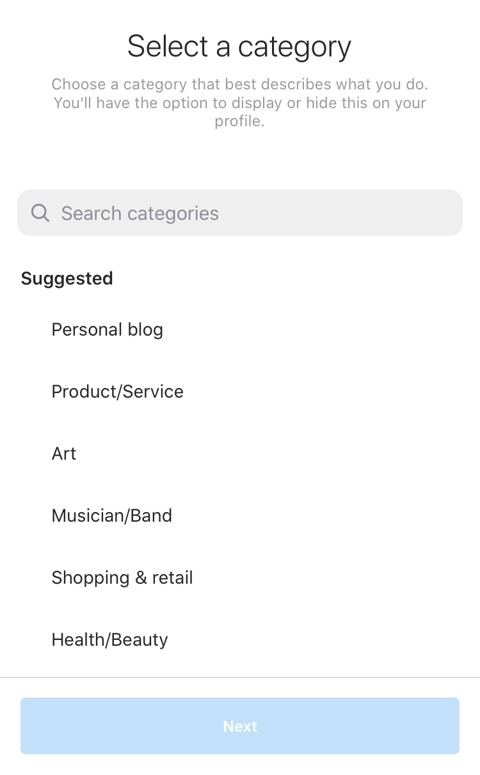 Now you'll just need to confirm some of your business details and confirm they are correct, such as your email address.
And there you have it! You have now successfully created an Instagram account and converted it into a business profile. Before you get started posting new content and exploring who you can follow, there's some important settings to look at to complete your set up.
Completing your profile
1. Change profile name
If you set up your Instagram account using your personal name, you can change this to your business name.
Simply click on "edit" on your business' profile page and change your name in the relevant field. It's really important you also add your website address within this section too, so you can start to drive traffic to your site.
2. Complete your bio
It's worth taking some time to complete your bio, just remember you only have 150 characters available to let visitors know what your business is all about as well as give them a reason to follow you.
3. Adding action buttons
With an Instagram Business account you also have the option to add additional buttons to your profile page, just below your bio.
From email to taking bookings straight from Instagram, there's several options for you to choose from. Many of these action buttons link to popular software, such as OpenTable and Yelp.
On the "Edit Profile" screen, where you've changed your name and bio, scroll to the bottom and select "Contact Options" then "Add an action button". You will then be able to select additional buttons which will appear underneath your bio on your profile page.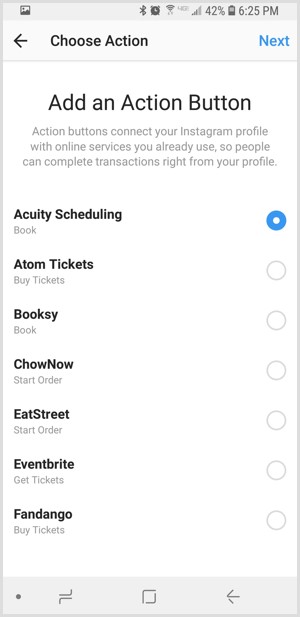 4. Making sure your profile is public
It's important to check your business account is set to public. If you have a private account only people who you approve can see your content. By ensuring your business' profile is public, you won't be limiting your potential to reach new customers.
To check this, head to "settings", then "privacy" and "account privacy".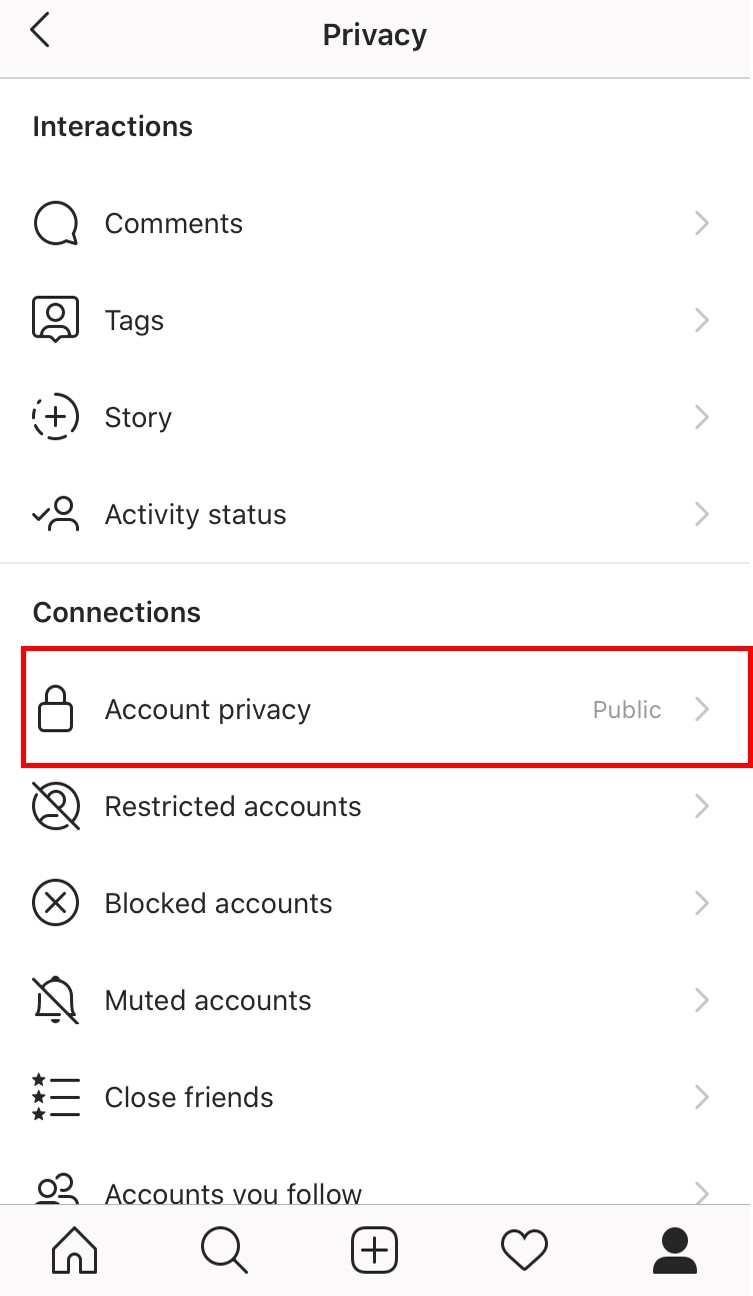 5. Security, preferences and Insights
Under "Security" in your account settings you can enable two-factor authentication to protect your account. You can either opt to receive a code via text message or via an authentication app when you login. This will add an extra layer of security to your Instagram account.
You can also set preferences for your notifications, so you can see who and how people are interacting with your photos and content. We advise you keep notifications enabled for new comments and messages so you can react quickly to any activity on your page.
Once you start posting content, don't forget to head over to Insights. You will be able to find them in the menu on the top right of your profile, where you'll be able to explore valuable data and performance statistics around your content and followers.
For more help on converting your profile to a Business account, this video is a handy visual guide of the steps above. 
Don't worry if your Instagram app differs slightly from these screenshots and videos, there may be some slight differences depending on when you create an account and what device you're using.
What's next?
Now you're ready to get started! For some helpful tips on how to start posting on Instagram, utilising its features, and developing your own Instagram strategy take a look at our guide for small businesses here.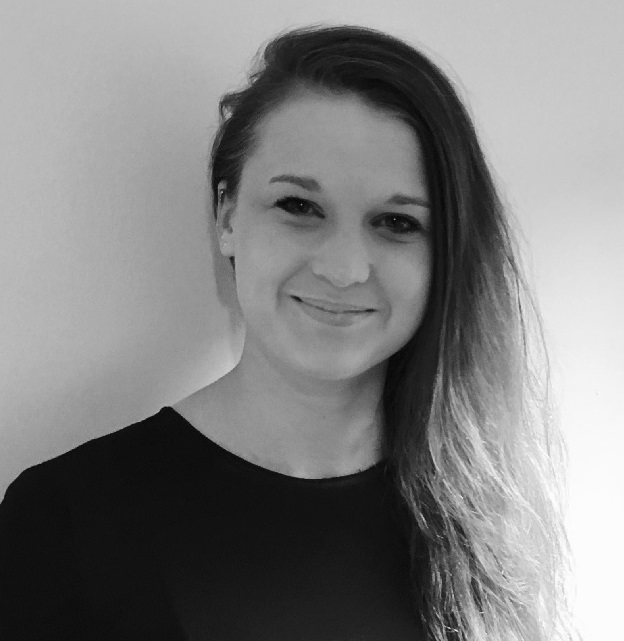 Zoe works as a Content Marketing Executive at the UK Domain. Previously working in advertising and the sporting industry, Zoe has over four years experience in marketing.
Read full profile