There are many ways SMEs can reach out to prospects and maintain relationships with existing customers. From posting on social media, attending networking events, having a great website and creating an app to sending out emails, listing themselves in directories, blogging, newspaper and radio advertising, sending out free gifts and running Google AdWords – the possibilities are endless. 
What about hosting an event however? This is something SMEs tend to shy away from. Mostly because they fear they won't get enough attendees to justify the cost. While this is of course perfectly understandable, businesses of all sizes could be missing out on valuable marketing and selling opportunities by shunning this method of marketing.  
Why should SMEs host events?
Even if you don't have a big budget or extensive guest list, it doesn't mean that you can't benefit from hosting an event. While an initial investment is of course required, event marketing can offer long-term success in a number of ways.
Builds brand recognition
Events allow you to showcase everything about your company from your mission and your people to your latest product or service launch.
Every interaction someone has with your business helps to build brand recognition and the great thing about face-to-face encounters is that they're memorable. Traditional mediums such as social media don't allow you to showcase your company in such an interactive way.
Events should be used to answer questions, build transparency and help people understand your values. Use this opportunity to get your name out there so people are excited about your brand.
Strengthens your community
Without events, your company is just another online business. Face-to-face interactions help to establish real communication and crucially, build trust between you and your customers.
Really connecting with your audience on a personal level has a big impact on their engagement. These important face-to-face connections are rare in the virtual world and they can really solidify someone's interest in your group or company.
As well as reaching out to other businesses and residents in the local area, use this opportunity to engage with experienced professionals in your line of work. From meeting potential partners and discussing industry best practices to receiving expert advice, events can be a great place to learn new things.
Furthermore, meeting like-minded individuals in person will also encourage more active engagement online.
Increases trust
This benefit is often overlooked but hosting events, especially for new businesses, shows that you're real. It doesn't matter how big or small the event is – it could even be a breakfast gathering – all that matters is that people will be able to identify that you're genuine.
Enables you to learn more about potential and existing customers
Not only do events allow your clients to get to know you better, it also works the other way around. Use your events to focus on learning about your customers. The more of a relationship you build with them, the more likely they are to value your business.
Even better, if you target your events to specific audiences, you're more likely to contract real leads afterwards.
Don't forget to obtain feedback. If you want to know where your market is heading for example, host a discussion and you could even use live polls and product testing. People are much more likely to give genuine feedback if asked in person compared to being sent an online survey.
Generates revenue
Selling shouldn't be the main focus of your event – especially if it's your first one.
Given the purpose of marketing is to sell a product or service, it does however make sense to use your events to do exactly this. This should be done in a natural way however.
Trying to sell to people as soon as they walk through the door is a surefire way to guarantee you'll never hear from them again. Instead, focus on building a relationship with your attendees. Tell them more about your business, give them advice, hand out free samples or give product demos and take an interest in them and their business.
In time, your relationship will naturally develop and this will improve sales and conversion rates.
What events can my SME host?  
The type of event you choose is likely to be influenced by a number of factors including:
Budget
Company size
Your experience with event marketing
Event goals
Budget is always going to be the biggest consideration for a small business. If you're really worried about cost, think about how you could offset this. Some ideas include:
Charging a small admission fee
If you have influencers or industry experts speaking at your event, ask if they will do it for free in return for free products/services/exposure
Invite other businesses to sponsor your event. In return they can get a speaking slot, a link on your website and a mention in any marketing collateral you produce for the event
Below I've listed some great event ideas which don't have to cost a fortune to host.
1. Product/service launches
Say you run a small production company specialising in creating content marketing videos for other businesses. You've just invested in some fantastic new equipment which will enable you to produce high-quality videos for your customers.
By all means shout about this on your blog and social media pages but the only way you're really going to get people excited about it is if they see the equipment for themselves.
Invite prospects and existing customers to your office so you can show off the equipment. Instead of having a photo booth, you could have a video booth so attendees can get in front of the camera themselves.
After the event, send them their videos. Not only are you giving them a sample of what you can offer, it's the type of thing that people love posting on social media which helps to get your brand seen.
Don't be afraid to invite local media as well. At worst, they won't reply to you. Best case scenario however is that they cover your event and publish a write-up about it in the local paper which is great exposure.
Events like this don't have to cost the earth either. Refreshments are a good idea but rather than paying a fortune for a caterer, many supermarkets now offer affordable party food packages. Alternatively, a local caterer may be more than happy to give you a generous discount if you make it clear who you used – this is after all a great promotional opportunity for them too.
Here are some more great tips for hosting the perfect product launch event.
2. Guest speakers
One of the most common forms of B2B event marketing is guest speaker events.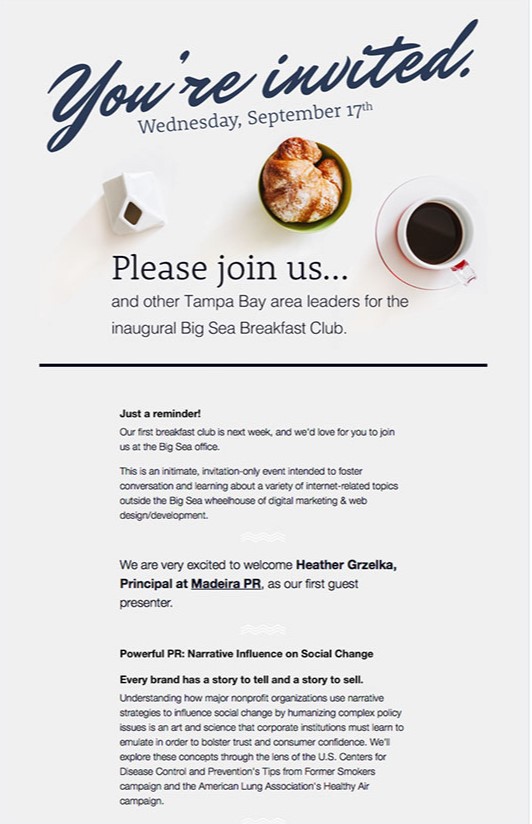 These types of events don't necessarily have to be expensive either. If you want to, you can pay a lot of money for a well-known personality but you can also find someone through co-workers, friends, family or even customers. Sure you're unlikely to get Alan Sugar but you can still secure a very credible guest of honour. 
Even if you do have to pay, if you stick to a single speaker it makes your event a lot more affordable.
3. Networking events
Every business professional knows the importance of networking. Not only does it provide opportunities for people with related interests to meet and interact with one another, it also allows brands to demonstrate their authority in their particular domain.
A big benefit of networking events is that they're very low cost to run because no guest speakers or fancy presentations are required. All you need on the day is a space and some catering. You can host your event from your office to save money but if this isn't practical, a local hotel or bar works well. Most venues offer special packages for businesses who are looking to hire a room or space for events. 
A great way for SMEs to spread the message about their networking events is to set up a group on Meetup. The platform allows people with shared interests to connect and meet up. Say someone is looking for a networking event for self-employed people in Southampton for example, they will be able to find relevant and upcoming events using the online platform.   
4. Masterclasses
If you provide a service you're an expert in, masterclasses are a fantastic and low-cost event to host. Say you're a digital marketing agency for example, you could hold a social media workshop.

This might sound counter-intuitive at first – after all, surely you want your customers to hire you to run their social media accounts? Hosting a masterclass can offer so many benefits however:
By educating your attendees, you're offering something of value and this will ensure they remember you
You're building a meaningful relationship with prospective clients
You're proving you're an expert in your field so the next time someone needs help with anything related to digital marketing, they will know they can trust and rely on you
If you're imparting expert knowledge, people expect to pay. Even charging a low price can help to offset some of the cost. If you charge a little extra, you can even use your workshops as a money-making exercise
You can offer a special attendee discount for those who sign up to your services (put a time limit on this to encourage people to be proactive)
It doesn't need to be extravagant. You can choose to hold a full-day class or it can even be a couple of hours
If you really don't have the budget or resources to host your own event, there are some great alternatives.
Try to attend relevant industry award ceremonies
Go to networking events in the local area
Attend trade shows, conferences, seminars and event expos. If funds permit, you can pay a sponsorship fee to help your brand get noticed at the event
Host a webinar. You can do this from your own office, they're cheap to run and you can invite as many people as you like. Here are five great platforms for hosting webinars
While they may seem daunting at first, events provide a great opportunity to build relationships, earn trust and ultimately, drive sales. They also have a unique ability to create a lasting and powerful impression of what your company has to offer. By allowing people to experience and interact with your company, product or service at an event, you are establishing that all-important baseline for growth and long-term success.