Whether retailers and shoppers like it or not, Black Friday has become the biggest online shopping event of the year. The four days between Black Friday and Cyber Monday are now bigger than the pre-Christmas shopping period, in terms of online traffic and sales.
Some retailers see this as a massive opportunity to capitalise on extra traffic and drive sales, while others bemoan the fact that it can drive them to discount more than they would like.
For smaller retailers, the question is whether they should take part in this event, and attempt to attract some of the shoppers heading online for bargains.
This year, Black Friday takes place on 23rd November. In this post, we'll look at some of the pros and cons to consider, as well as some discounting strategies for Black Friday and Cyber Monday.
Black Friday growth
In the UK, Black Friday didn't really register with shoppers until 2014. It's since taken hold and grown steadily. Sales on Black Friday 2017 reached a total of £1.39bn, up from £810m in 2014.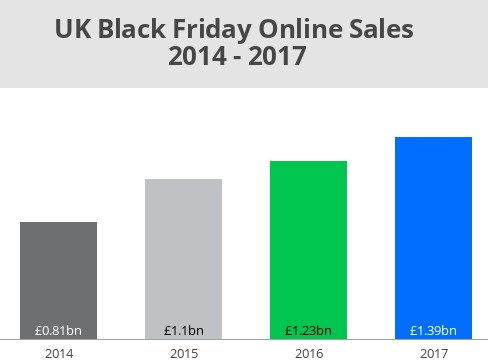 Should you take part in Black Friday?
There are several pros and cons for SMEs when considering whether to take part, and some questions to ask before deciding.
Let's run through some of the arguments in favour of joining in with the Black Friday fun…
It's a chance to benefit from extra traffic
The sheer volume of interest in Black Friday means that, for many retailers, it seems foolish not to take part. The growing interest in this retail event means that many people who would not normally shop online are there looking for bargains at this time of year.
These shoppers also have a greater intent to purchase than usual. They know that deals are time-limited, and also that items may sell out, so there's a compulsion to make a faster decision to purchase.
This is shown in abandonment rates. The average online abandonment rate (those who add items to their shopping basket but leave without buying)  in retail is around 75%, but this dropped to around 67% on Black Friday and 70% on Cyber Monday 2016 as people are more likely to buy on the day before sales promotions end.
A good chance to clear old stock before the Christmas season
People expect discounts on Black Friday, and this provides the chance to make room for newer stock at a time when customers are shopping in huge numbers.
An opportunity for new customer acquisition
Black Friday offers retailers a chance to acquire new customers at a key time of year. Potential customers are online and in the mood to make a purchase or two.
Also, if you sell to new customers around Black Friday, and they're happy with the product and your service, then this is a great chance to drive repeat business in the run up to Christmas, and beyond.
New customer acquisition, if successful, can also justify reduced margins from discounted products sold around Black Friday weekend.
Building brand awareness
Smaller retailers may be less well-known, but they have the chance to gain traffic from product driven searches on Black Friday.
A chance to drive incremental sales
Customers are heading to sites around Black Friday looking for bargains, but can often end up buying full-price items or extras when they're in the mood to buy.
Some visitors will simply pay full price for an item they were thinking about, once they realise it isn't being discounted after all.
In addition, retailers can also cross-sell full-priced items along with discounted products. Special offers may bring customers to the site, but it also allows you to show them the rest of your product range.
No last minute Christmas delivery issues
One consequence of Black Friday's growing popularity is that it has led to many buying Christmas gifts earlier than they might have done otherwise.
Black Friday generally falls around a month before Christmas, and the chance of a good deal means that many will choose to buy gifts at this time.
Retailers can, therefore, deliver in plenty of time for Christmas, and the greater activity here should reduce the rush later in the shopping season.
Potential downsides to Black Friday 
It's not all opportunity for retailers though. There are some potential downsides to Black Friday, which should be considered.
More returns to handle
If you do sell more stock around Black Friday, this does increase the chance that some of this comes back in the form of returns at one of the busiest times of year – just before Christmas.
This can put pressure on staff handling returns, while unwanted stock may not be able to be resold before Christmas.
It doesn't work for your brand or products
Last year it seems that most retailers (even car dealerships) offered some sort of Black Friday promotion, but for some Black Friday may not be worth it, for various reasons.
For some brands, perhaps those selling luxury items, Black Friday promotions aren't a great fit. Such retailers may take the view that, if they're selling premium products, discounts will cheapen their appeal.
For others, the products just don't work. For example, categories like DIY and flower delivery don't work so well on Black Friday as people buy them in response to a specific event or need.
Lots of pressure to discount
Online shoppers are often expecting discounts that are more generous than usual at this time of year, and this places pressure on retailers. If rivals offer 25% off everything, many may feel pressured to follow suit, or risk losing out.
Reduced profit margins
The risk of reduced profit margins around Black Friday can be a concern for retailers.
More sales may be generated around Black Friday, and many online retailers enjoy their busiest days of the year, but this can come at the cost of reduced profits.
Retailers do need to be careful here, and think about how much they can discount without harming margins. Or alternatively, consider whether the chance of incremental sales or acquiring and retaining new customers justifies the strategy.
It's hard to be heard over the crowd
With so many retailers shouting about their own deals and products, it can be very difficult to get your brand message across with all this noise.
Your Black Friday email will be just one of many others, and in many categories, the big retailers and publishers have the top search results shown up.
Data from PI Datametrics shows the share of voice for searches involving Black Friday and deals, with the big retailers and publishers proving to be very competitive.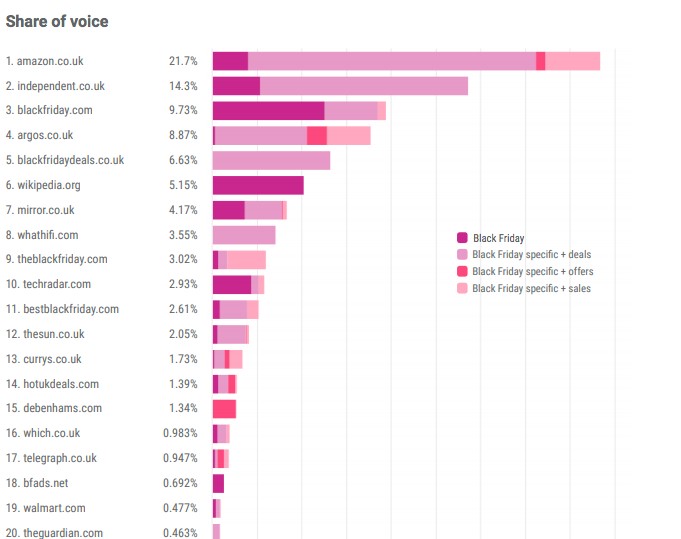 This doesn't mean that retailers in certain niches, or those stocking the must-have products can't do well in search, but it is very competitive. 
Pressure on website and resources
Even the big sites often fall under the weight of extra Black Friday traffic as actual levels of activity are hard to predict.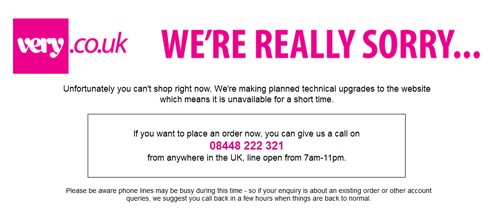 However, while these sites have the resources to carry out load testing and added extra capacity, not all online retailers are able to do this.
Beyond the sheer weight of traffic, there's also the added pressure on customer services, delivery networks and more.
It may well be worth adding the capacity to deal with extra demand, as any benefits from all the new business acquired will be lost if orders cannot be fulfilled in time.
Black Friday discounting strategies
It may well work to offer enticing discounts on products to attract extra sales, acquire customers, or perhaps clear some older stock.
However, there are various ways to offer enticing deals to customers, and not all of those necessarily involve heavy discounts on stock. Here are a few ideas…
Don't take part at all
Retailers don't have to take part in Black Friday at all. Having weighed up the pros and cons, it may be a sound judgement to sit it out and let other sites discount and compete for the traffic.
With greater numbers than usual shopping online, you may still see some good results even without special promotions.
There are several big names who haven't taken part at times, such as Next, Ikea and Fat Face, which often runs a charity promotion rather than discounting.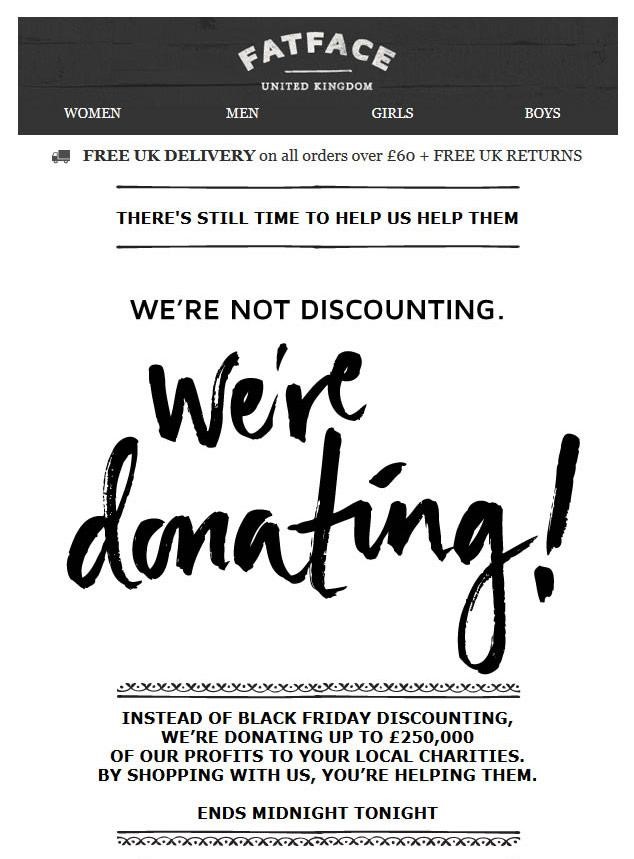 Use vouchers and gift cards rather than discounts
Yes, it's a form of discount as you're giving something away, but offering, for example, a gift voucher on purchases over a certain amount is still a good deal for customers, and has the advantage of driving repeat visits and purchases as customers return to redeem gift cards.
Bundle products together to increase order values
Bundles are a way of using discounting to persuade customers to spend a bit more. For example, if you're selling a camera, then you could create a bundle by adding a memory card and perhaps a carry case, with a discount when customers buy all three.
It's a common tactic used by sites like Amazon, and a good way to discount profitably on Black Friday.
Offer free delivery
As an alternative to discounting products, retailers can use free delivery to persuade shoppers to buy, while still giving them the sense that they're getting a good deal.
Be selective with the products you promote
Focusing promotional activity around a selected number of items can help to protect margins. These may be products with higher margins, or older stock you're looking to offload.
Offer exclusives
You could choose to use Black Friday to offer deals to select groups, perhaps to your email subscribers, or your most loyal customers. This reduces the impact of discounts and rewards the most loyal customers, making them more likely to return in future.
In summary
For smaller retailers, Black Friday presents a dilemma. Many won't want to pass up the opportunity to generate extra sales, but it is important to consider some of the potential drawbacks before you dive in.
I do think smaller retailers especially should keep a close eye on margins and avoid becoming sucked into competing with other sites to offer the most generous discounts.
That said, with the right strategy, Black Friday presents a great opportunity for smaller retailers to attract customers who may not otherwise find their site, and to drive extra income at a key time of year.