It's standard practice for companies to ask their customers for details – name, email address, communication preferences etc. – because it helps them to provide a better customer experience and, in the long run, achieve better profits.
And they do it for good reason. It's estimated that companies who leverage information about their customers outperform their competitors by 85% in sales growth and 25% in gross margin.
Businesses ask for data in different ways. Many choose a more passive approach, including a static sign up form on a sidebar or footer, hoping that people will enter their details and sign up. Others will flash up pop-ups asking for data as soon as anyone lands on their site. And many find a mid-way approach, only asking for data once a visitor has read one of their blog posts, clicked to download a whitepaper, or have made some kind of interaction with the website.
Research carried out by GDMA, UK DMA and Acxiom last year demonstrated that, on a global level, consumers are happy to share their data. That said, some sources suggest that pop-up ads are generally the most hated type of advertisement online.
So why the disconnect between what people say and what they do? Perhaps it's something about when the opt-in appears. After all, there's a big difference between being asked for data as you land on a webpage, compared to seeing a pop-up after a period of time orienting yourself on the site.
In this article, I'll look at what the data says and help you decide if you should ask for data right away and, if not, find the best time.
A note on GDPR
Since the new GDPR guidelines were introduced across Europe last year, businesses need to be extra careful about how they go about getting their customer's data. A recent UK Domain post looked at the main areas that could affect sign-up rates, among which were:
Transparency about what you'll do with data
Highlighting the true value about what you're offering in return for data
Addressing common concerns and pain points
Form fields and length
Opt-out options
What the research says about when to ask for data
Drilling into the detail of optimal timing for asking for data remains a tricky subject. Not all websites are equal, and neither are the methods of asking for it.
Most research shows that asking for data immediately proves negative
The following chart by Neilsen demonstrates that the probability of a consumer leaving a page decreases over time, suggesting that asking for data is better placed later rather than sooner. Ask for data too early – when their potential to bounce off is at its highest – and you'll put them off further.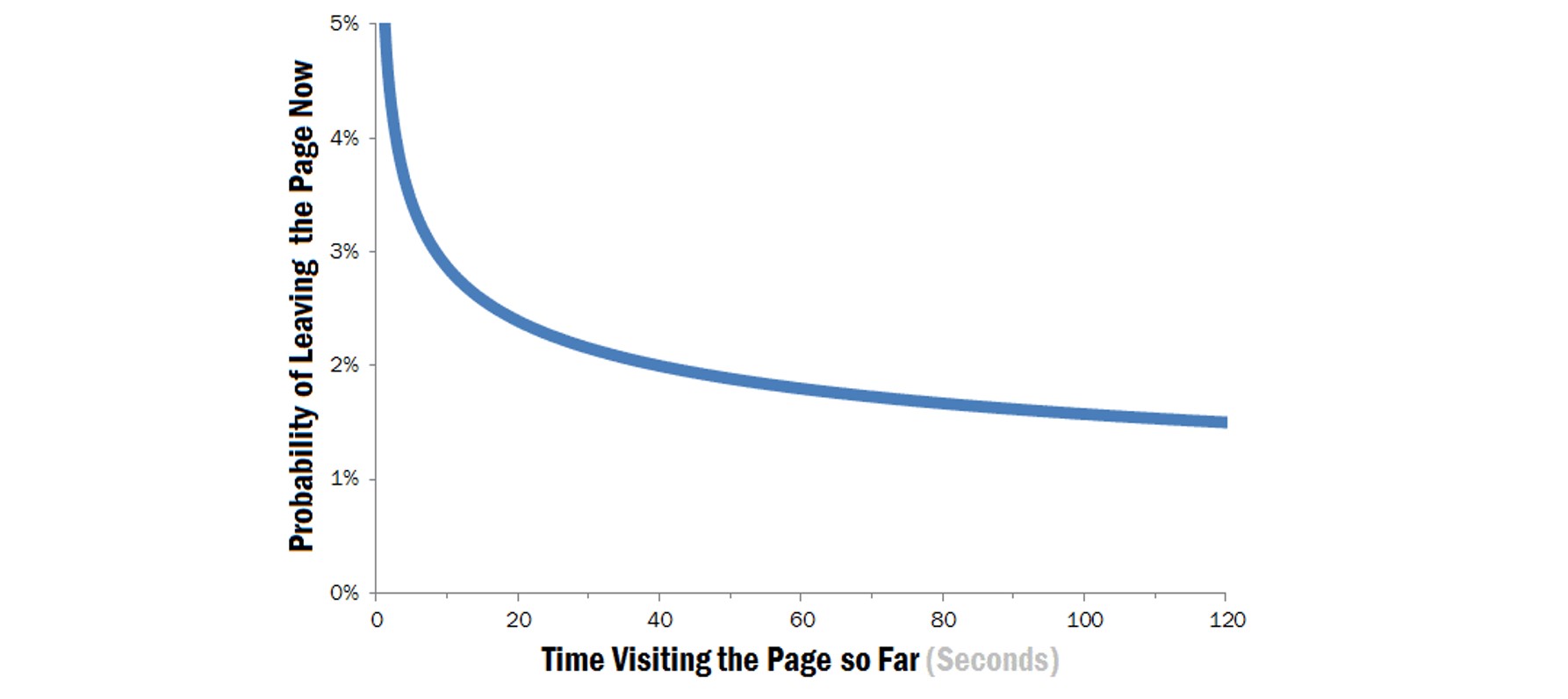 Buzzsumo's 2018 research looked at pop-ups that appeared between 0-4 seconds after landing on a site.
After analysing 1.75 million pop-ups, they came to the conclusion that those that performed best, didn't appear within the first 4 seconds of landing on the site.
More research by Inflow demonstrates that entry pop-ups damage conversion rates. They ran an experiment on a client where they added a pop-up that appeared on landing on their website. The conversion rate dipped immediately after the pop-up was added, and bounced back up again once it had been removed:

However, another test carried out by ActiveTrail has shown that, although the subscription rate was much lower when a pop-up appeared on landing on a page, compared to after the visitor had visited 2 pages of the website, the number of emails gathered was much greater.
This can be attributed to more people seeing the pop-up when it appeared immediately and, while it caused some people to bounce, it converted more email signups overall.

The research suggests that asking for data immediately is not clear cut. Entry pop-ups hurt subscriptions and conversion rates and increase bounce rate. However, they do appear to more people, and so overall data collection rates can be much higher.
However, the amount of time you delay asking, really is a matter of trial and error depending on the average time people usually spend on your page.
Research shows a short delay helps
Leo Notenboom, owner of Ask-Leo.com, part of Puget Sound Software LLC, wanted to turn around his subscription rate which, despite receiving excellent website traffic, was proving abysmal.
He started off looking at average time on his site using his web analytics which, in his case, was 66 seconds. 
He then set up a test for a time-delay slide-in box. A slide-in (or hover box) is part of the page which remains hidden until it's triggered by parameters you've already set. In this case, he tested the time delay using 60% as his constant as this was around the time the average visitor spent on the site.
He tested time delays of:
60 vs 75 seconds
60 vs 45 seconds
60 vs 30 seconds
The results were as follows:

Other sources suggest that a time delay of roughly 50-60% of the average time people spend on a page is the best time to ask for data.
What your data tells you
What the research does suggest – mainly because it's so inconclusive – is that when you ask for data should be treated on a case-by-case basis. After all, every company is different, every company's audience is different and, crucially, all ways of asking for data are different.
For example, if you have a lead generation website, your audience may be expecting an entry pop-up, and will respond positively to it. However, if you run an online shop, you might be severely damaging the user experience by flashing up a pop-up before consumers get a chance to orient themselves around your site.  
The best tactic – as with most marketing activities – is to test and iterate for yourself.
Some sources suggest running some A/B tests using software (tools like Justuno or CrazyEgg are just a couple) to test entry vs delayed pop-ups.
However, because your A/B script loads after people leave after seeing your pop-up, you won't capture the data about how successful your entry pop-up is.
As such, you're better off running different timed pop-ups over the course of, say a couple of weeks. This takes longer but will give you a more accurate result. Here's how you do just that:
Step 1: Set up your entry pop-up, and measure completed conversions over the two week period (or whatever period you've chosen).
Step 2: Set up pop-up completion as a Goal. For more on this, check out this guide.
Step 3: Find your average time on page to determine when to set up your delayed pop-up. To do this, go to your Analytics, then Behaviour – Site content – All pages:

Step 4: Determine three time delays, your first one could be your average time on page, the second could be 50-60% of your average time on page, the third could be 50% higher.
Step 5: Set up your next pop-up based on your average time on page and test it for two weeks.
Step 6: Repeat the process with the next two pop ups.
Step 7: Analyse the results of your four pop-ups. Which received the most conversions? Look at the hard numbers rather than the conversion rate.
When you shouldn't ask for data
When you don't have a plan for using it
Before you set about asking for your customer details, ask yourself if you actually need them. Are you actively building your contact database, and do you know what you're going to do with your customer details?
If you have no plan for how you're going to use your customer data then, officially, you're breaking the GDPR guidelines. You'll also be missing out on the opportunity of using the data to interact and engage with customers, risking it becoming too late when you come to contact them after you get a strategy in place.  
When you've already asked for it
The worst thing you can do to your web visitors is to spam them with repeated requests for data. When you set up your sign-up form, make sure that you enable cookies to remember when you've already asked visitors.
In summary
It's good practice to ask for your customer's data. It helps you deliver a better customer experience, improved buyer journey, and will ultimately help your business drive more revenue.
However, the research on when to ask for your data is inconclusive.
Most sources suggest that asking for data immediately increases bounce rate and so damages subscription rates. They seem to suggest that around 50-60% of the average time on page receives better results because this is when people are least likely to bounce off your page.
Other research shows that this doesn't matter, because more people see the pop-up and give their data anyway.
My advice is to test what works best for your website and your audience. And try different methods of asking for data too. You might see wildly different results depending on how you ask for data, as well as when.