At last count, Snapchat had 188 million active users. Modest compared to Instagram's huge 500 million daily users of their 'Stories', but a big user-base nonetheless.
And whilst Snapchat lags behind Instagram on numbers, it's the interesting demographic that counts.
Data from last year shows that 45% of Snapchat users are aged between 18-24, and 71% are under 35 years old. This means that if you need to be focusing on getting the attention of a younger audience, Snapchat is where they're hanging out online.
Snapchat users are also pretty prolific when it comes to creating and sharing video content, producing 300 billion Snaps a day, and spending on average 30 minutes on the app.
Snapchat isn't necessarily for everyone. If you're a business who's already doing well on social media, perhaps you have a strong Instagram or Facebook presence already, or your products or business model doesn't suit a predominately visual platform, then it might not be worth going down the Snapchat route.
But for businesses who are trying to reach a younger audience, then Snapchat is certainly worth a try. It's where millennials are socialising online, and so it's a good place to start if you want to start engaging with them. If you think Snapchat is a good fit for your social media strategy, read on where I'll explain how to get started on the platform. 
How your customers are using Snapchat
Snapchat is a real-time visual social media platform. That means its content, primarily image-based, only lasts for a certain amount of time. Photos or videos shared via Snapchat only last 24 hours before they disappear completely. 
As such, Snapchat is all about connecting with your audience with authentic, personal and instant content, and its best used to promote an "inner circle" between your brand and your following.
There are four main elements of Snapchat: the camera, Discover, Friends and Snap Map.
The camera is the first thing to show up when you launch the app and is really what Snapchat is all about. I'll delve into using the camera later on.
Discover can be found by clicking on the Discover icon in the bottom right of the screen. This lets you view Stories posted by your friends, as well as other recommended Snapchat stories.
Friends can be found by clicking on the Friends icon, bottom left, in the home screen of Snapchat. Here you can search for your friends by clicking on the 'add friends' icon at the top of the screen.
The Snapmap is a relatively new addition to Snapchat. To get to Snapmap, go to the main camera view and swipe down. Here you'll be taken to a map of your current location, where you'll be able to see all your Snapchat friends in the area.
How to get started with Snapchat
Setting up your account
If you don't already have a general Snapchat account, then you need to create one here.
Once you have a Snapchat account, you can start setting up your business account by signing in using your Snapchat username and password, and then filling out your business credentials. Going forward, you'll be able to use the same Snapchat username and password for both your personal and business accounts.
Once you've set up your business account, you'll be asked to create a campaign, although this is optional.
Creating content
Camera
The camera is the longest standing feature of Snapchat and is the first thing you see when you launch the app. Here, you can customise your camera using different filters and formats to create content to share in Snaps and Stories.
To take a photo, tap on the large white circle at the bottom of the screen. For a video (up to 10 seconds) hold down the circle. To upload images from your camera roll, click the image icon at the bottom of the screen. You can also customise your images and videos with "Face Filters" to alter your image if you wish.
Editing your images
To edit your image:
When you've taken a photo, you will be given a range of editing options on the right-hand side of the screen.
You can add text by clicking on the "T" icon or by drawing onto the image by clicking on the pencil icon.
You can also add stickers and gifs, crop the image, and even add a URL link to the image.
The scissors icon allows you to cut out part of your image and pin it to your content.
Lastly, the timer icon lets you choose how long your image will appear before it disappears. This runs from 1 to 10 seconds, and even to "no limit". If you're editing a video, you're given the option to let it run on a loop.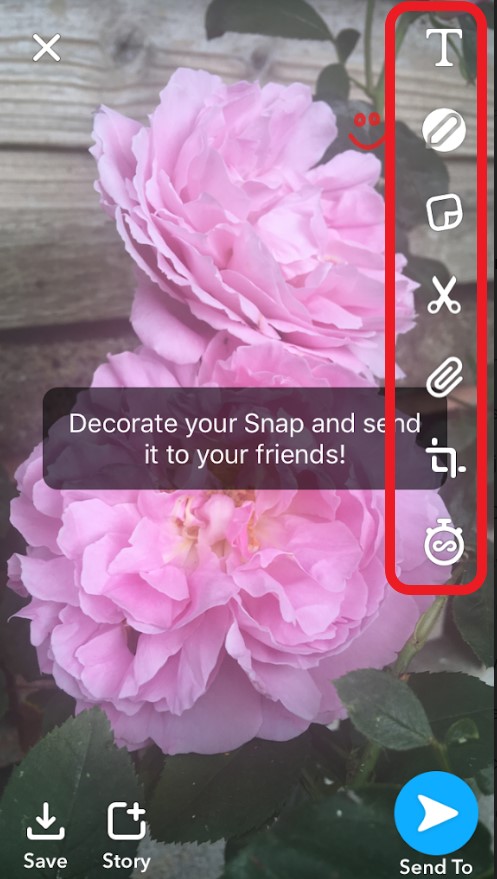 Sharing content 
There are different ways of sharing your Snapchat content, but first, it's good practice to save your image or video to your camera roll by clicking Save in the bottom left corner.
Snap Messages are direct messages to your friends or group chats.
My Story is where you can post your image or video, viewable by all your followers for 24 hours.
Our Story is viewable by anyone and is hosted on the Snapmap for 24 hours.
From a business point of view, let's focus on the Stories features, which lets you promote your content to your own audience or the Snapchat audience at large.
There's no particular set rule as to how often to share Stories on Snapchat, although it would be useful to post consistently and regularly, rather than intermittently. The brands that are most successful at Stories, are those which update every day or so.
However, more importantly is the content of your posts.
Snapchat audiences tend to want content that's personal and transparent, and so behind-the-scenes content works particularly well. You can make a start by showing your audience around your office or showroom, giving them insight into what happens behind closed doors.
Stories can also be used to create suspense in the run up to a product launch or an event, letting your audience in on the secret early on. You can also promote offers and incentives on Stories to garner a loyal following.
MTV famously used Snapchat to promote the VMA awards in 2015 by streaming it over live Stories. The results: 10 million watched the VMAs on TV, but 12 million tuned in to Snapchat to watch the Story!
Another example is Dove's campaign opening up the discussion about self-esteem. On Snapchat they interviewed 30 women with several psychologists and posted the interviews on the social channel. The results of the campaign were staggering, with over 130,000 views (and, no doubt a boost in sales!).
Engaging with others' content
Whilst you can use Snapchat as a broadcasting medium, it's also good practice to engage with your followers' and any industry relevant content too. Using Snapchat to engage in the wider conversation will demonstrate that you're involved in the social community, and therefore are an approachable brand.
Make it part of your routine to watch other Stories and comment on them. If you get into the habit of doing it, before long you'll be seeing this being reciprocated, plus you may be able to start conversations with new customers. Also, listen to your followers' comments and use them to inspire the content of your future stories.  
Building your audience
One of the biggest challenges in Snapchat is building an audience. A good place to start is sharing your username or Snapcode across various media channels.  
Every Snapchat account has a unique username and Snapcode. To locate yours, tap on your profile picture in the top-left of your screen. Then tap your Snapcode. Here you'll be given sharing options, either to 'Save Snapcode' or 'Share URL'.
Now you can share your Snapcode on all your other channels, like your website, email footers, and other social platforms like Facebook and Instagram. Not only will this draw attention to your Snapchat presence, but will also give you the opportunity to reuse your existing Snapchat content.
While we're discussing cross-pollinating your social media audiences, there's no harm in running a promotional campaign on Snapchat to bring in your audience from your other social channels.
One way of doing this is to run a campaign on your Snapchat account – say a competition to win one of your products. You can announce this to your Instagram and Facebook audiences, saying "Why not head to our Snapchat to check out our big promotion". You could also offer an incentive to share the promotion with their friends.
Look at how People Magazine are advertising their Snapchat Discover channel on their Instagram page, a great way of driving a big Instagram following (4million) towards their Snapchat account.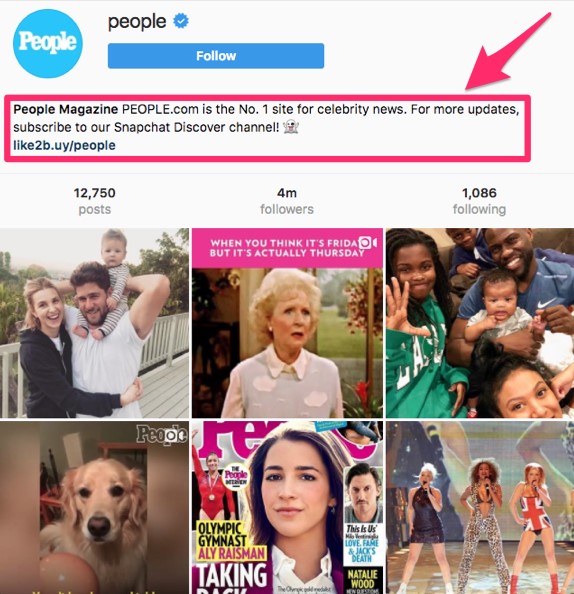 Advertising 
There are several ways of advertising on Snapchat. There are Snap ads, sponsored geofilters and sponsored lenses.
You can run your campaigns from your business dashboard, where you'll be able to:
Create and publish ads
Manage your ads
Build audiences, a library of your visuals and catalogue of your products
Manage your account, members, payments and other business credentials.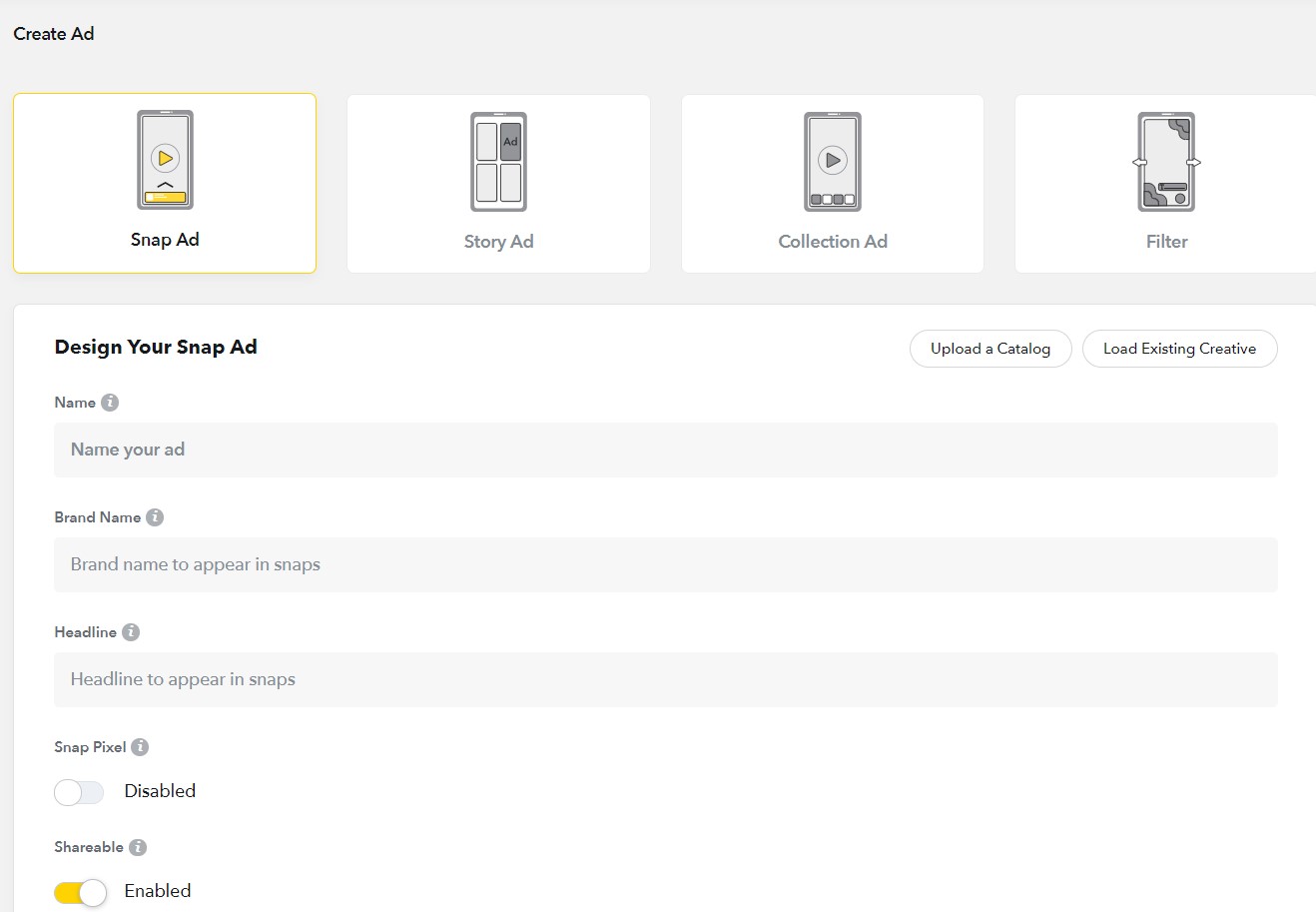 Snap ads
These are 10-second vertical videos that are, to a certain extent, interactive, often with a call-to-action with a link. Most of them include audio, and are usually used to provide extra information about your company or the products and services you offer.
Sponsored Geofilters
These let users send snaps from specific locations. For example, you can set the geofilters to various locations, if your business has several sites.
Geofilters have been used by brands to promote certain events. For example, Cheerios used geofilters to promote themselves by jumping on the National Cheerios Day geofilter.
Sponsored lenses
These are filters that are applied after an image or video has been taken, but before it's sent to a friend or uploaded as a Story. Lenses have facial recognition technology which means that users can turn themselves into various characters – angels or demons, cats or dogs.
Taco Bell used a sponsored lens as part of their Cinco de Mayo campaign. While they paid $750k for 24 hours of that filter, they also received 224 million views, and no doubt a lot of extra revenue.
Measuring your success
Only last year, Snapchat launched its Insights feature, allowing users to monitor the success of their campaigns.
In Insights, the top of the screen shows key performance numbers, such as Story views, and view times. Below this, you'll be able to see daily reach (the number of people viewing your content) and dig into the demographics of your followers – the age and gender of those engaging with your content.
Summary
Snapchat doesn't have the vast userbase that Instagram and Facebook enjoy. But it does have a predominantly young audience. This is why Snapchat is a good option if your business is looking to reach a younger demographic.
The key to Snapchat is to use it to engage in real-time with your audience, offering personal insights into the backstage of your company. Using it to build a relaxed and intimate conversation with your followers will help you to develop a strong and loyal core of customers that you wouldn't be able to reach via your other media.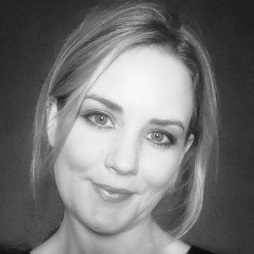 Charlotte Jenkins is an Oxford-based content marketer. She has several years' experience in content writing, editing and digital marketing, helping clients communicate their businesses online.
Read full profile