Given the number of emails we all receive these days, it's little wonder that we don't have time to read them all anymore. Studies suggest that the average open rate for marketing emails is just 21.73% across all industries. When you're competing for the reader's attention with umpteen other emails – and ultimately, with the delete button – creating an email that stands out and makes them want to read it is vital. In today's post, we take some inspiration from the experts.
Graze
Sent out to a mailing list of people who haven't subscribed for a while, this email is designed to encourage recipients to restart ordering regular snack boxes from healthy snack provider Graze.com. In the actual email, the image being held up cycles between a number of different tempting-looking snacks.
The copy is short but sweet, starting with an appeal to the reader's emotions – "have you missed me?" – and then highlighting benefits such as "nutritionist-approved". It ends with a call to action that can't fail to tempt readers: "send me tasty snacks".
Crucially, this email also mentions specific snacks that the recipient has previously enjoyed (in this case, applewood smoked beef jerky). This highlights the value of personalising your content when it comes to sending out email newsletters. Segmenting your audience and sending them personalised email content has a much higher success rate, with one study suggesting that tailored content produces 18 times more revenue, 39% higher open rates, 28% lower unsubscribe rates, and 8% click-through rates versus 3% for non-tailored emails.
The email ends by inviting the reader to interact further with the brand via social media, including a few examples of why they might want to do this ("take part in competitions", "get exclusive peeks at new snacks", "get tips from our taste experts"). All in all, this short email has all the hallmarks of a great email campaign.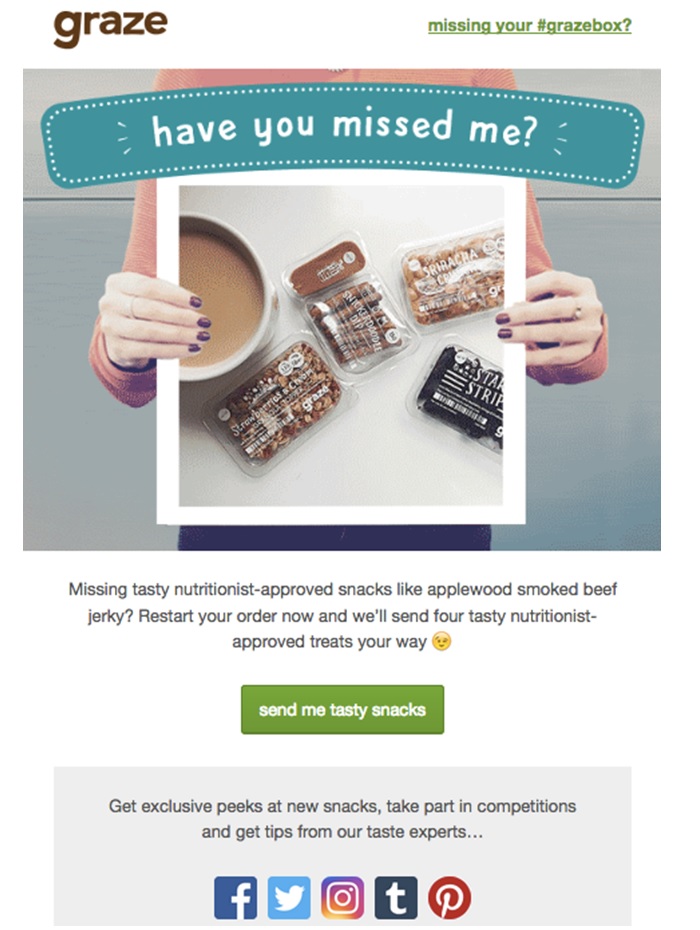 Farrow and Ball
Know for its vibrant paints and loved by interior designers nationwide, it's little surprise that Farrow & Ball's email newsletters look every bit as beautiful as you'd expect. What's more, the design of their emails matches that of the website, providing a seamless experience when the reader clicks a link to the website.
In this example, they've stuck to three items, each with a clear call to action button, such as "book your place". In fact, even the headings themselves are effectively encouraging readers to take different actions: "Join us for an afternoon of lunch and colour", for example. The lead item links to an informative blog post, with a suitably attractive image to lure readers in.
The email finishes with an invitation to "Explore the world of Farrow & Ball" by downloading some booklets full of tips and inspiration. Just like the website, there are social media icons so that readers have further options for connecting with the brand.

Bella Italia
Italian restaurant chain Bella Italia knows a thing or two about creating delicious food, but it turns out that their email newsletters are almost as enticing.
In this example, they've included appetising imagery throughout the newsletter, accompanied by tempting offers. Each section of the email is cleanly segregated with its own image to support the short, simple copy.
To hold readers' interest, a variety of visual formats are used; for instance, the ravioli section has the text in a box, with a "view menu" call to action button. Another has the text directly over the image, with a banner over the corner of the image signposting an "End of Week Treat".
In case readers don't get through the whole email, the sections are prioritised. The first section contains the lead offer – 50% off – which is the most important information for this newsletter. It headlines with a hashtag (BellaDays) that diners can use on social media, and the copy is short and simple, yet enticing: "Start your week the Italian way." A simple "Get Offer" call to action button encourages readers to get their voucher.

The White Company
This email is almost like a magazine in style, laid out in the same clean design as the website. Titled "The Weekender", it has the all-important 50% off details at the start of the email, ensuring that anyone who opens the email sees that first.
For readers who continue past the offer banner, the rest of the content is introduced with the words, "It's the weekend, so grab a coffee and have a read…" This is a great way of enticing people to carry on reading, setting the tone for a relaxed few minutes perusing the rest of the newsletter.
Each section of the newsletter links to sections of the website, with a nice mixture of blog content and links to products so that the email isn't entirely commercial. The email ends with another offer, this time for Mother's Day, which also serves as a handy reminder to readers who may have forgotten when it is. A selection of social media icons, accompanied by the words "Explore our world", rounds off the email by inviting further engagement between the brand and its fans.
What's more, like the other emails we're looking at today, the email reformats for mobile devices so that it looks just as good on a smartphone or tablet as it does on a desktop – perfect for readers who are browsing the internet while still in bed on a sleepy Saturday morning, which is when this email is designed to be read. Indeed, with research suggesting that as many as 55% of emails are opened on mobile devices, with 33% of emails opened on iPhones alone, it pays to ensure that your emails are responsive so that they display well on all devices.

Amanda Wakeley
This email newsletter from designer Amanda Wakeley is a great example from the fashion world. The theme of the newsletter is "what to wear now", and it offers practical advice on how to dress during the unpredictable spring weather.
The images lead the reader through the email, providing inspiration supported by call to action buttons such as "shop tops" and "shop dresses". Thus the email not only provides useful tips, but it links directly to the designer's products.
In keeping with advice on writing for the web, each point has its own subheading: some instructive ("turn up the contrast"), others humorous ("be per-sueded"). The copy for each point is concise – just one sentence each, such as, "Slinky cashmere blended knits paired with sheer panels make for this season's easiest sweater silhouette." However, this short copy it's all that's needed; as some estimates put the average attention span at just 8 seconds, so brevity is the order of the day.
Once again, the email ends with a clear call to action button ("Shop spring essentials") and some social media icons inviting readers to "stay connected".

Yo! Sushi
Finally, you can always rely on Japanese restaurant chain Yo Sushi to produce fun content, and their emails are no different.
In this Mother's Day email, the glass of Prosecco is animated so that it tilts from side to side, in a similar motion to clinking glasses together. The word "Free" also has an animation, drawing attention to it.
Snappy copy keeps the newsletter nice and simple, with a clear call to action: "see our menu". Further down, a secondary call to action – "Book a sushi class here" – encourages people to purchase a more expensive gift.
To get maximum value from the email, there's also a friendly line encouraging readers to share the offer on social media: "Don't forget to let your friends know too!"

Having seen these fantastic examples of email newsletters from big brands, it's worth noting that you don't necessarily need to create clever animations or beautifully designed emails like these big companies do; you may not have the resources or the time. However, any small business can learn how to create effective emails by taking on board some of the techniques used by the bigger brands, such as crafting short, snappy copy, and breaking up emails into easily digestible sections. It's not rocket science, but you might be surprised by how much difference it makes to the success of your email campaigns.