The UK Domain digital team headed down to Brighton late last week to attend the renowned Brighton SEO conference. Expert speakers in the world of search shared their knowledge and predictions in a number of talks to the 3500 attendees, covering topics such as the future of search, content, e-commerce, social media and virtual reality to name a few. We thought some of what we learnt would be really useful or just plain interesting so, I've gathered together the team's notes and condensed them down to our top six takeaways…
Don't underestimate paid social
Ned Poulter kick-started his presentation with some pretty outstanding Facebook statistics and posed the question; with 1.8billion users per day why wouldn't you use Facebook to talk to your audience? All business owners should be testing, trying and exploring Facebook advertising. The first step? Define your objective and work to that. Then why not run an advert in image, video and carousel formats and see what performs best? Just remember that when your frequency reaches over 3 it's time to turn the campaign off and start on another by exploring the different objectives within the Ads manager. The main message being there's no right or wrong answer when it comes to advertising on Facebook, and with 79% of total internet users on the social platform you'll definitely find an audience!
Tweet: 79% of internet users are on Facebook so you're sure to find your customers!
Think about search
Auditorium 2 kicked off the morning talks with Search & Data, where one of the main trends was branding and how it could be affecting search in the future. Malcolm Slade spoke about how brand is the only future ranking factor and how it is going to become more dominant as Google becomes more human. He highlighted how having a good website was more important than ever as is the effort to drive people to your online content.
Claudia Higgins looked at getting the most out of the SEO data you can get for free and some of the factors she's seen affecting search data in her time at Argos. The three key tools you should be using to monitor SEO? Keywords Everywhere, Moz Tools (Moz Bar and Moz Cast) and Google Search Console. There are also many external factors that influence customers' behaviour, for example weather, which seems to provoke a more urgent behaviour of wanting a product right now and not waiting for delivery, events, trends and payday, especially when it comes to e-commerce platforms. All businesses should be defining what factors affect their customer's search behaviour. Her final advice? Learn Excel to really squeeze the power out of the data you already have.
"If you want to be successful you have to create content"
We're all aware that 'content is king' but Marcus Tober delved a level deeper and looked at why we should all be using data to create our content. As he said: "What is the magic recipe for great content?…It's data" After all, a massive 80% of content produced online isn't visible so it pays to start slowing down when it comes to creating your content. Before you start writing your blog post take a step back and pay attention to what your customers actually care about, use data to write better content and look at what topics are trending. Marcus highlighted that too many brands only create content for transactional pages and are missing out on catching customers right at the beginning of the journey where searches are a lot larger. Make data a key part of your content strategy and take the opportunity to shed light on really relevant topics. The final takeaway here…Specialise your content and don't believe you can do everything, the volume of content you post isn't always key.
Tweet: 80% of content produced online isn't visible, take a step back and specialise your content…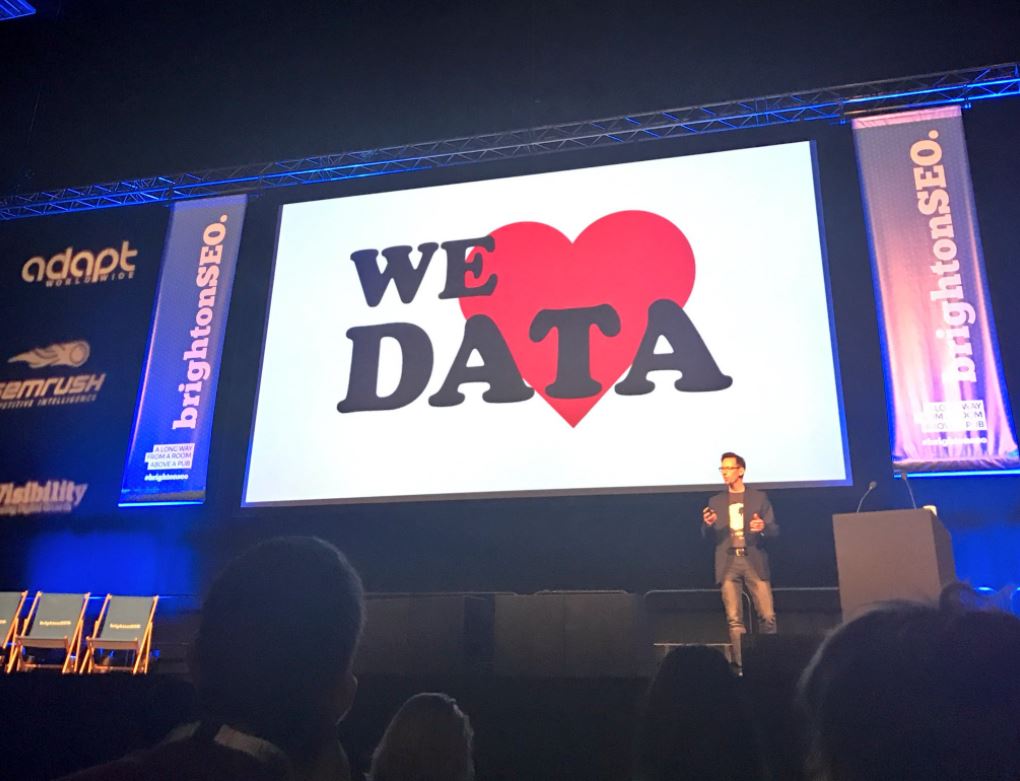 "Email marketing underpins every other type of marketing"
Anyone trying to promote a business should be thinking about email marketing, as Kate Barrett highlighted in her talk email is 40% more effective than Facebook and Twitter at converting. Sending relevant emails to your customers helps you to build and create long term relationships and you get a chance to be hyper personalised and targeted. And, as emails are checked regularly throughout the day, you can keep your brand at the forefront of your customers' minds. Not only that, but email marketing is relatively inexpensive and you have the scope to be action orientated and prompt a response from your audience (which can also be used to build up customer insight data).
Tweet: Email marketing is 40% more effective than Facebook and Twitter at converting so should be used by anyone promoting a business!
What does the future of search look like?
According to Raj Nijjer, SEO is no longer about getting into position 1 but aiming to get the number 0 spot (aka. the knowledge graph and answer box). Reviews are also now more important than ever, after all 60% of people say star ratings play an important part when choosing a business in the search results, so why not start by encouraging your customers to leave reviews across other platforms to get your business to stand out? Raj also touched on voice search and how it is predicted to continue to grow, by 2020 it is expected that 50% of searches will be voice. What does this mean for you? Mainly that the answer to a question asked by a user may come from a number of directories that are seen as accurate, so you must be consistent with your business information, for example name, address, phone number etc.
Tweet: 60% of people say star ratings play an important part when choosing a business, make sure you're encouraging your customers to leave reviews
What else can we expect in the future of search? Purna Virji from Microsoft spoke about the rise of images in consumer search behaviour, and how it is expected that generation Z will use five screens at once and communicate with images (you may remember this prediction was first made in Back to the Future 2!) Searching by image upload is only to become more popular (where you take pictures to find answers) such as taking a picture of a dog to find out the breed. Image recognition is even getting smarter using AI, for example the Facebook app that guesses your age that learns based on your feedback.
How can you make the most of Local SEO?
With consumers searching online for local businesses more than ever Greg Gifford shared his advanced tips to help murder your competitors in local SEO! He started with some advice on how to build local links to your website including sponsoring local teams, volunteering, joining local groups and communities, building links to your inner pages and not just your homepage and searching for similar businesses in other locations to understand where the top sites are getting their links from (you could use the free link analysis tool http://openlinkprofiler.org to do this). Don't forget to continue to optimise your webpages to include target cities but make sure the content is kept natural. An easy way is to read the content out loud – does it sound natural? Don't forget to include your local phone number, as the area code gives another signal that your business is actually local. Finally, if you haven't already, make sure your business has a single listing with the correct details on Google My Business (GMB) and as mentioned above, make sure these details are used consistently across all other directories and citations.