Perfecting your social media strategy is hard work so understandably, it's incredibly frustrating when you're hit with yet another algorithm change and you have to start all over again.
The most controversial change of them all has been Instagram's recent decision to stop showing posts in chronological order. The social media giant announced earlier this year that moving forward, users will now see posts from users they interact with the most and everything else will get pushed down their timeline, possibly never to be seen.
The news was so ill-received that it triggered a sudden surge in people downloading the new rival app, Vero. Instagram users made their growing frustration about its recent algorithm change abundantly clear as Vero went from 150,000 to an impressive three million users in just a couple of weeks.
While the Vero hype appears to have died down as quickly as it started, it was clearly enough to shake up Instagram which has since backtracked on the unpopular change. Users will be delighted to hear that at the end of last week, the site confirmed that they have gone back to prioritising new posts in people's feeds.
The return of the chronological feed is of course fantastic news for all but it's important to be aware that there have been a number of other algorithm changes which can still affect the reach of your posts and the success of your Instagram marketing. Below we have highlighted exactly what these changes are, how they're likely to impact SMEs, and how you can get around them.
Instagram's 2018 algorithm changes
Algorithm changes are unfortunately something that social media users have come to expect. These sites are always looking at new ways of showing us what they think we want to see the most. While we're being told that this is to provide a better experience for the user, it seems as though it's doing anything but.
Most of us will admit that we're creatures of habit and like things to stay as they are. When you log in to your favourite social media site for example and see that everything has changed yet again, do you feel excited or frustrated that you have to learn to navigate your way around the site for the umpteenth time?
If the original social media network MySpace is anything to go by, it's the latter. A big contribution to MySpace's failure came down to its unpopular user experience changes which frustrated its members so much, they all moved to Facebook.
When you consider that Instagram stands to gain a lot from their recent algorithm changes, perhaps this shows that the efforts to change are actually very ill-considered – especially with regards to its users. After all, the longer we're spending on the site and the more people we're interacting with, the better it is for the advertisers who pay Instagram to show up on its users' feeds.
Constant algorithm changes can have a big impact on anyone who uses the site. You spend a long time learning the do's and don'ts, you perfect your technique and then before you know it, everything has changed again. Sometimes people aren't even aware there has been an update and they continue to use old practices which means that their reach rapidly declines or worse, they incur penalties for inadvertently breaking the rules.
This is having a profound effect on people's accounts and it's something that SMEs who are trying to reach out to customers are hit particularly hard by. Unless you have a highly engaged audience, it's harder than ever to get the exposure that you may have enjoyed in the past.
So what exactly does this mean for SMEs?
The first step for marketers and small business owners is to ensure they're aware of any updates. Not staying on top of this could result in a dramatic decrease in the number of likes and followers you're receiving.
One of the best ways to do this is to set up a Google Alert because this allows you to track keywords and phrases so you never miss out on important conversations. This guide tells you more about what Google Alerts are and how you can set them up quickly and easily.
Below we have listed the most recent algorithm changes for Instagram along with some new best practices to follow so you can maximise your exposure and improve online lead generation.
You're rewarded for interacting with other accounts
Because Instagram has only just reverted back to the chronological news feed, it's yet to be seen how much engagement will still have an impact on the posts we see.
A huge emphasis has been placed on likes, comments, video views and direct messages in recent months however so it's likely that this will all still count, just not as significantly.
Irrespective of the algorithm however, engaging with your followers and the people you're following is hugely important. Liking other people's posts means they're more likely to return the favour and by leaving comments, you encourage conversations between your brand and potential customers.
How to beat the algorithm:
To encourage people to interact with your brand on a regular basis, you need to be consistent yourself.
Don't post every day for a week and then disappear for a week. You're better off spreading your posts out over the space of a few weeks
Recognise people who like and comment on your posts and return the favour to encourage them to keep doing so. This will also help you to build up a relationship with users who may turn into customers
Try to be consistent with the theme of your posts. Whether it's food, clothes, travel, fitness or animals – find your niche and stick to it. Anything else just confuses your audience – people like to know what to expect from you
If you're on Instagram, chances are that you've seen the stories feature and have possibly even posted one or two of your own. Make sure you're utilising this feature on a regular basis because stories help to increase your presence on people's feeds.
The new algorithm takes into account all the interactions you receive on your stories so make sure you're utilising them. The more a user interacts with your stories, the more likely your posts are to show up in their feed so it's another great way to get your brand noticed.
If you go to the list of people you follow, you will notice there's now a 'hashtags' tab. This enables you to see all the top posts and stories from your favourite hashtags. Say you own a business in Guildford for example, you may want to follow the hashtag 'Guildford' so you can interact with other businesses, locals and people visiting the area. While this hasn't been confirmed by Instagram themselves, it's thought that your profile might be favoured if you're following hashtags so it certainly doesn't hurt to start doing so.
How quickly people engage with your posts will affect how many people see them
Rumour has it that the first hour of posting is the most important with regards to how Instagram rates your engagement. If your posts get a lot of likes and comments shortly after it's posted, this signals to the algorithm that you're posting good quality content that people want to see and it will therefore show your posts to a larger audience.
How to beat the algorithm:
Because Instagram is placing more of an importance on how quickly people are engaging with your posts, you have to be strategic with the timing of your content. This will require working out when is the best time for you to send your posts out.
If you're posting at a time when more of your followers are online, you stand a better chance of increasing your likes. If for example, you find that you get more likes when you post between 9am and 11am, only ever schedule posts for this time.
The best time to send out your content can be influenced by so many things including the location and behaviours of your followers. Both of these factors can of course vary hugely between accounts so when posting, make sure you keep track of the time each post went out so you can establish a pattern of the days and times your posts seem to be the most popular.
If you need a rough guide of where to start, the social media scheduling platform, Later analysed the engagement of more than 61,000 posts to find out the optimal times to post on Instagram.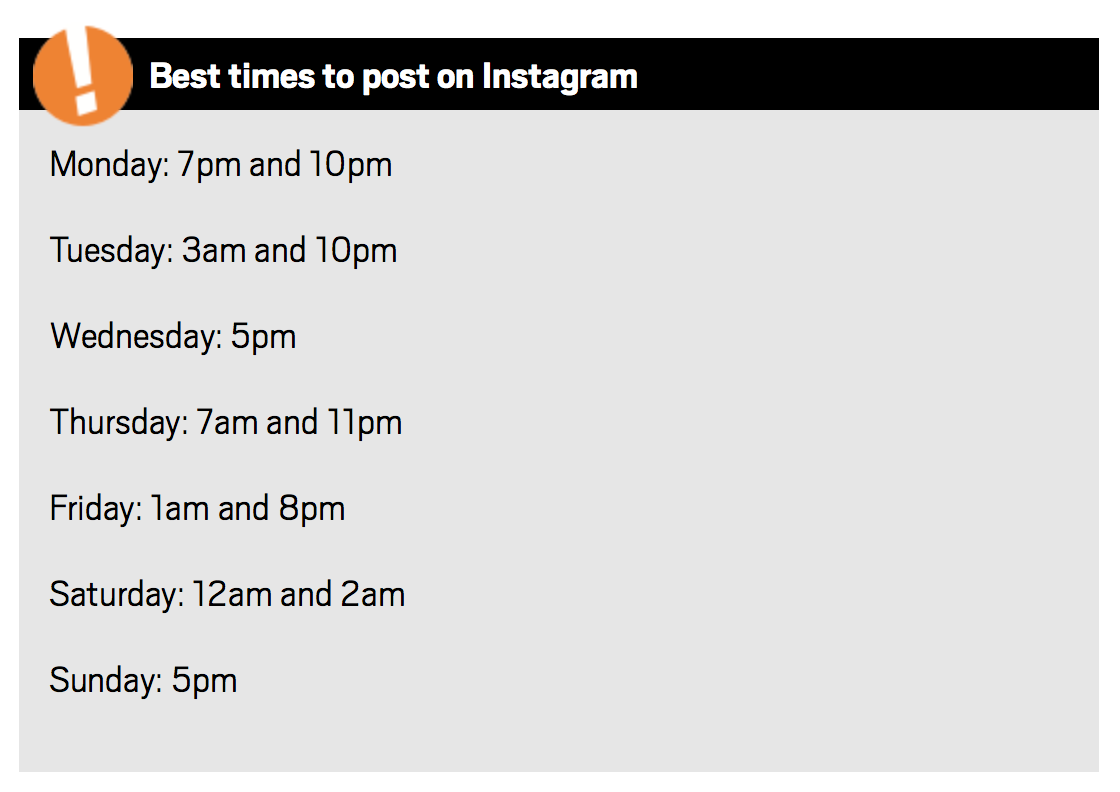 Source: http://metro.co.uk/2018/01/10/best-time-post-instagram-day-week-get-likes-7219311/
As well as the timing of your content, it's also important to stay on top of incoming comments and respond to them as soon as you can. If you get a conversation going, this will dramatically help to increase your engagement in a very short time period. If you have a large following or you don't have a lot of time to regularly sign into your Instagram accounts, platforms such as Later offer a conversation feature which helps you to easily keep track of your comments.
You can reply from your computer instead of your phone, view your conversation history with a particular user and look at bios of anyone who comments on your photo so you can quickly identify engaged influencers you may not already be connected to.
How long people spend viewing your post is important
This one is quite surprising and chances are that few people are even aware that Instagram now looks at the length of time people spend interacting with other users' content. The algorithm will take into account how long people spend viewing your posts and it will use this to determine their popularity. The longer people spend looking at your posts, the more likely they are to be bumped up their news feed.
How to beat the algorithm:
It can be difficult trying to think of engaging captions for every single thing you post. Sometimes it's even tempting to just use emoji's and this is something you do see quite a lot. With this new algorithm however, even the best photos need something more to keep followers intrigued for longer.
Don't go overboard but a good couple sentences can intrigue people enough to spend a bit longer looking at your post. Try to encourage comments by asking questions because the time it takes to write something is more time spent looking at your post.
If you can, try posting videos too because you would naturally spend longer watching a video than looking at a photo. Another great tip is to post multiple photos on one post so people spend time scrolling through them.
Instagram is cracking down on spam accounts
We're all familiar with spam accounts. They leave random comments such as 'nice feed' and 'check out my page now.' Comments like these are nearly always left by bots and Instagram is doing everything it can to stop these automated responses.
Although it's unlikely that you are a bot, you could be doing things that are inadvertently flagging your account as spam. Even if you're short on time, don't leave a comment under someone's post using just an emoji or use short phrases such as 'great picture' or 'love this.' Instagram could easily mistake you for a spam account if you're doing this regularly.
How to beat the algorithm:
Try to elaborate with the comments you're leaving on other people's posts. Say for example a local business has just won an award. Rather than just saying 'congratulations,' say something like 'congratulations, what a great achievement.'
It's also well worth taking the time to write out good quality captions for your own posts. Try to include a question or something that will elicit a response from your audience. Having a deeper connection with your followers will show Instagram that you're a genuine account.
While Instagram does seem to change its algorithms regularly, you can stay on top of them by understanding how they work and how to get around them. It may mean investing a bit more time in your social media strategy but you will reap the benefits for doing so. As well as driving more engagement to your posts, it provides you with the opportunity to create deeper connections with your followers and produce great content that will really help your brand stand out.
For more tips and advice on getting the most out of your social media accounts, head to our blog where you will find advice on everything from how to grow your followers and generate campaign ideas to best practices for using hashtags and managing your online reputation.